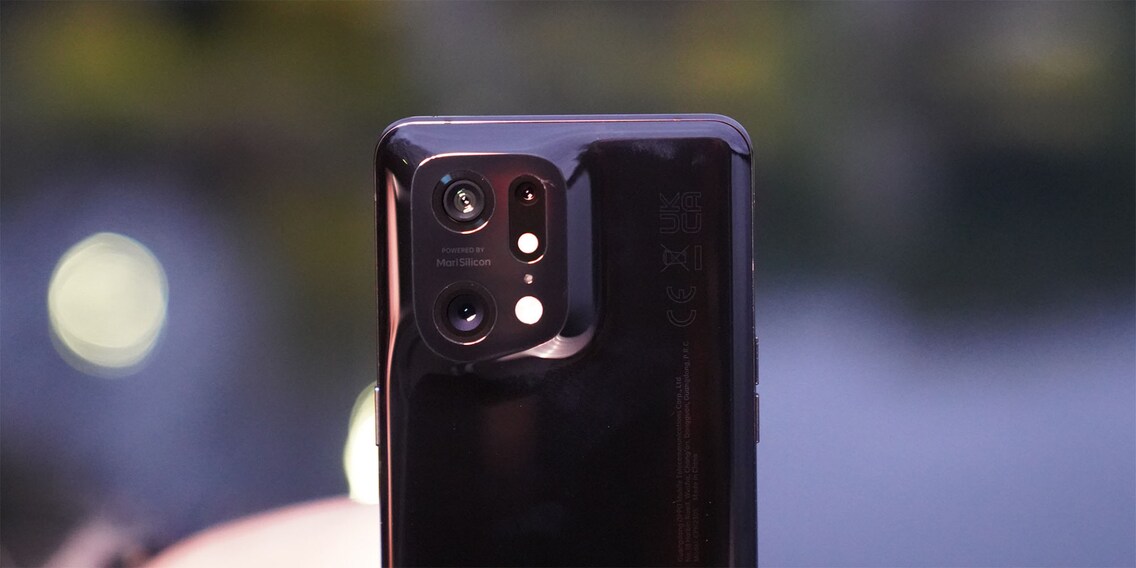 Oppo Find X5 Pro review: Oppo has found its focus

Oppo has set a course. The Chinese company aims to become king of the cameras – made possible by a separate chip.
Oppo has big shoes to fill – its own. After all, I deemed the Oppo Find X3 Pro the best phone of this past year. The Find X5 Pro claims to top it. A new chip is supposed to ensure success, namely the MariSilicon X. This is a neural processing unit (NPU) that does nothing but take over the artificial intelligence (AI) of the camera system to deliver even better pictures.
My test shows that this holds true for photos, but the AI still needs some improvement for videos.
The Oppo Find X5 Pro hit the market yesterday. A few days before that, Oppo handed out the phones to Swiss journalists – with the note that the software might not yet be final. A major software update is expected to drop on release or shortly thereafter. The hardware of the test devices is final.
RAM and even more RAM
The Oppo Find X5 Pro is essentially a best-of that combines the current top specs in one device. The 6.7-inch screen – a 120 Hz Amoled, of course – houses a Snapdragon 8 Gen 1 and 5,000 mAh battery. The phone comes with 12 GB of RAM, with a clever feature: you get 256 GB of internal storage, 7 GB of which you can convert to a kind of virtual RAM. As I certainly don't need 256 GB of storage, my test device is now running on 19 GB of RAM.
In practice, you'll notice the difference between 12 and 19 GB of RAM when installing apps, for example. It's a smidge faster. It's not earth-shattering or necessary, mind you, but I like my phones fast. If you also set the animations under ColorOS 12 (which is based on Android 12) to «fast», you get a visually blazing fast smartphone.
The Snapdragon 8 Gen 1 chip is manufactured using a 4 nm process. This not only makes it faster, but also more energy efficient. The rule of thumb is the fewer nanometres a chip has, the lower its power consumption. Combined with the 5,000 mAh battery, you get speed and endurance. The Oppo Find X5 Pro feels like it has an eternal battery. You can film for half a day, upload the clips to the cloud, and you'll still have 60 to 70 per cent battery left at the end. Should you need to charge it, an 80-watt charger is included, which gets the phone from zero to one hundred per cent in just over half an hour.
As impressive as all this sounds, it's not what Oppo wants to write smartphone history with in the year 2022. What Oppo wants is to become the king of cameras.
MariSilicon X and Hasselblad join forces
First and foremost: if you want to use the Oppo Find X5 Pro primarily as a camera phone, then either put the phone in a case or stick a skin on it. The backplate is very, very slippery. There's actually a case included with the phone that may help. But I don't quite trust it enough to rely on it in situations where the phone could fall or slip.
Oppo didn't skimp on the main camera. The camera setup sounds good overall, though not outstanding.
50-megapixel wide-angle lens, f/1.7, optical image stabilisation (OIS)
13-megapixel zoom lens, f/2.4, 2× optical zoom
50 megapixel ultra wide-angle lens, f/2.2
According to the manufacturer, this setup delivers 20-bit RAW data to the MariSilicon X chip, which is installed in both the Oppo Find X5 and the Oppo Find X5 Pro. This neural processing unit handles all the AI for the camera. Up to this point, this required computing power from a system-on-a-chip (SoC). Now, the MariSilicon X takes over, and the Snapdragon can keep doing whatever else it has to do. This creates freedom: the phone no longer has to compromise on AI processing due to other running services.
And it's noticeable. The colours on your photos are richer, the details clearer, the images, frankly, better. There's more life, more substance and more colour. The blacks are deeper, and the horizon rarely ever looks distorted.
In addition, Oppo wants you to know that Hasselblad is on board. Hasselblad is one of the most iconic names in camera history. Founded in Sweden in 1841, the company is one of the oldest in the industry. Not only has it won over photographers' hearts throughout its history, it'salso taken pictures on the moon. Hasselblad is now part of the DJI Group. Last year, it joined forces with a smartphone manufacturer for the first time – with OnePlus. OnePlus and Oppo belong to the same parent company. Said parent company has decided that the two brands are to move closer together, which explains why Hasselblad has found its way from OnePlus to Oppo.
Despite the Hasselblad logo on the backplate of the Oppo Find X5 Pro – which is larger than the Oppo logo – the specs are sobering:
there's no Hasselblad hardware.
The Hasselblad thing is largely marketing. After all, software optimisations like colour calibration are a given in any smartphone. Whether it's Oppo or Hasselblad behind it hardly matters in the end. Or could this be why the images appear more vivid?
What undeniably screams Hasselblad are the three filters you can apply to your pictures. They're called «Radiance», «Serenity» and «Emerald» – or, in practice, «orange», «blue» and «green».
And then there's XPan Mode: Hasselblad's only raison d'être on this phone.
XPan Mode: why Hasselblad isn't just marketing blah
XPan Mode is a separate camera mode you'll find in the camera app under «More». In essence, it's a mode that allows you to shoot very wide images in either black and white or retro colour. The retro-coloured option isn't remarkable, unless you're a serious fan of wide, vintage-style images.
Black and white, on the other hand, is a real head-turner. By now, you'd be hard pressed to find something I haven't yet photographed in black and white.
I'll be the first to admit that this is a gimmick. You can set how dark or light the image is. When you press the shutter button, a brief animation pops up on the camera, and you wind up with an image that looks really great. I can well imagine that this is a filter I'll use for a week and then forget about. But in this one week, I really enjoy how an everyday photo of video journalist Stephanie Tresch on a forest path becomes a mysterious, slightly eerie image.
Of course, this is no revolution in the world of cameras, but XPan Mode offers the first filter that I actually enjoy.
Video: Oppo, what's going on?
Video seems to be quite the challenge for the Find X5 Pro. And that's surprising. The MariSilicon X does a great job in photos and only rarely lapses in portrait mode. Video, on the other hand, is something Oppo still needs to work on.
In daylight, the camera delivers flawless footage at a resolution of 3840×2160 pixels, or 4K, at 60 frames per second. Even the microphone performs astonishingly well – despite Basel's city noise or the Ryburg-Schwörstadt power plant's electricity generation at the river. That's the positive surprise. Thanks to the AI, the sound is definitely good for YouTube videos. In fact, Stephanie and I found the microphone to be so good that we recorded entire takes in and around Basel without an external mic.
However, as soon as the light isn't optimal, the camera starts to struggle. The second darkness starts setting in, you get image noise. Once it's fully set in, any video you record in unsalvageable – and that's even if there's some residual light, which is enough to take decent pictures on the phone. You can use the camera's flash as a filming light, but the result is ultra-harsh lighting on the subject surrounded by black nothingness.
Why is this? What exactly can the MariSilicon X do when it comes to video, and what exactly can the lenses do? Either the NPU does a fantastic job, but gets footage from the cameras even it can't fix – or the NPU simply doesn't do a good job in the dark. If the latter's the case, a software update might be able to fix it.
The same question arises for slow-motion videos, where the NPU problem creates further waves. You have two slow motion modes:
1080p: almost as fast as the original
A big thanks for the shots goes to Mireille, who had her leg tattooed by Levente at Piink Basel.
Were you hoping for something like a 256 times slower video? So was I. But the Oppo camera software only gives you the two settings and doesn't show you how much slower the video will be. But, in return, it doesn't limit the length of filming. This is in stark contrast to cameras that managed 265x slow motion two years ago. Back then, you could only shoot one-second-long snippets, which were then slowed down. On the Huawei Mate 40, you could select how slow the result should be. Today, on the Oppo, you get only two settings – both in resolutions that are outdated.
Again, what's going on with the MariSilicon X? It must be capable of better performance than that, right?
Fortunately, this is most likely a software issue: the chip does have enough juice. It offers a data throughput of one terabit per second, which is sufficient for RAW data recorded at 20 bits. And, based on their specs, the sensors and lenses should do an equally impeccable job.
Especially with video, I have the suspicion that development is not quite finished yet. MariSilicon X will likely get even better. However, the same can't be said about the selfie cam.
The selfie cam: wobble-free, but with trade-offs
The selfie cam delivers solid photos. There's really nothing worth elaborating on. Instagramers should be happy with their pictures. However, you may have to adjust the beauty filter settings – unless you're going for a human-like doll aesthetic, as if created by someone who has never actually seen a human being.
What's interesting is the stabilisation of the 32-megapixel selfie camera. That's where you can clearly see the MariSilicon X at work. If you turn on image stabilisation, you can record in a resolution of either 720p – which is too low – or 1080p. But this doesn't mean the MariSilicon X receives data in that size. In reality, the NPU gets far more footage, which it crops to keep the horizon stable. This works impressively well; the image isn't shaky. This, along with the impressive sound, raises a question: is this the peak of what the selfie can and NPU can achieve in tandem?
Here's what I'm getting at: if the selfie cam supported 4K resolution, it could cut to 3.5K during stabilisation and then upscale the end footage using AI.
Either way, stabilisation at 1080p is a damn good feature. Shooting video while walking also works very well: the horizon is stable as I bob up and down with each step. It's clear I'm moving, but the movement is never disruptive. This eliminates the need for a gimbal unless the camera is moving over a large distance at a high speed.
The limited resolution does bother me, though. To put this into perspective, the Samsung Galaxy S22 Ultra can do 4K on the selfie camera – but image stabilisation is nowhere near as good. There seems to be an inevitable compromise: either you have 4K video or good stabilisation.
Verdict: good camera performance (but use a skin!)
The Oppo Find X5 Pro performs extremely well. It's an ambitious, top-notch phone that aims to break new ground in image processing. And it will probably succeed. The software doesn't quite live up to the hardware yet – but that could be because I had a review sample for testing with non-final software. I suspect that will change when I re-examine the phone in six months' time. Because the main camera does take beautiful shots, it'll certainly be a worthy companion in my everyday life. As for XPan Mode, maybe I'll keep using it, and maybe I won't. We'll see.
If you enjoy taking ambitious photos, you'll certainly be happy with the main camera. The MariSilicon X performs very well and promises even more. I hope that in a year's time, the Oppo Find X6 Pro will come with actual Hasselblad hardware. Huawei has pulled ahead in the smartphone race with its use of Leica lenses, which are in a league of their own. With Hasselblad, we'd have seriously good software, a dedicated chip and capable hardware. And that combination would hopefully see rest of the camera world bite the dust.
The Find X5 Pro shows that Android phones are becoming more diverse. Google is focusing on voice recognition with the Pixel 6, Samsung hopes to make – or keep making – the pen useful, and Sony is targeting professionals. And Oppo aims to have the best camera that everyday users will enjoy to the max. It's succeeding.
Could the Oppo Find X5 Pro be my phone of the year? It's definitely possible. But the smartphone season has just begun. More flagships are coming, and the competition is fierce: there's the Google Pixel 6, the Samsung Galaxy S22 Ultra and the P50 Pro – Huawei's comeback phone. 2022 is and remains an exciting year.
---



Journalist. Author. Hacker. A storyteller searching for boundaries, secrets and taboos – putting the world to paper. Not because I can but because I can't not.
---
---
These articles might also interest you
Skeleton Loader

Skeleton Loader

Skeleton Loader

Skeleton Loader

Skeleton Loader

Skeleton Loader