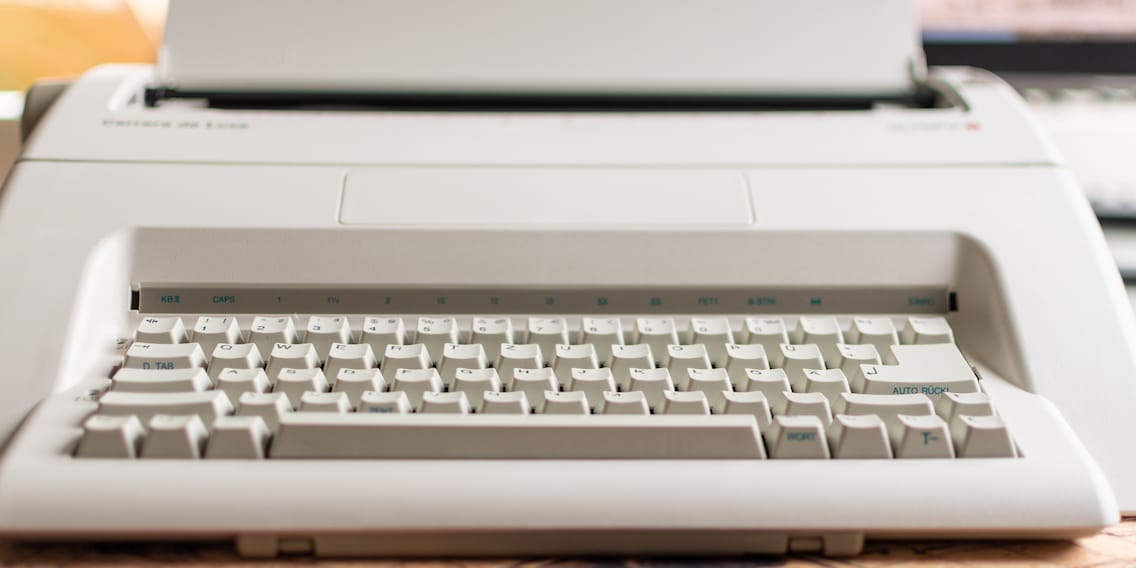 This article was translated automatically.
Olympia typewriter: Unfortunately almost like a printer
In 2022, we'll be selling typewriters. Seriously. I tried one out and answer questions.
I hate printers. So I try to do as much as possible electronically. If that's not possible, I print in the office. If that doesn't work either, I write by hand. But there is another alternative, long forgotten: the typewriter!
The last time I used a typewriter was 25 years ago. It's time again. To my amazement, Digitec Galaxus has several models in its range. I lug home the Olympia Carrera de Luxe, a lightweight among typewriters at five kilograms.
Is a typewriter better than a printer or a pen?
No. I can write more beautifully, more regularly and faster with a typewriter than with a pen. It comes closer to a printer. But that is also the problem: I hate printers. The biros has many advantages over the printer because it is the opposite of a printer. The typewriter, on the other hand, is louder than most printers, similarly large, and not a piece of jewellery, even if the curved lines of the Carrera do, with a lot of imagination, remind me of a sports car. The typewriter is less annoying than a printer and more reliable, but it is not maintenance-free. Every now and then you have to replace the ink ribbon or correction tape. And there are, how could it be otherwise, various incompatible types - this one seems to fit my model.
| Drucker | Kugelschreiber | Schreibmaschine |
| --- | --- | --- |
| laut | sehr leise | sehr laut |
| gross | klein | gross |
| hässlich | unauffällig bis schön | Geschmacksache |
| fehleranfällig | unproblematisch | unproblematisch |
| wartungsintensiv | wartungsfrei | wartungsarm |
| sehr nervig | nicht nervig | ein wenig nervig |
How does it feel to write with a typewriter?
I often mistype and only notice it a few characters later. It's tedious. Still, it's fun. It's a bit like taking pictures with film. Not as noncommittal as digital. Something happens physically. Material is consumed. You can hear and feel that.
Is Crysis running on it?
No, but Midlife Crisis runs quite well on it.
Does it have a delete button?
Yes! But it's not the back button at the top right, like on a PC. This only resets the writing position by one character. The delete key is to the right of the space bar. It works perfectly. I can even delete the whole line if necessary.
How the delete key works on an electric typewriter and what the differences are to a mechanical typewriter is explained very well in this video.
Is there a dark mode?
No, but that doesn't matter: the white background does not consume any power. It also contains no blue light that could upset my sleep rhythm. I sleep excellently in front of the typewriter.
Does the typewriter have a mechanical keyboard?
It's not a mechanical typewriter, but it does have a mechanical keyboard. A terrible one, though. At the slightest touch it sounds loud and hollow, like very thin plastic. I'd better not show it to our keyboard gourmet Kevin, or he'll have nightmares.
Is the machine really that loud?
Yep. You can't hear any of the above-mentioned sound of the keycaps when the machine is in operation, because the rattling of the machine drowns everything out. The sound reminds me of machine-gun bursts. I imagine a grouchy angry citizen typing spiteful letters to the editor on it.
By the way, I did not invent this letter to the editor. Someone wrote it to me like that. Albeit not with a typewriter.
Is the typewriter state of the art?
According to the operating instructions: yes.
In fact, this thing can do more than old typewriters: Automatic underlining, with and without spaces, bold print, different line and letter spacing. I could even change the type wheel and thus use a different font.
Unlike the instruction manual says, the machine has no display. So I can't correct before typing. This is only the case with the Carrera de luxe MD version.
Does the device have USB-C?
No. It has no interfaces at all.
Does the keyboard have a numeric keypad? How big is the screen? How many pixels? Hertz? How long does the battery last? How about the active noise cancelling?
No.
Who needs something like that?
For people like me who don't want a printer, the typewriter is not a good alternative. Because a typewriter has so much in common with a printer that some of them can even be used as printers. Which is cool at first, but not a viable solution.
As a substitute for a computer, on the other hand, a typewriter is recommended. Perfect for use in the lecture hall. Or for anyone who doesn't want to deal with faulty Windows updates, connection problems or an autocorrect that knows better than the user what to write.
Another target group is the burnout-prone. I imagine my job to be less stressful with a typewriter than with a computer. I would relax and type my article and send it by post - or quite modernly by fax - to the office, where it would have to be entered into the system and published by a poor youngster or a pitiful intern. I would not be able to participate in team meetings or online discussions. For other unimportant things - including 99.9 per cent of all concerns - I would not be available at all. A dream.
So should I buy this typewriter?
What is this question about? You must be completely out of your mind.
---



My interest in IT and writing landed me in tech journalism early on (2000). I want to know how we can use technology without being used. Outside of the office, I'm a keen musician who makes up for lacking talent with excessive enthusiasm.
---
---
These articles might also interest you
Skeleton Loader

Skeleton Loader

Skeleton Loader

Skeleton Loader

Skeleton Loader

Skeleton Loader