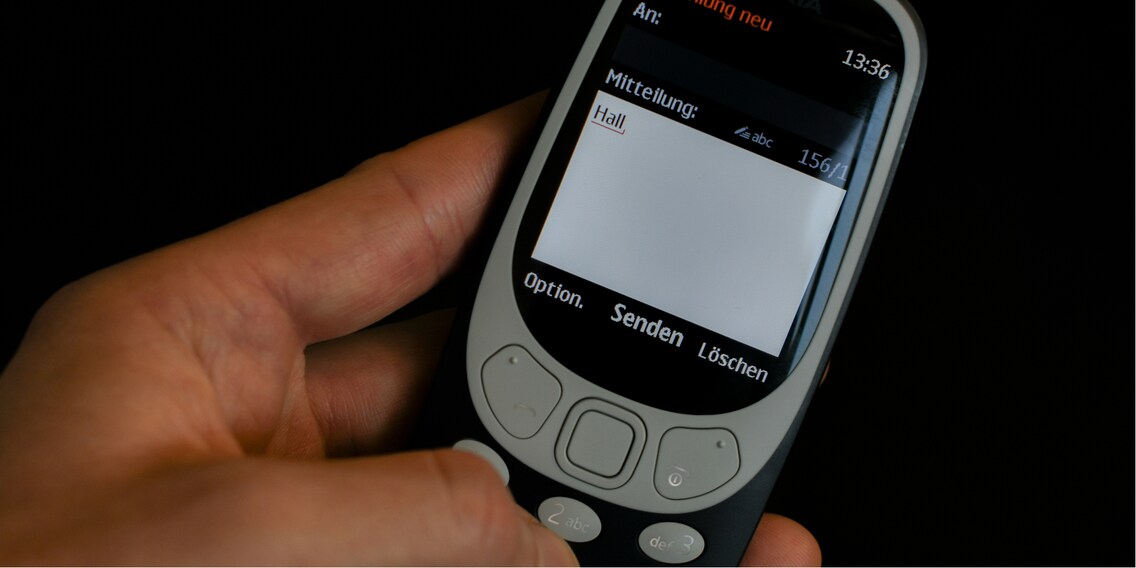 Nokia 3310 – the legend lives on

My colleague Dominik Bärlocher and I have just tested out phones that couldn't be more different. While Dominik linked the Samsung Note 8 to his 40-inch screen via Dex and worked productively (with 20 browser tabs open), I was at the other end of the performance scale. It was my job to play around with a dumb phone.
Nokia died a death long ago. In 2013, the Finnish company sold its mobile sector to Microsoft. Then, three years later, Microsoft abandoned their plans too. Trademark rights are now held by the Finnish company HMD Global, who are reviving Nokia. That's why a new version of the legendary Nokia 3310 is available alongside modern Android smartphones.
Who would want to buy something like that?
As I had already outed myself as a dumb phone fan, I was the perfect person to test out the Nokia remake. To my mind, the classic dumb phones (or to put it more politely: feature phones) still have their advantages and therefore a reason for being on the market.
Although dumb phones can't do as much, they do do give you fewer headaches. A simple mobile phone doesn't require constant attention. You end up spending your time doing more interesting things than updating systems and apps, syncing and transferring data. In the end, you're a lot less fixated on your phone.
Background informationSmartphone

My coming out: I love dumbphones
The old, the new and the latest Nokia 3310
While the new Nokia 3310 is based on the classic version, it isn't a faithful reproduction. Thank goodness, I hasten to add. Because even for a self-declared dumb phone fan like myself, the old 3310 was a bit silly. The original version was obviously the real deal and came without a headphone jack long before iPhone 7 took the leap to drop it.
However, apart from phoning, sending texts and playing snake, the Nokia 3310 doesn't let you do very much. There is no camera, no music, not even a colour display. The new Nokia 3310 at least lets you increase the storage to 32GB using a microSD, which means you can listen to music. For charging and data transfer, all you need is a normal micro-USB cable.
Rose-tinted nostalgia glasses can also make us forget that the old Nokia 3310 was small but also chunky. The new mobile is now also fairly slim.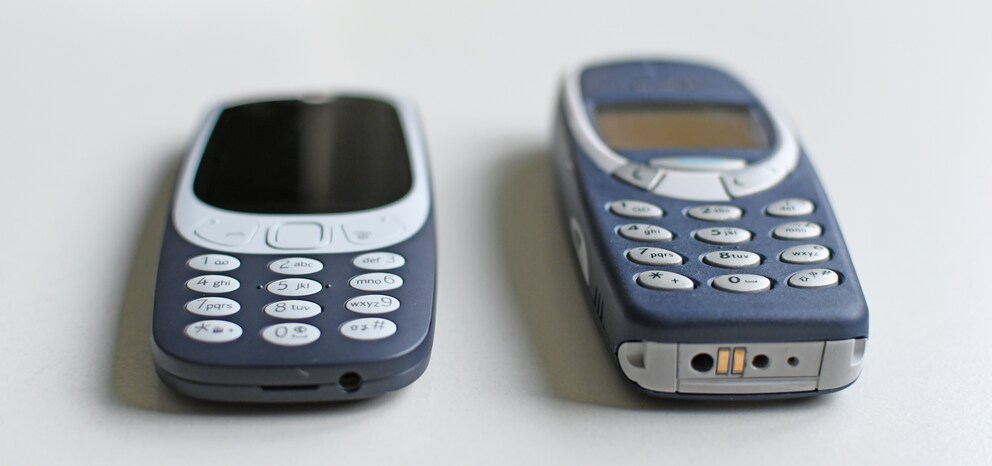 The old 3310 is really chunky. And don't think that is a headphone jack at the bottom; it's for charging the phone.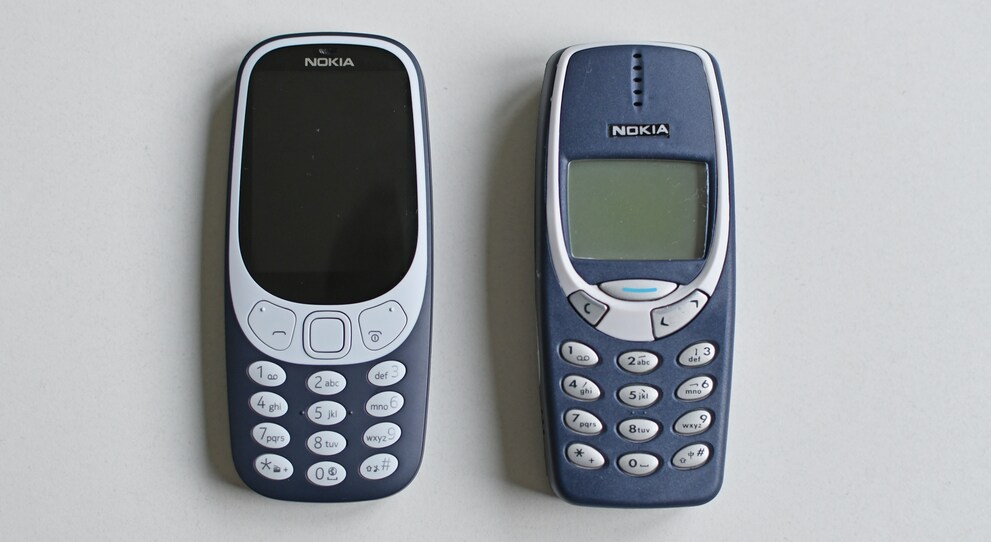 The design works. You can still see nods to the original, but a lot of the phone's problem points have gone. For instance, the keys are now lit.
Brand new: also available with 3G The first version of the new Nokia 3310 can only connect to a GSM network (2G). However, it's likely this will be turned off in Switzerland at the end of 2020, rendering the phone useless. Also, if you need to use the Internet, it is very slow.
The brand new Nokia 3310, on the other hand, masters 3G as well. Aside from that, there is very little to set the 2G and 3G versions apart. One main difference is the 3G phone lets you customise the user interface, while any changes to this are limited on the 2G version. Sales of the Nokia 3310 3G start on 16 October and pre-orders are available now.
You can forget WhatsApp
Before I went ahead and switched phones, I wanted to know if WhatsApp would work on the new Nokia 3310. That's one of the few smartphone features I really do need, I'm sad to say. Does WhatsApp work on the 3310? In a word: no. You can forget that app on this device.
I had two options. Either I write pathetic goodbye messages in my most important WhatsApp groups or I carry on carting my smartphone around with me and use it on Wi-Fi whenever possible. As this exercise was only temporary, I decided to go for the second option.
Getting started
I should have known the Nokia 3310 wouldn't work with a nano-SIM and that it needed an adapter. I don't mean an adapter for the original SIM but for the mini-SIM. That only became clear to me once I had shoved the card so far in the slot that I could hardly get it back out again.
Let's see if the SIM fits – not one of my brightest ideas
After I carried out a surgical tour de force, the phone was up and running. All of a sudden, I felt a warm, cosy feeling. The Nokia symbol appeared on the screen. There was the unmistakable ringtone. The neat screen display. In spite of the ludicrous 320x240 pixel display, everything was incredibly easy to read. What a lot of people don't realise is that deeming it a «mobile phone for older people» is quite a compliment.
It's also easy to transfer the phonebook from an Android smartphone. Switch on Bluetooth on both phones, pair the two devices and in three seconds the contacts are on your Nokia. Fantastic!
Workmanship
The workmanship is certainly not completed to a high standard, but that's to be expected for the price. Nokia screens still get scratched really quickly – there's no change there. But I'd rather have scratches than the device smashing. As the phone is light, it should withstand drops better than a heavy, expensive smartphone.
Music
At 1.5 metres, the cable is definitely long enough. But the headphones don't have silicon caps, let alone foam cushioning. They're just plastic cones that neither succeed in staying in your ears nor blocking out noise. When I was road-testing the phone, I immediately swapped them for my current headphones. I then decided to see if Bluetooth worked. I used the Sony WI-H700 Bluetooth neckband that my colleague Cheryl had lying around and it was a success right off the bat.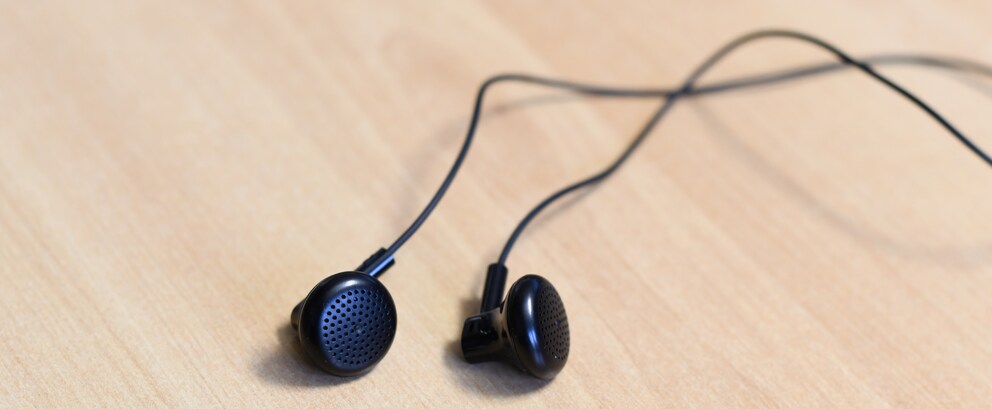 The headphones that come with the phone are rather spartan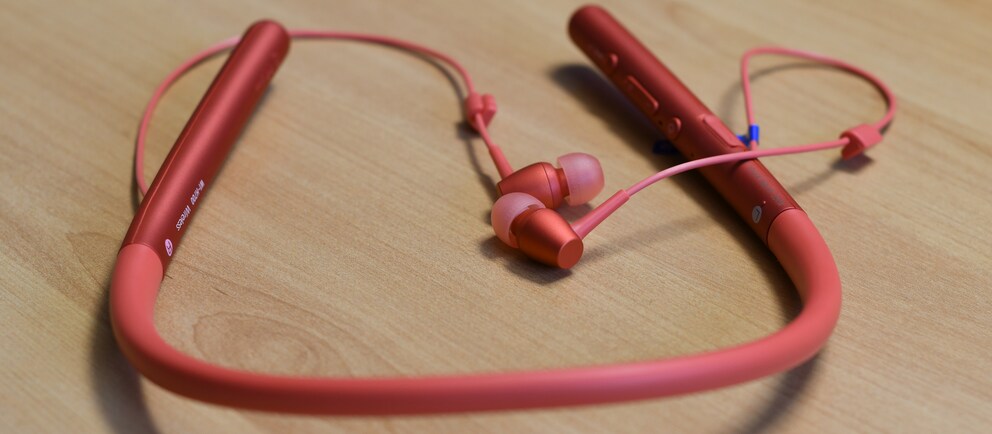 The Nokia is also Bluetooth-enabled. It worked straight away with these Sony headphones.
In theory, I could have downloaded and listened to 32GB of music with the micro-SD card. But in practice, this is only possible with MP3, not AAC. Besides, the controls aren't made for such large storage. All of the songs appear in one single list, and you can use the menu to jump to the next folder. By the time you get to folder 100, you'll be having a great time.
You only know if something is a folder (album name) or a song if the command «Wdrgb.» (sic) is disabled. You can locate individual songs that come nearer the end of the alphabet using the file browser, but that doesn't let you play the whole album.
Verdict: they could have designed this much better even on the Symbian operating system and even on a cheap phone.
Camera
The camera offers LED flash, exposure compensation, a self-timer and probably the slowest burst mode feature in the world. It is so slow, in fact, that it took me a while to realise it was even on. Image quality is poor enough to make it resemble art rather than photography – a bit like Lomography. The camera turns a rather horrible shot of Zurich's Kreis 5 district into an impressionist painting. With the internal memory, you can save around seven photos. Believe me, that's plenty.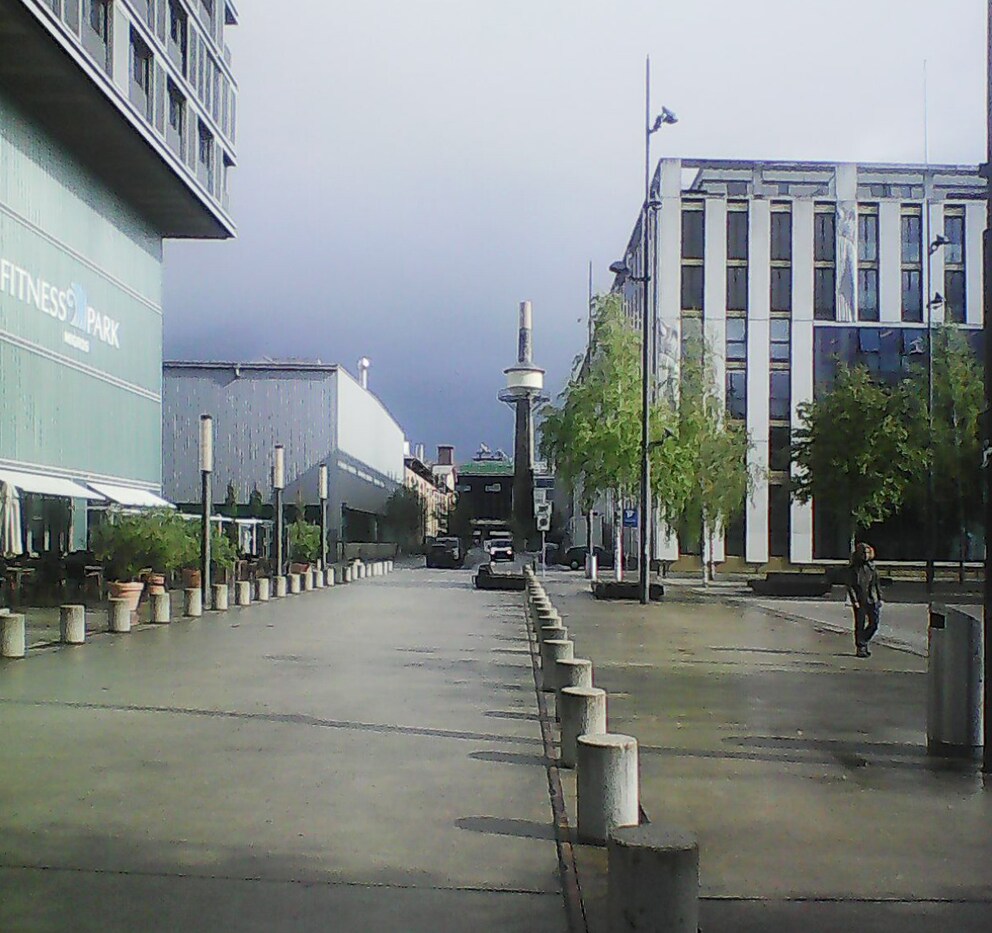 More like a painting than a photograph: taken with the Nokia 3310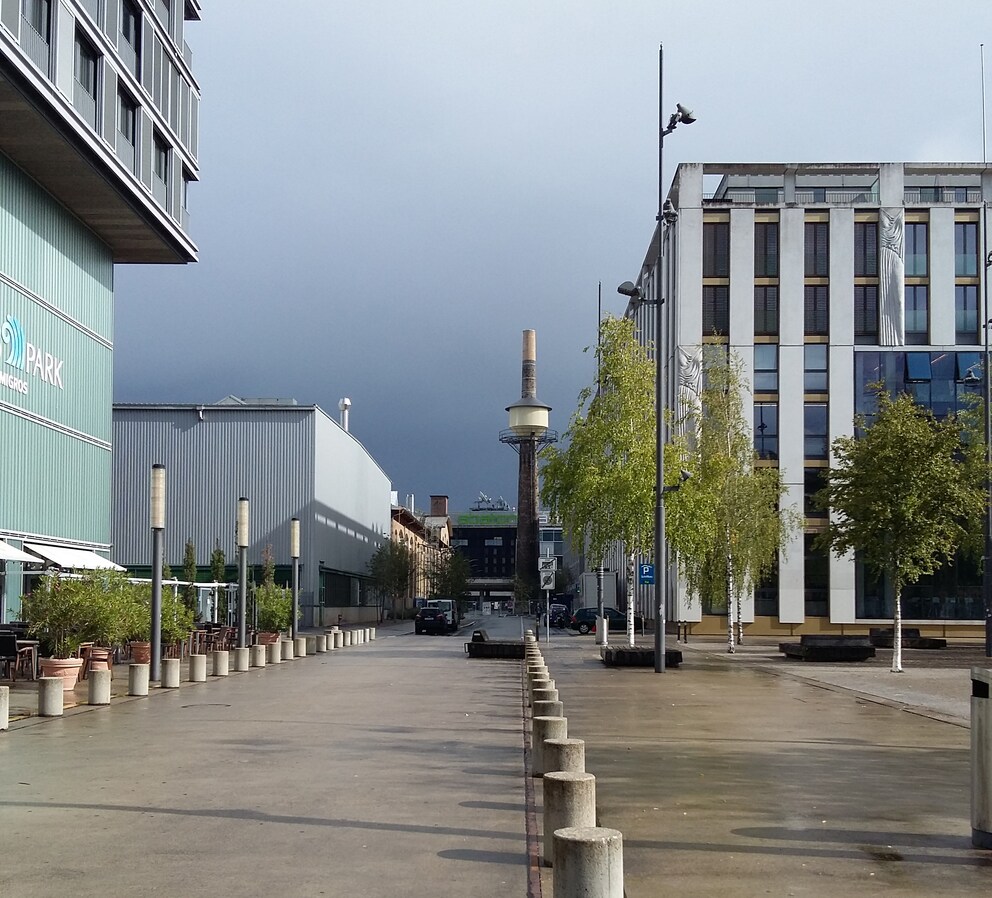 Try this for size: the same image captured with the also not so great Samsung Galaxy A3 camera (2015)
You can also capture videos with this little marvel of technology. Poor image quality goes hand in hand with the terrible, underground-sounding audio quality. The Nokia nostalgia bubbling inside me says that's exactly the way it should be. Rather than letting it annoy you, sit back and enjoy it, especially on a three-metre home cinema screen.
For a long time now I've thought that the video quality on Nokia mobiles had cult potential. To really showcase the sound quality, I made a music video. Fun fact: the image rate dropped from nine to four images per second. That's probably because it was a bit darker.
Verdict: the camera is unimaginably bad. But that's what makes the phone so appealing.
The so-called Internet
I tried to access the digitec website on the Nokia 3310. To my utter disbelief, it worked. I was using the 2G version for this, so it did take a while. The display could also be a bit better, but hey, at least I got on the Internet.
I then got ahead of myself and downloaded the 602 KB mail app from the app store. Yes, it does have an app store, but it's a software graveyard. Configuring your mail account is just as before. To be honest, I didn't get it to work straight away and it still isn't working. This means I can't check my e-mails. How retro. The only new aspect is that you can't select the menu entries or you can't see whether you've selected them or not. To put it bluntly, the mail app is a bit of a flop.
Battery life
Not having to charge your phone as often is the obvious advantage of dumb phones. It's due in part to the fact you use smartphones more intensively. But that's not the only reason. In standby mode, Nokia 3310 uses as little as no energy. According to the manufacturer, the phone can go a month without being plugged in.
I only tested it for a week and, of course, didn't just use it in standby mode. But even after that amount of time, I would pretty much agree with their statement. The battery gauge only reduced when I used the mobile intensively, for example if I listened to music using Bluetooth. After a week of ordinary use, the battery was still half full – that is, if you can trust the gauge.
Snake
The classic game is also included in the new Nokia 3310. But it has now been brought up to date, with bright colours rather than the traditional black and green. There are lots of other differences, too.
There are walls in the way, which become increasingly difficult to move. You scroll through levels and play against the clock with a snake opponent. I think the game offers variety and is a real success, but purists will no doubt miss the ingenious simplicity of the original.
Verdict
It seems like bad is the new good. The statement «it sounds so bad – that's so retro» usually sugarcoats experiences. It's certainly amusing. If you really did like the last Nokia era dumb phones pre 2013 (that weren't really that dumb), you'll like this new device, too. Because the Nokia 3310 represents HMD Global picking up where Nokia left off before it was taken over by Microsoft.
---



My interest in IT and writing landed me in tech journalism early on (2000). I want to know how we can use technology without being used. Outside of the office, I'm a keen musician who makes up for lacking talent with excessive enthusiasm.
---
---
These articles might also interest you
Skeleton Loader

Skeleton Loader

Skeleton Loader

Skeleton Loader

Skeleton Loader

Skeleton Loader