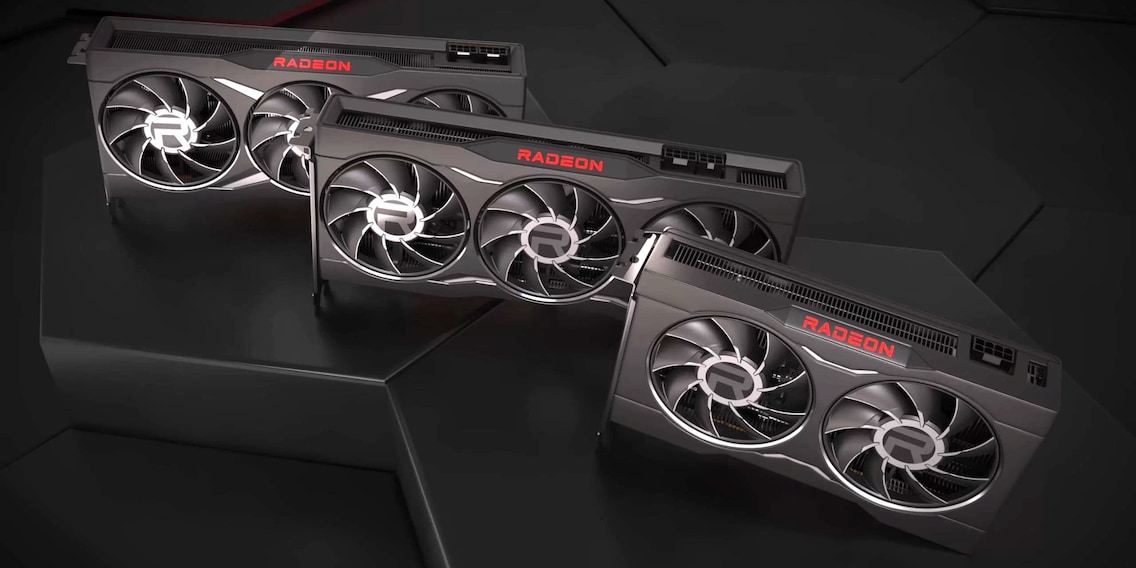 This article was translated automatically.
New AMD graphics cards: Radeon RX 6000 series gets additions
AMD adds three new models to the Radeon RX 6000 graphics card series. This is a refresh that builds on existing cards. The new top model is the RX 6950 XT.
AMD launches three new graphics cards with a larger memory bandwidth and increased clock rates. The new top model is based on the Radeon RX 6900 XT and is called RX 6950 XT. It has a clock rate of 2100 MHz and a boost of 2310 MHz for gaming - an increase of 85 and 60 MHz. The memory now has a speed of 18 gigabits per second instead of 16, which leads to an increased memory bandwidth of 576 gigabytes per second compared to 512 so far.
The other two new models are the Radeon RX 6750 XT and the RX 6650 XT. The 6750 XT builds on the 6700 XT and brings a new game clock rate of 2495 MHz (up 71 MHz) and a boost of 2600 MHz (up 19 MHz). The memory bandwidth is now 432 gigabytes per second (previously 384). The RX 6650 XT is a refresh of the 6600 XT with a clock rate of 2410 MHz (plus 51 MHz), a boost of 2635 MHz (plus 46 MHz) and a memory bandwidth of 280 gigabytes per second (previously 256).
The following graphics from AMD should convey what all this means for gaming in terms of frames per second (FPS). These are the manufacturer's own benchmarks, which should be taken with a grain of salt.
AMD gives a price of 399 US dollars (RX 6650 XT), 549 US dollars (RX 6750 XT) and 1099 US dollars (RX 6950 XT) for the new cards. The cards should be available immediately.
At the time of publishing this article, our store only offers two of the new cards:
---



I find my muse in everything. When I don't, I draw inspiration from daydreaming. After all, if you dream, you don't sleep through life.
---
---
---
These articles might also interest you
Skeleton Loader

Skeleton Loader

Skeleton Loader

Skeleton Loader

Skeleton Loader

Skeleton Loader