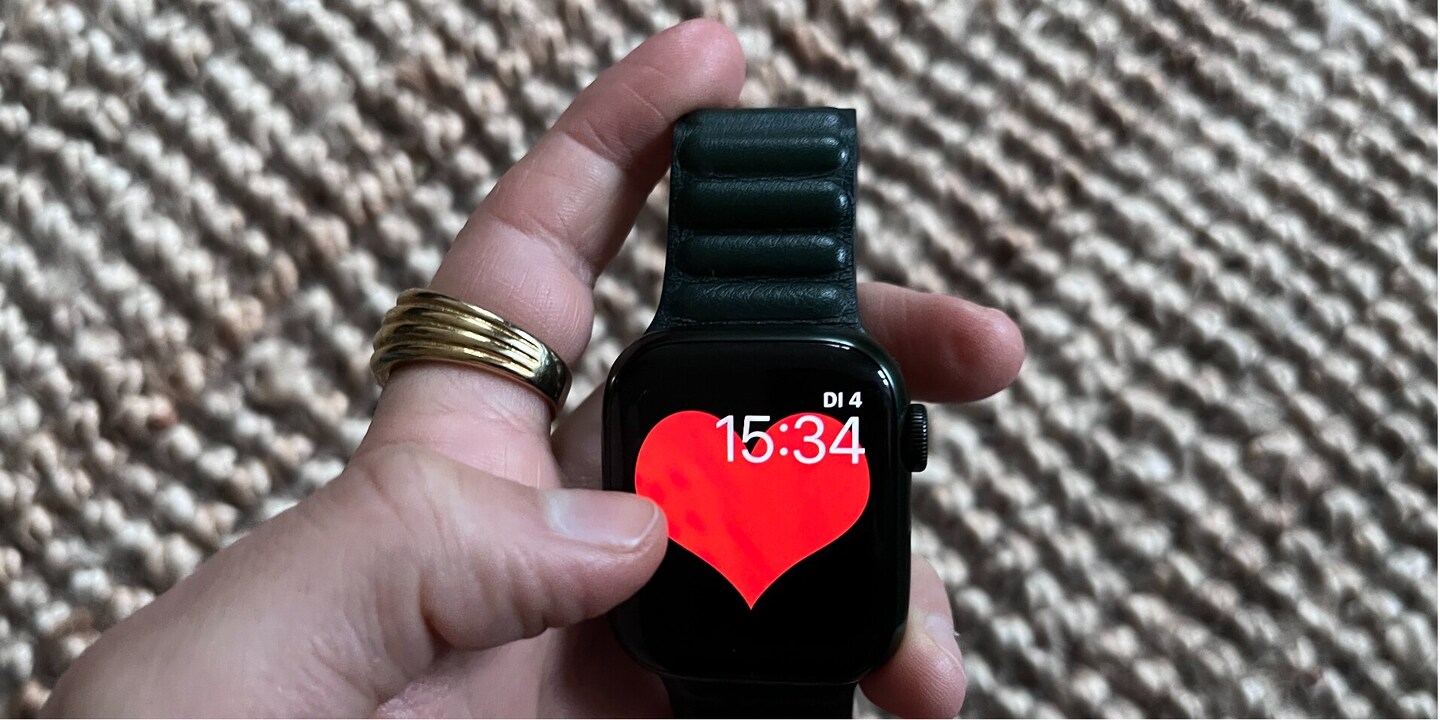 My on-again, off-again relationship with the Apple Watch Series 7

My relationship with my Apple Watch hasn't always been smooth sailing. But, after an emotional roller coaster, I've finally decided to fully accept it into my heart.
Rrrring! The alarm clock jolts me out of my slumber. I roll out of bed and strap on my Apple Watch Series 7. It's become my personal secretary, inconspicuously guiding me through my day. But this wasn't always the case; admittedly, my relationship with the alpha of smart watches is anything but stable.
Rosy beginnings
Compared to the round clock faces of its competitors, I've always found the Apple Watch aesthetically pleasing. The larger display and thinner bezels on the Series 7 also contribute to this. And my test model looks dazzling in green. I pair it either with a waterproof plastic band or with the chic leather version, which features a magnetic clasp.
The Apple Watch is very helpful by nature; it takes me less than two minutes to set it up and connect it to my iPhone 13. I'm relieved that the 41-millimetre watch doesn't look as bulky as I'd feared, even on my slim wrist.
After that, it's all about getting to know each other better. Excited, I click and scroll through the new watchOS 8. The colourful icons of Spotify, SBB, SleepCycle and Shazam smile up at me, little circles in the app overview. They were installed automatically, as they're compatible with watchOS.
The Series 7 opens up exciting possibilities for me; just like that, I can now control my iPhone from my wrist. I no longer have to dig it out of my pocket on the bus to change the playlist or to end my Easy Ride journey in the SBB app. Or, a simple flick of my wrist, and my cappuccino is paid for. Everything feels easy and upbeat. I'd been struck by Cupid's arrow.
First doubts
But as bright as the future first seems, the onset of routine is always a downer. After a few weeks, I start noticing less pleasant things about the Series 7. Its lack of independence troubles me. As soon as my iPhone is out of reach, the Apple Watch is reduced to its most basic functions. Siri gives me the cold shoulder, and all I can do is read the time.
Not to mention its lack of stamina and evening fatigue, which are really starting to bug me, too. I have more than enough cables in my room as is; now I'm supposed to have yet another one – a Magsafe – to recharge the Series 7 when it's tired? What's more, the watch already slides into a slumber on my wrist from time to time. It just can't keep up with me in the evening, and, after 18 hours, it needs a different kind of juice than is served at a bar.
But my least favourite thing about it is that it's a chatterbox. It constantly demands my attention without being asked, buzzing incessantly on my wrist. It keeps prompting me to close my Exercise rings. Then there are the e-mails and WhatsApp messages whose vibrations jolt my arm like electric shocks.
It all happened so fast: one cheeky wink from my Mondaine watch on the shelf, and into the drawer my Apple Watch goes. Just like that, my analogue ex is wrapped 'round my wrist once more, soft and lightweight. Forgetting the Series 7 was no feat. Did this mark the end of that passionate affair?
The rediscovery
The weeks pass, and the days become shorter. I don't know if it's pity, hope, or loneliness, but I find myself cleaning the dust off the Apple Watch around Christmas Day. I want to give it one more chance.
But this time I want to give it more breathing room in our relationship. So, I finally open the mobile configuration and activate eSIM on the watch. This costs me five francs a month at my mobile provider. And what a wise decision that turns out to be. The realisation hits me: the Apple Watch was hampered before, it didn't have the chance to show its full potential. All because I had made it dependent on my iPhone. Things are going a lot more smoothly now.
The second awakening
Today, we enjoy our precious togetherness. We've found a good rhythm in everyday life, my watch and I. I can easily go to the laundry room, the Uetliberg or anywhere else without my iPhone. Thanks to the Apple Watch, I can make phone calls, set timers, or use Siri to create new events in my calendar. It's all very snappy and smooth, thanks to its new S7 chip.
Even Siri has grown on me. Especially as a means to control the lighting in my room. I can simply hold down the round knob on the right side of the watch and whisper «orange» into the microphone. Because the watch is connected to my smart light bulbs, Siri instantly drenches my four walls in warm evening light.
Despite my watch's new freedoms and our intimate togetherness, I've also set clear boundaries in our relationship. After all, if we're to stay happy and healthy, my watch can't go bothering me with e-mails and WhatsApp messages – and especially not with reminders to «stay mindful». I've never been into control freaks.
Like this, we can enjoy our joint activities more. We work out together these days. Before I get on the treadmill, I tap the «indoor running» option in the training app. An attentive companion, the watch measures the duration and intensity of my workout.
As it communicates with the Health app, I can see exactly how many calories I've burned. The optical heart sensor measures how fast my heart is beating. I find these pieces of information interesting. However, the other health functions such as blood oxygen measurement and the ECG don't play a major role in our relationship.
A serious relationship?
Despite the emotional chaos of the past few weeks, the Apple Watch Series 7 has grown on me. The best decision was activating its eSIM. That was a major eye-opener; now I know the watch's true value and ability. The fact that it's become more independent and sends me fewer messages has stabilised our relationship, though it does still get my heart racing when we work out together.
I don't know yet if we're headed towards a steady relationship. But that's because of me, not the watch. After all, my beloved analogue watch is still making eyes at me from the shelf. But one thing is certain: should I decide to go digital watch-wise in the future, I'll go right back to the Series 7.
---

«I want it all! The terrifying lows, the dizzying highs, the creamy middles!» – these words spoken by an iconic American TV celebrity could have been mine. It's a take on life I also apply to my job. What does this mean in concrete terms? That every story has its charm; no matter how small, large, exciting or trivial. The more eclectic the mix, the better.
---
---
These articles might also interest you
Skeleton Loader

Skeleton Loader

Skeleton Loader

Skeleton Loader

Skeleton Loader

Skeleton Loader