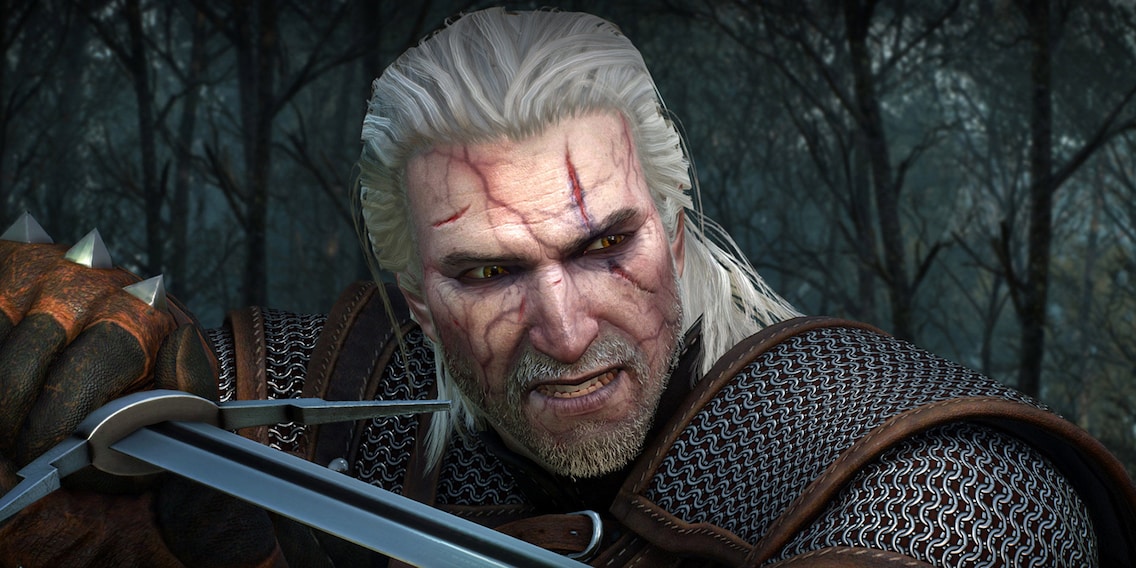 My game backlog from hell
I'd like to start the new gaming year afresh. That's why I'm aiming to systematically work through my huge stack of unfinished games over the Christmas holidays. But I've already failed at the preparation stage.
It's the same every year. I buy countless games and only finish a fraction of them. What chance do I have? It feels like every week some spectacular blockbuster appears, and indie gems sprout like mushrooms from the ground. Ideally, I'd like to split myself into two or – even better – three, in order to somehow cope with the constant flood of games. But, unfortunately, that's not possible. So, every year umpteen games remain only briefly played or completely unopened.
I've sinned this year too. I have 19 unfinished games I've bought or started in the last 12 months. I want to use my Christmas break to tackle this huge mountain of games. But that's easier said than done.
Where do I even start?
I don't even know where to start with so many games. The stack is stressing me out. As if the 19 games were some vital tasks that I absolutely have to do. Why do I feel like this? And how can I work through my list as effectively as possible?
During my research into the subject of backlogs, I came across an interesting video by Youtuber «Daryl Talks Games». Daryl has an interesting theory. The Zeigarnik effect is a psychological explanation of why my gaming backlog is so stressful for me.
The theory goes that interrupted or uncompleted tasks are remembered more successfully than completed tasks. This is because, when solving a task, cognitive tension builds up and is only released when the task is completed. This allows our brain to stay focused on unfinished tasks. In the video, the effect is explained from 06:20.
So, all the games I started create uncomfortable tension in my gamer brain. It keeps reminding me that I still have work to do. The more games end up on my stack, the greater the cognitive tension.
According to a psychological study, this tension can be reduced simply by carefully planning the tasks that are still unfinished. At least partially.
I wanted to test this out. So, before I tackled my massive backlog without a plan, I got an overview of what I was working with. With the help of howlongtobeat.com, I calculated how many hours I had to schedule to work through the 19 games. Maybe this would help with my backlog stress.
So many games, so little time
In the table below, you can see the startling result of my calculation.
The first column lists the 19 games and their respective platforms. The table is sorted by the values in the second column, which are how many hours I still have to invest in the game to finish playing it. This value is calculated using the hours I've already played – in column three – and the length of the game according to howlongtobeat.com – in column four.
Game
Noch zu spielen
(in Stunden)
Bereits gespielt
(in Stunden)
Länge des Games
(in Stunden, gemäss howlongtobeat.com)
The Witcher 3 (PS5)
90.75
0
90.75
Xenoblade Chronicles (Switch)
64
0
64
Marvel Midnight Suns (Steam)
59.5
2.5
62
Dragons Dogma: Dark Arisen (PS5)
44.5
0
44.5
Death Stranding (PS5)
28
22
50
Jurassic World Evolution 2 (PC)
20
1
21
Need for Speed Unbound (PC)
19.5
1.5
21
Elden Ring (PS5)
14.5
40
54.5
God of War 2 (PS5)
11
1
12
God of War 3 (PS5)
10
0
10
Pokémon Karmesin (Switch)
9.5
31
40.5
A Plague Tale Requiem (Xbox)
9
8
17
Splatoon 3 Singleplayer (Switch)
8
0
8
Vampire Survivors (Xbox)
7
1
8
Call of Duty: Modern Warfare 2 Singleplayer (PC)
6
2
8
The Dark Pictures Anthology: House of Ashes (PS5)
5
2
7
Halo 2 (Xbox)
4.5
4.5
9
Return to Monkey Island (Switch)
4
6
10
Hidden Folks (Switch)
3
0
3
If my calculations are correct, I'll need a whopping 417 hours and 45 minutes to finish all the games on the list. That's the equivalent of 17 whole days. Which is … a little more than I thought.
Did I feel better after that? Had the tension been released? My twitching left eye said no. I either had to extend my holiday or radically shorten the list. I opted for the latter.
The weakest link
But how was I supposed to cut the list? Should I only keep the games I've already invested a lot of time in? They're the ones I have the greatest probability of finishing. Or should I uncompromisingly delete all games with a grotesquely long runtime in order to get through as many different titles as possible? That felt wrong somehow.
I thought back to Daryl's video, where he explains an approach to backlog trimming that a viewer shared with him. He consults the review aggregator site metacritic.com and uses a formula to calculate which games he should prioritise and which games he should completely eliminate. Is maths the answer to my backlog problem?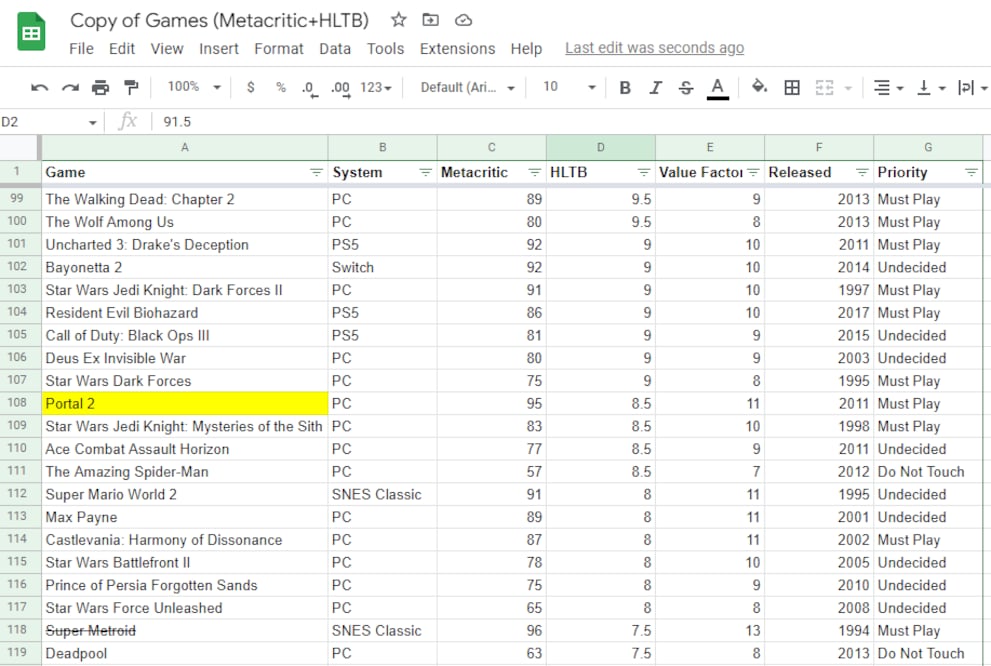 I tried to apply the formula to my list. But it's all a bit too cerebral and analytical for me. And I also dared to doubt whether the «Value Factor» really makes sense as a parameter. I want to game, not write a flipping thesis.
Planning should have taken the tension out of me. But all the numbers and possible rankings only stressed me out even more. It was my right eye's turn to twitch. I quit the exercise.
Planning isn't everything
I locked myself in a dark room and meditated. I tried to forget all numbers, rankings and formulas. I looked deep down inside for the games I really WANTED to play. It didn't matter whether I had to invest another ten or 100 hours in them. After a few minutes of meditation, five titles appeared in my mind's eye.
«The Witcher III» – a game that I completely missed when it was originally launched. Although I'm into open-world games and RPGs. The next-gen update is the perfect opportunity to fill the gap in my education.
«Death Stranding» – I started and stopped the mysterious Kojima game on the PS4 in 2019. The PS5 version really grabbed me this year though; so far, I've invested 22 hours in the adventure. I just need to know how the mysterious story continues. The trailer for «Death Stranding 2» at the Game Awards only motivated me more.
«Elden Ring» – I finally want to finish the game of the year. I played the hard-hitting open-world RPG for about 40 hours before getting distracted by other games. Getting back into it won't be easy. But there's still so much to discover.
«God of War 2» and «God of War 3» – another big education gap. I played through the first part of the original trilogy in preparation for «Ragnarok». I can't wait to play through parts two and three to get Kratos' full story.
With these five games, I have a total of 154.25 hours ahead of me. So, six and a half days. That's still far too much to fit into the short break over Christmas and New Year. But somehow the number doesn't stress me anymore. I feel free, although I failed in terms of systematic planning.
I don't have to finish every game
The aim of this whole exercise was to bring some order into my backlog chaos and counteract the Zeigarnik effect. I wanted to learn how to work through my stack of games in a systematic way. But something completely different happened.
I've learned that my backlog is hopelessly long and I can't play everything anyway. Numbers and formulas don't help me to work through my to-play pile, they just stress me out even more. I've learned to ignore the cognitive tension of unfinished gaming tasks and embrace the chaos instead.
That's also an insight. And contrary to the psychological findings, this knowledge calms me down more than keeping endless Excel spreadsheets. I just play what appeals to me the most at the time. And if my eyes start to twitch from stress, I shut myself in a dark room again and meditate.
What games are in your backlog, and how do you manage your endless stack of games?
---
My love of video games was unleashed at the tender age of five by the original Gameboy. Over the years, it's grown in leaps and bounds.
---
---
These articles might also interest you