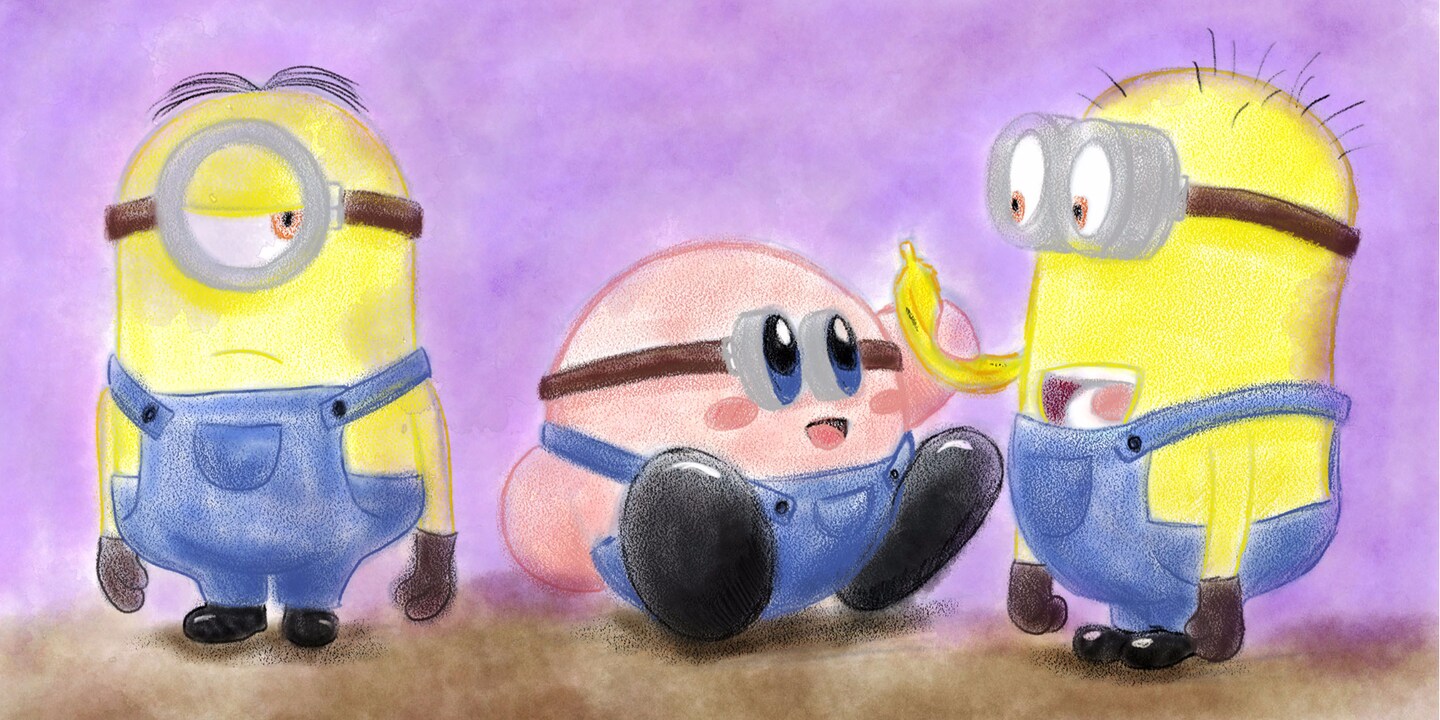 My Dream date with a Cintiq 13HD
When someone asks you what you would buy if money wasn't an issue, what's the first thing that comes to your mind? For me, without hesitation, it has always been a simple six letters word: Cintiq.
When I was 15, more than ten years ago, as a token of gratitude for cleaning his music library, my uncle gave me my first pen tablet, a Wacom Graphire 4. We are talking about a tiny plastic rectangle with barely 4" of space to apply my strokes that were transferred directly to the computer through the USB port. Bye-bye scanner! From that moment on, I dreamt of the day I would be able to do that right on a screen equipped with the same features: pressure sensitivity, great precision, a super light pen with side switches for shortcuts, an eraser that's immediately recognised by most programmes. all of it right there, right above my digital artwork and my wrist doing its magic.
That day came, and I must admit, it was magnificent.
Inside the box
After finally recovering from the initial shock of actually having it in front of me, I began with the most ceremonious unboxing of my life. There it was, lying on top of everything else – the elegant 13" screen that held a world of expectations. Weighing 1.2 kg, it was a bit heavier than expected, but then again, your run-of-the-mill tablet doesn't feature 2048 pressure levels or carry the weight of a digital artist's dream on its shoulders. Just under it, there was the stand with 3 adjustable levels – not as elegant as the screen but sporting a nice aluminium face that's going to spend most of its life face-down on your desktop anyway. And finally, the glorious case containing the pen and replacement nibs, right beside the cable that will bring my dream to life.
The setup
With ambient music playing in the background and a glass of wine in hand, I was ready for the occasion. The driver had been installed on my computer long before I had received the parcel. I put a black leather mat down to protect the Cintiq's base from my undeserving desk.
Mounting the screen to the base was quite frankly a pain in the neck. It took me a while to get it right and even then, I had to adjust it a couple of times because it kept slipping out. But that didn't ruin the moment for me, it just increased the anticipation.
The moment of truth had come. I plugged the cable into the graphics tablet, the other end into the socket and the USB and HDMI parts of that same cable to my computer. The latter via a mini display adapter (thank you Apple) – aaaaand... NOTHING!!! My adapter was broken, go figure. After making an emergency order from digitec.ch and a trip to pick it up from the store, I finally got to see my desktop background in all its high definition glory!
The time to make my dreams come true had arrived!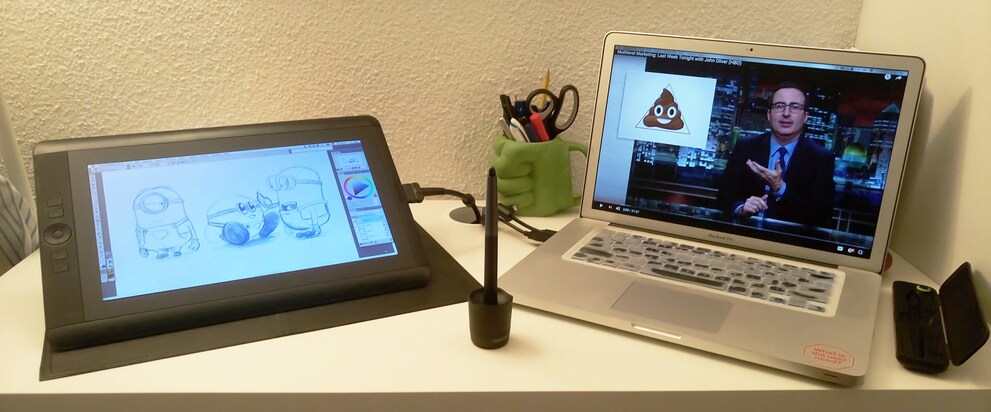 No way I was going to place my glass of wine on the same surface as the Cintiq. God forbid – I'm not a savage!
Im Screen
Inside the screen
Despite trying to put a lid on my enthusiasm, I still had high expectations when I used it for the first time. I must admit that it was very well calibrated right from the start but doing it again definitely didn't hurt. There's a very noticeable parallax of about 1 mm, particularly from the side. In other words, there's an apparent displacement of the tip of the pencil and the actual line on the screen. This is caused by the fact that there's a pane of glass between the screen and the part I draw on. But once you start working, you completely forget about it.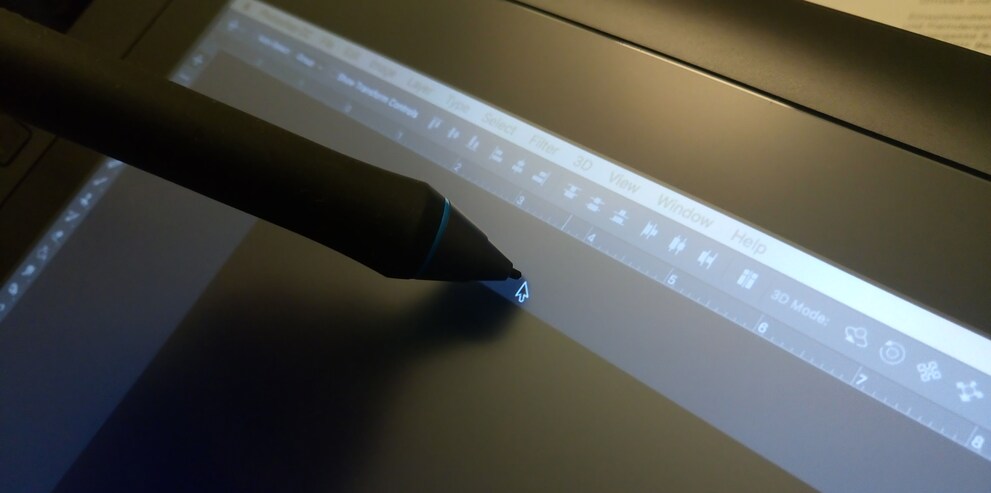 To give you an idea of the amount of parallax: Here you can see the pen touching the screen and the cursor image a layer further down.
The screen has a matte finish that gives you Wacom's signature texture. It simulates the feeling of working on paper and withstands even the most intensive use. Any other screen would end up with scratches or would wear out very fast, but the Cintiq HD 13 was made with heavy duty in mind – and it shows.
For a digital artist, shortcuts are very important to keep the workflow as fluid as possible; that's what the ExpressKeys are for. By default, most of the configurations make no sense, but then again, no two artists would have the same set of shortcuts. Luckily, the settings are quite straightforward and pretty easy to change according to your needs. They also include an extra set of virtual keys for those who need more than nine options at hand. And the two buttons on the incredibly light pen not only add to the experience, but are perfectly placed in an unobtrusive way.
At work
The 1080p resolution and the brightness of the screen deliver a crisp image but, if you're used to a 15" screen, everything will feel too small. At the end of the day, once you start working, you won't notice the size of the screen or that you are using a screen at all. Its texture, pressure sensitivity and great precision create an immersive experience that outshines any downsides. Parallax? What parallax?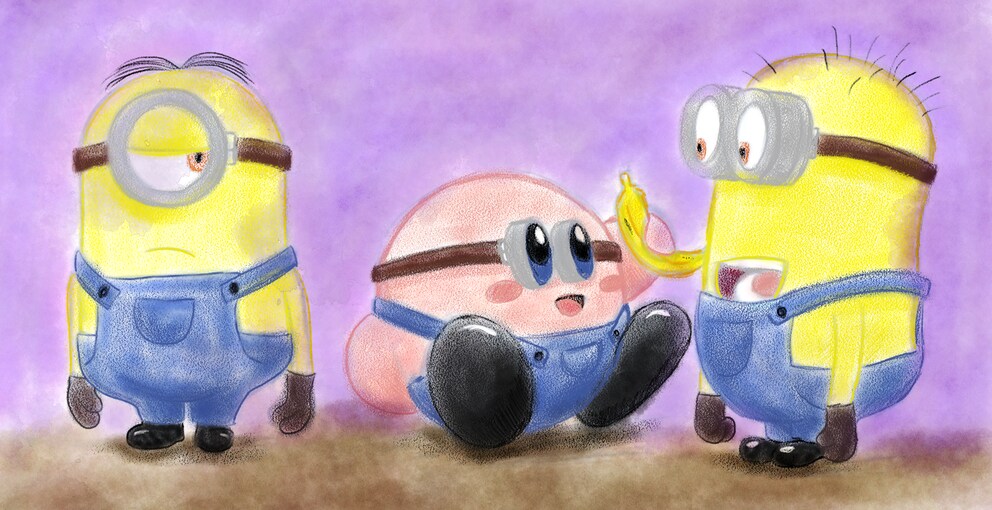 Having fun with coloured pencils, watercolours and chalk. Doing this felt like the real thing. Without the mess and with an undo option.
That's until you decide to draw a reeeaaally long line whilst using a mediocre graphics card and things start to lag. Or if you decide to change the eraser really fast. I noticed that it depends on the programme. When using Photoshop that almost never happened; with Corel Painter you have to give the Cintiq more time to register which side of the pen you are using so you don't end up redrawing instead of erasing.
And then there's the stand. I don't know who designed that thing, but that person should be fired! Feel like drawing in a lower position? Then prepare to fiddle with it for five minutes to kind of set it up again, only to have your screen falling out of place within two minutes. Wacom managed to give you a paper-like texture on a screen but didn't bother to think of a way to make the stand as intuitive as their product.
Overall, the Cintiq 13HD Graphic Tablet delivers the best experience a digital artist could wish for. With a high-quality screen and a comfortable pen, Wacom did it again and lived up to my expectations. There are some minor details that could be improved, but they are peanuts compared to the stand issues. Wacom has always been the king of pen tablets and with good reason. Long live the king!
---

I might be a graphic designer, a Pokémon trainer and tech-savvy but I'm no creative writer. I'm on a non-stop quest against bad design. Since 2014, I call Switzerland my home.
---
---
These articles might also interest you
Skeleton Loader

Skeleton Loader

Skeleton Loader

Skeleton Loader

Skeleton Loader

Skeleton Loader