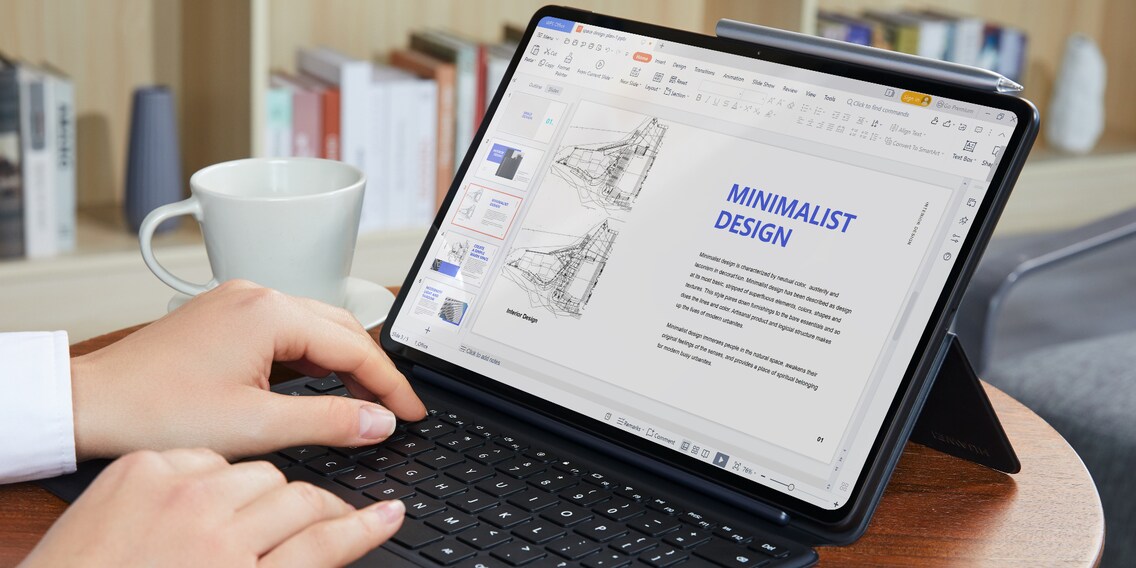 This article was translated automatically.
MWC 2022: New notebooks and the first e-book reader from Huawei

Jan Johannsen
Hamburg, on 27.02.2022
Huawei did not present any new smartphones at the Mobile World Congress (MWC) in Barcelona, but a notebook, a Windows tablet with a plug-in keyboard, and an e-book reader.
The U.S. sanctions continue to keep Huawei cautious with new smartphones outside of China. With "Super Device," Huawei is creating a new ecosystem to closely connect its own products. And that is where smartphones come into play again, for example the Huawei P50 Pro announced for Europe at the end of January.
News + TrendsSmartphone

Huawei P50 Pro comes to us: 10bit images with Leica lenses
MateBook X Pro: Power notebook
In the new edition of 2022, the MateBook X Pro gets a larger screen. It now measures 14.2 inches diagonally - it was 13.9 inches in the 2021 predecessor. The touchscreen has a refresh rate of 90 hertz and a resolution of 3120×2080 pixels.
Huawei adopts some gestures from its smartphones for the controls. For example, the "Free Touch Creative Gestures" include volume control by swiping up and down on the right edge of the touchpad or screenshots by tapping the touchpad with the knuckles.
The MateBook X Pro's equipment includes six speakers and four USB-C ports. Huawei did not yet provide information about the hardware and the availability of the notebook with a metal unibody case.
MateBook E: Convertible, tablet - flexible in any case
The MateBook E, which was introduced in November for China, is coming to Europe. It is a Windows 11 tablet with an attachable keyboard including a stand. Functionally, it is reminiscent of Microsoft's Surface. Huawei makes this comparison itself to show that its MateBook is thinner at 7.9 millimeters and lighter at 709 grams than Microsoft's convertible. The current Surface 8 Pro weighs 891 grams and is 9.3 millimeters thick.
The 12.6-inch touchscreen is the first OLED display that Huawei installs in a tablet or laptop. Its resolution is 2560×1600 pixels and the brightness reaches 600 nits.
A fingerprint sensor is integrated into the power button. However, there are only two ports: A 3.5 mm headphone jack and a Thunderbolt 4 port (USB-C). The M-Pencil 2 is compatible with the MatePad E. So you can use its 4096 levels of pressure on the tablet, and it sticks magnetically to the frame while charging its battery wirelessly.
ReviewSmartphone

Huawei Matepad 11 in test: The first tablet with HarmonyOS
Huawei offers two cases for the MateBook E with an integrated keyboard, touchpad, and stand. The "Smart Magnetic Keyboard" has a key drop of 1.3 millimeters and a stand that can be adjusted continuously between 110 and 160 degrees. The "Glide Keyboard" looks futuristic and has backlit keys as well as an additional USB-C port.
Huawei plans to sell the Matebook E in Europe starting March 14. There are two versions to choose from, for which I currently only have the recommended retail prices for Germany: Core i5, 16 GB RAM, 512 GB storage for 1199 Euros - including the Smart Magnetic Keyboard - and Core i3, 8 GB RAM and 128 GB storage for 649 Euros.
MatePad Paper: e-book tablet
With its 10.3-inch e-ink display and many additional features, the MatePad Paper is more of an e-book tablet than an e-book reader. In comparison, the competition usually has 6-inch displays and considerably more edges. Huawei Books currently offers two million books in 20 languages. The MatePad Paper also supports EPUB, which means it is also open for other sources.
You can write on the MatePad Paper with the M-Pencil 2 and have the texts recognized automatically. The acrylic panel is supposed to feel like paper. In a split-screen mode, you can read and take notes at the same time - and the tablet can also record sound.
The MatePad Paper runs HarmonyOS and has Wi-Fi. Therefore, you can install selected apps from the AppGallery. A total of 64 gigabytes of storage space is available for this and for books and notes. The battery is supposed to last four weeks in standby.
Huawei still wants to provide information about the price and availability.
Super Device and Huawei Mobile App Engine
Together with the new hardware, Huawei also introduces new software. "Super Device" is the name of the new system, via which different Huawei devices can be connected with each other. For example, for uncomplicated file exchange or the operation of other devices - for example, the smartphone with the notebook.
The "Huawei Mobile App Engine" is used under Windows and allows apps from the AppGallery to be installed on the computer. Thus, Huawei directly competes with Microsoft, whose support for Android apps under Windows 11 is still a long time coming.
---



When I was but a young student, I'd sit in my friend's living room with all my classmates and play on his SuperNES. Since then I've had the opportunity to test out all the newest technology for you. I've done reviews at Curved, Computer Bild and Netzwelt, and have now arrived at Galaxus.de. 
---
---
---
These articles might also interest you
Skeleton Loader

Skeleton Loader

Skeleton Loader

Skeleton Loader

Skeleton Loader

Skeleton Loader