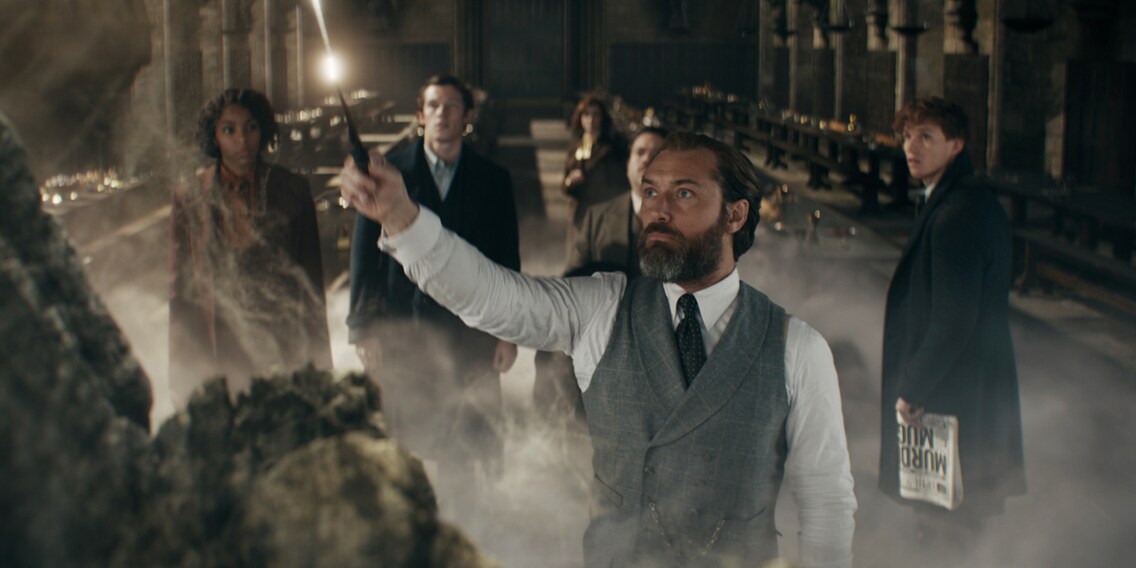 Minor hitches aside, «Fantastic Beasts 3» is simply magical

Many fans are thinking: «Finally! Something new from the Harry Potter universe.» And rightfully so. «The Secrets of Dumbledore» is a fantastic film with a brilliantly cast trio that'll quickly make audiences forget the flop that came before.
First off, my review contains no spoilers. Any information stated here is featured in previously released trailers.
---
Say what you want about J.K. Rowling, but she's undoubtedly an exceptional children's book author. How else can you explain the fact that «Harry Potter» continues to be a portal to a magical world which enchants kids and grown-ups alike? After all, it's a world bursting with fascinating contrasts. Wonderful, and dangerous at the same time. Hidden, and yet, right under our noses.
The wizarding world.
The «Fantastic Beasts» movies were never quite able to live up to that roaring success. Perhaps because J.K. Rowling never wrote any novels as their templates – only scripts. And these – we can now conclude – aren't her strongpoint. The series' second instalment, «The Crimes of Grindelwald», in particular, is rife with narrative and structural problems.
This prompted Warner Bros. to bring back an old friend: Steve Kloves. Having penned seven of the eight Harry Potter scripts, he's now completed «The Secrets of Dumbledore» in collaboration with Rowling. Supposedly. Maybe. According to IMDb's database, anyway. But not according to the film's credit sequence. If it were up to the film studio, J.K. Rowling would be axed from the marketing completely in light of her controversial comments about transgender people.
Kloves, at least, is good for the franchise. After all, «The Secrets of Dumbledore» isn't just excellent – it's the best part of the «Fantastic Beasts» series by a mile. The film has a structure, a concept, a narrative thread. Beginning, middle and end. And on top of that, there are well-written characters, great action scenes and Mads Mikkelsen, who's stepped in for Johnny Depp. If I'm being brutally honest, he's so good that he should've been the one to play dark sorcerer Gellert Grindelwald from the outset.
What «The Secrets of Dumbledore» is all about
It's the 1930s and the wizarding world is changing. Gellert Grindelwald wants to impose a new world order – one where witches and wizards exist openly. And where muggles – or non-magical people – are subjugated by the magical world through war. After all, weren't muggles the ones to hunt down witches and wizards during The Dark Ages?
There's only one wizard who can match Grindelwald's power: Albus Dumbledore (Jude Law). But a magical blood pact, sealed in their youth when the two were still allies, prevents the legendary duel cited continuously in «Harry Potter» years later. It's then up to their followers, magical zoologist Newt Scamander (Eddie Redmayne) among them, to tirelessly rally around Grindelwald and Dumbledore and fight it out on their behalf.
That is, until a powerful new weapon falls into Grindelwald's hands: the ability to see fragments of the future.
Another change of course – this time for the better
Now that Steve Kloves has taken the reins – at least over the plot – «The Secrets of Dumbledore» has something its predecessors didn't: a plan. The film knows where it begins and ends. It also knows how to clearly progress from beginning to end, without getting weighed down with unnecessary confusion:
a breath of fresh air compared with the complicated, convoluted plot of «The Crimes of Grindelwald». It's telling that in Kloves' script, the newly introduced Professor Lally Hicks (Jessica Williams) summarises the events of the previous film in two or three simple sentences. This reveals how much of the plot was actually relevant, and how much was just fluff which slowed down the action.
The great art of Kloves' script lies in its ability to take an urgently needed change of course without straying too far from the actual premise. You'll remember that «Fantastic Beasts and Where to Find Them» started out as a kind of «Monster Hunter» in Harry Potter's magical universe. Then came «The Crimes of Grindelwald». The story turned its focus and tone to the looming, depressing escalation between Grindelwald and Dumbledore, demoting Newt Scamander, protagonist of the series' first instalment, to a minor character in his own franchise.
It's noticeable that Kloves' «The Secrets of Dumbledore» script has backpedalled on the depressing mood. For one thing, it gives Scamander – and the fantastic beasts mentioned in the title – much more airtime. Not quite as much as in «Fantastic Beasts and Where to Find Them», but enough to keep the magical creatures fans happy. Second, it returns that sense of childlike wonder to the magical world which got lost in «Crimes». Taking a cynical view, you could even say that Kloves' entire script fesses up to the failure of its predecessor.
In fact, the truth is that this new change of course is more than just a step in the right direction. It's a huge roadmap. As if «Fantastic Beasts» has finally found its rhythm. And its place in the wizarding world. It's a good one.
The new Grindelwald versus the old Dumbledore
«The Secrets of Dumbledore» turning out well wasn't a foregone conclusion. The production was constantly rocked by scandals so dramatic that it was unable to bank on success.
In 2017, for instance, Grindelwald actor Johnny Depp and his ex-wife Amber Heard were embroiled in a bitter row which culminated in both sides accusing one another of domestic violence. Warner Bros. stood by the actor initially. Three years later, this was no longer the case: Depp left the project in November 2020, after his 50-million-dollar defamation lawsuit was dismissed – just a few months after J.K. Rowling's grotesque [transgender scandal] (https://www.glamour.com/story/a-complete-breakdown-of-the-jk-rowling-transgender-comments-controversy). The furore was preceded by a controversial video of supporting actor Ezra Miller allegedly choking a woman in Iceland following a provocation.
Scandal all round.
None of this is evident in the film. Quite the opposite, in fact. Ezra Miller's role has been significantly reduced – probably no coincidence – and Mads Mikkelsen has taken Depp's place. A stroke of luck. Mikkelsen isn't just an extremely worthy Gellert Grindelwald replacement. He also plays him with such charisma that it's easy to fall prey to his charm – and his overly radical ideology. It's a little like the reaction of the young Albus Dumbledore, again played by Jude Law, who portrays him with a masterful mix of brooding melancholy and childlike joy.
In fact, the on-set chemistry between Law and Mikkelsen works better than that of Law and Depp by a long shot. Not that Depp's interpretation of Grindelwald wasn't good. Depp embodied more of Grindelwald's madness and the void in his soul. Pale-skinned, with bleached hair, a white eye and a steampunk aesthetic, Depp also expressed this in his appearance. Far too much of a contrast between the classic old-fashioned Dumbledore, especially as it's been hinted since «Crimes» that the two had a romance in their youth.
Mikkelsen, on the other hand, oscillates between charming, benevolent and terrifying. A very effective balancing act that also makes the aforementioned romance seem more credible. I now can't think of a better actor to play Grindelwald. That's the biggest compliment I can give Mikkelsen.
And what about these «secrets» of Dumbledore's we're promised in the title? For fans, the film takes a deep dive into the back story. A very deep dive. Don't worry, there'll be no spoilers here. But prepare yourself for the occasional surprise. And for a few tear-jerking scenes, courtesy of Jude Law's performance.
Is there anything to criticise? Yep, a little.
As much as I'd like to carry on gushing over «The Secrets of Dumbledore», the film isn't perfect. Apart from the leading trio of Scamander, Dumbledore and Grindelwald, there's precious little development in store for most of the characters. Yusuf Kama, a carry-over from «Crimes of Grindelwald» played by William Nadylam could've been cut out altogether. The same could be said for Scamander's brother Theseus (Callum Turner). The two Goldstein sisters (Katherine Waterson and Alison Sudol) are there, but only just. And the German Oliver Masucci, who you might know from «Look Who's Back» or «The Royal Game» is completely wasted as Anton Vogel.
Then there's Dan Fogler, who plays muggle Jacob Kowalski. When it comes down to likeability, he easily wins hands down – no discussion. And that doesn't change in the third film either. However, that's exactly why I wanted him to finally have some more influence over the plot. On one hand, he's the beating heart of the film. On the other, ... ach, he's just a muggle, and about as much use to witches and wizards as a frying pan. Even Kloves' script can't quite explain why the wizarding world constantly goes running back to him. But I'm happy regardless. As I said, you can't help but have a soft spot for Kowalski.
But there is some good news. The aforementioned newcomer Lally Hicks, a professor at the Ilvermorny School of Witchcraft and Wizardry – or the American version of Hogwarts – is a welcome addition. Perhaps it's because most of her scenes involve the lovable Kowalski as they stir up trouble together in Berlin. There, the film references an important, upcoming election. One that will determine the future leader or leaders of the worldwide magical community.
Wait, what?
In every country, there's a Ministry of Magic. Every ministry has its own leader. This world government, however, is totally new to me, and as far as I know, has never been mentioned in the books or films. Even though the script attempts to coax you into believing that only someone of true heart can be elevated to its leadership, there's still something kind of authoritarian about the concept.
My verdict: Finally, the franchise has got really fun.
While «Fantastic Beasts and Where to Find them» still seemed too meek and frivolous for the «Harry Potter» cosmos, «The Crimes of Grindelwald» sought its justification in an unbelievably convoluted story which, without any warning, threw its original premise out the window. With «The Secrets of Dumbledore» a happy medium has finally been achieved.
In fact, thanks to his well-performing cast and Steve Kloves' script, director David Yates has pulled off a mostly light-hearted adventure with plenty of action and imaginative use of computer effects. Once again, the whole film is accompanied by James Newton Howard's impeccable score. Citing the iconic Harry Potter theme just enough, it allows the audience to bask in some blissful nostalgia before turning their attention back to the fantastic beasts.
---
«Fantastic Beasts: The Secrets of Dumbledore» has been in cinemas since 7 April. Runtime: 142 minutes. Age rating: 12/10.
---



I'm an outdoorsy guy and enjoy sports that push me to the limit – now that's what I call comfort zone! But I'm also about curling up in an armchair with books about ugly intrigue and sinister kingkillers. Being an avid cinema-goer, I've been known to rave about film scores for hours on end. I've always wanted to say: «I am Groot.» 
---
---
These articles might also interest you
Skeleton Loader

Skeleton Loader

Skeleton Loader

Skeleton Loader

Skeleton Loader

Skeleton Loader