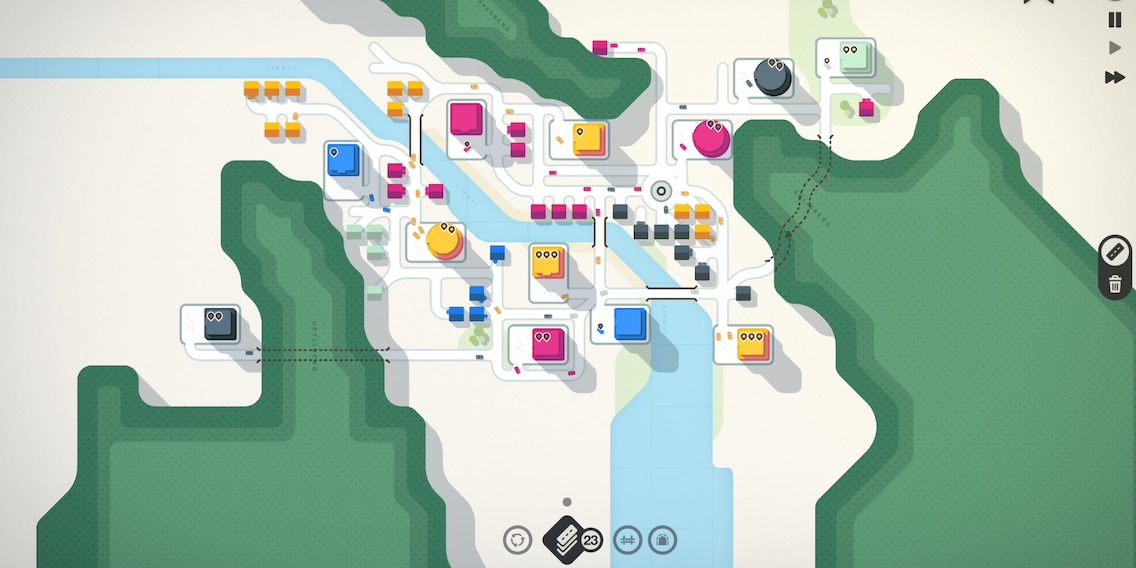 «Mini Motorways»: fancy a bit of traffic planning during your lunch break?

«Mini Motorways», released on Apple Arcade, offers the perfect pastime for amateur road network builders. Lean back and enjoy – or go on a traffic planning frenzy.
If you find «Sim City» too tedious and «Candy Crush» too silly as a short game for in between, «Mini Motorways» might be for you. It's a few months old, but I only just found it in Apple's Arcade offer and enjoy playing it on the Mac Mini, so the desktop. To me, it has an appeal like no other. The «puzzle strategy game», as it's classified on Wikipedia, offers just the right level of challenge. It's a good way to switch off during the lunch break or give you something completely different to do after work. You can also play it on the iPad or iPhone. But it quickly becomes confusing on smaller screens.
What's the game about? That's quickly explained: you're responsible for the traffic planning of a city. For the sake of simplicity, all residents of this city drive their own cars. So you don't have to think about timetables and how individual and public transport work together. The people in your city drive either red, blue, green, black or yellow cars. And they always head for a building that's the same colour as their car.
You pave the way for them with roads that you build on a grid of squares, much like in old «Sim City» variants. In addition to regular roads, you can plant traffic lights on intersections to improve the traffic flow, or build roundabouts, tunnels and bridges. Motorways are also available. They always have a starting point and an end point – no hassle with on and off ramps. After each round, you get a set of new road elements. You usually choose from two options, for example 30 roads or 20 roads plus a roundabout.
The goal of «Mini Motorways»
Your task is to create the fastest connection for the cars to the matching colourful buildings. This is quite simple at the beginning, but quickly becomes more difficult. As the game progresses, the houses and buildings pop up at places on the map where you don't need them: too far away from the matching target building or in the middle of a village of differently coloured houses.
This makes building roads demanding and slows down traffic – and at some point, inevitably leads to the end of the game, which is reached when the target buildings can no longer be reached regularly and frequently enough, as the small cars lose too much time in traffic jams. For you, this means that you have to develop strategies to keep things moving.
The graphics are kept pretty simple. The sound effects and music provide atmosphere, but are never annoying. I especially like the fact that I can play the game with the mouse. The left mouse button lets me build a road; the right mouse button removes it. It's simple. I need neither keyboard nor controller. That's lucky, because I haven't used them in years and can't even play a simple racing game with keyboard and controller.
How to succeed in «Mini Motorways»
Despite appearing simple, «Mini Motorways» is a strategic challenge. After a few rounds, you realise that too many cars in different colours and with correspondingly different destinations are causing congestion on your roads. If this happens, the game is over sooner than you'd wish.
Keeping traffic flows as separate as possible is a successful strategy. In other words, make sure blue cars drive to blue buildings on their own roads; red cars to red ones and so on. Building motorways is often the best way to do this. And if traffic flows are already crossing, you can tame them with a roundabout. You'll find more tips and tricks for succeeding in «Mini Motorways» here. There's an option to save the game you just completed as a video. This is why you can find thousands of hours of material from other players on YouTube if you're looking for some inspiration.
My verdict: «Mini Motorways» is both simple and complex
The small game by New Zealand studio Dinosaur Polo Club has the potential to become a classic – and addictive. It's kept as simple as possible and yet has enough complexity to make you play round after round. The challenges and maps that you can choose from add to the fun. I chose Zurich, for example, but my road planning between Adlisberg, Uetliberg and Käferberg, failed miserably and very early on. I still have to learn and understand that with «Mini Motorways», the journey is the reward. It's not about avoiding traffic, but about taming the inevitable increase in traffic by building as many roads as possible.
The game mechanics of «Mini Motorways» remind me a bit of Tetris, the forefather of puzzle games. The better you get, the harder the task becomes. At least, I can now click «Pause the game» if I need to and can completely rethink and redo all the road connections to prevent the traffic system from collapsing.
«Mini Motorways» is included in Apple Arcade. It's also available on Steam for about $10. And it's supposed to be released for the Nintendo Switch soon.
---



Journalist since 1997. Stopovers in Franconia (or the Franken region), Lake Constance, Obwalden, Nidwalden and Zurich. Father since 2014. Expert in editorial organisation and motivation. Focus on sustainability, home office tools, beautiful things for the home, creative toys and sports equipment. 
---
---
These articles might also interest you
Skeleton Loader

Skeleton Loader

Skeleton Loader

Skeleton Loader

Skeleton Loader

Skeleton Loader