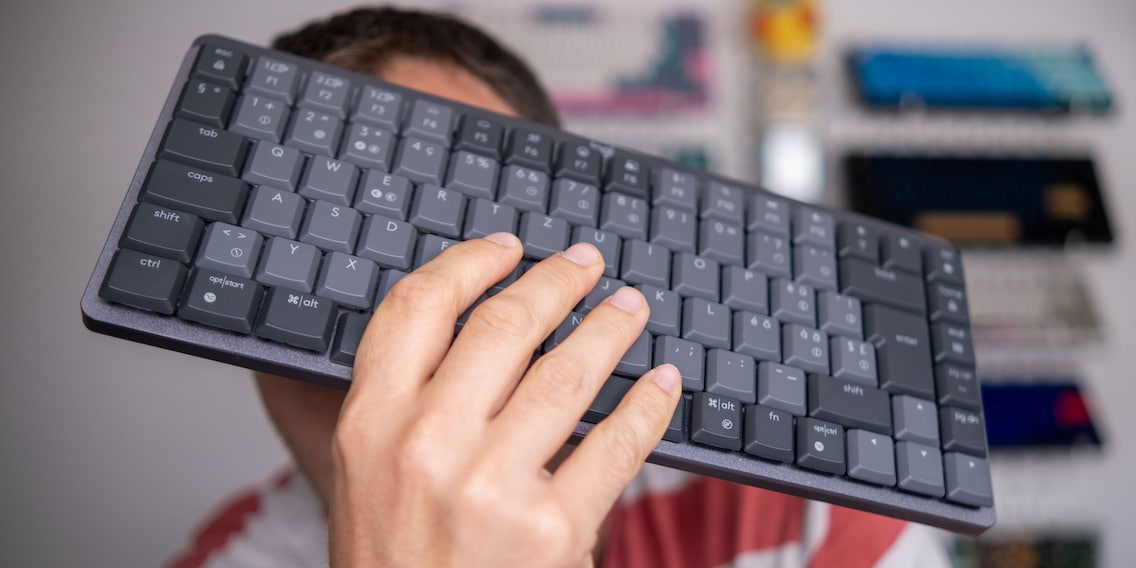 Material check: the Logitech MX Mechanical Mini, disassembled

With the MX Mechanical Mini, Logitech is looking to bridge the gap between flat chewing gum keyboards and mechanical keyboards. I took a look at it from an enthusiast's perspective without actually typing on it.
I'm not allowed to test keyboards at the moment. I challenged myself to typing on a split ortholinear keyboard for a month. The Logitech MX Mechanical Mini arrived at my house just in time. Instead of a week-long typing test, I examined the keyboard's build quality and assembly in an afternoon.
The exterior
The MX Mechanical Mini is a flat keyboard with low profile switches and keycaps. Its housing is also flat for a mechanical keyboard. The exposed switches are on an aluminium cover plate, while the rest of the case is plastic – I'm guessing ABS. Overall, the finish is solid. It takes a lot of force to be able to bend the keyboard minimally – something which was much easier to do with Apple's competitor.
Interestingly, the keyboard yields when the keys are pressed. It's not as extreme as the Keychron Q1, which is designed for a flexible typing experience, but it's still impressive compared to other ready-made keyboards. A quick look reveals the reason: the keyboard's rubberised feet.
What struck me as soon as I touched them was that the keycaps are real fingerprint magnets. They feel super smooth. If they were a little rougher, I'd have had a little more grip and the fingerprints wouldn't be as easy to see, but I wasn't impressed by the ABS plastic keycaps anyway. They're only a millimetre thick and I'd be afraid of breaking them if I removed them.
The primary button functions are transparent, letting the backlight through, but the secondary or Mac key functions are only printed. I find the keycaps overcrowded.
The tactile switches have quite a bit of give in all directions for low-profile switches. When I fiddle with a keycap, it moves properly. The key travel of low profile switches is shorter than that of conventional mechanical switches. It's around three millimetres. Four millimetres is a common figure for most switches in ready-made keyboards. The switches feel and sound scratchy when pressed.
Stabilisers are the things that stop long keys like backspace, enter, and spacebar from wobbling. Things can rattle quite a bit, but, when I press the backspace and enter keys, I'm pleasantly surprised: they don't clatter as much as on other keyboards. A look under the key caps reveals why: Logitech has lubricated them. Interestingly, there was no lubrication on the space bar – a.k.a. the most frequently used key on a keyboard.
Logitech uses built-in plate mount stabilisers. This means they're attached to the cover plate with a click mechanism. I could just remove and modify them so they don't rattle as much. Well, the backspace and enter keys at least. When it comes to the spacebar, I'd also have to desolder the switch, as it sits above the stabiliser wire.
Overall, the sound of the keyboard is unsatisfactory. It sounds mechanical, but nothing like my own keyboards. It clacks, clatters, scratches and rattles when typing. The MX Mechanical Mini sounds like bad Guggenmusik to me – i.e. annoying and bad. For me, a good sounding keyboard is akin to ASMR (article in German). When I type on one, working is a pleasure.
Next up: the interior
So far, so superficial. I want to know what the inside of the keyboard looks like. In order to unscrew it, I first have to remove some keycaps and loosen the screws underneath.
This shows that the keyboard isn't designed to be opened. The cable connecting the battery to the daughterboard is so short that I couldn't separate the two halves enough to reach it. I finally managed to pull it out with a pair of tweezers. As soon as I got rid of it, I had a clear view of what's underneath. Incidentally, this is also where the battery is.
The daughterboard is connected to the circuit board with a ribbon cable. You'll also find the USB-C port and the Bluetooth element on it, and it also protects the circuit board from electrostatic discharges.
Now I could see the daughterboard, but the circuit board itself was still hidden under another piece of plastic. The MX Mechanical Mini consists of three external parts rather than just two. I loosened the middle part, which forms the outer frame.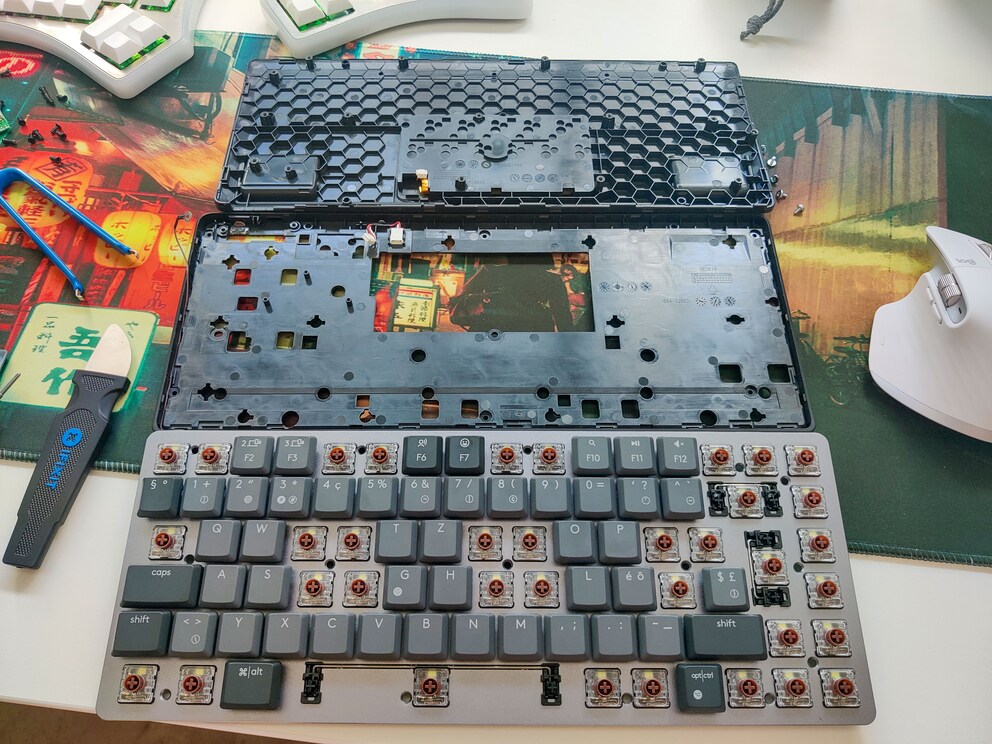 Now I had all three parts of the case in front of me. Of course I could've desoldered the switches there and then and separated the cover plate from the circuit board. But that's too much effort just to have a look, especially as I noticed that the lower and upper part are very thin. They can be bent without much effort.
It's interesting that Logitech decided to build the keyboard with three outer parts. I assume it's cheaper than making the lower part of the housing from one single piece. However, when the lower and middle parts are separate, they look very cheap. I can easily distort them. That said, it's good that Logitech has opted for a daughterboard, which can prevent a lot of defects on the circuit board.
Not for me
As you can probably guess, as a keyboard enthusiast, I don't want to type on the MX Mechanical Mini for any longer than I need to test it. This time, I didn't even type on it because of my aforementioned self-imposed ban. So, my verdict on everything I was able to test without touch typing is that the keycaps, switches, stabilisers and sound are simply too bad for me, plus the plastic case isn't attractive and it's cheaply made when you look more closely.
But it's all a matter of taste – I'm a spoiled keyboard nerd. Most ready-to-use keyboards just don't do it for me anymore. That's why I'm now passing this one on to my boss' boss, Martin Jungfer. He likes flat keyboards and wants to try a mechanical one.
---



From big data to big brother, Cyborgs to Sci-Fi. All aspects of technology and society fascinate me.
---
---
These articles might also interest you
Skeleton Loader

Skeleton Loader

Skeleton Loader

Skeleton Loader

Skeleton Loader

Skeleton Loader