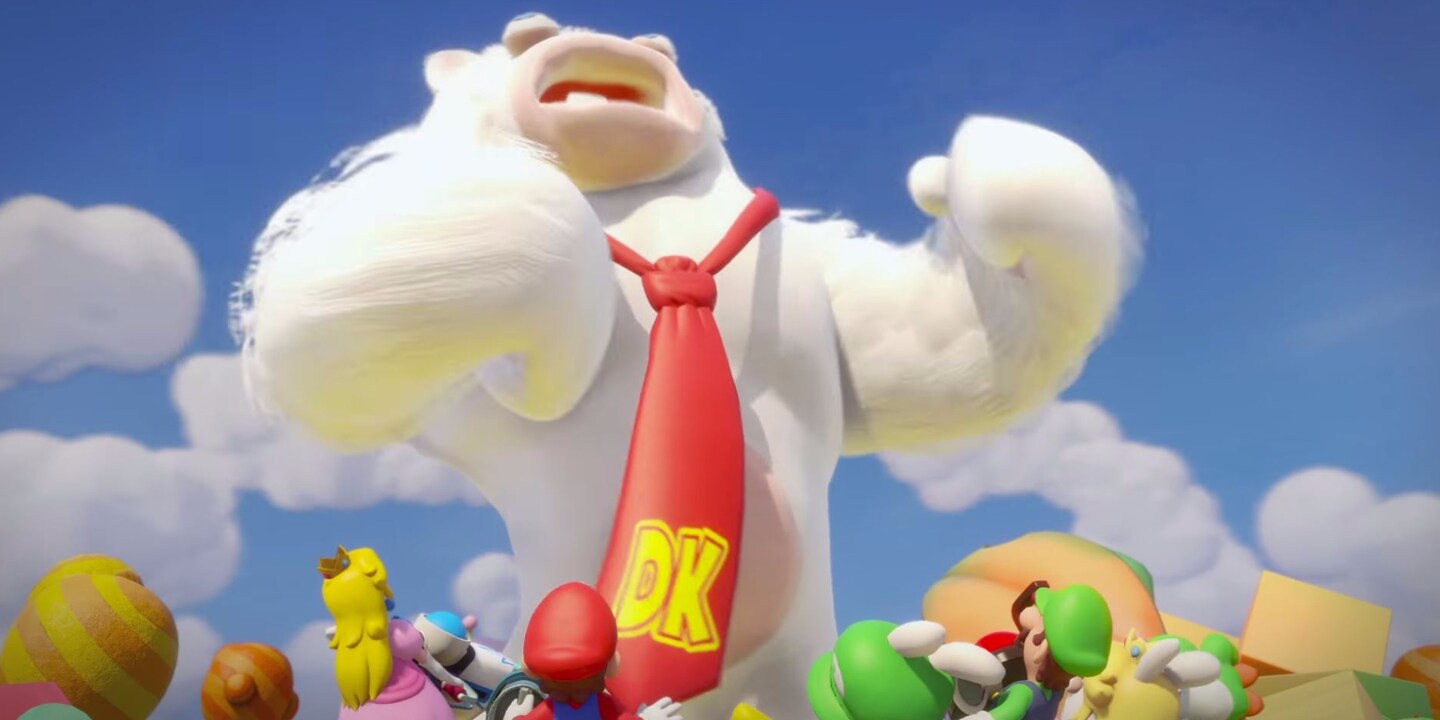 «Mario + Rabbids» review: almost as tactical as «XCOM», but nowhere near as stressful

It's beginner-friendly, requires tactical skills and provides lots of room to fool about. Although there's every indication that Ubisoft's crossover of crazy rabbits and Super Mario is doomed to failure, «Mario + Rabbids» is one of the best and most fun-filled of all new tactical games and is sure to make anyone who doesn't own a Switch green with envy.
I wasn't originally planning to write about «Mario + Rabbids Kingdom Battle». I didn't get around to writing a review for its launch and thought it wasn't worth making up for it later on. How wrong I was! Now that Ubisoft have sent me a sample, I can hardly go a day without it.
Tactical but easy to get into
As its name suggests, «Mario + Rabbids Kingdom Battle» is a crossover of Ubisoft's crazy rabbits and Nintendo's famous Italian plumber. How come these universes collide? It has something to do with a time washing machine, a speaking Roomba vacuum cleaner and an invention called «SupaMerge». It's a fun plot – although rather irrelevant to the game itself.
The game is made up of two parts. On one side, you battle through four worlds with Super Mario and his friends and are joined by Rabbids dressed up as Super Mario characters. In this part, you have to solve puzzles, collect coins and find hidden chests. These parts are fun and relaxing. But as soon as you reach the arena, the game goes into a round-based mode. «XCOM» players will feel at home instantly. Don't get distracted by the cute look and behaviour of the Rabbids; this is where the real tactics of «Mario + Rabbids Kingdom Battle» comes into play. With the help of Mario and two interchangeable companions, your aim is to either overcome all opponents or get to the end of the level before all your players have died. Boss battles and other challenging missions will await you on your way.
With each go, you have the chance for one move, one attack or the opportunity to activate special abilities, no matter in which order. If your enemy is behind cover, he's better protected than in open field. The same goes for you. You can also run through enemies. This looks funny and is effective in hurting them, too. Another fun thing is that your own characters can propel each other through the air. With a bit of practice and the necessary abilities, you can even land on your enemy's head. Imagine all the great moves you can perform: Running through an enemy to a teammate, being hurled to another enemy and firing a volley into a fluffy bunny bum from there.
The jumping mechanisms and transportation pipes offer you a lot of variety. As your opponents have a great range of abilities themselves, battles are very dynamic and never the same. You'll need to plan your moves in advance and have good tactics to get through a level unharmed.
The game starts off rather simple and new mechanisms are introduced one at a time. This lowers the barrier to entry and makes sure you never lose track of things. In world number 3, the games starts getting trickier, as you're confronted with meaner opponents who have new special abilities and try to give you hell. Speaking of hell, swearing isn't uncommon in «Mario + Rabbids» and you'll see a few rabbits in S&M outfits. This doesn't come as much of a surprise, as Ubisoft also gave Mario a gun. If the game gets too tough for you, just switch to Easy Mode before a mission. If you fail, just skip the mission or try it again. This won't have any consequences or lead to loading time.
Getting more equipment and weapons
There's a bit of role play in «Mario + Rabbids Kingdom Battle», too. New characters with different styles of playing are unlocked along the way and you can buy new weapons or put points into skill trees. This will give you healing power or abilities to double-hit enemies who are moving away from their cover.
«Super Mario» as gateway drug
«Mario + Rabbids Kingdom Battle» could have worked just as well without Mario. Personally, I would have preferred Rayman and his gang. Wouldn't the graphical style of the last Rayman game have been a perfect match? What's sure is that Mario generates more attention and the crossover of the two worlds works rather well.
The game principle isn't as complex as with «XCOM 2», but allows for more tactical freedom when it comes to choosing what to do and where to go. The options of attacking your opponents are almost endless.
Whether it's in small doses or for hours on end, you'll have hell of a time playing «Mario + Rabbids Kingdom Battle». Its design is simple but appealing, the Rabbids animations are hilarious and the gameplay itself is full of surprises and new challenges. Anyone who's been looking for a reason to buy a Nintendo Switch should take this opportunity. In my opinion, this in another great example why portable consoles are ingenious. «Mario + Rabbids Kingdom Battle» could well be the best mashup since «Kingdom Hearts» and is sure to delight «XCOM» fans and many more.
This might also interest you (in German)
---

Being the game and gadget geek that I am, working at digitec and Galaxus makes me feel like a kid in a candy shop – but it does take its toll on my wallet. I enjoy tinkering with my PC in Tim Taylor fashion and talking about games on my podcast http://www.onemorelevel.ch. To satisfy my need for speed, I get on my full suspension mountain bike and set out to find some nice trails. My thirst for culture is quenched by deep conversations over a couple of cold ones at the mostly frustrating games of FC Winterthur.
---
---
These articles might also interest you
Skeleton Loader

Skeleton Loader

Skeleton Loader

Skeleton Loader

Skeleton Loader

Skeleton Loader