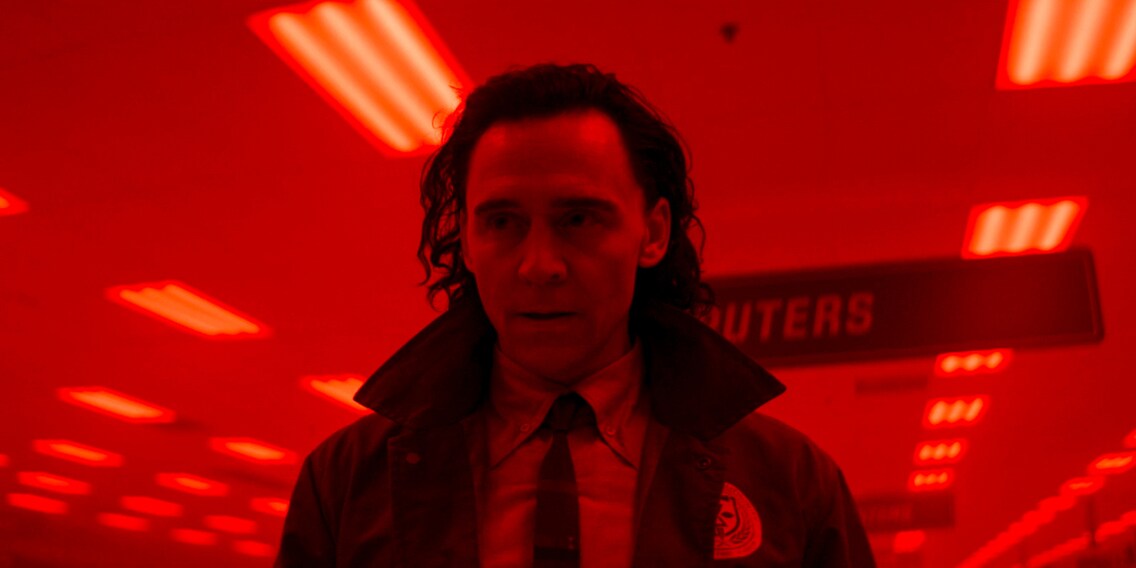 «Loki», Episode 2: «The Variant»

Deception. Intrigue. Lies. Loki remains the true God of Mischief in Episode 2. But the ending literally blasts time to smithereens.
First off: this discussion of the series includes spoilers! So watch the second episode of «Loki» before you read on.
---
Loki, God of Mischief, has got in trouble with the TVA, an organisation created by the Time-Keepers whose mission is to prevent the next multiverse war. Variants are individuals who disrupt the Sacred Timeline and create chaos. But there's one variant who seems particularly dangerous:
Loki himself.
The Variant
Oshkosh, Wisconsin. The year is 1985. Role players are celebrating the Middle Ages. But the Minutemen – agents of the TVA who hunt variants – have already located their target. They're in a dark and empty tent. Only a few torches emit a dim light.
«No Nexus energy yet, ma'am.»
Nexus energy? That must be what variants leave behind when they tamper with the Sacred Timeline. Nexus commercial from «WandaVision», anyone? And there's the fact that, in the comics, Wanda Maximoff is a Nexus Being – powerful enough to alter the flow of time, yet simultaneously a pillar of the Multiverse, providing coherence and stability.
Then the fight breaks out.
It's the hooded figure from Episode 1 – a variant of Loki yet unknown to us. The figure uses greenish magic, similar to Loki. It takes over an agent's mind – Loki has done that, too, but using an Infinity Stone – and, finally, the cloaked figure kills the remaining Minutemen with a large knife – another one of Loki's specialities.
The Loki Variant then snags the Minutemen's reset charge and disappears.
Here's what I think based on my episode discussion of «WandaVision»: while the MCU certainly takes inspiration from the comics, it doesn't follow them to a T. So logically, the new Loki Variant could be the MCU version of Mephisto. That's to say, a Loki who has acquired infernal abilities. Abilities that, in the comics, are more so attributed to Mephisto, a demonic being who rules over a hell-like dimension.
Moving on...
Red line
Loki – «our» Loki – has since been recruited by the TVA. After all, he can't go back to the Sacred Timeline. We learned as much about the MCU Multiverse in the last episode. If a variant creates a new timeline – a Nexus event – the TVA intervenes: the Nexus event is deleted.
As is the variant who caused it. The newly created reality ceases to exist, after all. And the «original» variant lives on in the Sacred Timeline as if nothing had happened. Hence there's no room for the variant.
But Loki gets a second go as a TVA agent. He's supposed to help hunt down an apparently fugitive variant of himself. After all, who could know Loki better than Loki himself? A cute cartoon clock teaches him that Nexus events can only be reset as long as they haven't crossed red line – the point of no return.
And what's the consequence, were this to happen? The collapse of reality as we know it.
Being the God of Mischief and all, Loki apparently has more variants than any other being. And if he helps the TVA track down this particular elusive variant, he could win an audience with the Time-Keepers. And that could be an opportunity to scrounge his freedom.
Ah, yes... the Time-Keepers. In the MCU, these are omniscient and omnipotent beings who dictate the Sacred Timeline. The Time-Keepers ended the First Multiverse War by merging all existing multiverses into a single, restructured timeline – the Sacred Timeline – and have been protecting it ever since.
Omnipotent as they may seem, there's still one being above them in the comics: He Who Remains, the last director of the TVA. He witnessed the end of the universe in a distant future, which led him to create the Time-Keepers with the goal of establishing a reality in which the end doesn't happen. I wonder if we'll get to see He Who Remains in «Loki».
I think it's a possibility. But right now, I want to focus on another prediction. Namely, red line will be crossed. It must be – otherwise, we wouldn't have been told what exactly it even means. Ever heard of Chekhov's Gun? It's an old rule of storytelling: «If it's not essential, don't include it in the story.»
So, why even mention red line if it's not going to be crossed sooner or later?
The apocalypse
Wisconsin, 1985. We're back in the tent. Loki talks about the Variant's potential powers. He explains the difference between illusion-projection and duplication-casting: illusion-projection is simply a projection of the spellcaster, whereas duplication-casting creates an exact copy of the caster's molecular structure.
Chekhov's Gun. Just sayin'.
In the tent, Loki tries to trick the agents, but Mobius outsmarts him. Still, Loki does say something that has stuck with me. He says the TVA and the gods of Asgard aren't so different; that they thought they were better and underestimated those who weren't gods.
Asgard.
Back at the TVA, Loki is finally on to something. The apocalypse of Asgard leads him to Ragnarok. Loki notes the TVA only gets involved when a variant does something unexpected, creating a new timeline.
But what if the variant does things that apparently have no effect on the Sacred Timeline?
Loki's theory in short: the Loki Variant is hiding wherever an apocalypse is about to occur. Because no matter what the Variant does – be it merely exist or anything else the Time-Keepers prohibit – it doesn't matter anyway. The apocalypse that follows shortly after erases the Nexus event. No TVA, no reset charge needed.
The perfect hiding spot.
The new theory
By the way, where are the Time-Keepers? Not even Agent Mobius has ever seen them, as he admits to Ravonna Renslayer. She's the judge from the first episode and is apparently one of the few – maybe even the only one – to be in direct contact with the Time-Keepers.
At least that's what she claims.
Mobius notices a blue pen during their conversation. One he had never seen before. Maybe she got it from another agent – another admirer? Mobius certainly seems to have a thing for Ravonna. You can tell he's jealous. In any case, that pen is peculiar. Chekhov's Gun, anyone?
I wonder if the pen has anything to do with the blue gum from Episode 1. The child in the church apparently got the gum from the Loki Variant. Mobius described it as a gift from the devil.
In the comics, Ravonna is the daughter of King Carelius, a ruler of an alternate version of 40th century Earth. And just like in «Loki», she has a suitor there...
Hold your horses, how could I have missed this!
Let's jump back to the beginning. Or jump forward, technically speaking, to the 31st century. Nathaniel Richards is born – a possible descendant of Fantastic Four leader Reed Richards. And, just like his ancestors, he's smart, eventually becoming a scholar. Until one day, he discovers Fantastic Four villain Victor Von Doom's time travel technology.
Nathaniel uses it to acquire power and knowledge. He travels to Ancient Egypt, among other places, where he becomes Pharaoh and plans to make En Sabah Nur – the mutant we later meet as Apocalypse – his successor.
But his plans are foiled by the Fantastic Four, who also time travel. Nathaniel escapes to the 20th century, meets Victor von Doom and gets chummy with his ideology. Using a self-built machine, he brings Avengers from alternate timelines to the present and pits them against the local Avengers so they destroy each other.
This plan also fails. Nathaniel wants to return to the 31st century, but overshoots by several thousand years. What he finds is a world destroyed by wars. Nathaniel conquers this world and henceforth calls himself Kang the Conqueror.
As Kang, he extends his rule to almost the entire universe. Then to alternate realities. And then alternate multiverses. In one of these multiverses, he meets Princess Ravonna, daughter of King Carelius. He falls in love with her. Alas, it's unrequited love.
Unwavering, Kang conquers Ravonna's world. But when he refuses to kill her, Kang's officers start rebelling. Using his time travel technology, Kang brings in the Avengers. They help him defeat his officers. Ravonna intercepts a deadly blow aimed at Kang and dies. She had, in fact, apparently loved him.
What if Ravonna also carries on with Kang in the MCU? After all, we would expect him to have some interest in a multiverse he could conquer. A multiverse whose existence the Time-Keepers currently don't allow.
Isn't the upcoming Doctor Strange movie, which directly follows the end of «WandaVision», titled «Doctor Strange in the Multiverse of Madness»?
The lady in the warehouse
Haven Hills, Alabama. The year is 2050. A hurricane of biblical proportions threatens to devastate the hamlet where Roxxcart maintains a shopping centre. Let's look at the «Roxx» in Roxxcart.
In the comics, the Roxxon Energy Corporation is a giant energy and oil company that's never up to any good. The name Roxxon appears in almost every MCU movie. In the Iron Man trilogy, for example. Or ABC's «Agents of Shield». But it was never enough to warrant more than just a passing remark. It probably won't be relevant enough in «Loki», either.
Then, finally, the Minutemen track down the rogue Loki Variant. The game of hide and seek comes to an end. Hidden under the hood is... Mephisto! I'm kidding – you can throw my Loki-is-Mephisto theory right out the window. I really should forget about Mephisto in general. Hiding under the hood is, in fact, Loki.
Lady Loki, to be precise.
I didn't see that coming. Or did I? Maybe I just didn't want to spoil you the guessing game? Maybe... maybe not. Who knows? In any case, what we do know is that Loki's genderfluid and pansexual. Oh yes. It's official. Confirmed in the previous episode. Who caught that?
The whole genderfluid and pansexual thing stems from the comics, by the way. In the comics, Lady Loki isn't a variant of Loki from another reality. She's Loki himself, who has decided to go for a female body because it's what will currently create the most chaos. So, Loki's genderfluid not in the sense of «today I feel like a woman» but «yesterday I was a frog. Ha! Ha! What should I be today?»
For example, during the «Dark Reign» storyline in the 2008 to 2009 comics: Lady Loki repeatedly teamed up with villains like Norman Osborn and Doctor Von Doom to manipulate the Avengers in true Mistress of Mischief fashion.
We have yet to discover what Lady Loki is up to in «Loki». All we currently know is that, every now and then, she blows up the entire Sacred Timeline using stolen reset charges – creating an uncontrollable number of new timelines in the process. Oh boy. Maybe this is the moment from the after-credit scene in «WandaVision» in which Wanda hears her children screaming from another timeline.
«This isn't about you,» says Lady Loki before she disappears through a portal.
Loki hurries in after her. Where to? Unclear. As is what Lady Loki meant when she said «you». She's also Loki, after all. Or is she not? Mere moments before, she did say she didn't want to be called Loki. In the comics, there's a certain powerful sorceress: Sylvie Lushton aka Enchantress. Where did she get her powers? From Lady Loki – during said «Dark Reign» event. And where is she from? Oklahoma – the very state the final scene of Episode 1 took place in.
Coincidence?
I honestly don't know. The TVA, on the other hand, would know. We only ever hear talks of the Loki Variant, though, because she has his temporal aura. If I had to guess, I'd stick with the idea that we're dealing with Lady Loki. Unless the MCU Enchantress also got her powers from an undiscovered variant of Loki – including his temporal aura. Or something like that.
In any case, what I am sure of is that Lady Loki – or Enchantress – is acting on behalf of someone who wants to destroy the Sacred Timeline and conquer the resulting multiverse. Just like in the comics.
Kang the Conqueror, perhaps?
---
What did you think of this episode? Let me know in the comments! The next episode discussion will follow on Wednesday, 23 June. But because I'll be on vacation, fellow comic book nerd and Marvel aficionado Dominik is taking over.
---



I'm an outdoorsy guy and enjoy sports that push me to the limit – now that's what I call comfort zone! But I'm also about curling up in an armchair with books about ugly intrigue and sinister kingkillers. Being an avid cinema-goer, I've been known to rave about film scores for hours on end. I've always wanted to say: «I am Groot.» 
---
---
---
These articles might also interest you
Skeleton Loader

Skeleton Loader

Skeleton Loader

Skeleton Loader

Skeleton Loader

Skeleton Loader