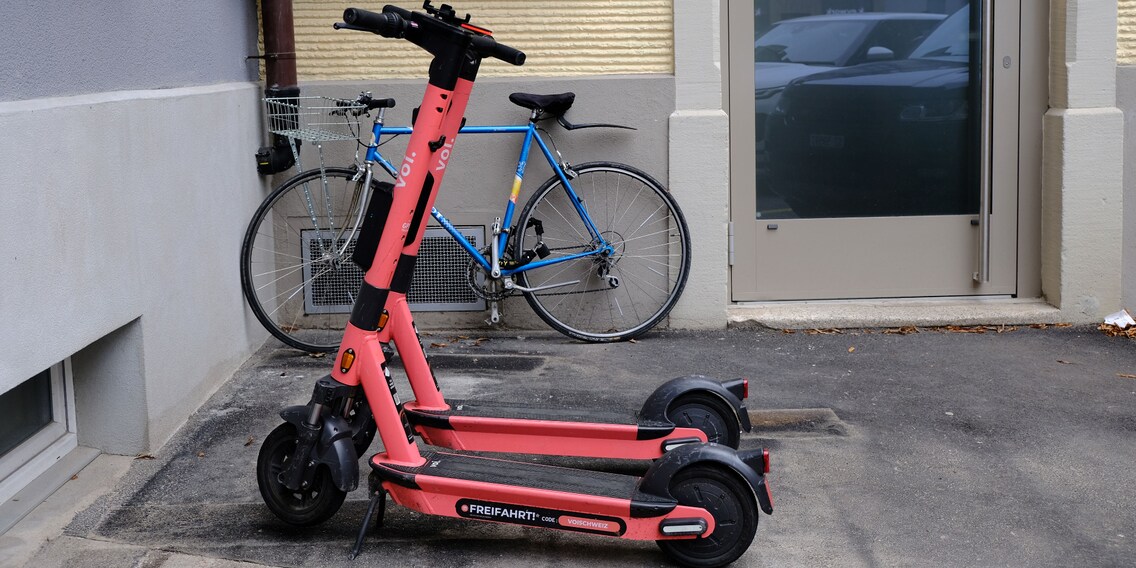 This article was translated automatically.
Little CO2 savings: e-scooters and e-bikes for hire are not very "green".

A study by ETH Zurich shows that e-scooters hardly replace car journeys. Thus, the supposedly environmentally friendly vehicles do not save CO2.
Cruising through the city electrically and doing something good for the environment at the same time - that's probably what many people feel when they rent an e-troti or e-bike. However, a study by ETH Zurich has now shown that the services offered by so-called micromobility service providers do little to reduce CO2 emissions. The reason: contrary to previous assumptions, journeys with a borrowed e-scooter do not usually replace journeys by car. They are substitutes for routes that people would otherwise have taken by tram, bus or on foot. And it is precisely these means of transport that are already environmentally friendly per se. The researchers found this out by surveying users and collecting booking and GPS data in Zurich from June 2020.
Overall, the results of the study by the Institute of Transport Planning and Systems at ETH Zurich are sobering: sharing services from service providers such as Lime, Voi, Tier, Bird and Co. actually worsen the eco-balance in urban transport. In an interview with the "NZZ am Sonntag", which was the first to report on the results of the study, head of research Daniel Reck explained that due to the short lifespan of the rental e-scooters - on average a scooter only lasts two years - their carbon footprint is worse in comparison. This is also due to the fact that the scooters have to be collected again and again and redistributed in the city, because they are parked in places where they are not immediately and quickly needed again.
Owning is better than borrowing
In comparison, privately owned e-scooters and e-bikes have a better eco-balance. They have a longer service life - five and a half years on average - and replace car journeys more frequently. Owners of these means of transport also use them more frequently to avoid car journeys. Research director Reck therefore recommends: "Cities should therefore consider promoting the private purchase of e-trottis and e-bikes."
<!-- small: You can find the full study here. -->
---



Journalist since 1997. Stopovers in Franconia (or the Franken region), Lake Constance, Obwalden, Nidwalden and Zurich. Father since 2014. Expert in editorial organisation and motivation. Focus on sustainability, home office tools, beautiful things for the home, creative toys and sports equipment. 
---
---
These articles might also interest you
Skeleton Loader

Skeleton Loader

Skeleton Loader

Skeleton Loader

Skeleton Loader

Skeleton Loader