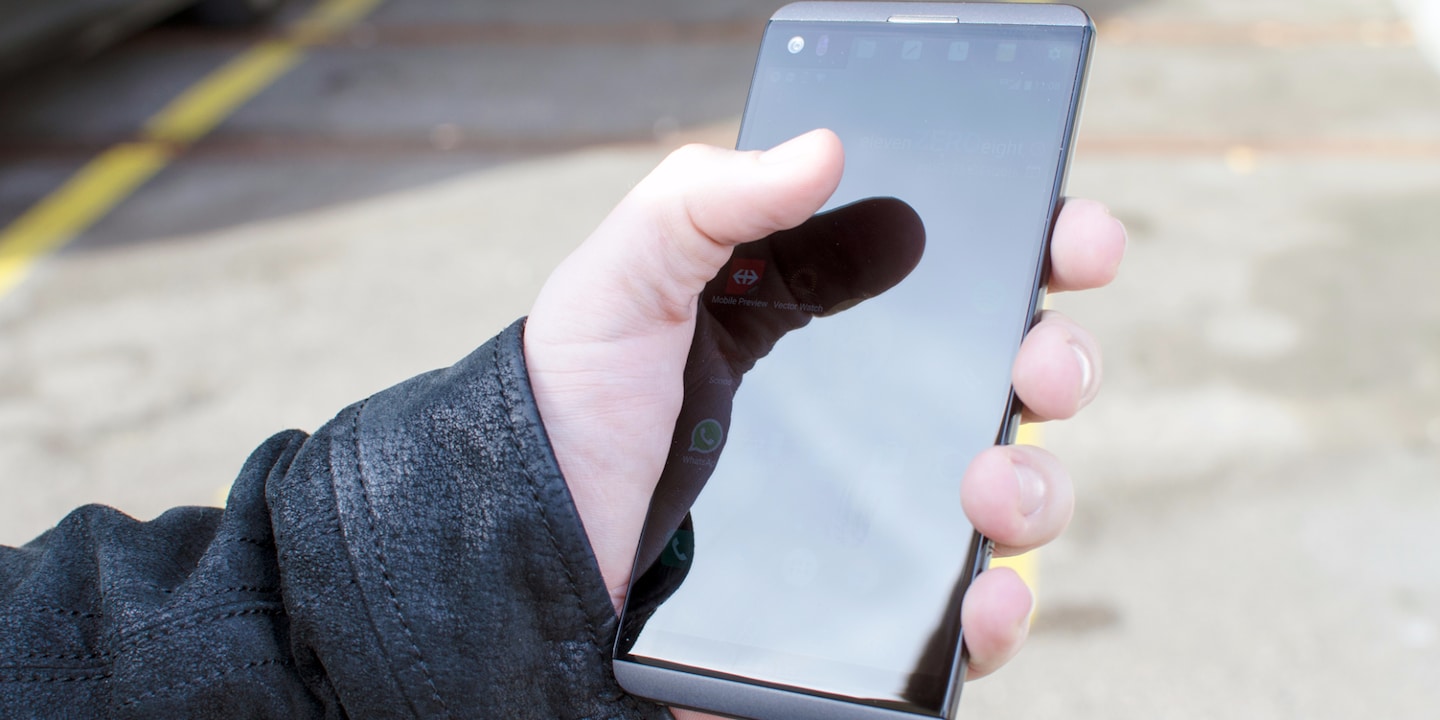 LG V20 – The beast from the east

LG sometimes annoys me. Especially when they produce something amazing and don't bother to release it in Switzerland. And I'm not the only one who's annoyed. So is our product management. Like me, they're convinced that you will love the LG V20. And that's why we're importing the devices for you!
When it's switched off, the LG V20 looks just like any other smartphone: rectangular with rounded corners. The power button-cum-fingerprint scanner is at the back of the device. Volume control is at the side. Boring!
At second glance, however, the LG V20's hardware is a bit of a surprise. It's super easy to open and the battery is replaceable. It could well be one of the last phones that allows you to easily remove its battery.
Another special feature is the dual rear camera. But I'll come back to that later as it's one of the V20's greatest strengths and one of the reasons you should consider getting this phone if you need a new mobile.
Caution: When purchasing a LG V20, it can occur that it's set to Chinese. Although we try to change the language settings on all phones prior to selling them, some customers have reported that their LG V20 was still set to Chinese. That's why I wrote the following how-to guide for you (in German).
Right, let's get down to business.
The mini display at the top
LG has advertised the second screen as one of the V20's main features. This second screen allows users to access information and features even when the display is switched off. These are the default settings:
Vibration/Ringtone on/off
Wi-fi on/off
Flashlight on/off
Bluetooth on/off
Take/edit a screenshot
These can all be changed in the settings. In addition, the second screen also displays the time and battery status. What's more, if you start an app like Spotify, for example, you can control the music via the second screen. Generally, the icons on the second screen are black/white to save as much energy as possible. But Spotify and other apps add a little colour.
The second screen at the top is a lot handier than I had expected.
This display was made to save energy. After all, if your entire screen needs to be fired up every time you check the time, that's an awful lot of energy wasted. And LG just wasn't having it. By introducing the small second screen, the South Korean manufacturer wanted to reduce the energy consumption of the smartphone; despite its rather respectable 3200 mAh battery. The result: The phone easily lasts a full day if it's not excessively used. When the battery does eventually die, it's recharged in no time thanks to Quick Charge 3.0 Technology. The Quick Charger manages about one per cent per minute.
"What rubbish", you're probably thinking. That's exactly what I thought before testing the phone. But at some stage, an odd effect crept in. I don't even know why I started using the second screen. Probably to switch the wi-fi on or off. To protect my privacy, I only activate wi-fi at home. This is because Valora kiosks and shops have started to track customers or potential customers via the wi-fi signals their smartphones are sending. This is how it works:
Your mobile is constantly looking for wireless networks. Your phone's search signal contains unique identifying information.
Valora shops are equipped with Minodes technology that basically tells your phone: "Hi, I'm a wireless network".
The Minodes technology registers your smartphone's identity.
So if you're going from a the kiosk to Caffè Spettacolo, you'll be registered by the Kiosk and then by Spettacolo.
In other words, Valora knows where you were and how long for. I don't want to be part of that. I'm convinced that others will soon follow Valora and the kind of technology they're using. It is very promising, after all. In an interview with the free newspaper 20 Minuten, Cyril Dorsaz, Digital Innovation Manager at Valora, made the following statement: "This technology allows us to see if a customer buys a pretzel at Brezelkönig after grabbing a coffee at Spettacolo. That way we know how loyal customers are." Economically speaking, this marketing-relevant data recording system sounds very exciting indeed. However, it also means that companies using this technology are total swines.
The LG V20 proves: Manufacturer user interfaces can be good after all
Frankly speaking, many mobile manufacturers are brilliant at hardware but abysmal at software. The reasons for this are manifold. Huawei's Emui wants to be Apple's iOS but fails because Google material design isn't compatible with Jony Ive's Apple design. Samsung annoys users with a design that tends to use questionable colours. In addition, their product software is only compatible with other Samsung products. The design issues are negligible compared to their company politics. Nonetheless, neither Huawei nor Samsung can be reproached for their hardware. And when it comes to software, tastes are different.
That's one of the reasons why the rooting scene is growing increasingly popular. Many independent developers and developer teams are creating so-called ROMs – Android versions for devices from many different manufacturers. A lot of these ROMs have one thing in common: They want to replace the user interfaces imposed by manufacturers with Google's original idea. This means that the ROMs are trying to imitate Pixel Phone software. ROMs also have the advantage of delivering faster updates than those provided by the manufacturer.
But LG is leading the way by showing users the advantages of sticking to manufacturer software: The company is giving customers plenty of rope for many settings. The designers and developers must have been thinking: "We like it the way it is but if you don't, feel free to change it. Here's how." Not even Google lets you do that.
This makes the LG V20 a perfect smartphone for tinkerers or those who wish to customise their phone according to their needs. But fear not. This doesn't mean that manufacturer updates are rolled out slowly. On the contrary. While Samsung – the slowest company in Switzerland in terms of upgrades – is still wrestling with the upgrade to 7.0 Nougat, the V20 has been running it for what feels like an eternity.
Gripped by tinkering mania, I started to work away at my LG V20 and eventually found Nova Launcher with its built-in Pixel look. This screen layout makes the menu button at the bottom of the screen disappear. It also allows you to swipe the menu up from the lower part of the screen. Handy!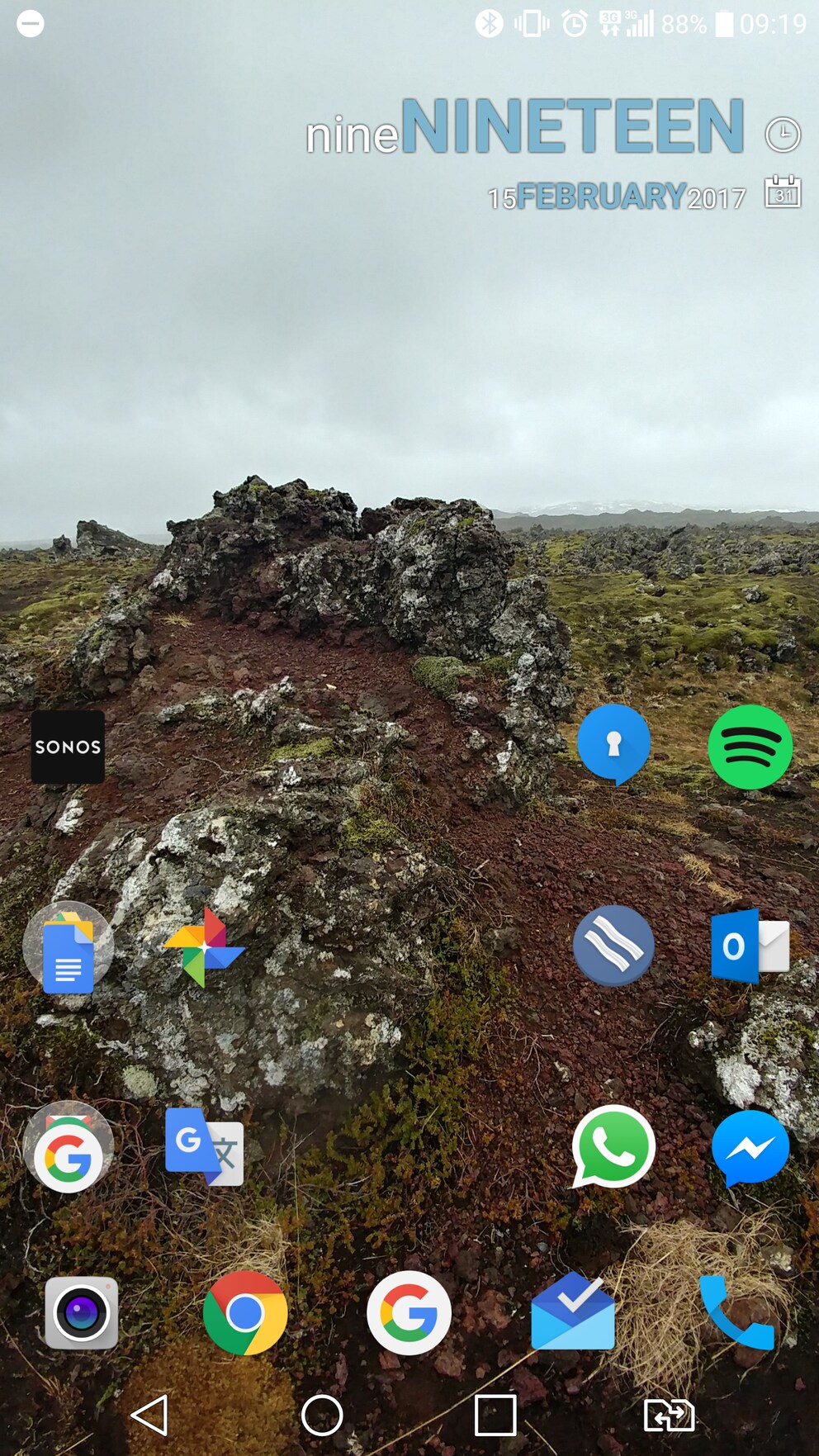 My current homescreen
Dual camera, dual fun
The LG V20 is the first dual camera phone I've tested. The two cameras are at the rear of the device. One of them has a wide-angle lens, the other a regular lens. Just like you're used to from other phones. A bit of zoom and that's it.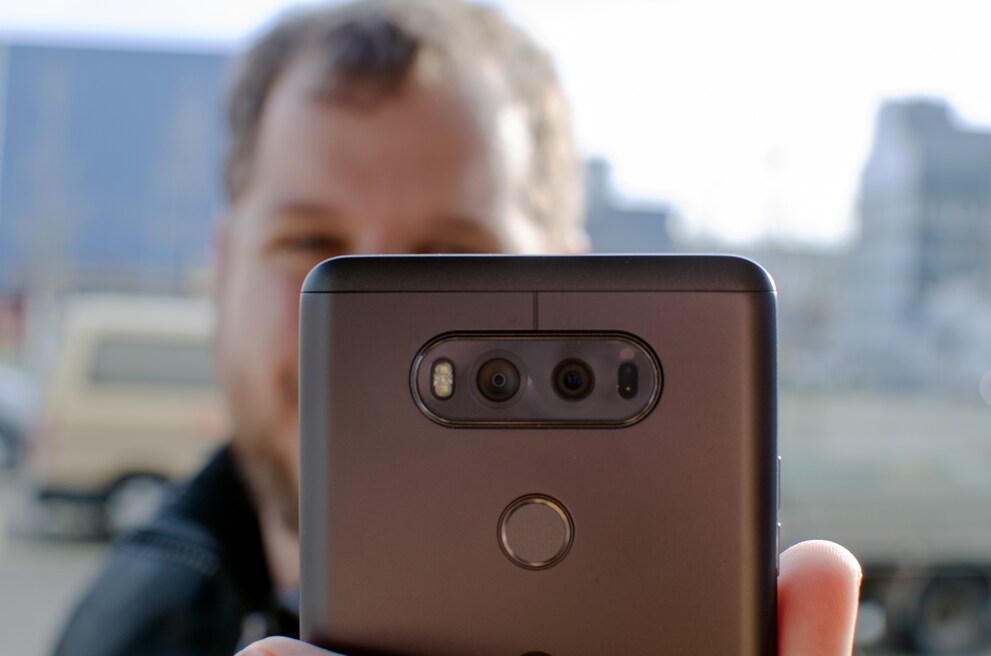 The dual camera is a great feature and lots of fun.
The V20 also features a manual mode that allows you to choose which settings the device should use for taking pictures. Admittedly, when it comes to settings, the cameras don't quite live up to a fully-fledged manual mode on a regular camera. But for photos that are more than just selfies and snapshots, this mode is fine.
The settings:
Aperture
White balance
Zoom → manual or auto
Exposure
ISO
Shutter speed
It's not easy to describe the effect of a regular lens compared to a wide-angle lens. So I've added the following pictures from my holidays in Iceland. After all, we are talking photos, so a picture is worth a thousand words.
Our super Jeep and driver Kjartan taken in regular mode.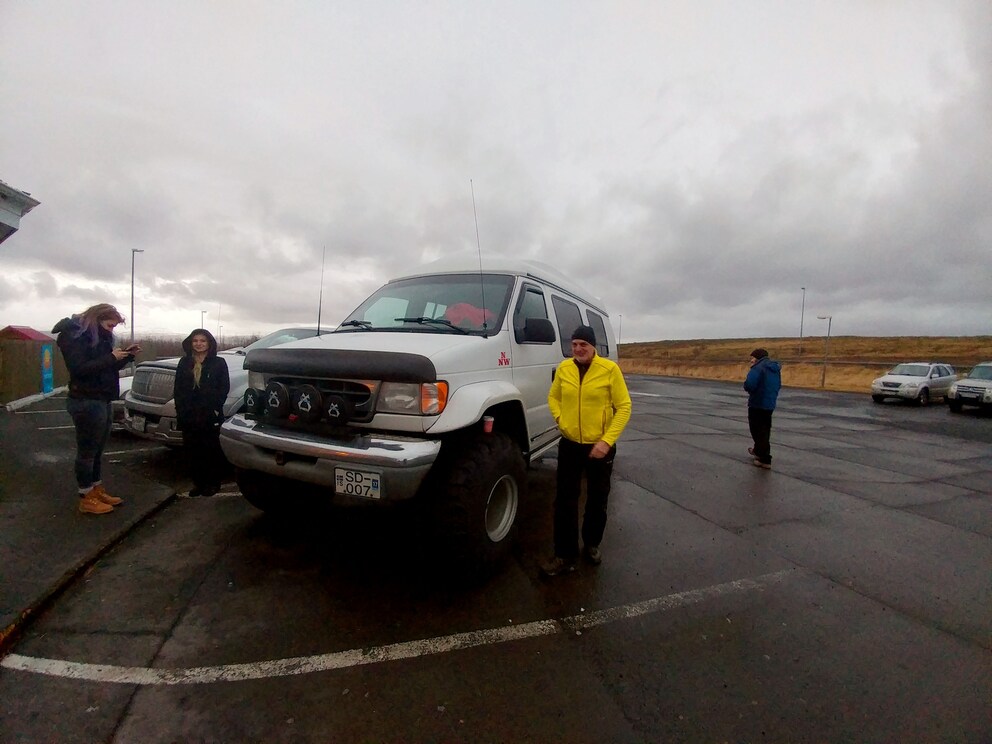 The same photo taken from the exact same spot but in wide-angle mode.
Snaefellsjökull glacier – where it all went pear-shaped.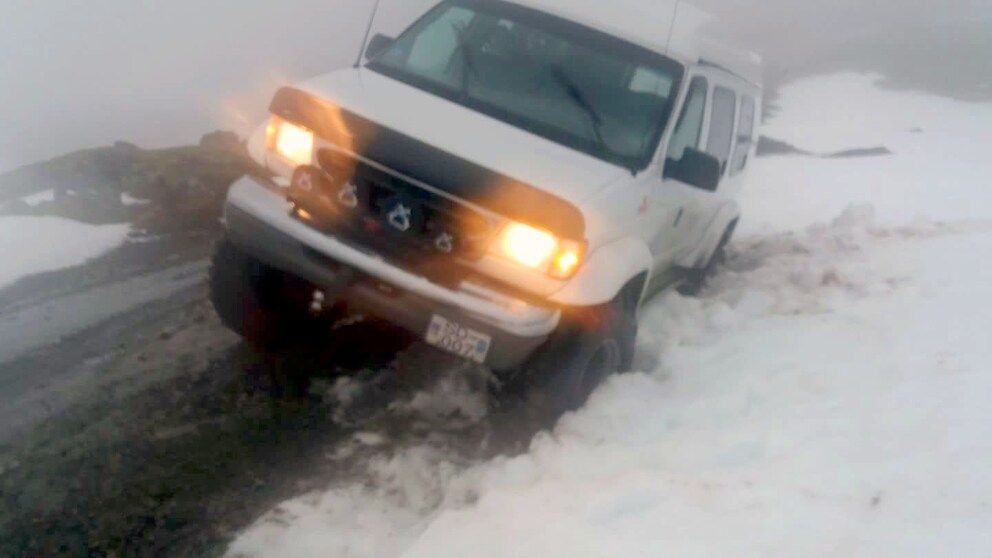 We spent two-and-a-half long hours in a freezing cold blizzard before being rescued.
The annoying dual SIM setup
But not everything's fine and dandy when it comes to the LG V20. The South Korean manufacturer did slip up once. And it's pretty annoying. I'm talking about the dual SIM setup. Strictly speaking, dual SIM is a great feature that offers advantages aplenty for frequent travellers. Going to the Mobile World Congress in Spain? A Spanish burner SIM will solve your problem. Ireland? Get a burner SIM. They're dead handy: Not only do they allow you to be online wherever, whenever but there's no missing out on phone calls to your regular phone number. And it's bye-bye to muddling with call diversions
So what's the catch?

The lower screen of a Google Pixel.

The lower screen of the LG V20.
The fourth icon displayed in the bar at the bottom of the screen cannot be switched off, suppressed or removed in any other way. This is where the adaptability of the LG android distro ends. God knows why. I find this particularly annoying because the phone knows when you're not using a second SIM card. Surely it should be possible to have a setting that allows you to suppress the fourth symbol when no second SIM card is inserted.
UPDATE: User Vögatron, you're my hero! In the comments field below, he explains how to remove the fourth button: Settings --> Home Touch Buttons --> Button Combination. You can even add further buttons to the bar!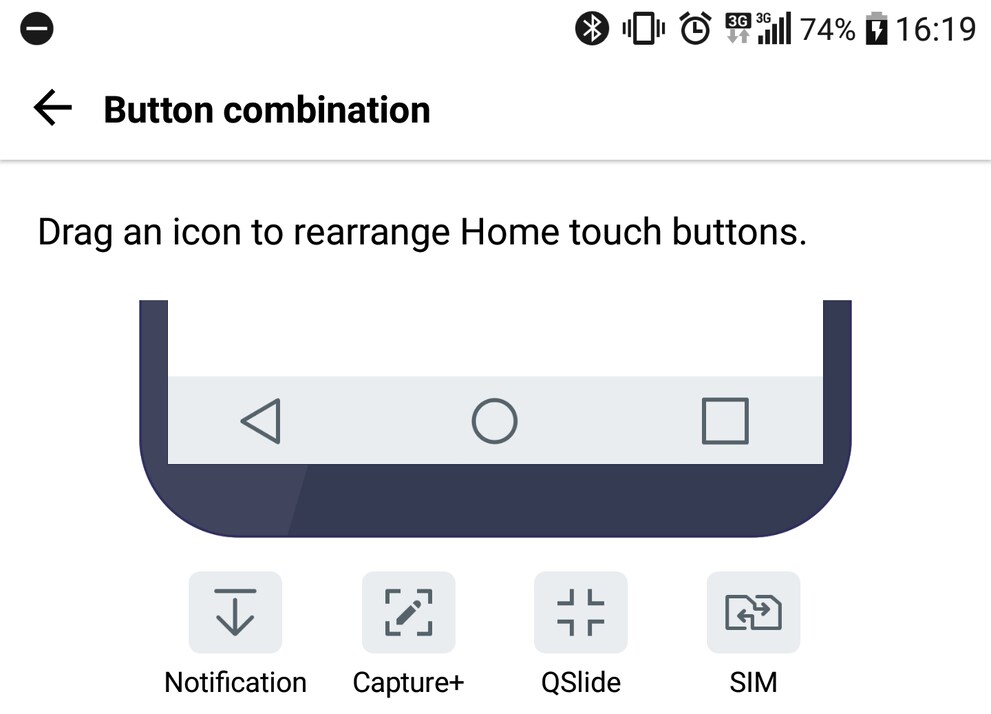 How could I have doubted this? Seriously.
I'm fully aware of the fact that I'm whingeing at a high level. And to be honest, I've also got used to the fourth symbol and ignore it to the point where it doesn't even bother me anymore. But in the context of LG's philosophy "We like it but feel free to change it", this unchangeable setting sticks out like a sore thumb,
The low-down
LG has made a huge mistake by failing to introduce the V20 to the Swiss market. Although the phone costs quite a bit, it really does offer a lot. Its second screen is a new feature that has sneakily revolutionized the smartphone. Other manufactures are bound to follow soon – HTC has already confirmed. The phone seamlessly combines technology deemed out of date – such as a 3.5mm headphone jack and a removable battery – with cutting-edge technology. Plus it offers performance that will not struggle to keep up with future generation smartphones.
I like the LG V20 a lot and think everyone should have a phone that combines performance, comfort and fun. Let's hope LG sticks to this path in future. If they do, we can expect a lot from the South Korean manufacturer. And let's hope this also applies to Switzerland. If not, we'll just have to import the devices for you. No probs.
---

Journalist. Author. Hacker. A storyteller searching for boundaries, secrets and taboos – putting the world to paper. Not because I can but because I can't not.
---
---
These articles might also interest you
Skeleton Loader

Skeleton Loader

Skeleton Loader

Skeleton Loader

Skeleton Loader

Skeleton Loader