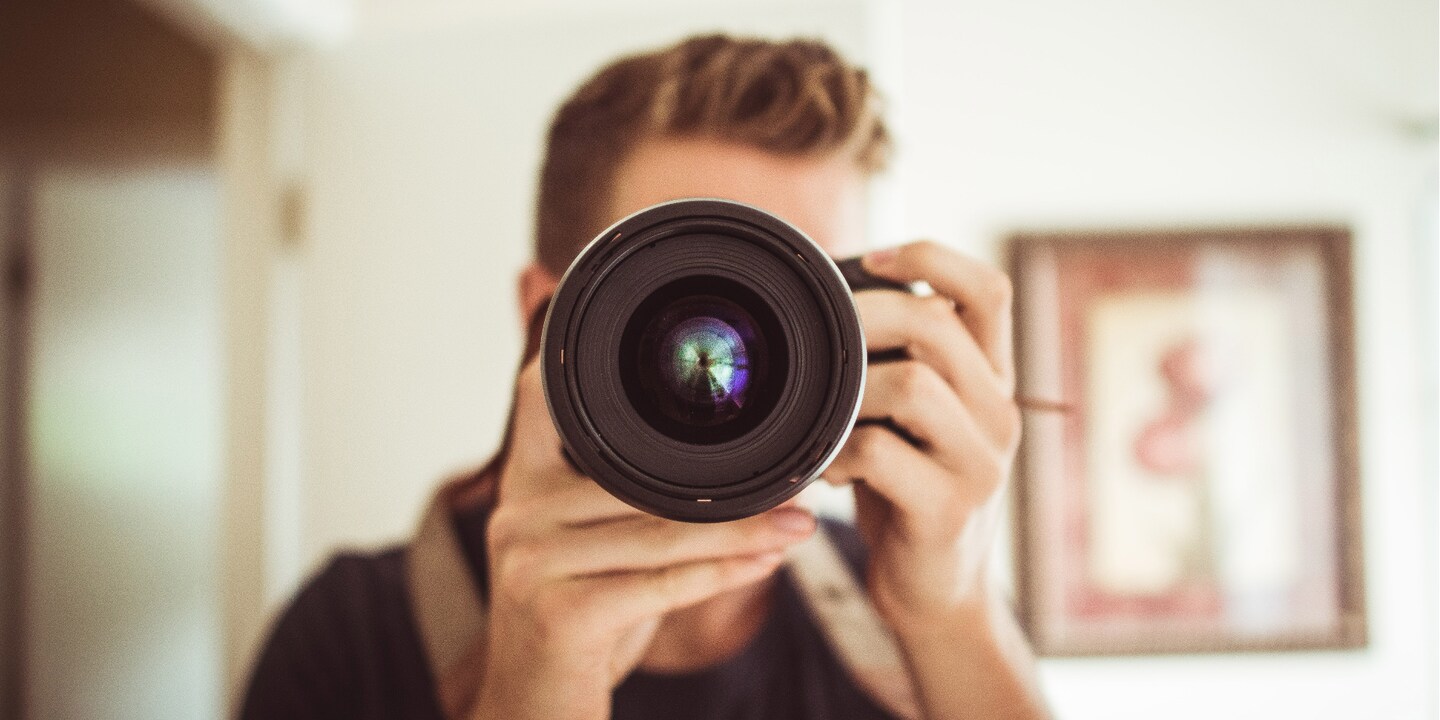 Lens nomenclature – how to navigate the abbreviation jungle

All the abbreviations and numbers you see in lens names are slightly confusing but all the same important. They don't just tell you what the lens can do but also whether it will even work in your camera.
Let's assume you have a Nikon single-lens reflex camera and you want to buy a telephoto lens to go with it. That's no problem, you might think. Just head over to the digitec shop and select the Nikon brand and the word «telephoto» and you'll see all the available lenses. If you already know what focal length you need, you can put that in too. A search like that would throw up results like a lens with the wonderful name «Nikon AF-P DX NIKKOR 70-300 mm f/4.5-6.3G ED». Sounds good, doesn't it? Almost as good as «Nikon AF-P DX NIKKOR 70-300 mm f/4.5-6.3G ED VR». So what on earth is the difference? You might even be tempted by a «Nikon AF-S 70-300mm, f/4.5-5.6G VR»? But if you go for that, do you want the lens as a direct import or not? And why would you pick that rather than the «Nikon AF-P NIKKOR 70-300mm f/4.5-5.6E ED VR»? Also, what's so great about the «Nikon AF-S 300mm, f/2.8G ED VR II» that makes it ten times as expensive as the others?
All of the nomenclature and abbreviations give some kind of information about the lens. If you can decipher what they mean, you instantly know a lot about a product without having to trawl through the specifications. If you don't understand the lens you're buying, you might as well be prodding a finger at the second cheapest bottle of bubbly on the menu when you're not a wine connoisseur. But where the wine will definitely glide down your throat, the second cheapest lens won't necessarily fit as comfortably into your specific camera.
Focal length
The focal length (in millimetres) indicates the size of the frame. The smaller the number, the bigger the frame. If there is only one number here, the frame is fixed, meaning you can't zoom. (That is not necessarily a disadvantage. Find out why in the article [No zoom, no problem] in German (https://www.digitec.ch/en/s1/page/no-zoom-no-problem-4708)). If, on the other hand, there are two numbers for focal length, you're looking at a zoom lens.
Remember: The size of the frame isn't just determined by the focal length but also by the size of the camera sensor. The crop on cameras with extremely large sensors (full-format) shows approximately a human angle of view at 50 millimetres. With smaller APS-C sensors, however, you only get this crop at 33 millimetres and with even smaller 1-inch sensors, at about 18.5 millimetres. This is why it is so important to know how big the sensor is on your camera.
Not baffled you enough yet? Wait until you hear this. Sometimes the nomenclature is converted into full-format (35 mm format) so that you can compare details of different models. You'll find this number in the specification under focal length (35 mm format equivalent).
Light intensity
Light intensity indicates how much the aperture can be opened. It is usually written as a fraction with the number 1, for example 1:4. It can also be written like this: f/4, f4, F/4 or F4. On zoom lenses, the light intensity often drops when you zoom in. At this point, the light intensity and focal length specifications consist of two figures (e.g. 1:3,5-5,6).
Sensor size: full-format/APS-C
Canon, Pentax, Nikon and Sony all offer cameras with different sensor sizes. It's difficult to differentiate full-format and APS-C because the lenses can sometimes be used for both sensor sizes – sometimes but not always.
Full-format lenses can be used in APS-C cameras, but this gives a different frame. They also tend to be bigger, heavier and more expensive than APS-C photographers need them to be.

APS-C lenses, on the other hand, either can't be used at all in full-format cameras (Canon) or image corners remain black (Nikon).

The following nomenclature indicates what size of sensor each lens is suitable for:

Canon: EF = full-format, EF-S = APS-C
Nikon: no name or FX/DX
Pentax: mostly FA/DA, if in doubt, check the specifications
Sony: E-Mount (mirrorless cameras): FE/E, A-Mount (reflex cameras): no name/DT

Third-party suppliers who provide lenses for Canon, Nikon and Sony use these abbreviations:

Sigma: DG/DC
Tamron: Di/Di II
Tokina: D or FX/DX

Tip: Fortunately, you don't need to know that all off by heart to use the digitec shop. You can filter according to full-format and APS-C. If in doubt, look for «sensor compatibility» under specifications.

Autofocus (AF)

Autofocus has been a given for a long time now. If it is still mentioned in the product name, you can just ignore it.
A word of warning about Nikon
Be aware that autofocus doesn't work with every Nikon camera. That's why you need to pay attention to the following nomenclature:
AF-S: Hassle-free, always works – S stands for silent and refers to the ultrasonic motor (USM).
AF-P: These lenses incorporate a stepping motor (STM) and only work with new cameras (from around 2013 onwards). Nikon published a list of compatible cameras in German.
Only «AF» without attachments (not so common nowadays). This is where a motor in the camera takes over the job of focusing. Some cheaper Nikon cameras (article in German) don't have this kind of motor built in, which means the lenses don't focus automatically. This is mostly an issue with the 3000 and 5000 series (e.g. Nikon D5600).
Type of focus motor
Other brands give some information on the type of autofocus motor they use without this having an impact on compatibility:
USM = Ultrasonic motor – it focuses quietly and very quickly. Sigma calls it an HSM and Tamron uses the term USD.
STM = Stepping motor – it's supposed to be better than a USM.
Overall quality
Some abbreviations don't tell you anything other than «this is a great item». But you can usually work that out from the price.
Canon: Professionals prefer robust lenses you could hit with a nail or drive a tank over and still find in one piece. Lenses tend to get put through the mill in the course of a professional photographer's day. Fortunately, the L series lenses are made to withstand this kind of abuse. It isn't just the letter L you can identify them by. They also have a red ring.
Fujifilm: XC are less expensive starter models, while XF are meant for the more discerning (or more affluent) customer.
Nikon: Quality is an even more complicated matter when it comes to the Nikon brand. They don't have a term to distinguish higher quality items. Instead, they use a variety of information. The big golden N on certain lenses stands for nano crystal, anti-reflective coating and is reserved for expensive lenses. The N is not part of the product name. That's why most of their current lenses have a G and ED in the name. G is an anti-quality marker: there's no aperture ring. Instead, the aperture can only be adjusted on the camera. ED stands for extra-low dispersion and reduced chromatic aberration. See more abbreviations on the Nikon website.
Olympus: The higher quality lenses have «Pro» in the name.
Sony: They use the letter G to stand for Gold, which doesn't refer to the material used, but is an indication of higher quality.
Image stabilisation
Image stabilisation is especially useful for telephoto shots. It's not enough to know the camera has image stabilisation. It helps to know what generation it is, as the manufacturer may have made improvements to it over the years.
Canon: IS (II stands for second generation) abbreviation for image stabilisation
Nikon: VR (II stands for second generation), vibration reduction
Fujifilm: OIS, optical image stabilisation
Sony: OSS, optical steady shot
Panasonic: O.I.S.
Olympus: IS
Sigma: OS
Tamron: VC (vibration compensation)
Some manufacturers (Olympus, Panasonic and Sony come to mind) also build stabilisers into their cameras. But in some cases, the lenses from these brands don't have any stabilisers at all. If you're mounting an Olympus lens on a Panasonic camera (something that is technically possible), you should check whether there is lens-based or in-camera stabilisation.
Let's take a look at the Nikon telephoto lens 70-300 mm
Now that you've got to grips with lens nomenclature, you're ready to answer the questions I asked at the start of this article. As a reminder, here are the lenses I mentioned:
The single difference between the first two lenses is that the second has image stabilisation (note the VR in the name). Both have a stepping motor (AF-P) and so are only suitable for newer cameras. As you can see, they can't be used with full-format cameras (DX).
As for the third and fourth lenses, the difference is you can extend the guarantee on the more expensive one to three years if you register with Nikon Switzerland. Compared with the first and second lenses, these have a slightly higher light intensity at the maximum focal length (f/5.6 rather than f/6.3). And above all, they are also suitable for full-format cameras (notice there is no DX in the name).
The fifth lens has a fixed focal length (300 mm). The killer feature with this lens is the extremely high light intensity of f/2.8. The modern image stabilisation (VR II) and nano crystal coat (N is only on the lens, not in the name) account for the price tag.
The sixth lens only works with more modern cameras (AF-P), but it can be used with full-format (there is no DX in the name). Thanks to AF-P and the additional E for electromagnetic aperture control, this lens can focus faster than others, making it ideal for sports and animal photography.
---

My interest in IT and writing landed me in tech journalism early on (2000). I want to know how we can use technology without being used. Outside of the office, I'm a keen musician who makes up for lacking talent with excessive enthusiasm.
---
---
These articles might also interest you
Skeleton Loader

Skeleton Loader

Skeleton Loader

Skeleton Loader

Skeleton Loader

Skeleton Loader