Lenovo Yoga Book: one step closer to the perfect creative companion

The new Lenovo Yoga Book is small, light and packed with innovations and ways to explore your creativity. This digital notebook gives you insight into the future of portable screens – but also shows that we're not quite there yet.
It's not the first and it won't be the last time that I'm saying this: The Lenovo Yoga Book is a real beauty. As usual, it has a few downsides, but it's also equipped with a few clever new features.
What you see is what you get
With less than 1 kg, the Yoga Book is light as a feather. Yet, it's stable and flexible, featuring a joint that reminds of a wristwatch and adds to the elegant design.
It's also small, easy to carry and closes just like a laptop, making sure the screen is always protected. I packed it in my bag and was ready to go within seconds – this and its 13-hour battery life make it clear that this device really was designed for work on the go.
The Yoga Book has two symmetrical and identical screens. This might look good, but makes it tricky to open the tablet, as there's no gap between the two screens. However, its overwhelming beauty will make you forget this minor glitch.
Typing, writing, sketching and drawing
One side of the Yoga Book is your screen, the other either a keyboard or a drawing pad.
Children's film + Family film
Tron: The original (Blu-ray, 1982)
TRON: Legacy (2010, Blu-ray)
Press the pen symbol and the keys will light up on the surface in their usual layout. It feels like you're in a Sci-Fi movie – Tron and Tron Legacy are what it made me think of. Typing on a hard, flat surface takes some getting used to, but it's possible. What I couldn't get my head around though was the tiny trackpad, which I found a real pain to work with. But the Yoga Book features touchscreen and a Stylus, so this isn't a dealbreaker.

Coincidence? Inspiration.
Back to the pen symbol. Press it twice and the surface turns into a canvas. Drawing onto the screen directly is also possible, but it's easier to see the objects on the 10" screen if the input comes from somewhere else. Plus, the "Create Pad" – as Lenovo call it – has an excellent feel to it and detects an overwhelming 2,048 levels of pressure. This makes Microsoft products look really old-fashioned.
If you don't like the Create Pad's feel, simply put a piece of paper or the magnetic notebook (included in the scope of delivery) onto the surface, transform the tip of the Real Pen into a usual ballpoint pen and start drawing away.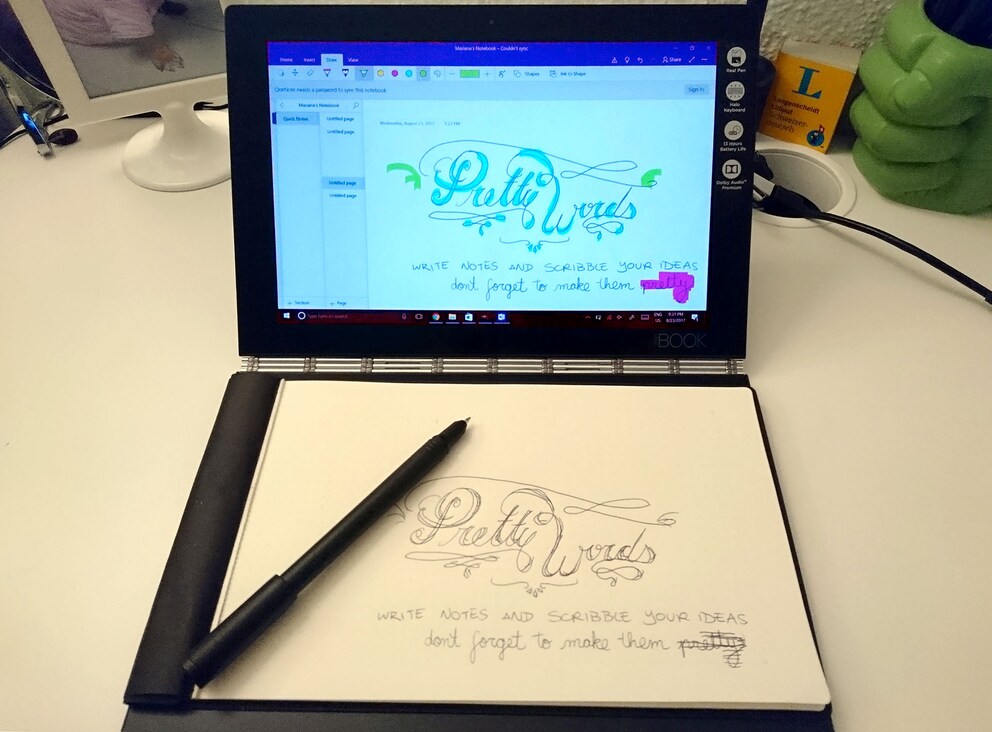 The notebook programme automatically synchronises every page with your Microsoft account. Great stuff.
Too good to be true
So far, so good. Right? However, there's one tiny detail that could be a real show-stopper, especially if you're using the Windows version.
The Lenovo Yoga Book is equipped with an Intel Atom processor. That's fine if you're using Microsoft Office products, browsing the internet and watching YouTube videos, but will keep you from making the most of this device by working with the usual creative programmes and graphics editors.
It took me a while to find a programme that lets you draw and paint without offering all the other features that make it too large to use on this device. Still, I ran out of storage all the time. Installing Photoshop on the Lenovo Yoga Book seems virtually impossible.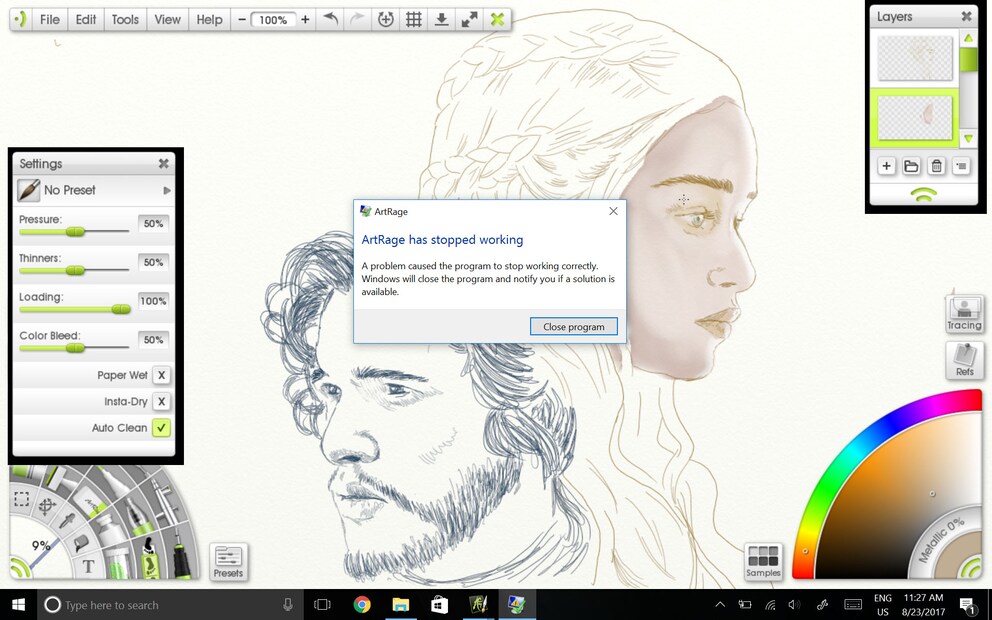 After receiving a few of these messages, I decided to finish my drawing on my own laptop.
What's the point in having a device with such great features and potential if you can't even install most of the programmes that would make it great? An Android version should offer more alternatives, which require less processor capacity. But if you're using the Yoga Book to read, highlight and scribble, any version will be good enough.
I made this sketch after the programme crashed for the seventh time. Mariana is not amused.
It's a real shame the lack of processing power makes it impossible to use this beautiful gadget as a mobile art studio. I have high hopes for their next version, but until then, I'll just keep myself busy scribbling and sketching my rage away.
---



I might be a graphic designer, a Pokémon trainer and tech-savvy but I'm no creative writer. I'm on a non-stop quest against bad design. Since 2014, I call Switzerland my home.
---
---
These articles might also interest you
Skeleton Loader

Skeleton Loader

Skeleton Loader

Skeleton Loader

Skeleton Loader

Skeleton Loader