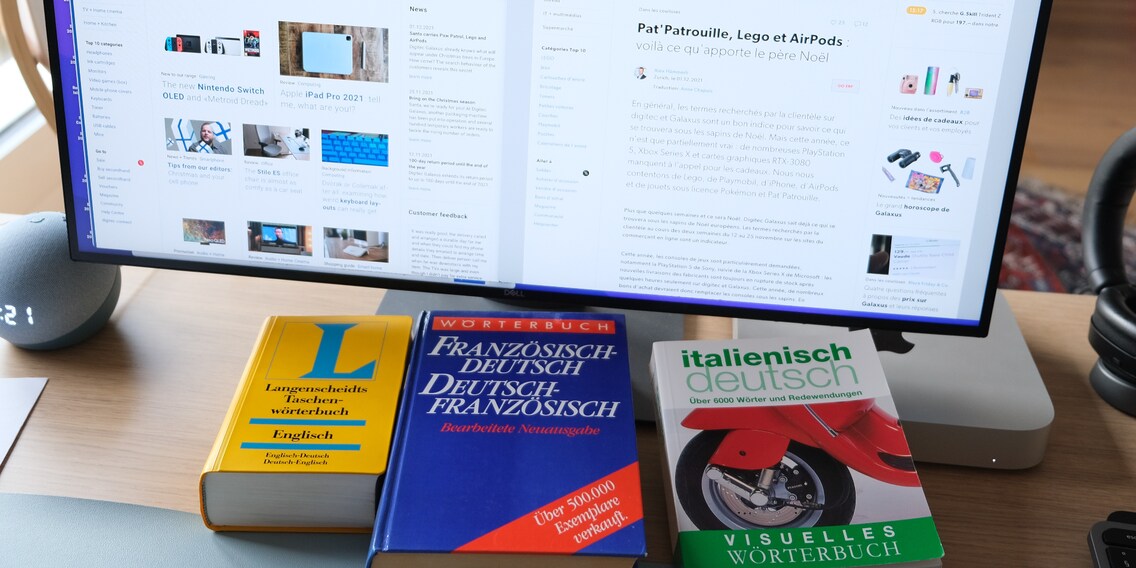 Introducing machine translation to our magazine

Some of our magazine articles are now being translated automatically. This includes selected texts written by our Editorial Team, as well as all promotions and new product launches in our shop. Here's what you need to know.
In addition to the wide range of products at digitec and Galaxus, you'll find a number of editorial texts in our magazine – from reviews to news and background information. Promotions and articles about new arrivals to our shop, on the other hand, are written by our Category Management Team. In total, that's hundreds of new texts each month. We want as many of them as possible to be available in Switzerland, Germany and Austria's most important languages.
We have a team of translators in our Marketing Department who, in addition to other tasks, manage to translate 60 per cent of all articles. Of course, our translators already rely on translation technology, specifically on the CAT tool MemoQ and the machine translation service DeepL. However, no text has been published yet without at least being revised by our experienced Translations Team. This has allowed us to ensure that all facts and figures are correct, that each wordplay works and that cultural references make sense – be it in French, English or Italian.
As a consequence, certain texts were only available in these languages several days after the original was published. This isn't optimal, especially for news articles; who wants to read yesterday's news? In the case of sales and promotions, this meant our non-German readers only found out about certain deals with a delay and may not have been able to benefit from limited-time offers.
Automatic translations with DeepL
Technology in the field of automatic translation is continuously improving. In light of this, we've decided to start publishing a selection of texts using only DeepL – with no human review. From now on, news pieces (written by our Editorial Team) as well as promotional and «new to our range» texts (written by Category Management) will be translated automatically. Longer background pieces and reviews will continue to be translated by our Translations Team to the greatest possible extent. But there may be cases in which we decide to publish an automatic translation of these texts, too, so they're available more quickly. These, like all others, will be marked as automatic translations.
In short: 100 per cent of magazine articles are now available in German, English, French and Italian. There's now only a delay in the case of texts we don't want to entrust to the machine.
You can select your desired language in the navigation bar at the top of our website, just left of the «Sign in» button. If you're on your phone, you'll find the language option at the very bottom.
The challenge of multilingualism
For some time now, we've been relying on machine translation for product data and descriptions. With over three million products in our range, there's no way around it. Everything in our shop – from hand soap to OLED TVs – enters our system with a wealth of data. Unfortunately, there's no way to go over it all by hand, which is why we rely on the computer as our colleague. The result isn't always flawless, as we're well aware. Sometimes, an «eau de toilette» may be translated as «toilet water».
Here's a look at some funny mistranslations on our site – and more on the use of DeepL and the work of our Translations Team:
Company newsComputing

Hair crap?! Machine translation on digitec and Galaxus
In addition to product data and descriptions, product reviews written by the digitec and Galaxus Community are, as of recently, available in several languages. It's up to you if you'd like to read a given review in its original language or have it automatically translated.
This feature will soon be expanded to comments on magazine articles, allowing you to participate in the often interesting and helpful discussions that take place in German, English, Italian and French.
Machine translation at digitec and Galaxus
What are your thoughts?
Great, I can finally read all magazine articles in my preferred language!
Good, even though it'll likely result in some funny mistranslations.
I'm not thrilled; I prefer quality over quantity.
The competition has ended.
---



Journalist since 1997. Stopovers in Franconia (or the Franken region), Lake Constance, Obwalden, Nidwalden and Zurich. Father since 2014. Expert in editorial organisation and motivation. Focus on sustainability, home office tools, beautiful things for the home, creative toys and sports equipment. 
---
---
These articles might also interest you
Skeleton Loader

Skeleton Loader

Skeleton Loader

Skeleton Loader

Skeleton Loader

Skeleton Loader