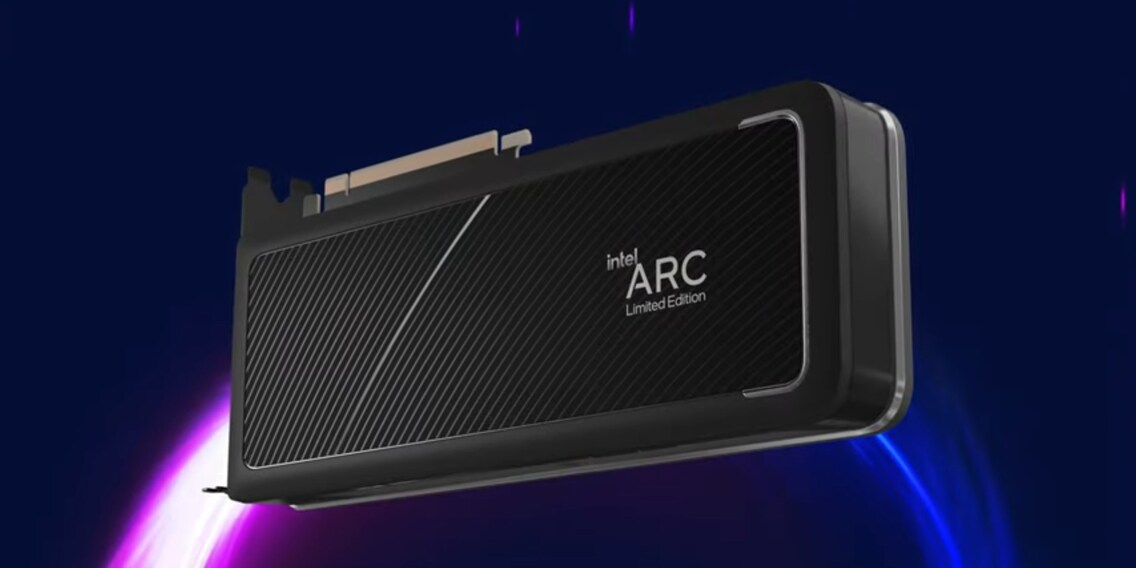 Intel has released final specs for the Arc-A770 graphics card: so what?

Intel's launch of the Arc desktop graphics cards is dragging on and on. At least the manufacturer has now presented all the lineup's technical specs. So is the Arc is still a viable product?
Three more models have joined Intel's Arc lineup: the A580, A750 and A770. The smallest A380 model has already launched in Asia. Here's an overview of the technical data for all models:
| Specs | A380 | A580 | A750 | A770 |
| --- | --- | --- | --- | --- |
| Xe-Cores | 8 | 24 | 28 | 32 |
| FP32 format | 1024 | 3072 | 3584 | 4096 |
| Ray tracing units | 8 | 24 | 28 | 32 |
| XMX units | 128 | 384 | 448 | 512 |
| GPU frequency | 2000 MHz | 1700 MHz | 2050 MHz | 2100 MHz |
| GDDR6 memory | 6 GB | 8 GB | 8 GB | 8 GB |
| Memory interface | 96 bit | 256 bit | 256 bit | 256 bit |
| Memory bandwidth | 186 GB/s | 512 GB/s | 512 GB/s | 512 GB/s |
| Connectivity | 8x PCIe 4.0 | 16x PCIe 4.0 | 16x PCIe 4.0 | 16x PCIe 4.0 |
| TDP | 75 W | - | 225 W | 225 W |
The models are based on two different chips: the A380 graphics card uses an ACM-G11 and the three new models use an ACM-G10. Different numbers of Xe cores and other units are activated there.
The clock frequencies of all three new cards are between 1700 and 2100 MHz. Intel has specified the thermal design power (TDP) at 225 watts for the A750 and A770. We still don't know about the A550. Storage is connected via a 256-bit interface. The cards come with eight gigabytes of GDDR6 memory, and the A770 should also be available with 16 gigabytes. Connections are made via 16 PCIe 4.0 lanes.
The A750 and A770 should be available soon. Intel hasn't specified when exactly.
A staggered launch
It's already been known for over a year now that Intel would release its own dedicated graphics cards. Initially, a market launch was expected in the first quarter of 2022. That came and went with only the first card, the A380, releasing exclusively for Asian markets. In quarter three. However, according to various tests, the card's drivers weren't usable, and the whole thing was plagued by numerous other bugs.
Intel published further information about the upcoming cards bit by bit – without making a big fuss, as is usual for the manufacturer's new CPU generations. It's a staggered product launch, so to speak. It seems that Intel itself doesn't really believe in the success of the cards (any more).
Too little, too late?
On the one hand, this may be due to the quality of the product. Expectations aren't exactly through the roof following the A380. Intel's performance announcements have also made us sit up and take notice. Initially, there was talk that the fastest card could compete with an Nvidia RTX 3070. This apparently only applied to the suspected A780 card, which Intel never worked on according to official information. Malicious actors would claim that Intel canned the A780 as it wasn't market viable.
The top-range A770 will have to face the RTX 3060. According to Intel benchmarks, the A770 is faster than the RTX 3060 in most games. Intel's GPU has been positioned between the RTX 3060 and the RTX 3060 Ti. The A750 beats the RTX 3060 by five per cent in games, according to Intel benchmarks.
So, in terms of performance, it's enough to be competitive among the mid-range – or lower, depending on your definition. To be competitive in other areas, Intel has to look at pricing, first and foremost. The graphics card market will soon be turned upside down. Nvidia is expected to introduce the RTX-40 series on September 20. And even if a potential RTX 4060 won't appear until next year – as evident from statements made by Nvidia CEO Jensen Huang – the competition is likely to be too strong for Intel. Nvidia will need to sell off cards, making prices for RTX-30 models drop further. This will put Intel under even more pricing pressure. Whether the manufacturer will be willing to go along with this is questionable. And AMD won't be standing idly by either. CEO Lisa Su has promised new cards this year.
If Intel had actually launched the Arc cards in early 2022 with decent drivers – and few to no bugs – the graphics card series could've been a success. So I'm fearing that it's all too little, too late. A pity, as competition is good and breeds innovation. The first Arc series seems like a lost cause to me. Hopefully, Intel will stick with it and the next series will work out.
---



From big data to big brother, Cyborgs to Sci-Fi. All aspects of technology and society fascinate me.
---
---
These articles might also interest you
Skeleton Loader

Skeleton Loader

Skeleton Loader

Skeleton Loader

Skeleton Loader

Skeleton Loader