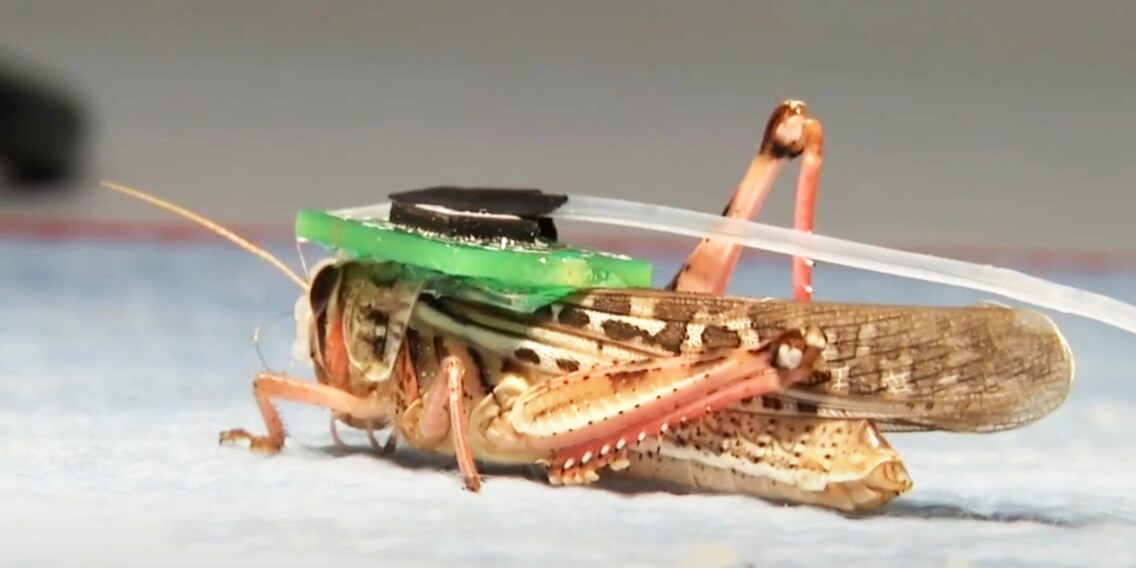 Insect brain implants: a cyborg locust for sniffing out explosives

Scientists at the Washington University of St. Louis have developed a new sensor system for detecting explosives. They created an insect-based bio robot. More precisely, a «Cybug» – half locust, half machine.
Will explosive detection dogs soon be made redundant – is this the end for truffle pigs?
Instead of a faithful canine companion, small robots with a grasshopper strapped to them could soon be making the rounds at airports in the future. At least according to scientists at the Washington University of St. Louis. They have succeeded in tapping the animal's sense of smell using an electrode array implanted in a grasshopper's brain. And the Cyborg Bug doesn't just detect explosives. The animal's excellent sense of smell and neurone activity measured in the olfactory system enable researchers to clearly differentiate between individual substances.
As presented in a preliminary edition of Biosensors and Bioelectronics: X, initial tests successfully detected explosive vapours such as hexogen, ammonium nitrate, TNT (trinitrotoluene) and DNT (dinitrotoluene). Remarkable, as DNT and TNT differ only by one nitro group and aren't easy to distinguish. Nevertheless, the cyborg locust detects explosive chemical vapours within a few tenths of a second.
Clever. In future, insects could take over the job of dogs. This doesn't just mean that our four-legged friends won't have to be exposed to any danger. We can also save on time and effort currently reserved for training these animals. Through a minor surgical intervention, a new electronic tracking nose is created. It is constantly in radio contact with the police explosives squad operating at a safe distance.
To ensure that future security forces have no trouble in getting the cyborg insects to their destination, researchers have strapped the cybug onto a small robot car. The grasshopper is driven around in a glass box – it then detects different concentrations of vapours at different locations. A transmitter ensures that the grasshopper can fully exploit its telepathic powers. The corresponding video can be seen here.
---



I find my muse in everything. When I don't, I draw inspiration from daydreaming. After all, if you dream, you don't sleep through life.
---
---
These articles might also interest you
Skeleton Loader

Skeleton Loader

Skeleton Loader

Skeleton Loader

Skeleton Loader

Skeleton Loader