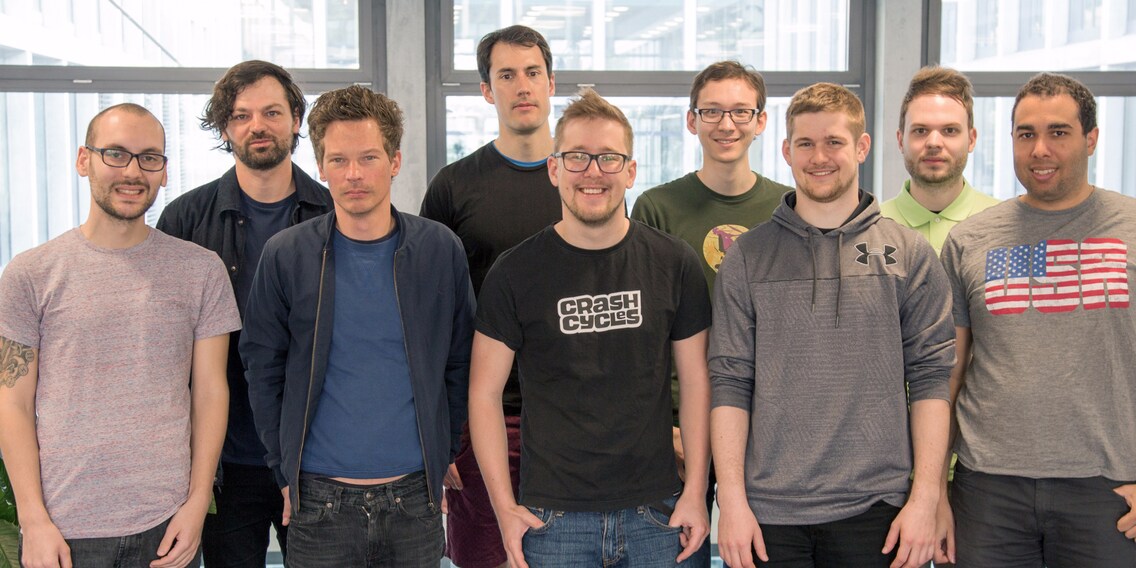 Teamwork: Ivan Viñas, Ramun Liesch, Sebastien Pietsch, Oliver Herren, Christoph Ebert, Daniel Billingham, Tobias Käppeli, Istvan Flach, Christopher Holder. (Not pictured: Andri Bühler)
"I'm not in the top 100"

"DG Play" is the latest playful addition to the digitec website. CIO Oliver Herren explains why we're going for gamification, what astonished him during implementation and which level he's on.
You're a gamer yourself. Was the gamification your idea?
Yes, it was something that fascinated me for quite some time. But the whole thing only started to take shape when we were looking into customer advantage programmes like Amazon Prime. But none of the programmes were what we wanted because the models such as Amazon Prime are discriminatory towards customers who do not wish to participate. That mentality does not suit our company culture – mainly because they make you pay for a service you don't want in the first place.
That's what brought us to points and achievements. No cash payments, no discounts. After all, customer advantage programmes with cash benefits are ultimately always paid for by the customer. In any case they primarily lack transparency.
What's the aim of "DG Play"?
We want an even livelier Community! All our users already have avatars and profiles that show you how many questions they have answered. Our goal is to enhance these customer profiles. To express our appreciation for our loyal customers. "DG Play" also shows you at a glance how experienced a customer is. Customers can transparently interact and help each other on our platform. So we want to reward that hard work with fame and glory.
And it should be fun. At first, it's quite easy to get achievements and achieve success but then it keeps getting harder to reach the next level. Certain achievements are only awarded for special kinds of interaction – such as orders made on a certain day.
Was there a gamification role model?
"DG Play" is inspired by games. Computer games are the art form of the 21st century. Take "World of Warcraft" for example – players buy virtual weapons for real money. This can even go so for that it's worth it for players in countries with low salaries to play the game all day and then sell the items they found to players in Europe or the US.
But back to your question: During the concept phase I was into Bethesda Fallout 4. And then there's StackOverflow, a programmers' question-and-answer platform with a pretty sophisticated system.
How many people were involved in the project?
There were three people involved during the concept phase. A copywriter came up with the descriptions and names of the achievements and levels. Two interaction designers and a front-end engineer were in charge of the visuals and the prototype. And the implementation was carried out by a team of five engineers.
Was the project fun?
Software developers have an affinity for this kind of thing. I'm quite sure they had a lot of fun.
When creating the levels, you must have taken a closer look at customer behaviour. Were you surprised at how active some of the users are?
The distribution really is quite something. Our most active user has answered around 1500 questions to date. Incredible! And the high scores really show the extreme spikes. There are only very few users on the highest level "Legend" who have attained all the respective achievements.
Are you planning on rewarding extremely active users?
We're not making any promises. Just watch this space!
Something that's worth mentioning: Our employees in customer care can see the level of the person calling. I'm sure that will have an effect. Picture a restaurant, for example: When a regular walks in, he or she is most likely to receive a particularly warm welcome and be treated in a courteous manner.
Are achievements rewarded to private customers only? It would be a bit unfair towards business customers as they order much more.
It's quite tricky to draw the line between business customers and private customers. We tried to develop algorithms that limits the amount of points major business customers receive. After all, it's not only about turnover but also about participating in our Community.
Are we the first online shop to introduce gamification?
There have been some attempts elsewhere. However, I don't know of any other provider in e-commerce who has integrated gamification as fully as we have. Not to mention our great attention to detail!
Which achievement is your personal favourite?
I think the golden achievements for Legends are cool. Plus they're rare.
What level are you on?
I'm not in the top 100. CEO Florian Teuteberg is.
---



I'm the master tamer at the flea circus that is the editorial team, a nine-to-five writer and 24/7 dad. Technology, computers and hi-fi make me tick. On top of that, I'm a rain-or-shine cyclist and generally in a good mood.
---
These articles might also interest you
Skeleton Loader

Skeleton Loader

Skeleton Loader

Skeleton Loader

Skeleton Loader

Skeleton Loader