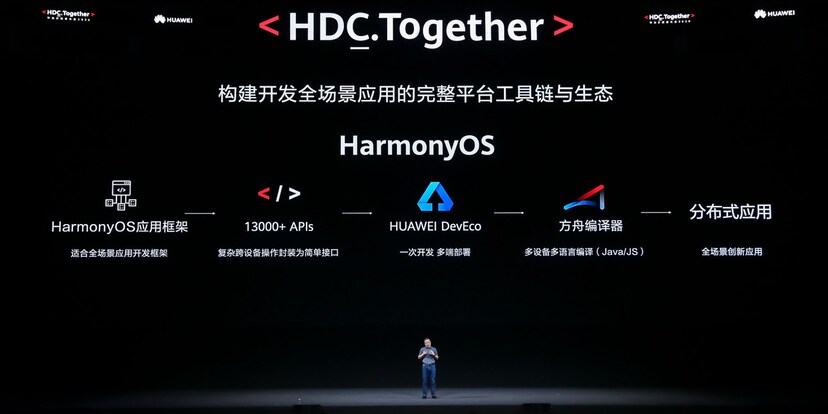 Huawei Harmony OS: launch announced for October 2021, Beta SDK towards the end of 2020
Huawei is officially saying goodbye to Android. From 2021, the Chinese smartphone brand will be utilising Harmony OS.
Before we get going:
If your Huawei device currently uses Android with Google Services, you won't lose them.
Even when updating from Emui 10 to Emui 11, Google services won't be lost.
Retrofitting Google Services is still a strange thing, sometimes it works, sometimes it doesn't. I still won't provide individual tech support.
There you are. Let's go. Huawei will officially bid farewell to Android. Harmony OS, the group's new operating system, will be distributed on Huawei smartphones and smart devices starting next year – probably in October. This announcement has brought with it many details about the nascent operating system.
Faster, more versatile, but not quite there yet
Huawei describes HarmonyOS as a future-proof, decentralised and open operating system. It will be used in a variety of scenarios, from mobile office operations, fitness tracking and health monitoring to social communication and entertainment. Huawei ends this list with «to name a few». This impressive marketing tactic is followed by a little more tech.
Unlike a legacy operating system that runs on a standalone device, HarmonyOS is built on a distributed architecture designed based on a set of system capabilities.
HarmonyOS will be less device-focused and more capability-based. I believe Huawei is starting to think laterally. They're no longer following the principle, «We have a device that looks like this. How will we handle it?» but «We have software that can do these things. How can we use them?» More specifically, this means that HarmonyOS allows you to use your smartphone as well as your notebook, your toaster or your toothbrush without changing the base code too much.
What will HarmonyOS look like on the user interface level? Unknown The code is alright but not quite there yet. A beta software developer kit is expected by the end of 2020. The official website has published documentation and code snippets.
Let me give you an example: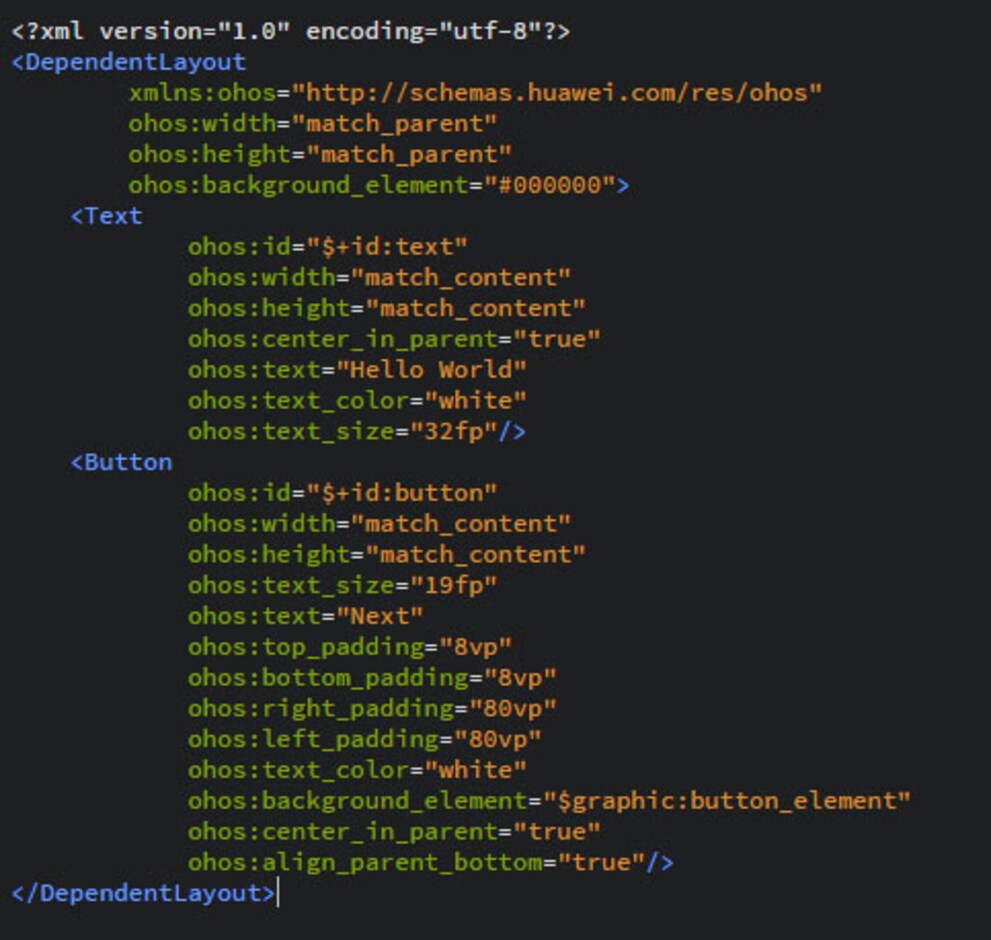 Doesn't look so crappy now. Java, XML, your usual affair. I have never seen the namespace under xmlns before, but there's always room to innovate.
The real exciting stuff will probably only trickle in around release. HarmonyOS is said to be up to 60 percent more efficient than Android (Attention: Autoplay Warning). Hardly surprising, since Huawei has been able to learn from Android and create a spiritual successor to the most widely used operating system in the world.
Yeah, but what about Google?
Google itself has been working on its own successor to Android for some time. The still rather mysterious project is called Fuchsia and will also be capability-oriented, which means it'll follow the same basic idea as HarmonyOS.
When asked, Huawei weren't willing to ignore cooperation with Google. Huawei even hopes to resume their partnership. An article from the seemingly distant past of April 2020 is therefore still valid.
However, one suspicion comes to mind: since HarmonyOS is supposed to be fully compatible with Android apps as we know them, one app should get more attention. Petal Search, an app that browses through apps from all kinds of stores, could become a key component of the App Environment on Harmony OS. There are no substantiated facts in this respect.
But whereas Fuchsia has remained silent since 2019, with development continuing in secret, Huawei has taken a step towards the future with HarmonyOS. Let's wait and see.
---
Journalist. Author. Hacker. A storyteller searching for boundaries, secrets and taboos – putting the world to paper. Not because I can but because I can't not.
---
---
---
---
---