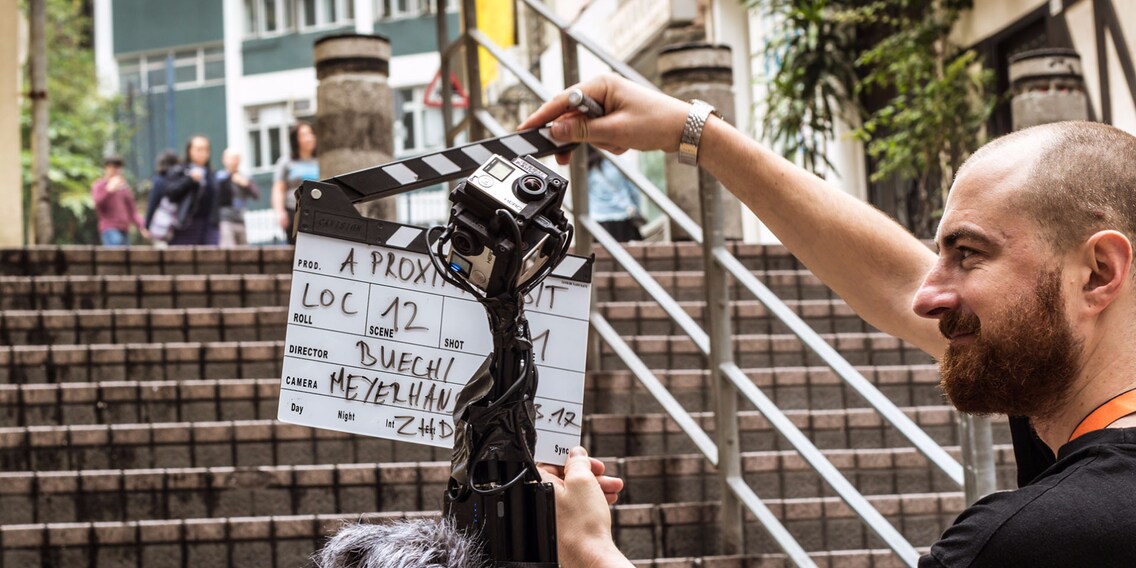 Hong Kong's virtual staircases

Stairs, Hong Kong, VR. It's fair to say that's a pretty unusual mix. But what initially sounds strange actually gives you a glimpse into the culture of a densely populated city that is economically on the up. The man behind the camera documenting the staircases is Nicolas Büchi. This is what happened when I stopped to have a chat to him.
«I was in Hong Kong and filmed staircases with VR equipment,» explained Nicolas Büchi, an interaction designer and academic at the Zurich University of the arts (ZHdK). There are now a series of 360-degree videos that depict life on the stairs in the autonomous region of the People's Republic of China. That in itself is unusual. The research Büchi carried out didn't make the subject less unusual, it highlighted just how fascinating his project is. While the tech aspect is fairly easy to explain, the results side of things is a bit more tricky.
The video project called «A Proximal Visit» was just as fascinating and unusual after the filming. «The recordings are so important that the Hong Kong Polytechnic University incorporated them as primary sources.»
I'd never been so intrigued by an e-mail before, so I had to get to the bottom of this story.
The set-up
In previous years, Büchi and his team didn't have much success filming with a regular 3D camera. That's why they didn't opt for a Samsung Gear 360 or Nikon KeyMission. Researchers at the universities of Zurich and Hong Kong who worked on the «Connecting Spaces» project more or less devised their own 3D cameras.
«We built a kind of cube out of GoPros,» Nicolas told me. The invention looked a bit strange, but it would provide recordings both researchers and viewers were happy with.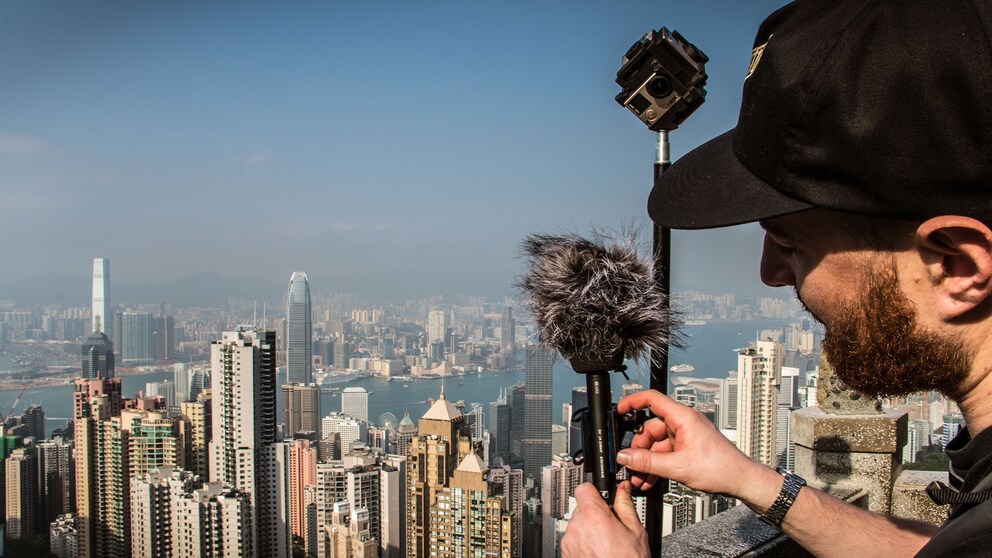 A GoPro cube used for 360-degree filming
The result:
Even if the image quality is much greater than what commercial 360-degree cameras can achieve, the sound has to be able to keep up. That's why researchers looked to Sennheiser products, and in particular the microphone called Ambeo VR. They later viewed it using the Samsung Galaxy S8+ in a VR headset.
«At the time of filming, the microphone was still a prototype,» explained Nicolas. The manufacturer used the filmmakers as guinea pigs and gave them advance models.
Hold the phone… did you say stairs?
The set-up was fascinating, but even more interesting is the overall topic. The reason being you wouldn't normally expect staircases, Hong Kong and ZHdK to go together. When I said that to Nicolas he laughed. It probably wasn't the first time his project had been met with an element of surprise.
«The staircases in Hong Kong are the last bit of free space available to us,» he said.
Nicolas explained that Hong Kong does of course have parks as well, but these are subject to strict regulations and laws. Although green spaces in the city of seven million inhabitants are well tended and visually appealing, they're not places you can go to relax. That's why it was so important to find other non-commercial areas for recreation. In a place like Hong Kong that is so built up, it's difficult to find any unused space. To put it in perspective: In Hong Kong, 544 people live in each square kilometre, while in Switzerland 202 people live in that equivalent space. When you think that Hong Kong is made up of 2,755 square kilometres and Switzerland has 41,285, you realise how much it's a tight squeeze.
It was at that point that people started sitting on the stairs, eating there, stopping to chat or even using them as a meeting point. Nicolas and his team became aware of something interesting happening on the staircase. «Housekeepers from the Philippines and various other corners of the world would gather on the stairs on their days off to send packages back home.» Hong Kong postal service workers realised this was going on and would appear at the bottom of the stairs to collect all the parcels. But they weren't doing this through official post office channels. «They're unofficial postal service workers. In other words, people creating their own businesses and sending the parcels on themselves.»
By setting up their GoPro camera construction, Nicolas and his colleague Alun Meyerhans managed to capture a snapshot of life that would probably not have been documented otherwise.
Primary sources in everyday life
The project was to be a kind of fly-on-the-wall documentary. Nicolas and the team also organised an art performance with the local composer Alain Chiu. I have to admit I don't know what the performance is trying to say, but I saw the video three times and I followed a different actor every time. It might be incomprehensible art, but the video is fascinating.
It looks like I'm not the only one to be fascinated by the stairs in Hong Kong – now that's a sentence I never thought I'd be uttering. The University of Hong Kong decided to store the recording in their archive as a primary source for their research work. «One of the biggest challenges about filming was trying to keep our camera and microphone structure unobtrusive," said Nicolas. He seemed to have managed this, as it was rare for housekeepers and passers-by to look directly into the camera. That's in spite of the fact VR isn't really a thing in Hong Kong yet, meaning a camera cube like theirs was probably rather conspicuous.
Although the finished videos might seem to be in one take, the researchers actually filmed for 14 days in search of those special unobserved moments. «Post-production took slightly longer – about two months,» added Nicolas. The videos are important, as researchers didn't have evidence of this kind of unedited, raw life on film. «The stairs are chronicled a lot in the University of Hong Kong archives. However, there were as yet no photos or videos of them.»
You can now even see the stairs in VR on the project website using a VR headset. If you don't have a VR headset but still want to see the video and have a few burning questions for Nicolas, pop along to the Geneva International Film Festival Tous Ecrans from 3 to 11 November 2017 for the screening.
You may find the following interesting (in German):
---



Journalist. Author. Hacker. A storyteller searching for boundaries, secrets and taboos – putting the world to paper. Not because I can but because I can't not.
---
---
These articles might also interest you
Skeleton Loader

Skeleton Loader

Skeleton Loader

Skeleton Loader

Skeleton Loader

Skeleton Loader