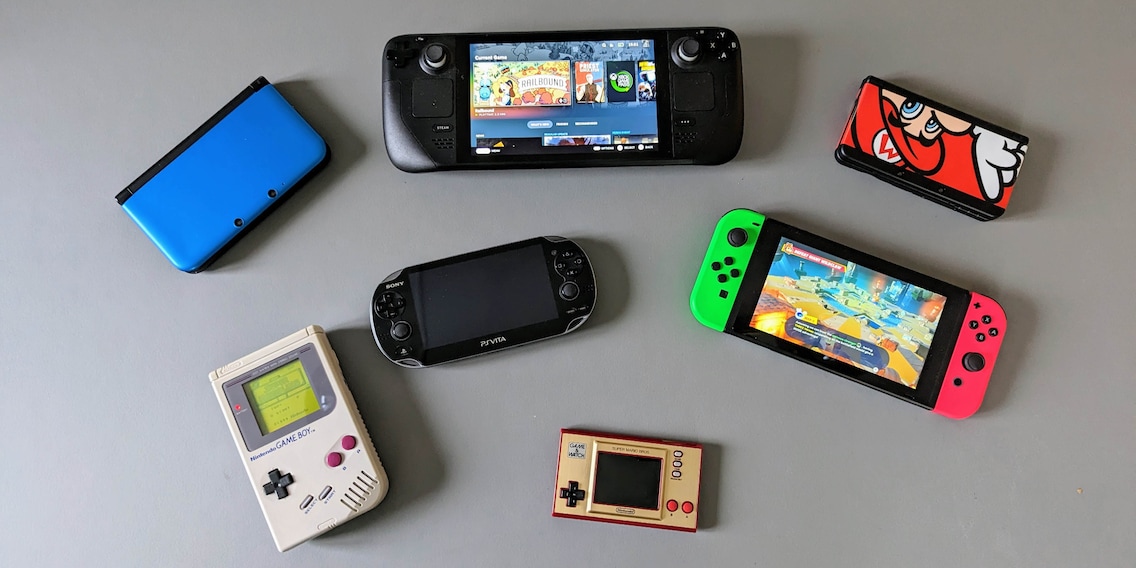 Handhelds are back

Steam Deck, Logitech G Cloud and Playdate are just three of many new handhelds. Portable games consoles are experiencing a revival, but in a different way than before.
I love my Steam Deck. I'm not alone in that. The device flies off shelves like the PlayStation 5 when available. It's been a while since Valve's handhelds was the only portable gaming device on the block. Take the Playdate. My colleague Simon Balissat definitely wasn't the only person who was bowled over by its 1-bit display and crank. You can play with real Game Boy gear or Atari Lynx modules on the Analogue Pocket. With cloud gaming handhelds such as Razer Edge and Logitech G Cloud, you can also play actual games. The deluge of portable games consoles comes after years of drought with Nintendo as the sole ruler.
The PS Vita was Nintendo's last main contender in the handheld market. That was in 2011. In spite of the cult following – I still have my PS Vita – there never came a successor. Since then, Nintendo has set the pace with DS, 3DS and Switch. Ironically, the Japanese game developer heralded the revival of handhelds in 2017 with the launch of the Switch.
Why did handhelds disappear in the first place?
You'll probably be familiar with the grey block that goes by the name of Game Boy. Nintendo's stroke of genius from 1989. Not least thanks to being bundled with «Tetris». This ensured Game Boy was popular with kids and adults alike. When combined with Game Boy Color sales, the device sold 120 million copies. No wonder other companies wanted in on the action. First and foremost of those was Sega with its Game Gear. A worthy combatant, but also the only success story in this segment. Then game giant, Atari, made an attempt with Lynx but failed miserably.
Apart from Nintendo, no one seems to have had a lasting victory with handhelds. Sony only dipped its toes into the water after two hugely successful game consoles. With over 80 million sold, the 2004 PlayStation Portable (PSP) was a resounding win. Nevertheless, it still lagged behind the Nintendo DS, which launched in the same year and cashed in 155 million sales. Sony had another go in 2011 with the PS Vita. In spite of its advanced hardware, the device was a flop. There were umpteen reasons why it fell flat. The wrong target group and not enough (good) games, to name a few, but most of all, it was down to smartphones.
With the launch of the iPhone in 2007, mobile games rapidly gained in significance – all at the cost of handhelds. Even though smartphone games couldn't keep up with the quality of PS Vita titles, they were still good enough for millions of gamers. Sony's last chance saloon was the Xperia Play: a mash-up of PS Vita and smartphone. It was allegedly supposed to be called PlayStation Phone. But even that didn't save it. Nokia's handheld smartphone-hybrid, N-Gage, turned out to be a damp squib the year before. At the end of the day, it was only Nintendo's handhelds that weathered the mobile gaming storm. But even they had to change course.
Why did handhelds suddenly get popular again?
Nintendo 3DS only sold half as many copies as the Nintendo DS. This was cause for concern at the company. And why, ultimately, Nintendo decided to merge the handheld and console development teams. Until then, they'd been siloed, with the console team having clear precedence. Their combined efforts culminated in the Nintendo Switch. For the first time, you could play a fully fledged console game on the go, without having to compromise anything. Hot on the heels of the foldaway handheld with its pen and a 3D handheld that didn't require 3D glasses, the Switch was another triumph for Nintendo. The portable game console marries the best of two worlds and proves that handhelds have their place in spite of smartphones jostling for position. Even though mobile games can't be beaten when it comes to accessibility, they're not a patch on a physical controller's touch display navigation.
It's only a matter of time before Sony dusts off its own blueprints and comes out with a PS Vita 2, don't you think? Unfortunately, there's as yet no sign that a new portable PlayStation is in the works. With almost 115 million copies sold, Switch earned its place in the hall of fame as one of the most successful console of all time. Initially, there were surprisingly few manufacturers jumping on the handheld bandwagon. With the exceptions being OneXPlayer, GPD Win and AYANEO. But they remained at the margins of the gaming world. A possible reason is that their technology wasn't advanced enough to transfer sophisticated games. Nintendo had a crucial advantage. The likes of «Super Mario», and «Zelda» were some of the most popular games. But from a graphics point of view, they weren't in the top league. As a result, they didn't need powerful hardware.
With Steam Deck, Valve managed to pack all the performance needed for PC games into a handheld. And thereby, you could theoretically play any available PC game. For a long time, this was unthinkable in such a form factor. Rather than having to cart a ridiculously heavy gaming laptop around to play «Elden Ring», you could now just reach for the Switch alternative.
It was only a matter of months ago that Logitech and Razer announced their plans for a mobile gaming alternative. Instead of powerful hardware that plays games locally, Razer Edge and Logitech G Cloud games are streamable. Geforce Now and Xbox Cloud Gaming are gaming services designed for just that. Logitech and Razer have their eye on gamers who want «real» consoles or PC games on a handheld.
Playdate packs in even more portable gaming fun. But what is it? An innovative handheld concept with a monochrome display that comes with an unusual crank control system. New games are launched as part of regular seasons. Even here, the appeal is that it's uncomplicated and can be played anywhere and everywhere. You just put it in your hand and go. In other words, spontaneity over a 77-inch TV.
Then there's the direct heirs of Game Boy and crew with the Analogue Pocket. The company specialises in retro systems so you can play old games with modern technology. And Pocket is the latest addition to the family. It looks like a slim Game Boy with a larger display. This device was designed to play original Game Boy, Game Boy Color and Game Boy Advance games. There's even an adapter for Game Gear and Atari Lynx games. But it's got nothing to do with emulating. The games are played just as they used to be. The only difference being the images are razor-sharp with better colours and tenfold resolution.
Even Nintendo is surfing on its own handheld wave. To celebrate the 35th anniversary of «Super Mario Bros» and «The Legend of Zelda», the company released two new versions of Game & Watch. The little gaming devices first appeared in 1980 and 1991, each with a very rudimentary game. Whereas, the anniversary edition comes with the full version of «Super Mario Bros» and «The Legend of Zelda».
So what happens now?
Switch shows no sign of waning in popularity. A successor will likely be just round the corner and continue to boost the mobile console market. Meanwhile, Steam Deck handheld gaming is expanding to reach PC gamers. Advances in technology will continue to push the limits of portable game machines. I'd be surprised if competitors left Valve and Nintendo to it without putting up a fight.
There are already exciting, albeit unfledged, alternatives in the works. Handhelds such as Razer Edge and Logitech G Cloud are set to carve out a niche within a few years. But first, they need fast and reliable network coverage. Only then can they take full advantage of their potential as an affordable mobile gaming device.
I'm just as excited about successor hardware as I am about innovative handhelds, such as Playdate and Analogue Pocket. Handhelds can but don't have to be alternatives to console or PC gaming. Independent game systems that make creative use of a form factor are equally interesting.
It's no longer possible to think of a world without handhelds. Nintendo will need to share the limelight that they're in again. I'm already looking forward to seeing who'll be centre stage next.
---



Being the game and gadget geek that I am, working at digitec and Galaxus makes me feel like a kid in a candy shop – but it does take its toll on my wallet. I enjoy tinkering with my PC in Tim Taylor fashion and talking about games on my podcast http://www.onemorelevel.ch. To satisfy my need for speed, I get on my full suspension mountain bike and set out to find some nice trails. My thirst for culture is quenched by deep conversations over a couple of cold ones at the mostly frustrating games of FC Winterthur. 
---
---
These articles might also interest you
Skeleton Loader

Skeleton Loader

Skeleton Loader

Skeleton Loader

Skeleton Loader

Skeleton Loader