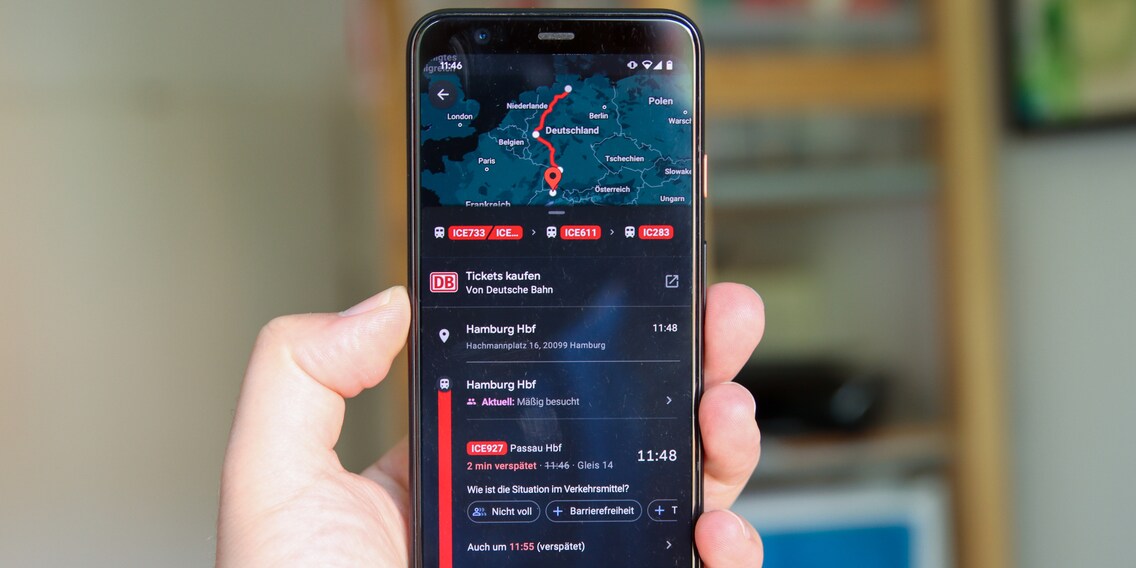 Google Maps: real-time data and tickets for Deutsche Bahn

Deutsche Bahn's long-distance connections can now be seen in real time on Google Maps, and tickets can be purchased through the app.
In Switzerland, Google Maps has been showing train delays and track changes since the beginning of 2020. In keeping with the cliché, it took a bit longer in Germany.
Delays, track changes and tickets
Deutsche Bahn is now supplying its real-time data to Google. You no longer have to check the train app to see if your train is arriving on time; you can see it directly in Google Maps. If at the time of writing this, for example, I were on my way to Hamburg's main station to catch a train to Zurich, Google would show me I have an extra two minutes to get there.
What's more, when you plan a trip, Google Maps not only shows you possible connections, but also sends you to the ticket shop. If you have DB Navigator installed, you'll end up in the app; if not, on the DB website.
Long-distance connections only
However, the real-time information and ticket links are only available for Deutsche Bahn long-distance trains, i.e. for all ICE, IC and EC connections. For regional and S-Bahn trains, which are operated by other railroad companies or entities, no ticket sales or track information are available. You can still see if the train is running on time, though. But there are a few exceptions. For example, Google has been working with the Hamburg Public Transport Association (HVV) for some time now. It shows you whether the U-Bahn and S-Bahn trains and buses are running on time and directs you to the HVV app to buy tickets.
Purchasing the ticket for my trip to Zurich is easy because I choose a connection that has me on a DB train the whole way. But for connections where I have to change trains in Basel, Google Maps doesn't link to the ticket shop. The same goes for other connections within Switzerland. I guess I'll have to install the SBB app, after all.
---



When I was but a young student, I'd sit in my friend's living room with all my classmates and play on his SuperNES. Since then I've had the opportunity to test out all the newest technology for you. I've done reviews at Curved, Computer Bild and Netzwelt, and have now arrived at Galaxus.de. 
---
---
---
These articles might also interest you
Skeleton Loader

Skeleton Loader

Skeleton Loader

Skeleton Loader

Skeleton Loader

Skeleton Loader