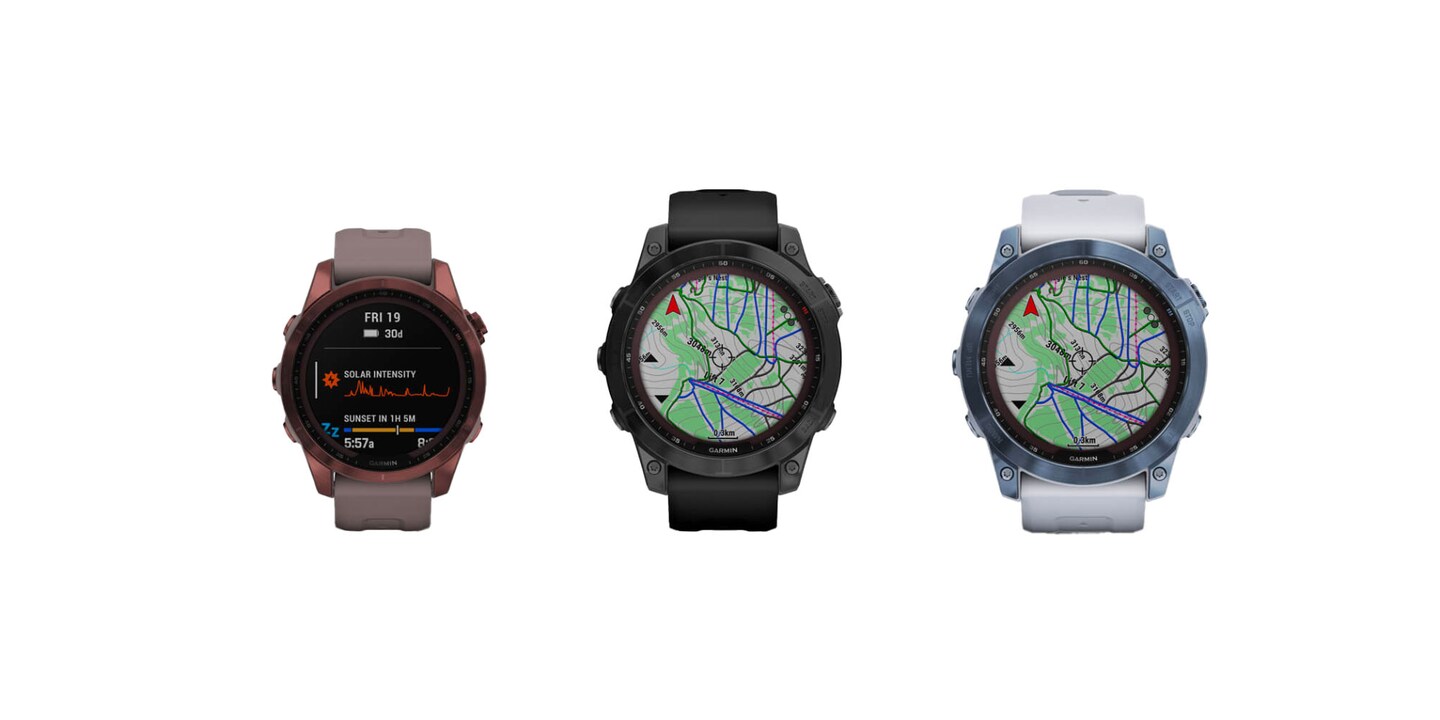 This article was translated automatically.
Garmin Fenix 7: Improved solar cells and touchscreen
Garmin has introduced new smartwatches. The Garmin Fenix 7 series appears in three sizes, three colors and three models.
Garmin has unveiled the latest generation of its Fenix smartwatches. Unsurprisingly, the new series is called Garmin Fenix 7 and includes three sizes at launch.
Thus, Garmin hopes to catch all wrist sizes, from teenagers to bodybuilders. The smartwatch is clearly designed for athletes, whether it's a user who likes to hike or one who is training towards a marathon. In total, the smartwatches support over 100 sports.
Sun and size affect the lifespan
The Fenix-7 series has received a massive update in terms of battery life.
The big differences are due to the fact that there is more physical space in a large watch. A larger battery can be installed in a 51-millimeter watch, and a larger solar cell captures more sunlight. The solar cell is optional, by the way.
Garmin's measurements for battery life extension took place under 50,000 lux of light. For reference, on a sunny day with clear skies, the sun provides over 100,000 lux in direct sunlight and 20,000 lux in shade.
The features at a glance
The Fenix-7 series brings a new feature that is surprising: touchscreen. The watch is no longer operated only with the five buttons on the case, but also with the fingertip on the screen. A concession that Garmin probably had to make to the industry and its standards. This also makes Garmin look modern.
In addition, there are new sports programs:
Surfing
Backcountry Ski
XC Ski Dynamics (in combination with Garmin's chest strap)
Mountain Bike
High Intensity Interval Workouts (HIIT)
The apps from Garmin's own App Store are still available for download. Furthermore, the sports apps from the Garmin Fenix 6 and its predecessors are still available on the Fenix 7.
Garmin uses artificial intelligence
Garmin has tweaked the software and uses artificial intelligence and predictive models to improve your workouts. The new Fenix models don't just measure your current data, they try to guide your performance:
Daily workout suggestions based on your health data and current fitness level.
Pace prediction when the watch knows the route of your run.
PacePro: A separate feature that measures your pace and lets you know when you're not keeping it.
Models, sub-models and color options
Each size also has three sub-models: The basic version can have extra shatterproof sapphire crystal added if desired - and depending on the size of the wallet - and/or a solar cell that increases battery life.
Colors:
Black
Carbon: Arguably a kind of dark gray that is only slightly different from black on the screen.
White
The Garmin Fenix 7s will also come in a bronze version
The watches are expected to be available from January 24, 2022.
---

Journalist. Author. Hacker. A storyteller searching for boundaries, secrets and taboos – putting the world to paper. Not because I can but because I can't not.
---
---
---
These articles might also interest you
Skeleton Loader

Skeleton Loader

Skeleton Loader

Skeleton Loader

Skeleton Loader

Skeleton Loader