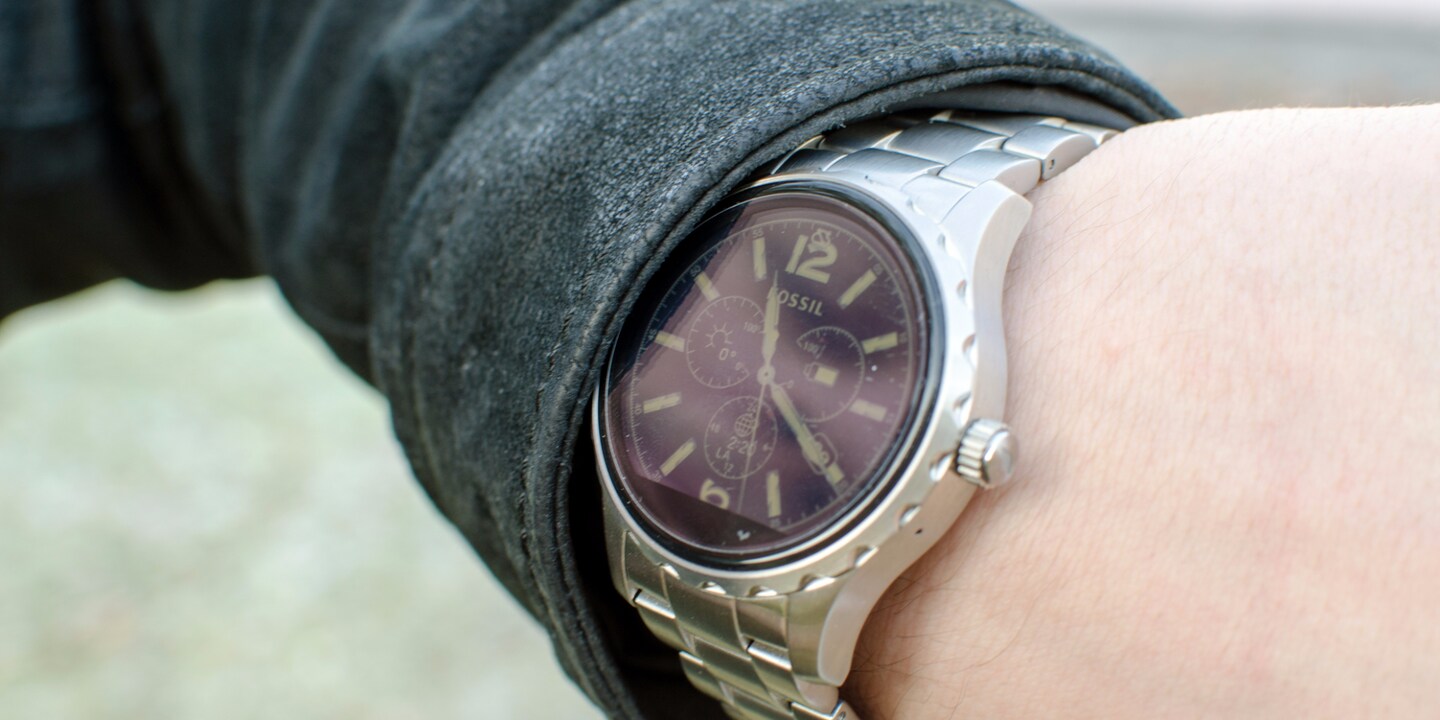 Fossil Q Marshal – My first smartwatch

I believe smartwatches are better in theory than in practice and have not been able to bring myself to cough up that amount of money for a minor added value. Time to face my prejudices!
Marketing manager Michelle Oehri is standing in front of me and says: "Want to test a smartwatch? You test pretty much anything that's halfway smart, right?" Well I suppose I "could" but that's a far cry from "want". Smartwatches are the only gadget I can really do without in my life and now the Q Marshal is supposed to prove me wrong. I do have my reasons by the way:
Smartwatches are not self-contained devices
They're usually clumsy, heavy and anything but delicate
The screen's too small
I never wear watches as it is
However, I reviewed the Vector Luna not too long ago and tasted blood. Having all that information right there at your wrist is kind of sexy. I can see why people would make a conscious decision to get one. But still – is it really worth it?
Right, enough of my complaining. Michelle hands the Fossil Q Marshal over and tells me to have fun with it. Why thank you very much! I grudgingly start looking into smartphones for the first time since they first came out. Pebble rest in peace. So the Q Marshal is my first fully smart smartwatch with all those fancy features that go with it. Let the test begin!
Everything's interacting
For starters, this thing definitely looks classier than expected! Another plus is inside the box: there's a Q-shaped indentation in which the Q Marshal lies. Not really relevant but definitely a nice touch. Smartwatches are a bit tricky by nature because you've got to cram an awful lot of technology into a tiny space. And don't forget that the battery takes up room, too.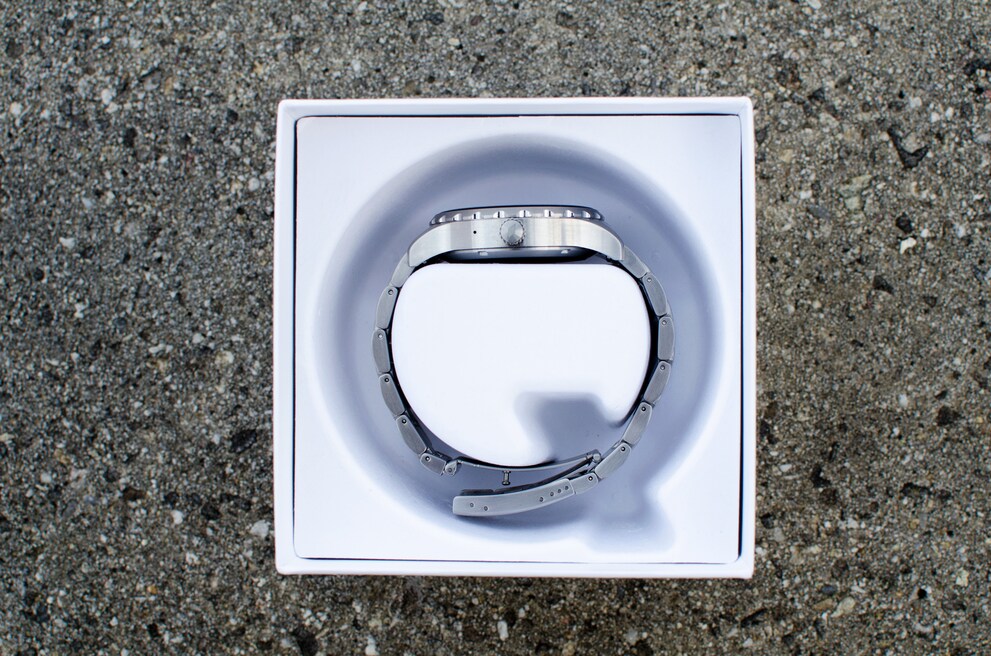 The Q-shaped indentation featured in the box
The watches I looked at back then were all really thick and I didn't like that at all. Although the Q Marshal's design is a little thicker than I'd hoped for, it would still pass as a fancy watch. Unlike Donald Trump, I have large hands and wide wrists, so you hardly notice the watch's size anyway.
The set-up is pretty straight-forward. To communicate with your smartphone, the Q Marshal needs the "Android Wear" app for Android or Apple iOS. It's all really fast from there – to the point I actually forget ever doing it. There was just one time I had to verify some kind of code as a security measure but that was it.
There is one important smartphone feature that does take a bit longer to set up: The watch face. It's the first thing you see when you're looking at your smartwatch so choosing the right design is not a decision to be taken lightly. However, it seems that everyone and their dog gets to design watch faces these days so you've got to fight yourself through what feels like thirty-thousand abominable designs set out to insult your eyes before finding a design that's halfway decent. My advice: Invest a franc or two and get the premium faces. They're designed by people who have actually seen a watch in real life. Some of the designers have even figured out how to pleasantly arrange the flood of information on the display without substantially impairing the watches functions. Some of the designs are even quite attractive.
One website that lets anybody create a watch face is FaceRepo – simply filter the designs by watch. But we're faced with a similar problem: Visual insults and very few gems.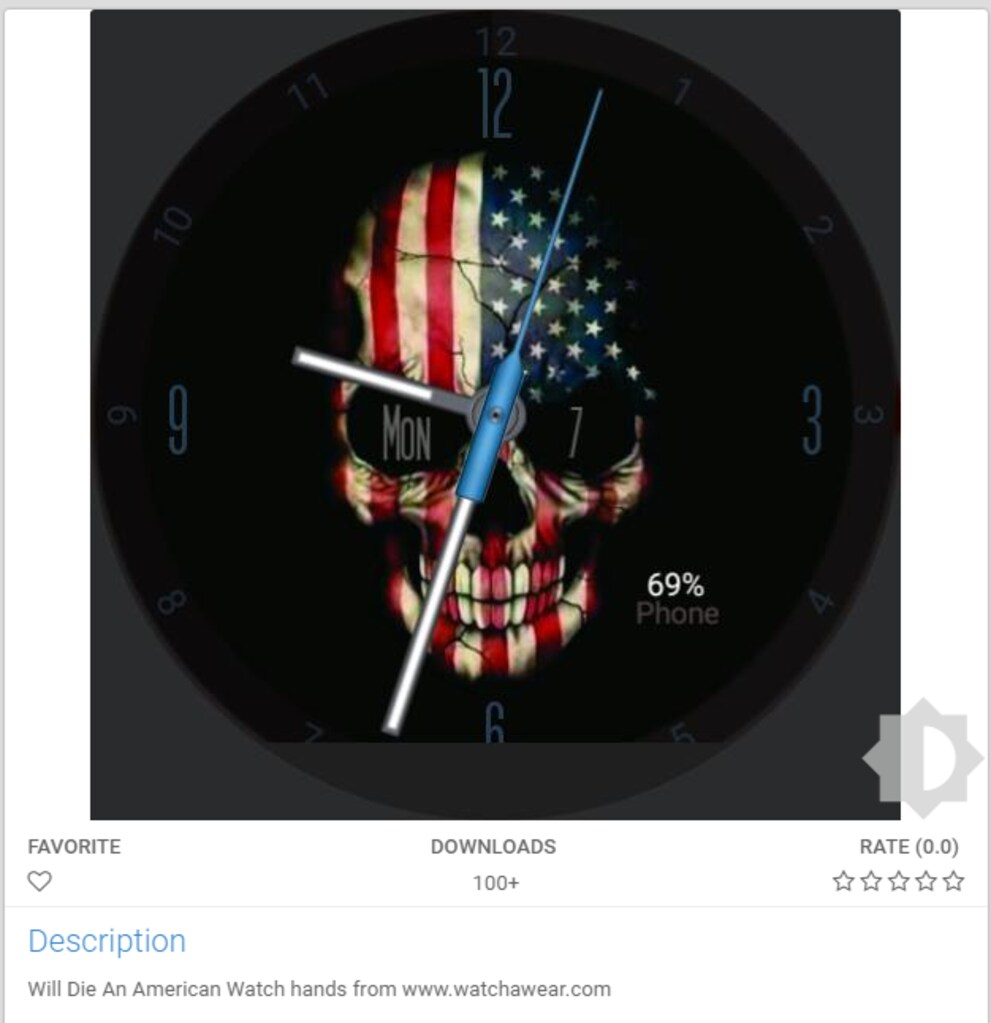 Patriotic or not, this thing is just plain ghastly.
After a good hour of cursing and doubting humankind, I ended up going with Daring Graphite HD. The cool thing about it is that the app allows you to fine tune various settings.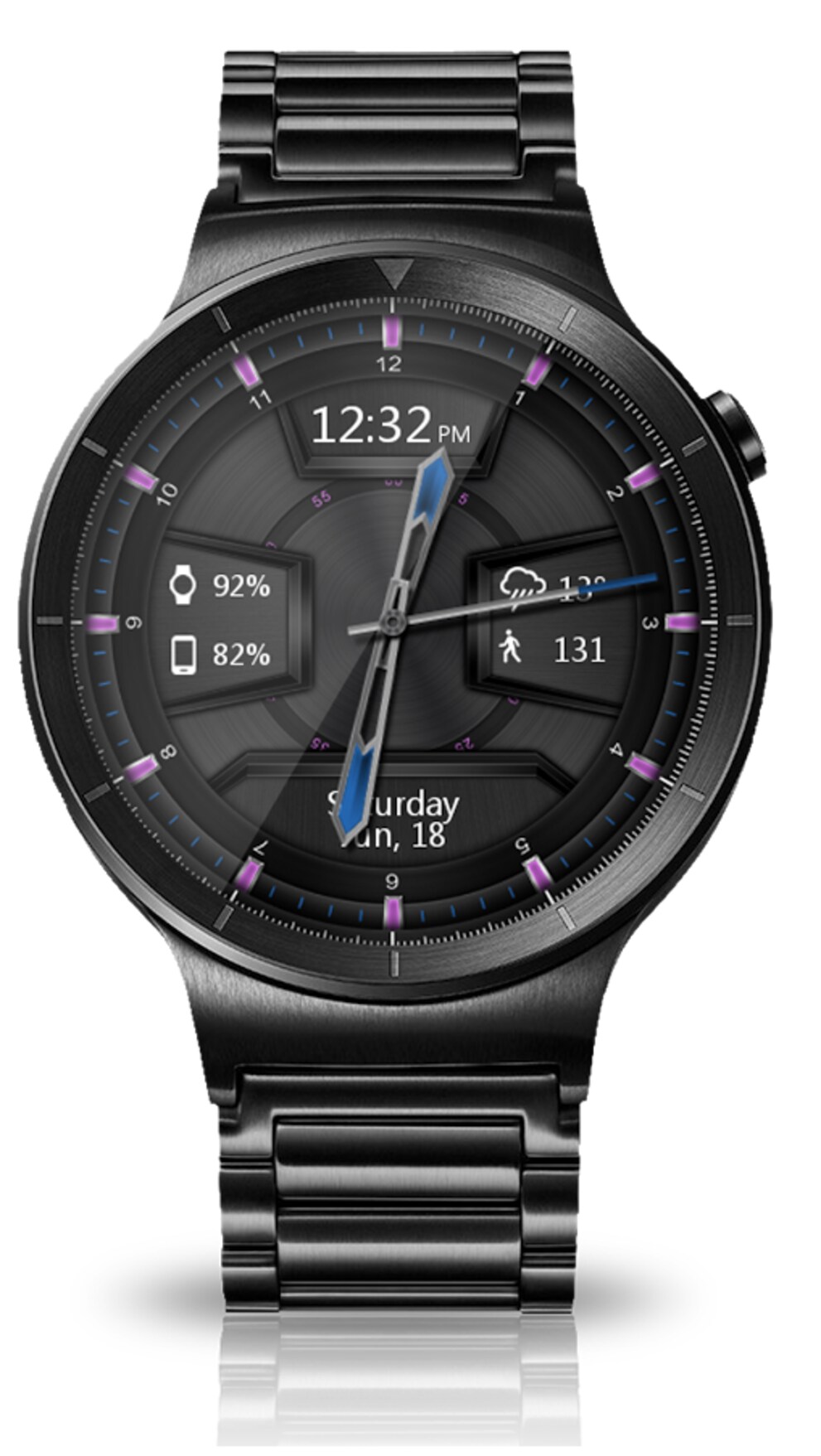 Surely not to everyone's taste but at least this looks like a watch
Discreet until after work
In our daily lives, watches are mainly characterized by one feature: Nobody will notice them unless they're used. The Q Marshal also falls into this category… until about 6 p.m.
The pedometer is definitely a fun feature but not mind-blowing either. Phantom vibrating in your pocket is definitely a thing of the past. After all, the watch is wrapped around my wrist now and touching my skin. Answering is quite easy too, although I'm restricted to emojis or voice messages. The latter works as follows: In true Knight Rider manner, I talk into my watch that translates whatever I say into text and sends it as a message – regardless of what potential nonsense the watch may have understood.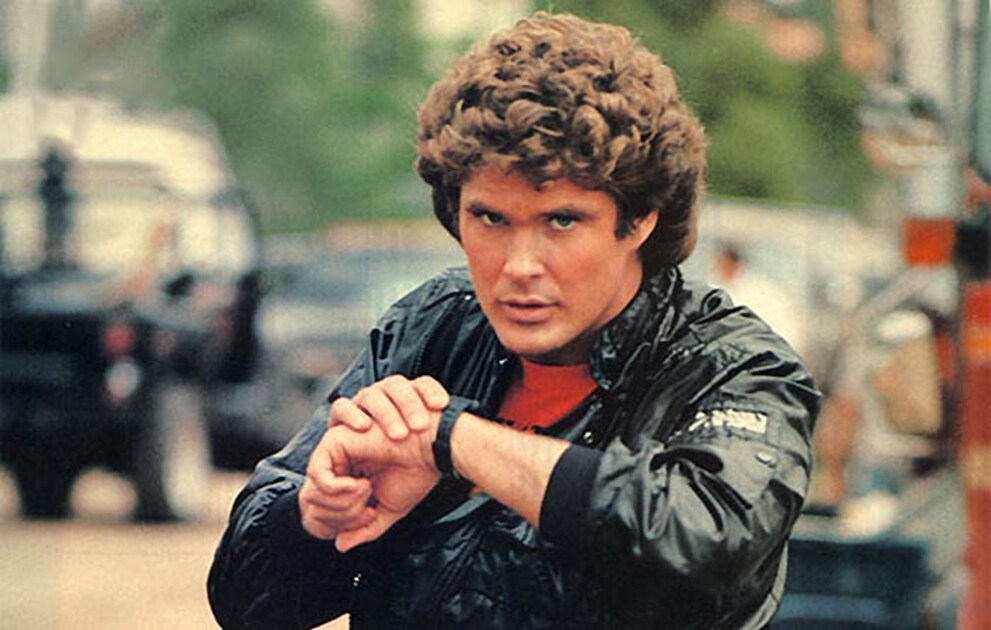 Who would have thought this picture would ever come in handy?
If you're based in the French or Italian-speaking part of Switzerland, this could be a massive advantage as Android still struggles with Swiss German. That's not really surprising. After all, linguistically speaking, Swiss German is a bit of a pigpen. Therefore, I mainly used the Fossil watch to read messages and answer them with a thumbs-up or the messenger-specific equivalent. For proper replies, I didn't even use English to talk to the watch. It just felt kind of stupid because I could just as well make a call.
In any case, the watch is really quite intuitive and I don't remember any incident in which I felt lost or out of my depth. Well done, Fossil!
First-world problems everywhere
The problems start when the Fossil Q Marshal's biggest weak point rears its ugly head, namely the battery. Its battery life is just about sufficient. Every night the thing needs to be charged and after a day's work, the battery is so low, I wonder if it will still be alive by the time I get home.
On the plus side, charging the watch is super-fast. All it takes is a few minutes to revive the Q Marshal with a partial charge. For a full charge, you're looking at a few hours. The smartwatch comes with a special charger, which is both a blessing and a curse. On the one hand, most of us have chargers at the office or in the car. I've even got four on my desk. Because reasons. The same goes for home: charger cables everywhere. But finding a watch adapter can be a bit trickier and carrying it with you 24/7 is just annoying. In view of this, it's actually quite handy that the battery keeps dying on me in the evening because that's when I'm at home anyway.
But worry not, these flaws are minor and fall into the category of first-world problems – small annoyances that are put to shame by the real problems the world is facing today.
A major yet unexpected advantage I discovered is the Spotify remote control feature. I really appreciate it when I'm crammed into a bus and don't have to dig out my smartphone to adjust the volume or skip a track. A truly awesome feature that most of you probably discovered a long time ago. What's more: If you're listening to music with call-enabled Bluetooth headphones, you can accept calls and just start chatting. Your phone stays in your pocket. Amazing! So Q Marshal has solved a problem I didn't even know I had!
My conclusion: The Fossil Q Marshal is not only stylish but can also truly come in handy. Although a smartwatch is not an absolute must-have for people's everyday lives, it doesn't create more problems than it solves. So if you're after a smartwatch that's a pretty and useful little gadget, the Fossil Q Marshal will definitely serve that purpose. I really grew fond of it during the test phase.
---

Journalist. Author. Hacker. A storyteller searching for boundaries, secrets and taboos – putting the world to paper. Not because I can but because I can't not.
---
These articles might also interest you
Skeleton Loader

Skeleton Loader

Skeleton Loader

Skeleton Loader

Skeleton Loader

Skeleton Loader