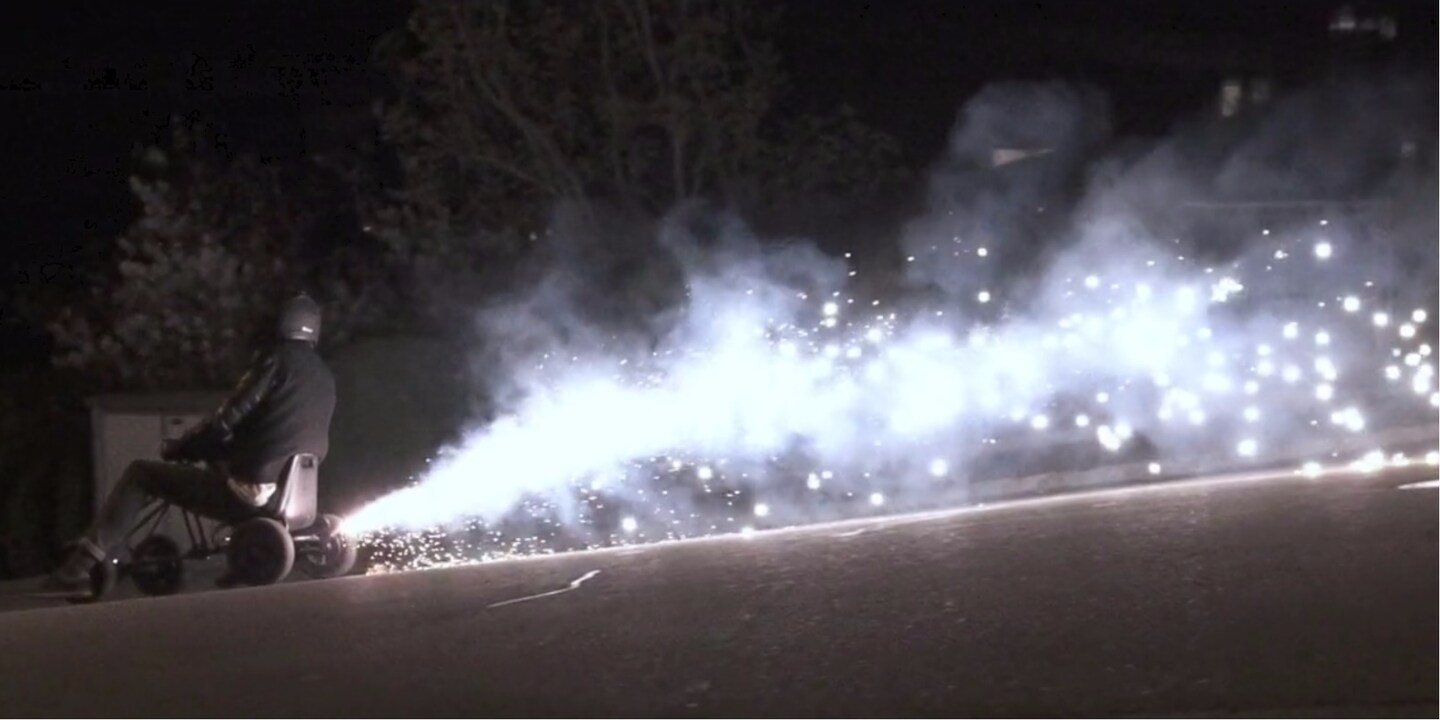 Food, coffee culture, illegal go-kart races – six awesome student film projects

Zurich University of the Arts (ZHdK) has teamed up with digitec. Check out the trailers to the creative and quirky final projects at our Zurich store and on our website.
For the second time, the final projects of ZHdK graduates will be on display at the digitec store in Zurich. From 10 June to 9 July, customers can watch the trailers of the degree course Cast / Audiovisual Media on the TV screens in the store. The videos will only be interrupted for the Euro 2016 games. If you can't make it to the Zurich store, just watch the trailers here.
Green& Hungry – An experiment in urban self-sufficiency
On their Youtube channel and their blog, Green&Hungry share their experiences as hungry self-sustaining students. For 13 weeks, Franca Frey and Seraina Mandra try to get a step closer to a self-sustaining lifestyle in weekly experiments. Fishing, chicken farming, dumpster diving or gardening – what is actually implementable in real life? Green&Hungry's videos and blog posts animate viewers and readers to give self-sufficiency in the city a go.
Fika: A web series dedicated to Swedish coffee culture
The six-part web documentary "Fika: to have coffee" takes a closer look at the Swedish Fika ritual. The term can be roughly translated as coffee break and constitutes a small but vital part of Swedish daily life. Fabian Schmid set off on a three-week trip through Sweden where he focussed on five towns and seven different cafés to get to the bottom of this popular ritual. The result is a web series that celebrates life's little stories that come to life during Fika.
Highweh – A web documentary about the sufferings of a junkie
This web documentary tells the story of drug addict Reto who was sucked into Zurich's open drug scene in the nineties. In three episodes, Reto revisits the places where the darkest episodes of his life took place. Highweh is not only the story of a junkie in the eighties and nineties but the story of an entire generation marked by uncontrolled drug consumption. The main character gives an impressive and moving account of the shocking conditions of Switzerland's open drug scene of the time.
Fresh Coffee Month – Coffee subscription to freshly roasted Swiss coffee beans
Life's too short to drink bad coffee – that's crystal clear for Michael Eugster. In his diploma project, he brings freshly roasted coffee beans from Swiss micro roasters to the kitchens of coffee lovers. He built the "Fresh Coffee Month" brand, led a successful crowdfunding campaign wemakeit and extensively spread the word on the social media channels Facebook and Instagram. The project is financed up to 209 per cent. As part of the project, all supporters will be receiving freshly roasted coffee that can be enjoyed with a clear conscience from September 2016.
Der wilde Werner (wild Werner): How to fool the media with fake go-kart races
How do you spread a modern myth in a short space of time? How does a story need to be told so it's received by its target group and the media? Alun Meyerhans and Michael Schendinger tell a fictional story of a Zurich go-cart scene that uses the city's streets for their personal adrenaline rush. By means of a mockumentary and with an elaborate distribution plan, they succeed in making the story public by skilfully using the media as a multiplier. The myth even spilled over Switzerland's borders. What is true and what is fictional?
Agora – An alternative perspective on the crisis in Greece
The AGORA project whisks viewers away to the Modiano market hall in Thessaloniki, Greece. The underlying question of the project is how to tell the story of this location interactively. Set out as a long-term documentary, the project keeps feeding a growing world of stories. The idea behind it is to take on a different perspective on the ongoing crisis in Greece. To do so, Lorenz Troll focuses on the traders and their everyday life. By means of the website, viewers can navigate through market life.
---

Being the game and gadget geek that I am, working at digitec and Galaxus makes me feel like a kid in a candy shop – but it does take its toll on my wallet. I enjoy tinkering with my PC in Tim Taylor fashion and talking about games on my podcast http://www.onemorelevel.ch. To satisfy my need for speed, I get on my full suspension mountain bike and set out to find some nice trails. My thirst for culture is quenched by deep conversations over a couple of cold ones at the mostly frustrating games of FC Winterthur.
---
These articles might also interest you
Skeleton Loader

Skeleton Loader

Skeleton Loader

Skeleton Loader

Skeleton Loader

Skeleton Loader