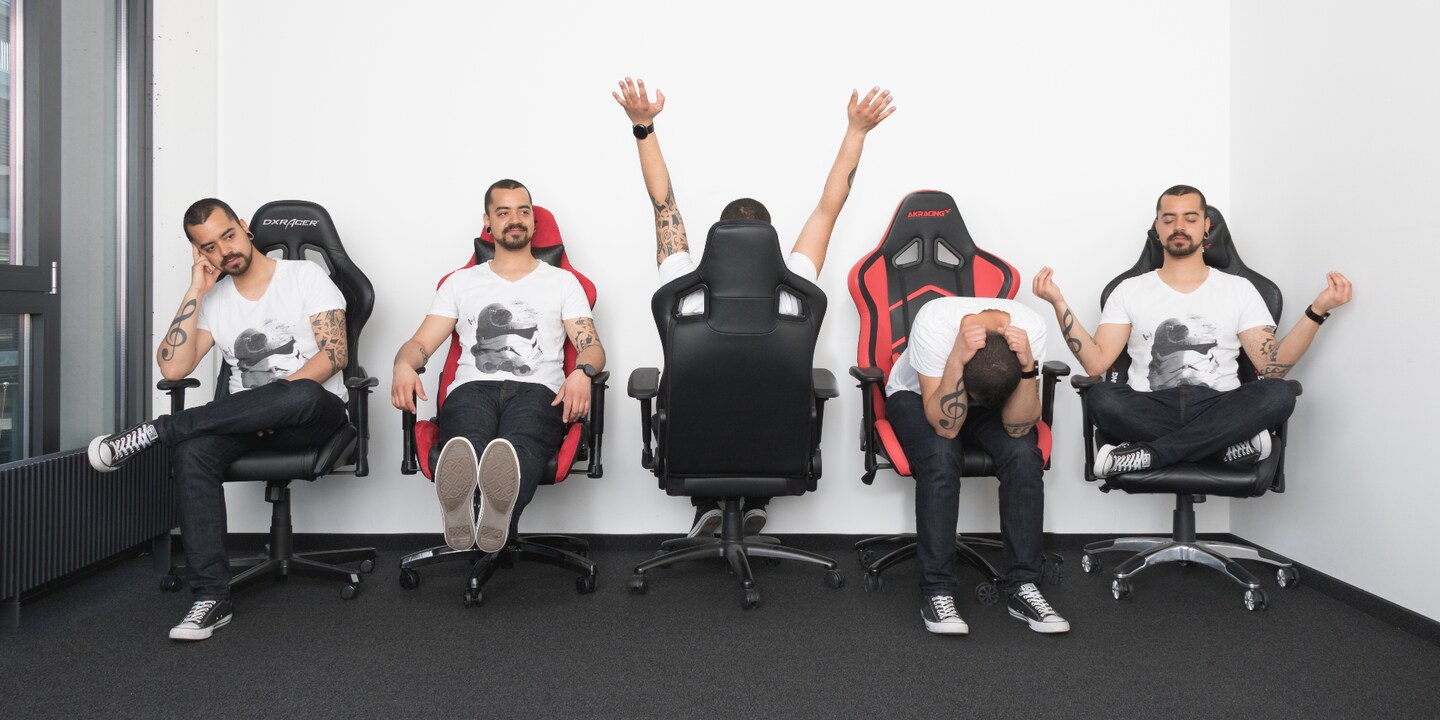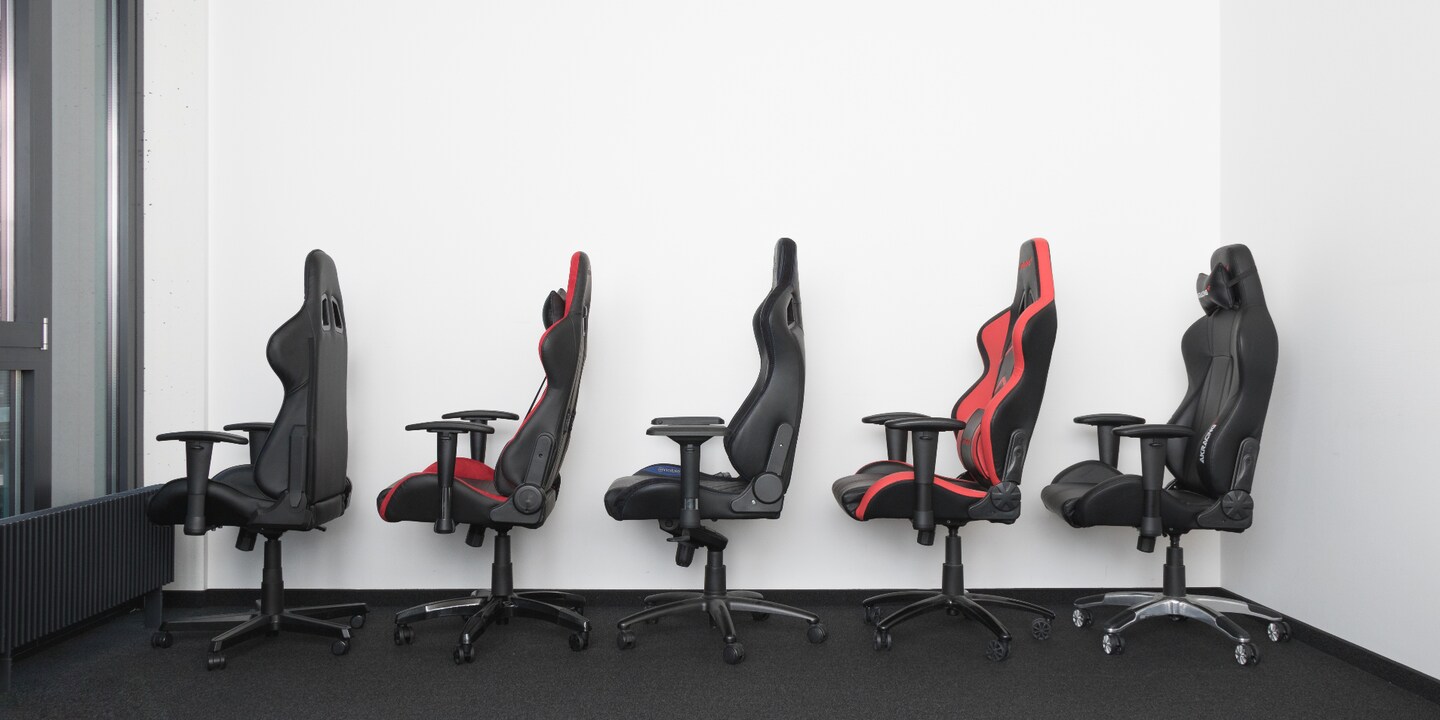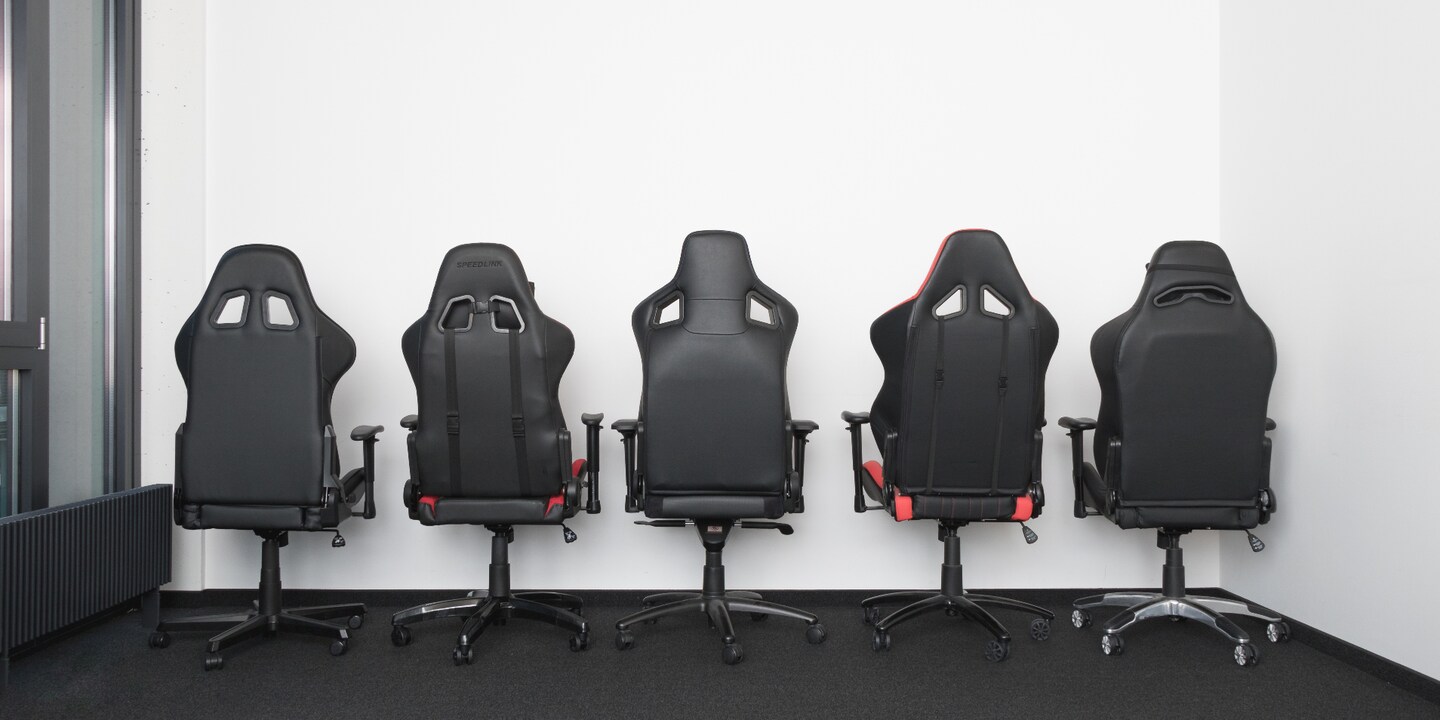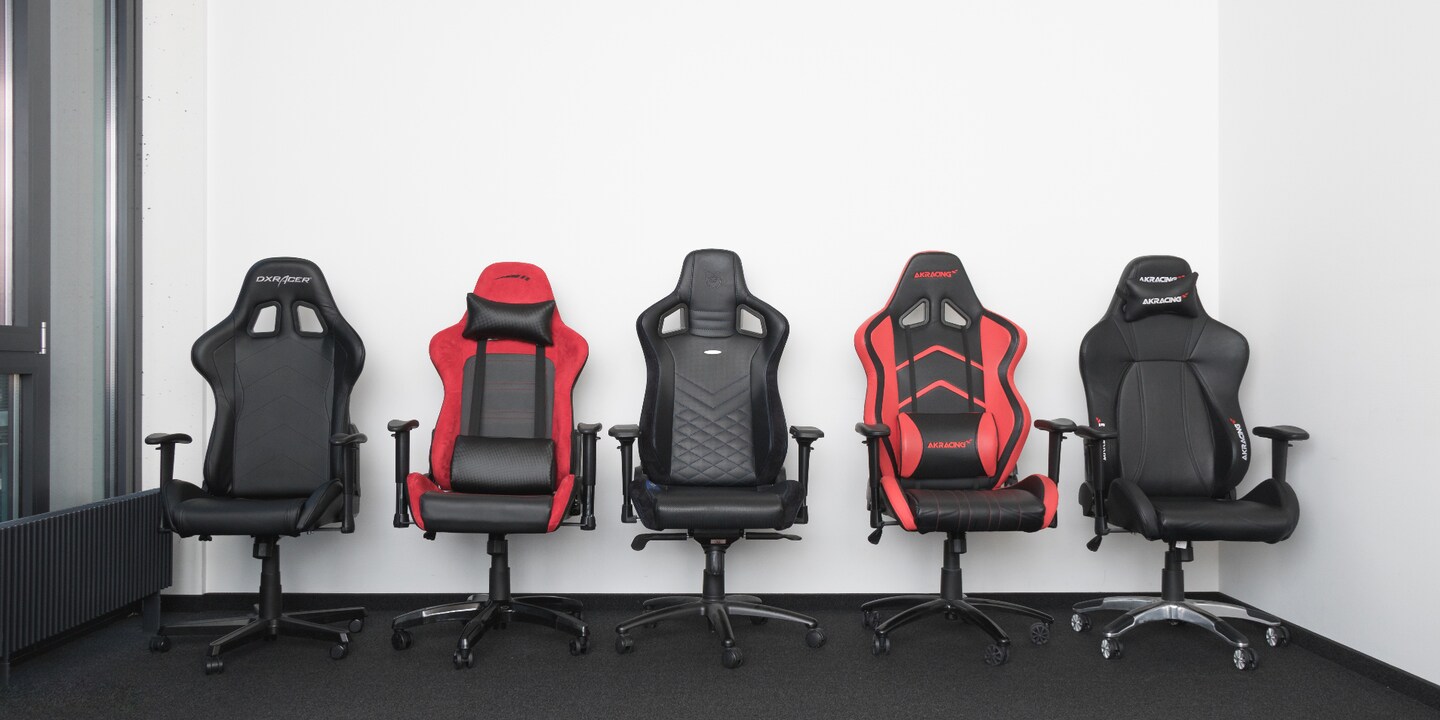 Find the perfect gaming chair.

Gaming chairs have long arrived in gamers' rooms and gaming dens. The demand for them has not slowed down. At first, my office colleagues looked at me askance when my EPIC noblechair was delivered. Since then, 50 per cent of our team have acquired a gaming chair.
Admittedly, I always thought the chairs were cool. Or at least, since I once owned a car with a racing seat. Those ergonomics – the feeling of being laterally supported in an upright position and being able to cope with all speeds, hills and bends gives you a sense of complete control. It is precisely that feeling that I also wanted to bring into my gaming room at home.
When I started looking for chairs like this, I came across the original Recaro. However, with a price tag of EUR 2550, this was beyond my budget. After some research, I got a model from a furniture store. However, the finish and the ergonomics left a lot to be desired. I was at the source when we added the chairs to our range. In the meantime, I have tested a few models and I would like to share my experiences with you here.
Spoilt for choice
We have a few reputable brands in our collection, like DXRacer, AKRacing and noblechairs; and the number is increasing. Creating a comprehensive overview is thus unfortunately not possible. My selection applies to chairs we effectively have at the office, including a new one in the lower price range. Of course, that is not to say that there aren't other good or even better chairs out there. At the end of the day, it is largely a matter of personal preference. I tested the following chairs:

AKRacing Player
The Player is our undisputed top-seller and is represented twice in our office. We have had it in our range for more than two years now and we still couldn't imagine life without it. With this chair, AKRacing has achieved a good mix of racing-looks, firmness and ergonomics. It is located in the mid-price range (CHF 250 – 350) and that is also where I would place it in terms of quality.
Note: The AKRacing was also extensively tested by Dominik Bärlocher
AKRacing Premium V2
The Premium V2 has definitely earned its name if you relate Premium to its soft seat cushion. This characteristic really stands out from all the chairs tested. It also offers good lateral support and is just a little more cushioned generally. The quality of workmanship is comparable with the AKRacing Player or the DXRacer Formula. If you consider comfort as being softer seat cushioning with good lateral support, then the Premium V2 is for you.
DXRacer Formula
The Formula of leading manufacturer DXRacer is the smaller version of the DXRacer Racing and also one of the smallest chairs in my test. The Formula makes a positive impression across the board. It is of good quality and has a very comfortable, though not too soft, seat cushion. The backrest is relatively sttrongly shaped and I feel really well supported by it. Nothing rattled during my test and the tilting function worked perfectly even if it does not respond as smoothly as the noblechairs. The backrest has a somewhat softer core than its competitors but still offers enough resistance for me to consider it ergonomic. Important note: At 79 cm, it is somewhat short, at my height of 175 cm, there was not enough room for my head. I would sooner recommend the Racing (85 cm).
noblechairs EPIC
I have been using the noblechairs EPIC on a daily basis for almost a year now. At first at the office, and at a later point, I got another one for home. Everyone has to decide for himself or herself whether the chair is truly epic. What is definitely epic for me though is the weight. It is heavier than all its competitors. On paper (I didn't weigh it) it is only 1 kg heavier than the Formula at 27 kg but my back has a different view. Fortunately, it does not need to be moved around very often.
However, what is certain is that the quality of workmanship justifies the higher price. The only thing is that the armrests on the EPIC wobble just the same as with the other chairs tested. The seat cushions seem very well filled and the somewhat thicker (artificial) leather is stretched tautly. Due to this tension, the seat feels a little hard but that's how I like it. What I really like is the tilting function. This function is available in all the chairs tested but it works so seamlessly in the EPIC that it supports my backwards movements with a nonchalance like no other chair.
I use the version with artificial leather. For a little (ahem) extra, you can, however, treat yourself to the version with real leather, which really is the posh version.
Speedlink REGGER
Ther REGGER by Speedlink is a new addition to our collection. Following the successful establishment of chairs in the gaming world, the largest accessory manufacturers are now courting your favour. Speedlink has a chair on the market and Corsair will soon follow suit.
The REGGER is somewhere in the lower price range (CHF 150 – 250) and rightly so – you can tell. The quality of workmanship is not quite that of the more expensive competition. It creaks a little more and is noticeably lighter. The footrest is made of plastic and the artificial leather seems to be more finely measured. Nonetheless, I was pleasantly surprised by the ergonomics. It is however a little soft for my liking. In addition, the seat cushion does not seem to transfer body heat away as well as the noblechairs EPIC.
After a week's worth of non-stop use at the office, I have no back pain and I do not miss the EPIC as much as I did to start with. I would therefore definitely recommend this chair to budget-orientated purchasers who are not going to spend 12 hours a day on the chair (which might well damage the thinner leather).
Something for every taste
My test showed that the chairs might all look alike but, despite that, there are some big differences. If you decide to purchase a gaming chair (and thus have a budget extending at least beyond the furniture store price) but don't want to spend all your savings, then the REGGER could be for you. It is certainly weaker than all its competitors in every aspect but that is often still good enough. For comfort fanatics who still don't want to forego the racing look, I recommend the AKRacing Premium V2.
I would recommend the DXRacer Formula (or Racing) to those who want a real racing feel. It is thoroughly well-finished and simply offers me the best lateral support. An alternative to this would be the AKRacing Player, which has a broader shape and somewhat harder cushioning. The noblechairs EPIC is perfect for those who like it a little firmer and just want a "bit more" of everything.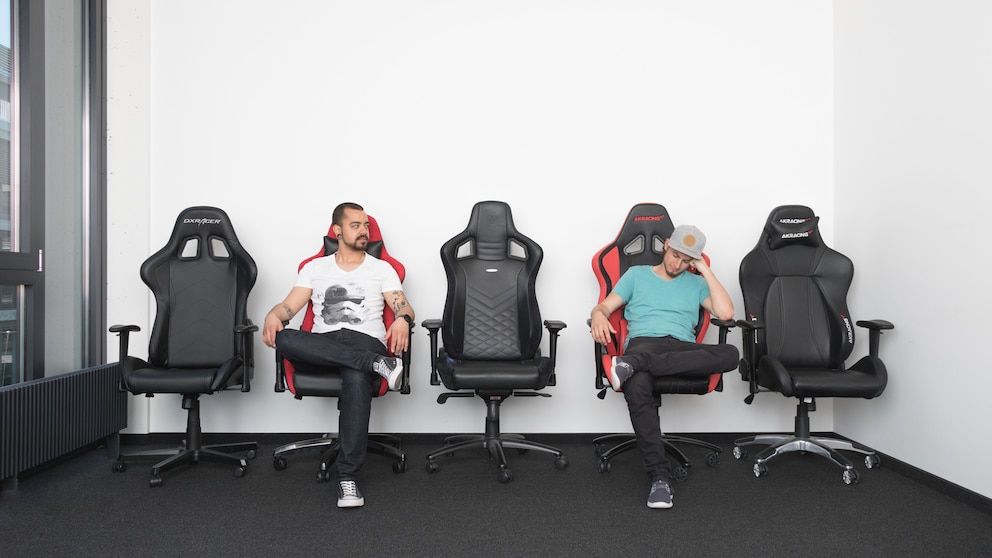 The AKRacing Formula also seems better suited for a little nap.
You can find a comparison list of the chairs tested here. Share your experiences with the Community below and if you have any further questions about the chairs tested, you can of course ask them here too.
---
I came into contact with the gaming world early on. Growing up with Gameboy, SNES and Star Wars tapes, Luke, Link and Ark (I still lose my senses from them... #insiderjoke) were my heroes. Later I was influenced by more "western" titles like Baldur's Gate or Gothic, until I finally discovered Halo and Call of Duty. The Duron 700 MHz CPU was given to me as a birthday present, until I wasted it due to lack of knowledge and overclock craze. Meanwhile I have also played on some small to very big stages in Switzerland, because I discovered a second big passion with music.
---
---
These articles might also interest you
Skeleton Loader

Skeleton Loader

Skeleton Loader

Skeleton Loader

Skeleton Loader

Skeleton Loader