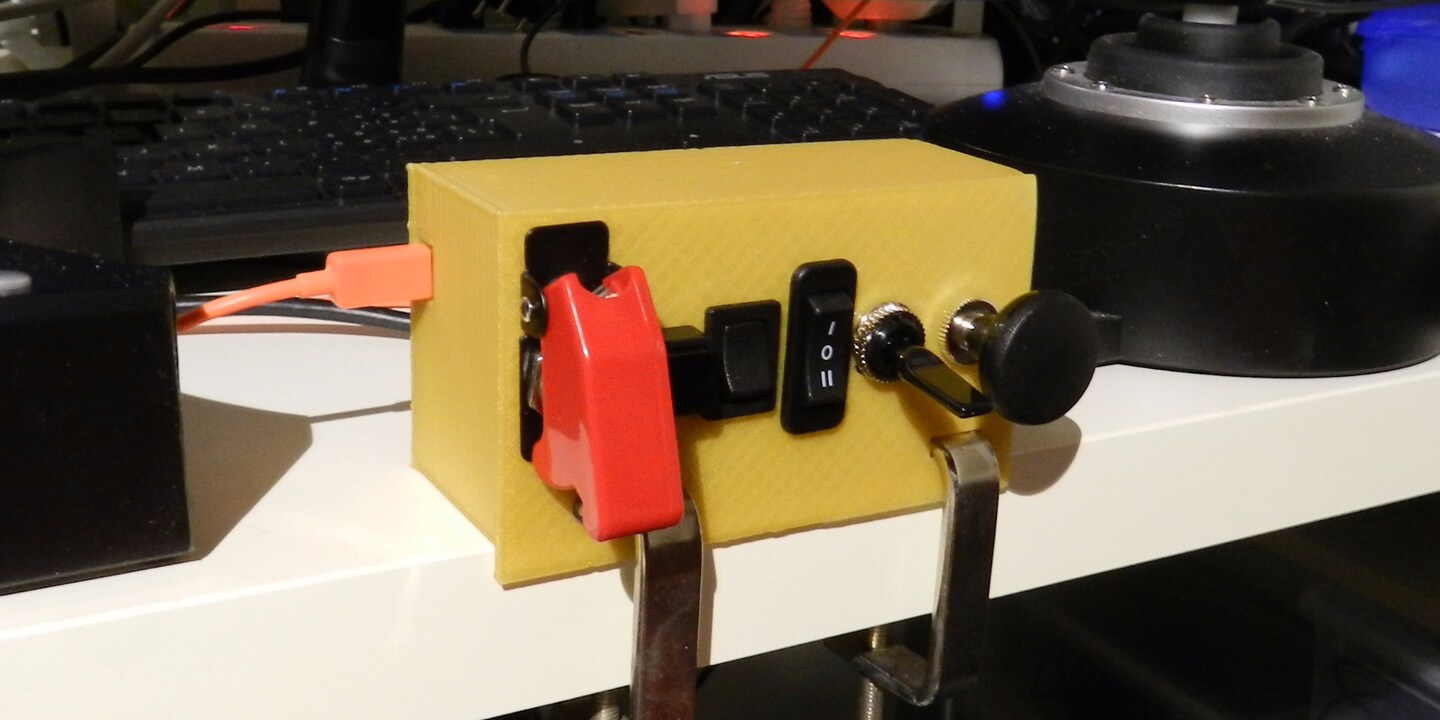 Einen Knopf bitte.
Manchmal fehlt einfach nur ein Knopf...
Tasten am Joystick und Schubhebel sind alle belegt, die Tastatur macht die Illusion kaputt wenn man das Steuerrad loslassen muss und "F2" suchen muss und ein richtiger Spielverderber ist es, wenn man die 3D-Brille abnehmen muss um eine Taste zu suchen.
Ergo muss eine weitere Bedienkonsole den Job übernehmen, die wir auch gleich selber bauen !
Aber Vorsicht, im Unterschied zum echten Flugzeug kann bei der Tastatur-Emulation der Zustand nicht abgefragt werden! Man kann nur etwas auslösen (Taste drücken), aber es ist nicht möglich die Schalterstellung zu berücksichtigen (z.B. ob der Schalter für das Fahrwerk auf ausgefahren oder eingezogen steht) das muss im laufenden Programm abgeglichen werden. Man kann nur den Zustand Wechseln (toggeln), also ein- ODER ausfahren, aber nicht "nur einziehen" und "nur ausfahren" ausser das Programm verwenden dafür zwei Tasten.
Dazu wird benötigt: -1 Arduino Leonardo (oder Micro oder Due die eine USB-Tastatur emulieren können !) -die benötigte Anzahl Knöpfe, Buttons und Taster (achten auf "tastend" oder "Nicht-rastend", Schalter funktionieren nur bedingt) -1 1k Widerstand -dünner Draht oder Litze -1-2 Schraubzwingen um den Controller zu befestigen
Einen 3D-Drucker oder Holz, eine Säge und ev. noch Farbe.
---

I am a digital aboriginal of the generation Commodore 64, online since dial and acoustic coupler. Besides video games, I like to bring things from cyberspace into makerspace with the 3D printer. Technology is simply fascinating.
---
These articles might also interest you
Skeleton Loader

Skeleton Loader

Skeleton Loader

Skeleton Loader

Skeleton Loader

Skeleton Loader