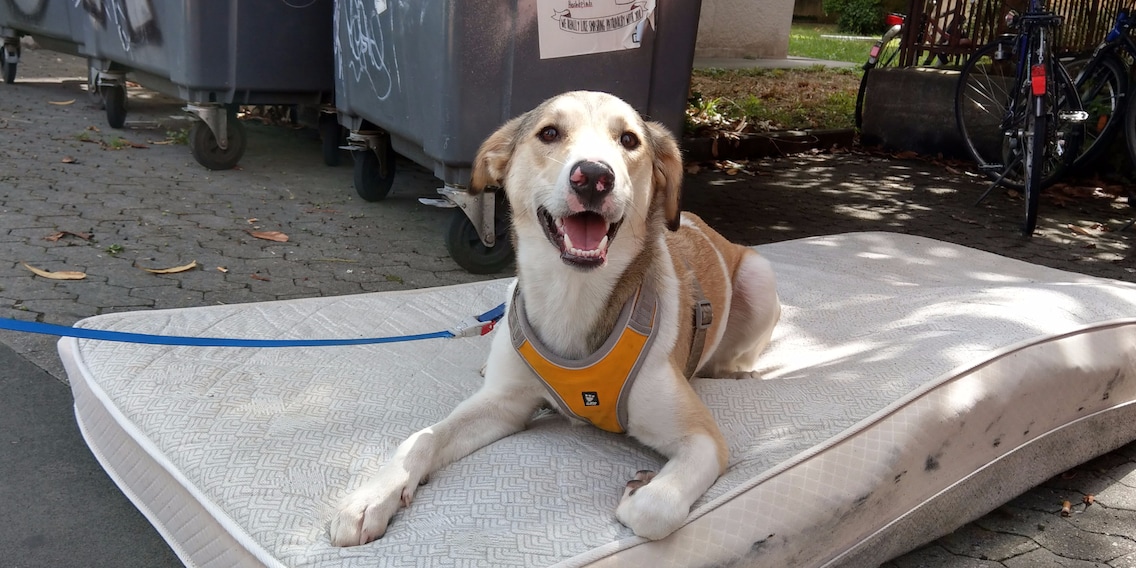 Does the Suunto Spartan Sport Wrist HR work on a pooch? Our rescue dog Pinky gives it a whirl

Suunto doesn't just brag about the features on its sports watches, it also boasts about their resilience. These things are supposed to be almost indestructible. That might be the case when it comes to jogging, because the watch isn't really exposed to much. But what if we attach it to a furry friend and see how the watch fares when it's flying around a field?
Pinky is already a well-travelled pooch. The dog with the pink nose, which incidentally is what gave him his name, used to be a street dog in Bahrain. People who lived in one of the blocks of flats always used to feed him and eventually he ended up belonging to them. When his current owner, a Swede living in Zurich, was in Bahrain on business, he took pity on the poor creature. «I went there for work and came back with a dog,» he laughs.
The now almost ten-month-old dog is officially Swiss, as is his owner, so he has to get his paw out. Side note: it's much easier to naturalise a pooch than a person. Pinky's job is now to do performance testing for sports watches. Even though he might not understand what water is and how it works, he still loves to cavort around in meadows and rivers. Let's see how he gets on with the first test device: a Suunto Spartan Sport Wrist HR.
Will it even work?
«Are you serious?» marketing manager Andrea Jacob asks me when I tell her about the experiment. Because it's not like it's advertising. But she reckons it's great and pretty natural when you think about it for a minute.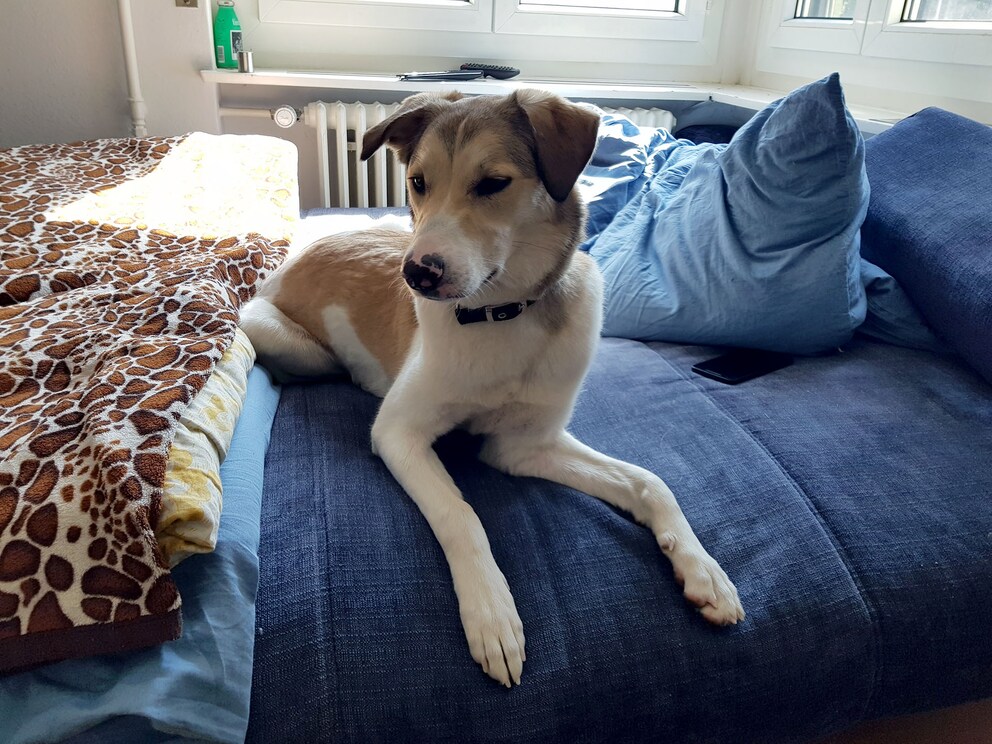 Pinky the mongrel is ready to put this to the test
But the logic behind the test is easy to explain. A jogger only has one job when jogging. Distance, time and breathing are decisive factors. They're not thinking about whether the heart rate monitor works or whether they should be wearing the chest strap against the skin or over their T-shirt.
If you take exercise seriously, you're not going to get yourself dragged into experiments very often. If you're a jogger, you're definitely doing something wrong if you're rolling around in the mud, cavorting with dogs and sprinting aimlessly around a meadow for an hour. In other words, jogging isn't an endurance test for the Suunto Spartan Sport Wrist HR.
On closer inspection of the watch, I confirm my suspicions: Suunto is definitely showing off with this model. The gadget is apparently not only incredibly light but also extremely robust. On top of that, the chest strap is supposed to be able to read your heart rate through clothes. Given the watch is a mere 74 grammes, it shouldn't bother a knee-high dog when he's scampering around.
An initial test showed that, after a quick sniff at the watch on his collar, Pinky was unfazed by the whole thing. And that was something the test team were adamant about: nothing could interfere with Pinky's well-being. By default, this dog is the happiest chap in the world, and we didn't want to change that. That's why we tried the watch out with different collars – what kind of dog owner only has the one? Our aim was to test out its hold and the comfort level for Pinky.
Kicking off the test
Pinky ambles around the flat with the watch attached to his collar. It was time to start the experiment. We guess Pinky needs to pee.
An hour later and the little dog is exhausted. We've got everything crossed there is plenty of data to work with. All the stats gets analysed by an app and the Suunto web portal Movescount. The map looks crazy: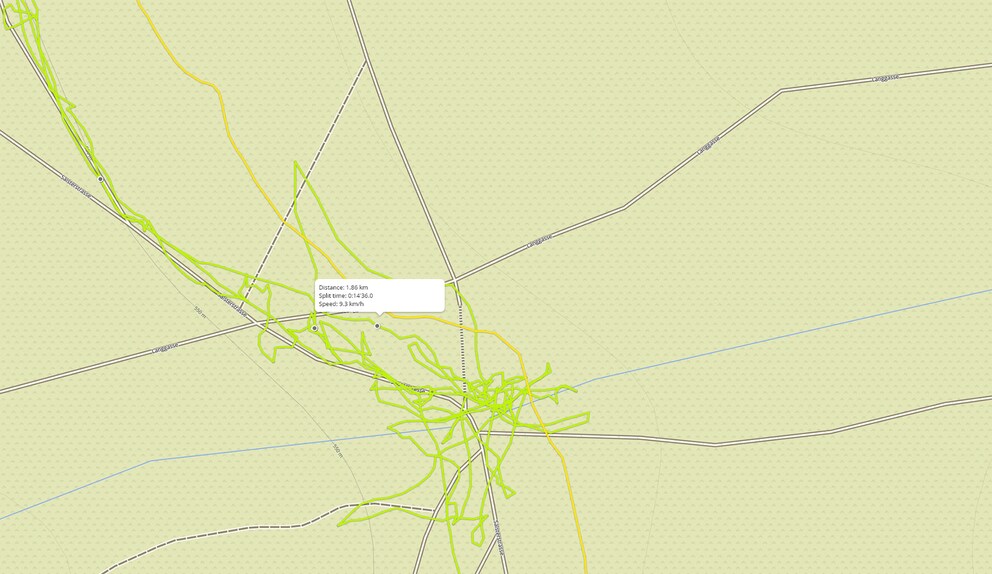 No jogger in their right mind would choose this route
Data is calculated between each recorded point so we could work out how fast Pinky ran from one checkpoint to the next. Other information included the difference in elevation, distance and outdoor temperature. But here's where the dog factor came into play. As Pinky isn't a human and we had to fiddle about a bit to attach the watch and chest strap, we're not entirely sure what the temperature was supposed to measure. I mean, who reads the instructions anyway?
After a few minutes of warm-up, Pinky had reached his maximum speed of 27.7 km/h. But his owner is sure this little guy can go faster. «Don't you see that he isn't even out of puff?» he states rather than asks with a hint of pride, like a true dog owner.
We have to be patient with the app when it thinks Pinky is cycling and overlook the fact it shows a turns rate even though it says «running» at the top of the screen. This slip up could be down to a number of things:
Pinky doesn't activate the pedometer, as he walks more smoothly than a person
The app understandably has an issue computing the four legs

Within the space of a one-hour test, Pinky has clocked up an average of 5.9 km/h. While that's an admirable running rate for a person, peak values of 27.7 km/h are somewhat ambitious for humans.

Dirt, bites and claws
After a good hour, we've well and truly wrapped up the test. But we're slightly concerned. Pinky seems to have found a new canine chum and they scuffled about. They snapped and slammed their paws at each other; rolled from one side to another and ran with each other for ages, even bounding through water. Both dogs are healthy, happy and tired. You see, it's not the dogs we're worried about; it's the watch around the collar! Did it get damaged? What kind of state is it in?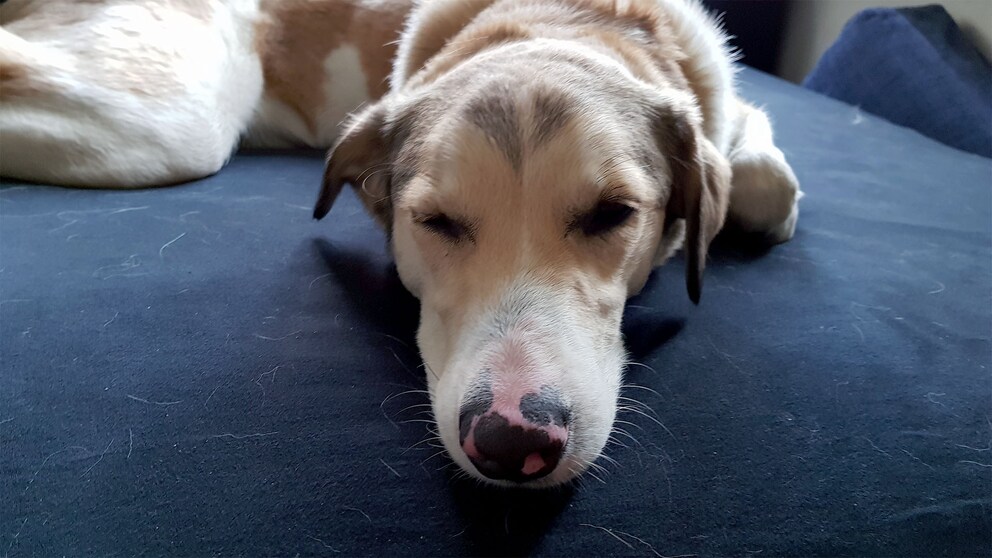 Pinky having forty winks after a good day's graft while the writer is just getting down to work
Although the watch is dirty and smeared, it didn't get scratched. After a quick rinse under the tap, it looks as good as new. We now know for sure the Suunto Spartan Sport Wrist HR can withstand a fair bit. And it's certainly dog-proof. I'm impressed it's not even an issue for the device to pack in a Strongman Run.
It's impossible to get Pinky's take on the whole thing as he either didn't notice the watch or ignored it altogether. A quick test on your own wrist proves it's easy to forget it's there after a couple of minutes. It hardly weighs a thing, quickly adapts to your body temperature and sits comfortably in place.
Good job, Suunto.
---



Journalist. Author. Hacker. A storyteller searching for boundaries, secrets and taboos – putting the world to paper. Not because I can but because I can't not.
---
---