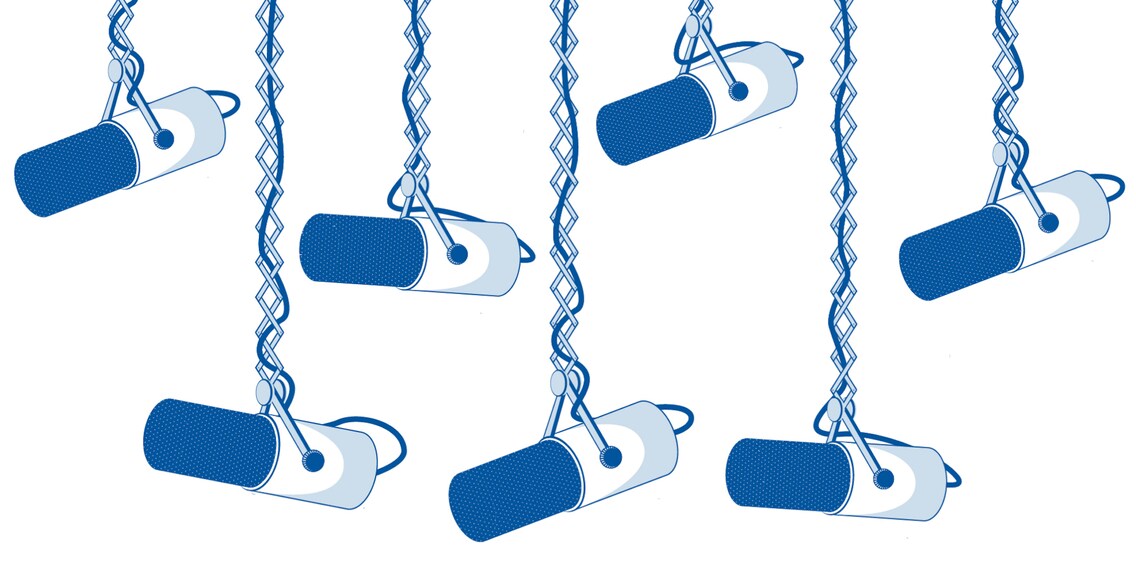 This article was translated automatically.
Digitec Podcast - all info
The Digitec Podcast has been around for over 100 episodes. Once a week, the editors explain the tech world, discuss news, games, movies and series.
The Digitec Podcast is as broad as Digitec's range of products and services. We discuss everything that moves the tech world. Plus background information on movies and series. And for the gaming scene, a look at new releases. In addition, there is a competent classification by our hosts, who have years of expertise in their subject areas. Nevertheless, it's seldom just deadly serious here. The three of them have simply known each other for too long not to have a good laugh every now and then.
Latest episode
Format
You can find the Digitec Podcast every Thursday as a new video on our homepage. If you follow Philipp Rüegg as an author, you will receive an email when he has published the corresponding contribution. You can also listen to the Digitec Podcast on the usual podcast platforms and subscribe. By the way, we appreciate every review.
Hosts
Philipp Rüegg
Phil uses Game Pass so extensively that Microsoft is considering doing away with it. No game is safe from the gluttonous gaming aficionado. The fewer pixels a game has, the greater the likelihood that Phil has already played it. Every week on the Digitec Podcast, Phil takes on the task of channeling Simon's torrent of words into meaningful channels. A truly powerful final opponent. In the process, he proves to be a master of stylish and elegant transitions.
Simon Balissat
Simon was originally born as a coffee maker, but then tragically died when he got cheaply roasted beans poured into him. Since his rebirth as a member of the editorial team, he now lovingly takes care of household topics in general and coffee in particular. Beyond that, he fortunately still has the time and muse to apply his semi-three-quarter knowledge in the tech field. Simon surprisingly has more patience when gaming than in the office and spends hours in the virtual cockpit of an A320 or days on a Formula 1 circuit trying to find the perfect braking point.
Luca Fontana
Luca is living proof that our parents were lying: There are no square eyes from watching too much TV. Rumor has it that he watched Star Wars movies and read Marvel comics while still in his mother's womb. Today, after many years of field research, he knows his way around the Disney universe better than Al Capone did in 1930s Chicago. To do this, he uses one and the same password for the 14 subscriptions to his streaming services, because otherwise he would forget them. The only people who are allowed to disturb him in his "work" are his two cats.
Wishes and suggestions?
The Digitec Podcast is made for you and the community. Do you have a topic you would like our hosts to report on? Do you have any comments on the topics of the last episode, or do you want to share a correction? Then please send us your input! They are valuable and make the Digitec Podcast better and better. Send us an email to digitec-podcast@digitec.ch, contact us on Discord or send an email directly to one of the hosts.
Equipment
We currently produce the Digitec Podcast with each of the hosts in their home offices. Philipp has his fingers on the controls. This equipment will be used:
Mixer
Headphones
Microphone
Older episodes
---



Journalist since 1997. Stopovers in Franconia (or the Franken region), Lake Constance, Obwalden, Nidwalden and Zurich. Father since 2014. Expert in editorial organisation and motivation. Focus on sustainability, home office tools, beautiful things for the home, creative toys and sports equipment. 
---
These articles might also interest you
Skeleton Loader

Skeleton Loader

Skeleton Loader

Skeleton Loader

Skeleton Loader

Skeleton Loader