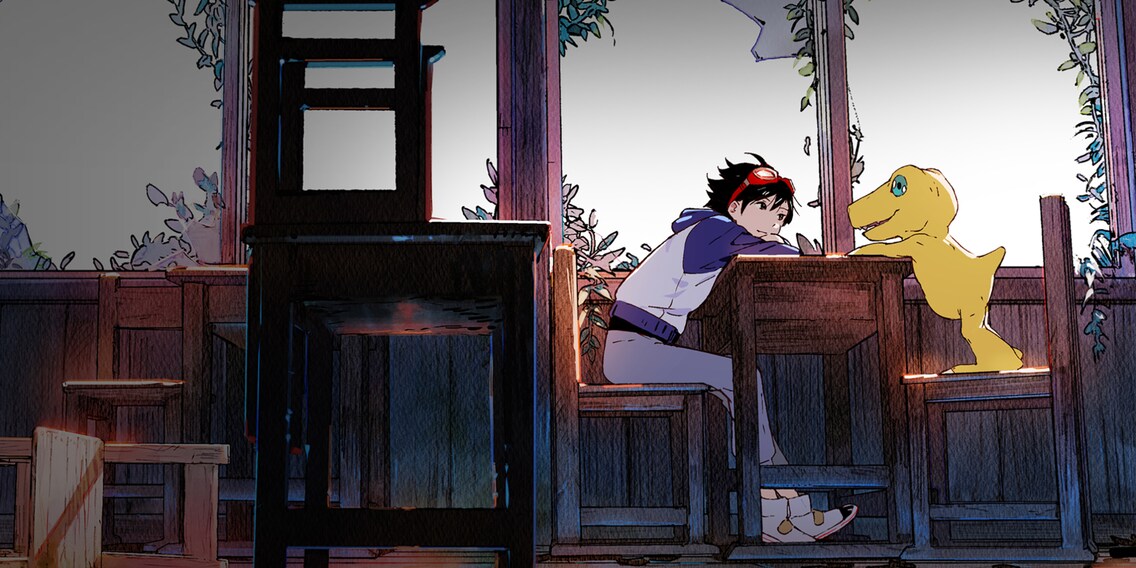 This article was translated automatically.
"Digimon Survive" in review: death, survival, monsters and sooooo much to read
With "Digimon Survive", Bandai Namco brings a visual novel that is not only about Digimon, but also about death, interpersonal conflicts and tactical battles. Is the result convincing, or is this just milking a well-known franchise? Here comes our test.
---
This is an article from our content partner "PC Games". Here you can find the original article by author Yannik Cunha.
---
It's been a long time coming, but now "Digimon Survive" has finally been released after several delays and offers fans of the brand new gaming fodder. However, "Digimon Survive" is not a classic Japanese role-playing game, but a visual novel. The genre is less well known in this country, comparable to books in which you can make decisions (like the adventure game books popular in the 90s and 80s, such as "The Wizard's Citadel").
These game mechanics are also often used in dating simulators (for examples, see our reviews of "Dream Daddy: A Dad Dating Simulator" or, more recently, "Hooked on You: A Dead By Daylight Dating Sim"). Such video games are illustrated with artwork. In the end, this means that we click through dialogues most of the time, which are loosened up now and then by search actions or fights. So the focus is clearly on the story around our high school troop and their Digi partners. Find out whether the story in "Digimon Survive" is convincing in our test.
The Digiworld?
Fans of the Digimon franchise already know: in addition to our known world, there is a second one, the Digiworld. However, the people in Survive do not have this knowledge. Our troop of students is transported through an ancient shrine to a parallel world that seems like an alternative version of our Earth, where apparently no other humans exist . There are, however, remains of various buildings, why is a mystery to us at first. The Digimon, known as Kemonogami because of Japanese legends and the ignorance of the heroes, seem to be mostly hostile . But of course we also meet friendly monsters quite early on, most notably fan-favourite Agumon, who serves as our steady partner from this point on. Our human friends also each get a companion at their side, so we fight our way through the deserted world.
Survive!
Why actually the subtitle "Survive"? Isn't it inappropriate for a "children's game"? Our answer: No! The title really is the programme. Finding food and shelter is the least of our problems. What we have more trouble with are wild monsters and the little animals that explicitly oppose our group for various reasons.
There are also conflicts of interest within the students, all completely different characters, which we try to solve.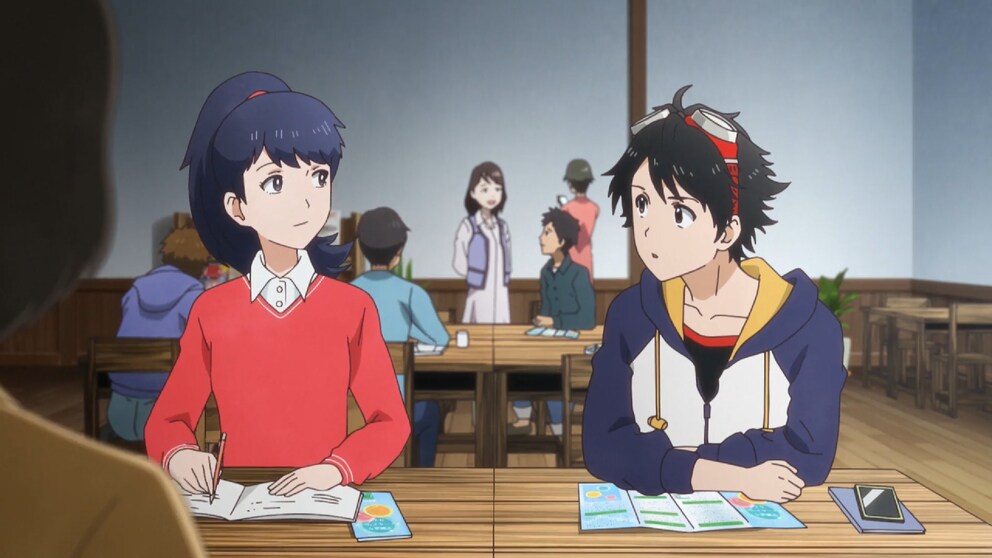 Often, however, we have to choose a side, which makes characters feel neglected or get angry. At first we thought it didn't matter who we dealt with and how - "then one just likes us and the other doesn't, I don't care". But empathy threw a spanner in the works: since we build up a bond with our comrades over about 40 hours of play, it really does affect us when a situation gets out of hand.
At the latest, when the consequences of our actions mean that a character, including his Digimon, dies before our eyes. Not only do we feel guilty, but the young adults around us are also shaken by the deaths. Sometimes it's beautiful, other times sad to see how our friends react to situations and decisions.
And the Digimon?
"Digimon Survive" manages to do what Pokémon has failed at for years: our Digimon grow on us just as much as the human characters. After all, the monsters can also speak and have character traits that we get to know in the countless dialogues. Of course, we also fight with the monsters - and in the best Final Fantasy Tactics style.
. The battlefields are divided into squares on which we move our Digimon to tactically eliminate opponents. It's a pity: many of the maps are used over and over again, making the battles seem monotonous. While the battles theoretically offer a lot of depth in the form of a rock-paper-scissors principle including various elements, equipment and positioning options, we only need a fraction of it at most.
We simply reached far too high a level quickly. At the beginning, for example, we only wanted to catch three to four Digimon, but this made our other monsters so strong that the game no longer offered any challenge at all on normal difficulty.
Speaking of catching Digimon: This works just like in the "Shin Megami Tensei" series. We can talk to enemies and must respond correctly for them to join us. After that, we can evolve the previously free Digimon with items, while the human partners digitise as the story progresses. .
The presentation of "Digimon Survive" is beautiful in parts, questionable in others. The characters, for example, were drawn incredibly expressively, humans as well as Digimon. Often the facial expressions even help us to make decisions. On the other hand, the Digimon in the fights were kept very simple, the visuals literally scream: "I am a mobile game". On top of that, the backgrounds are mostly fuzzy and blurred and animated in 3D, so why they weren't drawn with as much love as the characters is a mystery to us. We find many items in the environments, but the search gets out of hand, as even in tricky situations in the story there are items hidden that we only see when we pull out our in-game mobile phone - this is extremely detrimental to the otherwise intense immersion and becomes annoying by the thirtieth hour at the latest.
Those who can relate to the genre of visual novels, in which we don't move but read a lot, and who are able to engage with a dramatic and beautiful story, will have a good time with "Digimon Survive" despite its quirks.
If you are not part of this target group, however, you should stay away from the title. The price of about 50 euros is too high to experiment. The texts are all in German, there is also a good dubbing, but only in Japanese.
Surprisingly fun!
I had a surprising amount of fun with "Digimon Survive". It's just nice to be able to influence a story with my decisions to a greater extent than I'm used to. I would even go so far as to say that I had more influence on my environment here than in a Cyberpunk 2077. I sympathised strongly with some of the characters, while others annoyed me. Just the way it is in life. That someone dies in the process was only the intention once. The story itself provided suspense most of the time, when I wasn't scanning every single area a thousand times with my phone camera. What I find incredibly disappointing, however, is the presentation. If I'm mainly just reading anyway, at least the backgrounds and battles should be superbly staged throughout! Man! There is nothing that upsets me more than wasted potential! And again, three exclamation marks!!!
---
"Digimon Survive" was officially announced back in 2018. Presumably due in part to the pandemic, the visual novel was delayed and has recently been released on 28 July 2022 for PS4, Xbox One, Nintendo Switch and PC. The Digimon brand has existed since 1997 and was originally created as an evolution of the popular Tamagotchi toys. Over the years, several anime series, games, manga and toys followed.
---



PC games: cutting-edge news, videos, previews and critical reviews, thoroughly researched reports and handy tips on everything to do with PC games, console games and PC hardware.
---
---
These articles might also interest you
Skeleton Loader

Skeleton Loader

Skeleton Loader

Skeleton Loader

Skeleton Loader

Skeleton Loader