CS:GO Summer Cup: Take part in the Swiss "Counter-Strike" tournament

digitec, Logitech and the Swiss e-sport organisation mYinsanity are organising a "Counter-Strike: GO" tournament. Being one of the pioneers of the local e-sport scene, mYinsanity aims to use this tournament go beyond the usual boundaries of e-sports and reach out to a greater audience.
"Counter-Strike" has proven to be one of the most persistent and popular multiplayer shooter games. Essentially, the current version "CS:GO" is unchanged and, like previous versions, enjoys great popularity. On Steam, it is one of the most-played games around the clock. Some of the players who enjoy shooting blue beans as terrorists or counter-terrorists are from Switzerland. Once again, they will now be able to prove their talent in a tournament.
digitec, Logitech and mYinsanity are organising the first CS:GO Summer Cup. Anyone who owns the game and can put together a team of five can join. The registration phase for the first qualifier tournament on 4 June has already started. Click here to register. Winners can expect numerous prizes from Logitech's game range as well as digitec vouchers. See below for more information on the event.
The most important dates
4 June 1. qualifier
17 June 2. qualifier
24 June finals
Tournaments to fuel the enthusiasm for e-sports
mYinsanity is making a major contribution to this tournament. They are the largest Swiss e-sports organisation with teams in "Dota 2", "Starcraft 2" or "Hearthstone". Some of their teams include international talents. Like other e-athletes in Switzerland, the organisation has been working on pushing this young sport for quite some time now. With the Prefire-League, there is already an existing "Counter-Strike" league but it has recently gone on a summer break. So according to Manuel Oberholzer, marketing leader for mYinsanity, the Summer Cup is the perfect sequel for all of you out there who cannot get enough or do not wish to take a break from gaming.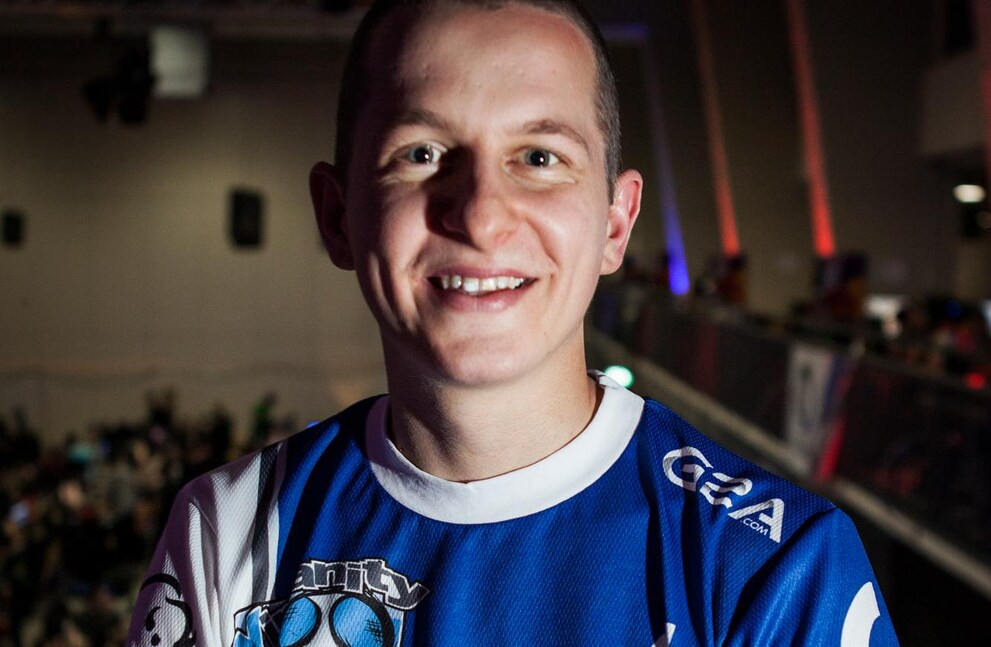 Manuel Oberholzer sporting his team's top.
With all the e-sports games out there, why chose CS? "We could've gone for a different game. But CS is extremely popular and often gets a hard time because of its age restriction and the ongoing debate about killer games. We wanted to counteract this. And with Logitech, we've got a great partner backing us up."
No pros
Anybody who puts together a team is free to join the tournament. However, Manuel does not expect any big names: "Leading teams are used to playing for prize money and will most likely not settle for mice and keyboards." But that is what makes it interesting as the winner will not be clear. Manuel hopes that the tournament will attract gamers who have never heard of the Prefire-League or Swiss e-athletes.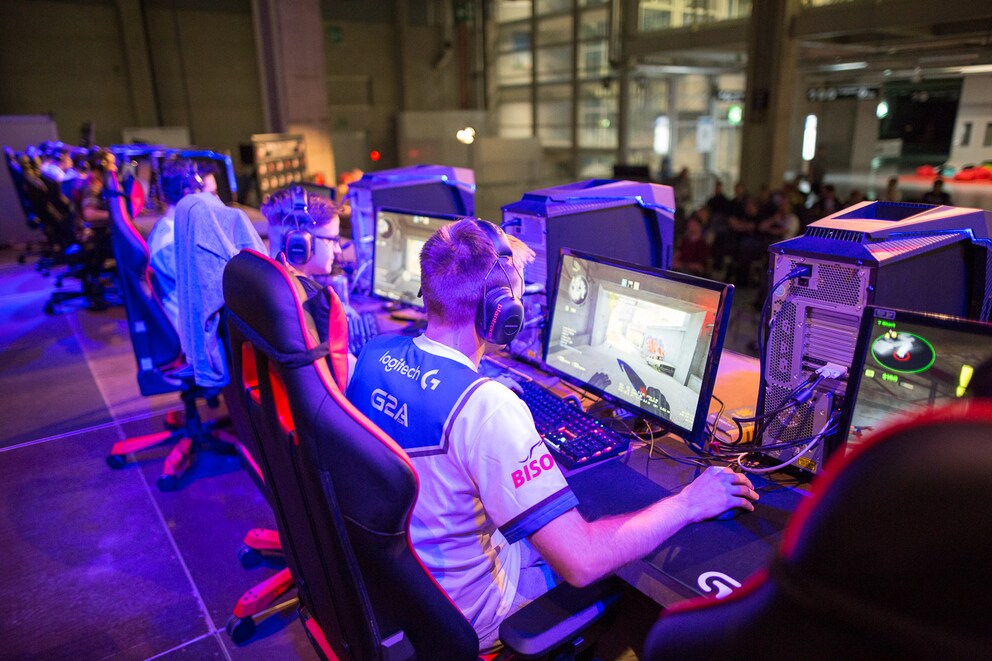 The tournament uses the sudden death format. As with most CS tournaments, one match is played to 16 points. As soon as a team has bagged enough wins, the captains inform the game supervisors who then announce the results. During the qualification phase, the highlights, winner comments etc. are broadcast live. But what if both teams claim they have won? "We require replays to be saved. They allow us to check any accusations of cheating", Manuel explains. Teams that already drop out in the first round get a second chance in the second qualifiers. However, they must re-register to take part.
Watch the finals up close
In addition to the live stream, the finals of the CS:GO Summer Cups can also be watched offline. The last four teams will compete against each other at eStudios at Gerolds Garten right in the centre of Zurich. Thanks to a glass façade, you will be able to watch all of the action live.
If you've got itchy fingers, register now! We might even put together a team of digitec employees and then you can finally show us who's boss ;)
Full tournament schedule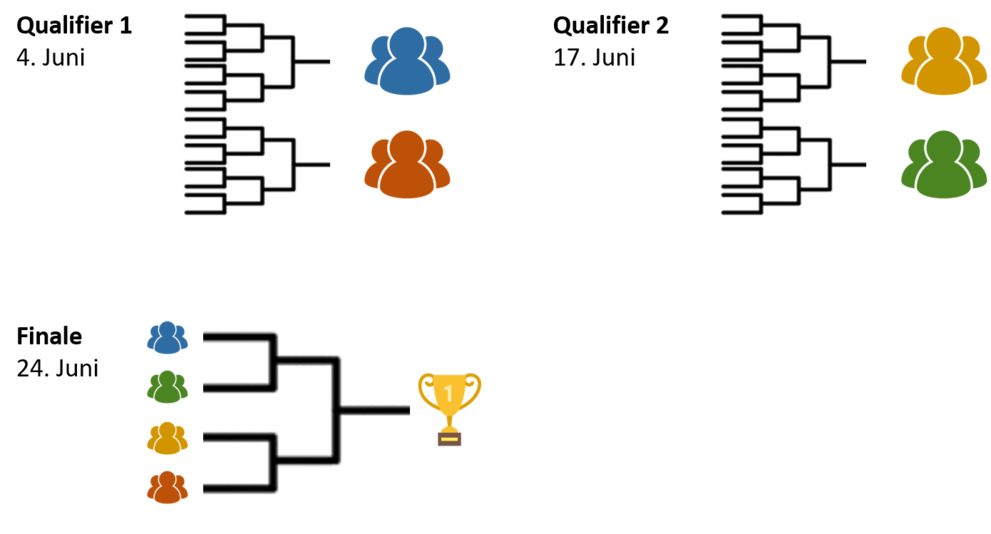 The registration phase has started and ends

June

.
The first round of qualifiers will take place on 4 June from 12 noon. All the highlights, comments etc. will be broadcast live.
The second round of qualifiers, in which the losers from the first round can also participate, will take place on 17 June from 12 noon. Losers must re-register to take part. Registration will be open from 4 June.
The finals will take place on 24 June from 12 noon. The action will be broadcast live from the eStudios at Gerolds Garten in Zurich. If you are interested in the event, you can watch it live on location or at home via the stream.
Click here to register
Pose any questions you may have to the tournament administrator in the Discord channel stellen.
There are Logitech peripherals and digitec vouchers up for grabs.
Rules of the game
The official "Counter-Strike" tournament rules apply. Click here for more information. The qualification phase consists of single eliminations (16 wins) followed by best of free after the semi-finals.
Don't have a team yet? How about finding team members via the comments field below?
Get the right equipment for the tournament here
---

Being the game and gadget geek that I am, working at digitec and Galaxus makes me feel like a kid in a candy shop – but it does take its toll on my wallet. I enjoy tinkering with my PC in Tim Taylor fashion and talking about games on my podcast http://www.onemorelevel.ch. To satisfy my need for speed, I get on my full suspension mountain bike and set out to find some nice trails. My thirst for culture is quenched by deep conversations over a couple of cold ones at the mostly frustrating games of FC Winterthur.
---
These articles might also interest you
Skeleton Loader

Skeleton Loader

Skeleton Loader

Skeleton Loader

Skeleton Loader

Skeleton Loader