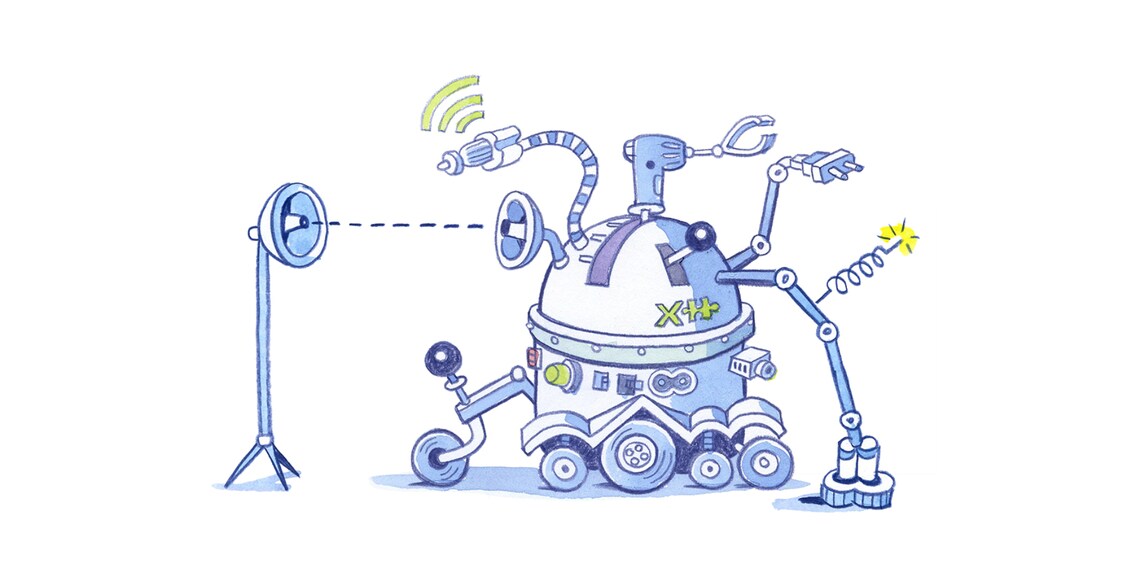 Cooperative: CUT-1E helps wherever it's needed
CUT-1E is the inconspicuous one in our round of heroes. Yet, the support robot is indispensable, as he helps, supports and mediates anywhere he can. Working together as a team and sharing the success is what counts for CUT-1E.
Let's take a look at a few terms first. CUT-1E stands for Co-operational and Unifying Toolkit – 1st Edition. It's pronounced «cutie». «Cooperative», as defined by the online Cambridge Dictionary, is related to the words: united, collective, collegial, goodwill, solidary and together. «United», in our opinion, is spot on. Donald would twitter us into the socialist corner and brand us as a «red scare» if he read this. So what – for us, «united» is trump(s).
It's all about the team
The altruistic support robot CUT-1E helps, supports, repairs, networks and mediates wherever he can. He actively contributes and is a master in giving direct, honest and respectful feedback. CUT-1E avoids the spotlight like the plague, but never misses an opportunity to help his team achieve a breakthrough. He offers his full support and shares his knowledge without being asked – any time and anywhere. No matter who it is who needs his help, CUT-1E will be there. Helping the team is his priority. His motto is: we're a team, have a common goal and work together.
In the background but always in the know
In his long career, CUT-1E has faced many a challenge: replacing a cable here, exchanging a screw there – sometimes adding a drop of lubricating oil even does the trick. CUT-1E knows his tools inside out and uses them every day – as a manager and as an employee. Instead of relaxing, he pitches in and treats everyone as equals. CUT-1E doesn't put on airs. Good reasons is what he's looking for. The support robot accepts other opinions and approaches without batting an antenna and gets to work. He supports teammates, closes gaps and helps out wherever his help is needed most. CUT-1E is exactly the right robot for this, as he always keeps track of the tasks, processes, projects and tools. That's lucky for Dr. Sanity Affaire, Gaz, F!zzy and El Capitán. And once again, it goes to show: he might be inconspicuous, but he's indispensable.
---
Making sure employees and media know what's up at Digitec Galaxus is my job. But without fresh air and a lot of exercise, I basically stop functioning. The great outdoors provides me with the energy I need to stay on the ball. Jazz gives me the tranquility to tame my kids. 
---
These articles might also interest you
Skeleton Loader

Skeleton Loader

Skeleton Loader

Skeleton Loader

Skeleton Loader

Skeleton Loader