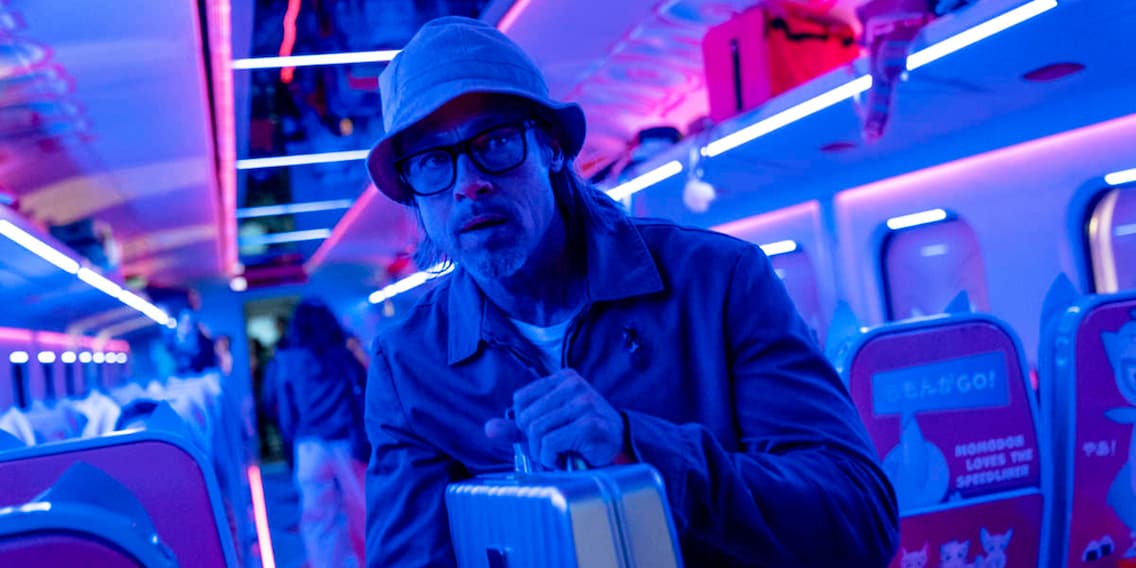 «Bullet Train»: the sickest trip of the year

Action-packed, suspenseful and full of black humour, «Bullet Train» from «John Wick» director David Leitch and starring Brad Pitt is the kind of novel adaptation that no one was waiting for, but will captivate everyone.
Let me get one thing straight: my review contains no spoilers. Any information stated here is featured in trailers that have already been released.
---
Not everything that director and ex-stuntman David Leitch touches turns to gold. But plenty does. The first «John Wick» film, for instance, or «Atomic Blonde». After all, Leitch is at his best when he focuses on his trade mark: crafted, powerful action without faffing around too much with CGI – and always captured with a steady camera.
His latest work, «Bullet Train», strikes much the same note.
What's «Bullet Train» all about?
Ladybug (Brad Pitt) is a hitman. In fact, he's one of the best. If only he wasn't so unlucky: though his jobs are ultimately always successful, all hell breaks loose constantly. Eventually, one too many jobs goes awry, leading Ladybug to accept peaceful missions only – no weapons, no death, no murders. Missions like getting on a train, stealing a briefcase, and getting off at the next station. You don't get much simpler than that, right?
However, fate has other plans for Ladybug. Yet again. Because the latest job for Ladybug (you get the irony in that being a symbol of luck) puts him on a collision course with the world's deadliest killers. Killers who're passengers on Japan's fastest train, the bullet train, which thunders back and forth between Tokyo and Kyoto at 320 kilometres per hour. And they all only want one thing: the briefcase. Go figure.
From book to film festival
«Bullet Train» is many things. Primarily an action movie, though sometimes a comedy. Then something between a thriller, an Asian gangster movie and a heist movie à la «Ocean's 11». And when the bullet train races through cities plastered with neon signs, picturesque landscapes and feudal-looking villages lined with pink cherry blossom trees, the film could easily pass for a promotional film about Japan with the blessing of the Ministry of Tourism.
No surprises there given that «Bullet Train» is an adaptation of the eponymous 2010 Japanese bestselling novel. The book was written by Kotaro Isaka, who's most celebrated for his quirky pace and dialogue dripping with black humour. I haven't read the book, but judging by the film, screenwriter Zak Olkewicz has pulled off a masterful adaptation. After all, «Bullet Train» is a heck of a lot of fun, and not just because of the action typical of Leitch. It's the dialogue between the killers that keeps putting a smirk on my face, sometimes even making me laugh out loud.
Like when Ladybug is spouting on about something ridiculous his therapist said. Something like: «If you put peace out into the world, you'll get peace back.» The answer he gets from his client – revealing her identity would constitute a spoiler – is simply a dry: «You forget what you do for a living. Take the weapon.»
This subtle derisiveness running through the entire film is just fantastic. Even if «Bullet Train» does indulge in the odd lengthy gap among all the repartee. Not because nothing happens. It's more because the blows exchanged between the murderous passengers can seem a bit repetitive sometimes. But that's just nit-picking. And just when you think you have the movie – the story – figured out, Olkewicz's script kicks it up a notch.
The last one standing wins
Just as entertaining as Brad Pitt's Ladybug – I love Pitt's comedic talent, he should show it much more often – are the other killers aboard the express train. Acting like a constantly bickering married couple, Tangerine (Aaron Taylor-Johnson, «Kick-Ass») and Lemon (Brian Tyree Henry, «Eternals») give me total Key & Peele vibes and can easily be counted among the film's highlights. The Mexican wolf (Bad Bunny) could well have walked out of «Breaking Bad» and accidentally got onto the wrong movie set... pardon, train. The princess (Joey King) is the innocent schoolgirl who's not innocent at all. And the elderly man (Hiroyuki Sanada) and his son (Logan Lerman) complete the fantastic line-up of actors with the necessary Asian touch.
I've deliberately refrained from listing more actors – the less you know, the better.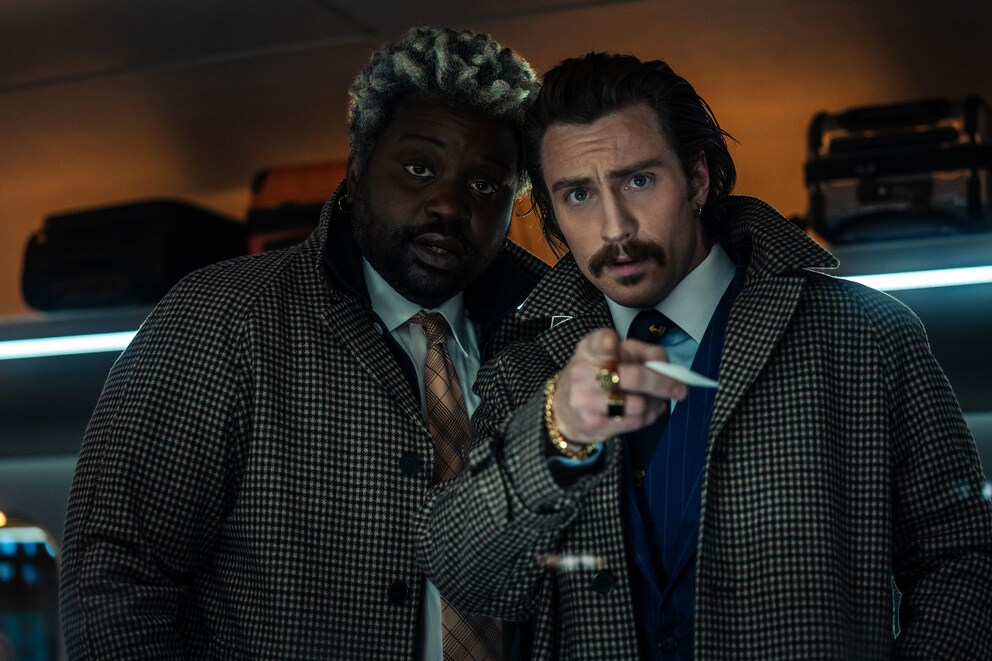 The casting team undoubtedly did an outstanding job. That's important. «Bullet Train» also draws its fascination from a certain similarity to a game of musical chairs. After all, just like in the game, every few scenes someone is eliminated from the deadly (okay, no one dies in the kid's party game) train, winding through modern Japan like a microcosm, only it's doing 320 an hour. This is exciting for us viewers because the characters aren't just cardboard cut-outs that nobody cares about. Which is why the question of who'll be left standing at the end, and what's awaiting them at the final stop, really does keep you hanging.
You're left with an inherently simple yet immensely original action thriller. Not just because of its humour, but because the longer it goes on, the more complex a web of twists, turns and deception is woven. But like I said, the less you know...
Verdict: what can I say? Just watch it!
When the Ticino Film Festival opens in Locarno and people start vying for the Pardo d'Oro, the eyes of many festival-goers will be trained on the Piazza Grande – where Brad Pitt and David Leitch open the festival with «Bullet Train».
When you think about that, it's almost ridiculous how little I have to say about the film. Especially since it could easily be my top movie of 2022. Maybe that's why I like it so much. Director David Leitch, as an ex-stuntman, celebrates every stunt and throws all his action expertise into every single carefully choreographed scene. On top of that, there are brilliantly written characters and equally clever and funny dialogues, supported by a great cast and an initially simple story, which only in retrospect turns out to be more complex than it first appears. And the out-of-nowhere, overblown finale, which would make even Quentin Tarantino, the master of this narrative trick, blush, tops it all off.
In short, watch it.
---
«Bullet Train» was released in cinemas on 4 August. Runtime: 126 minutes. Age rating: 16.
---



I'm an outdoorsy guy and enjoy sports that push me to the limit – now that's what I call comfort zone! But I'm also about curling up in an armchair with books about ugly intrigue and sinister kingkillers. Being an avid cinema-goer, I've been known to rave about film scores for hours on end. I've always wanted to say: «I am Groot.» 
---
---
These articles might also interest you
Skeleton Loader

Skeleton Loader

Skeleton Loader

Skeleton Loader

Skeleton Loader

Skeleton Loader