Asus Zenbook 3: A laptop for everyday life in Switzerland

It's small, light and has no ports. Well, almost none. The Asus Zenbook 3 follows the same minimalistic port approach that Apple has. It seems to work for them, so I'm going to put the Asus Zenbook 3 to the test. Is it pure luxury or an option for ordinary people, too? That's what I'm going to find out.
I'm big fan of USB ports. Of ports in general really. Dongles are okay, but not ideal, as I like to have less coupling points in my cable clutter. I want to be able to move cables around without disconnecting anything. For this reason, the sides of a laptop are the first thing I look at. If a laptop only has a few ports, it's not for me.
And still, I've succumbed to the charm of the Asus Zenbook 3. It's just such a beauty. So beautiful in fact that when our video editor Linus Konetschnig saw it in the office, he came up with the idea to do an unboxing video.
No sooner said than done. And while we're at it, I thought, why not write a review.
Ordinary people also like design
Before I got to work, I realised the Zenbook is quite an attention grabber. This doesn't happen a lot. One of the admirers was our customer service representative und smartwatch tester Melanie Anna Lee. The situation got I bit out of hand when another of our editors, Ramon Schneider, decided to take pictures of Melanie with the Zenbook. Fine for me, at least I got some good pictures of the Zenbook out of it.
It's rare for a device to capture this much attention, especially in an office where new gadgets are carried around every day. This is why I've decided to say a few words about its design.
Most laptops are black or white. Not so the Asus Zenbook. It's not only ultra-thin, but also unique in colour. Our test device is royal blue and has golden edges.
Asus themselves have already declared the Zenbook a classic. But their video only shows people in suits; a no-go in my opinion. Can't ordinary people such as Melanie, Ramon, Linus and myself – people who wear jeans, t-shirt and old boots or sneakers – appreciate design? Maybe we're not their target group? Or we're just not into beautiful things?
If the story I told you to begin this article reveals anything, then it's that we absolutely appreciate design.
Melanie Lee testing the Zenbook
The Zenbook stands out and takes the risk of not being everyone's cup of tea. Could it seem pretentious and swanky? Sure it could, even though design is all about simplicity. That's exactly what's nice about it: It's a matter of taste.
There should be more such laptops.
Now to the real test
Melanie tried out the Zenbook in a lunch break (aka photoshoot), Ramon had tested it earlier and Linus had also had a good look at it from all sides and figured out how to capture all its beauty. So all that was left was for me to actually get down to the nitty-gritty of it. When I finally got hold of the Zenbook myself, my first thought was that it's extremely lightweight. 910 grams to be precise – quite a bit lighter than its competitor, the Macbook Air, which weighs 1350 grams. Of course, both are very light models, but I like the three-digit number. It sounds sexy. We've established who the Zenbook 3 is up against: Apple. It's obvious that with the Zenbook, Asus are challenging Apple. Not when it comes to design, but when it comes to their target group. This device is made for everyone who needs to be mobile and fast, whose time is valuable and who wants to be able to work whenever and wherever. Not an easy task. But Asus has surely captured the spirit of the times when it comes to mobility. Switzerland is a country of commuters. Not only are our public transport timetables meticulously planned and trains always run on schedule – well, expect for those times when there's a signal tower disturbance in Effretikon – but public transport is also widely used. 3.9 million people in Switzerland use public transport to get to work. It takes them 29.9 minutes on average. Half an hour per day can make for a lot of work or entertainment. It's enough to «check facebook updates and watch the newest episode of Rick and Morty».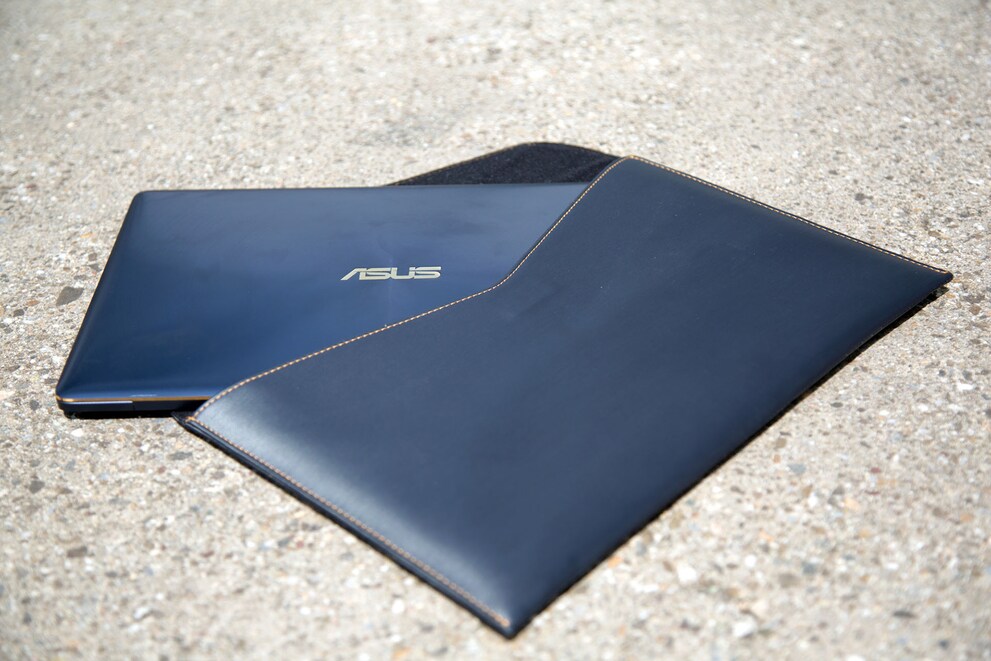 The sleeve might be made of quite cheap plastic, but it still looks good.
That's the kind of life the Zenbook is made for. It's small, light and mobile, has a battery that lasts forever in stand-by mode and doesn't heat up so much that I need to start worrying if it might get damaged in the cheap-feeling plastic sleeve. Getting on the train, opening the Zenbook, doing whatever, closing the Zenbook and getting off the train. That's what it's ideal for.
When it comes to productivity, the Zenbook (or at least the device without peripheral equipment) is just as good as its larger siblings and competitors. It has a comfortable keyboard that makes typing easy. It's nowhere close to what a mechanical keyboard feels like, but at least Asus hasn't made any changes to the usual keyboard layout.
ReviewComputing

Laptop keyboard ≠ laptop keyboard: Let's take a closer look at your keys
For a start, typing is comfortable. Just like its competitor from Apple, the Zenbooks' usability can't be faulted: It works a treat. The touchpad reacts quickly and accurately and features a fingerprint sensor that interacts with Windows Hello.
«It works a treat» is a sentence that's quite new for laptops with Windows. Until and including Windows 8, «It works a treat, but…» was more common. But with Windows 10, a lot of things work very smoothly. Still not as many as with Apple Mac OS, but Windows 10 – especially compared to Windows 8 – is a huge step forwards.
The only thing I don't like and that keeps the Zenbook 3 from being everyone's darling is its lack of ports. All it has are a USB-C port and a 3.5 mm jack. Nothing more. That's not a lot and obviously intended for people who work in the cloud or at least who don't need peripheral equipment. Transferring pictures and charging your laptop at the same time? No chance, unless you go for wireless transmission. Printing? No problem as long as your printer is connected to your network and not by cable. This would make me go crazy in the long run.
I could imagine having a Zenbook as a supplement to a desktop and a centralised and network-bound data storage. As a «to go» device. However, this requires quite a budget and appreciation for luxury and simplicity. The freedom to have anything you like. And maybe an expensive suit instead of old jeans after all.
But even without a suit and endless budget, I must say: The Zenbook is a wicked device that relies on modern data storage and looks damn good.
---

Journalist. Author. Hacker. A storyteller searching for boundaries, secrets and taboos – putting the world to paper. Not because I can but because I can't not.
---
---
These articles might also interest you
Skeleton Loader

Skeleton Loader

Skeleton Loader

Skeleton Loader

Skeleton Loader

Skeleton Loader