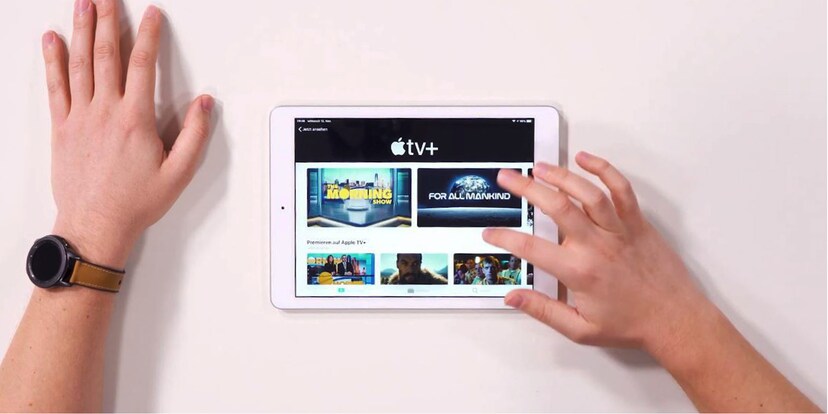 Apple TV Plus: is it really that bad?
Apple's new streaming service is here. According to the word on the street, Apple TV Plus doesn't offer enough and the app is confusing. It's high time we found out if the app is any good and how Apple got into the streaming business in the first place.
Apple TV Plus, Apple's own streaming service, became available on all Apple devices on 1 November 2019.
Let me get you up to speed: Apple TV Plus is an extension of the pre-existing Apple TV app. It comes installed on all Apple TV boxes, smartphones, tablets and Macs, as long as they run the most up-to-date operating system. The app itself is free, but streaming content isn't. You'll pay between 20 and 25 Swiss francs to purchase on-demand content, while renting it will cost you 7.50 francs. It's a different story for Apple TV Plus content – known as original Apple content. You'll need an Apple TV Plus subscription for that, which costs 6 Swiss francs per month.
It was initially met with harsh criticism. The consensus was there wasn't enough content and it was too difficult to use the app(link in German). I wanted to find out if that was really the case and understand why Apple got into streaming in the first place.
The answer? It wouldn't be Apple if they didn't know exactly what they were doing.
Using Apple TV Plus: not as confusing as everyone makes out
The design is simple and there are a lot of tiles on a white background. They show the whole streaming catalogue, including on-demand and original Apple content. Some reviewers didn't like this as they felt the two types of content weren't easily distinguishable. But that's not true. Apple TV Plus content has the Apple logo with the plus in the bottom right of the tile. It's similar to the red «N» on Netflix, which sets original Netflix content apart from the rest of the catalogue.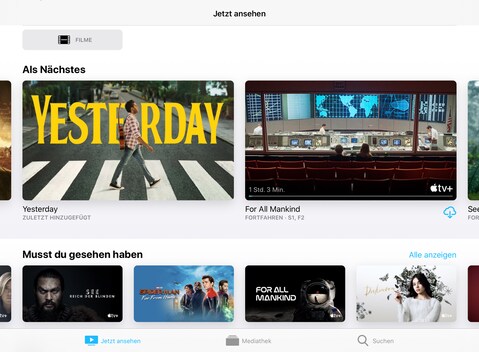 There's also the «Apple TV+» tab, which only shows original content. You see? It's not that confusing after all.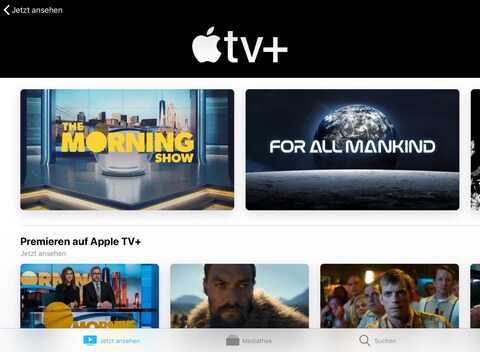 Apple have also added another nice touch. Unlike Teleclub for instance, Apple TV Plus lets you pay the same price for buying or renting on-demand content, no matter what the image or sound quality – even for new films such as «Spider-Man: Far From Home» or «John Wick 3». In other words, there's no extra charge for UHD or HDR. Apple just plays the content in the best possible version your device supports.
Clicking on the tile gives a brief summary, available episodes and suggestions for similar content on Apple TV. It also tells you when the next episode is on, what kind of image and sound quality is available and which actors star in it.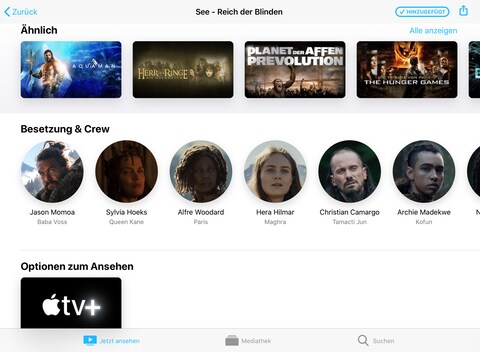 Another click on actors takes you to an overview of available films or series they also feature in. I haven't seen any other streaming service do this but it's a helpful way of finding new content.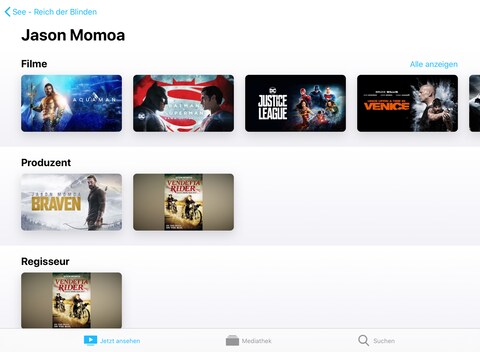 Of course, with Netflix you land on the next series or film instantly. That's intentional and designed to encourage binge watching. Apple, on the other hand, focuses on relevant information related to the content and cast to help you handpick what you want to watch next rather than letting you stumble on something at random. It's neither the right nor the wrong way; i's just a different approach.
As with popular streaming services such as Netflix and Amazon Prime, Apple also lets you add series and films to a watchlist. Except on Apple they call it «Up Next». Don't let this confuse you. With one click on the cloud icon you can also download individual films and episodes. This is a good way of watching while you're out and about without sacrificing your mobile data.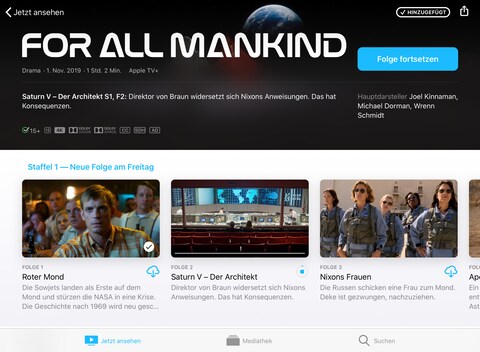 As yet, I haven't been able to pinpoint any «missing features that have long been a standard part of the competition's offer» – to quote an extract from Golem's verdict(available in German). Or maybe now I come to think of it, there is something: the option to set up profiles for different users. Apple only enables account sharing in that sense when you share a subscription with other users who live in the same household via Family Sharing.
Watching: that gets a thumbs up, too
I play an original Apple series called «See». It's set in a dystopian future where the entire human race has been blinded by a virus. Tribal chief Baba Voss (Jason Momoa) must protect his tribe from a witch-hunt when two children are born with the mystical power of sight. They're like gods but in the eyes of the blind they're thought to be witches. It's a thrilling watch. Here's my preliminary verdict after three episodes:
Getting the Apple TV box to work with the remote control is initially a bit fiddly. There aren't enough buttons. And they set off different commands depending if I press them once or twice. The sensitivity of the touch surface on the remote control takes a bit of getting used to.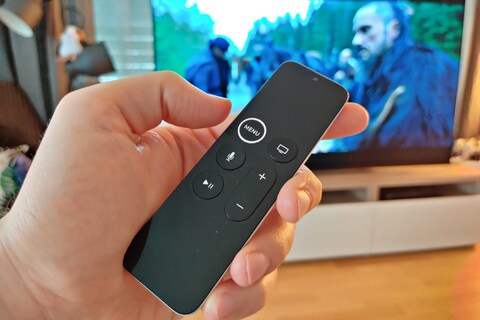 For instance, pressing the side of the touchpad lets you fast-forward or rewind 15 seconds. When I press «Menu», the video pauses and a «Play from the beginning» and «More episodes» button appears that will take me back to the series overview. If I double-click on «Menu», it takes me to the app overview. Swiping left and right on the touchpad lets me fast-forward and rewind scenes. Swiping down on the touchpad gives me audio and subtitle options.
It's a bit easier on the iPad and iPhone app because I can just type or swipe on the image. But in general, it seems to be so far so good in terms of the remote and controls.
The big question: what's the point of the whole thing?
Apple TV really has to accept criticism when it comes to the scope and size of the series and films on offer. With only eight series and a documentary, it's quite pitiful. When it was first launched two weeks ago there were only three episodes per series – they add an episode every Friday.
Does Apple want to push other streaming providers out of the market?
That's the question. A possible answer is that Apple doesn't want to drive out its competition at all. At least not in the near future. The decision to enter into the streaming market is much more likely to be the company's next logical step to control the entertainment value-added chain: from hardware to software and the content streamed on it.
Here's how I see it. Apple already manufactures hardware that runs on its own software. Now the company wants the content to play on Apple's «ecosystem». It already has a music service. And it recently launched an exclusive service for mobile gaming called Apple Arcade. All that's missing now are series and films.
By providing exclusive services only available to those with an Apple device, the company gives you almost no choice but to stick with their devices rather than switching to the competition, even if that's what you wanted to do. For example, you could buy a Samsung mobile but you'll still keep your iPhone so you can continue to use Apple TV Plus. And Apple Arcade. And Apple Music. And so on.
In other words, Apple TV Plus is the most expensive customer loyalty programme I know.
Verdict: if Apple ramp up the content then it's all good
The app is clear and simple. Content runs smoothly, whether I'm watching on my iPad or at home on my TV via Apple TV box. Apart from not being able to add more profiles to my account, I haven't noticed any features missing from those I'm used to on other streaming services.
The content itself is also impressive. It might not be box set blockbusters like «Breaking Bad» or «Game of Thrones». But I find myself looking in vain for the next big thing on Netflix and Amazon Prime as well. At the time of writing, I've already watched «See», «The Morning Show» and «For All Mankind». The latter was my favourite in terms of plot. If we're talking production value, «See» outstripped the others on location, costume and backdrops. The problem isn't the quality of the series and films Apple TV Plus has to offer; it's the quantity. And you can sum it up in one word: pitiful.
That being said, Apple TV Plus will launch with millions of users. Eventually, everyone who now buys an Apple device will get Apple TV Plus for free for a year. And so Apple has a year to prove they can keep up with the competition in terms of quantity and not just quality of content.
---

I'm an outdoorsy guy and enjoy sports that push me to the limit – now that's what I call comfort zone! But I'm also about curling up in an armchair with books about ugly intrigue and sinister kingkillers. Being an avid cinema-goer, I've been known to rave about film scores for hours on end. I've always wanted to say: «I am Groot.»
---
---
---