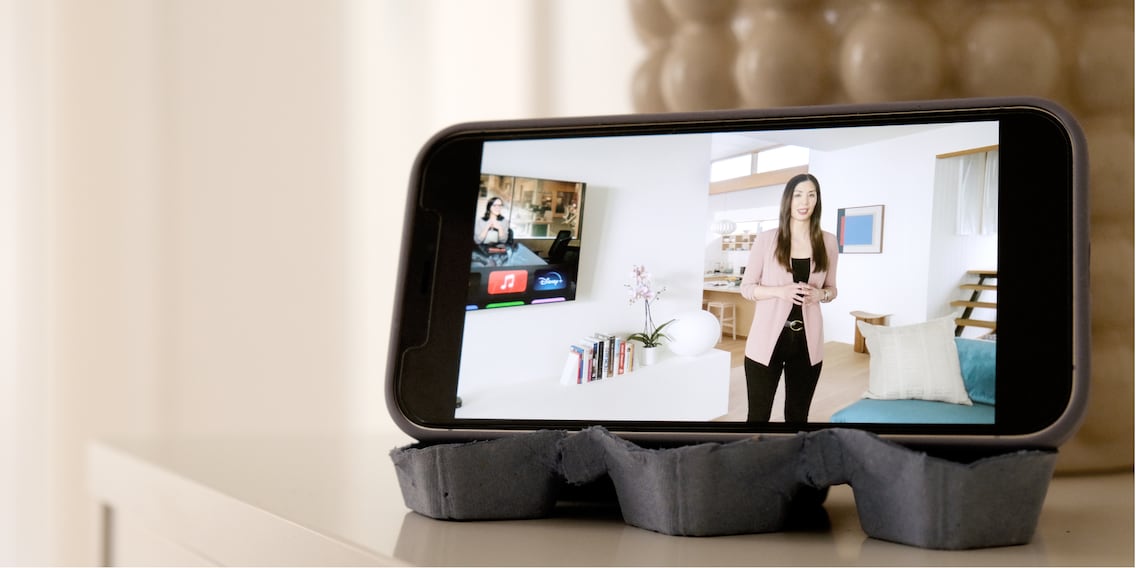 Apple Keynote: can you see what's off in this image?

The most recent Apple event gave us much to look at – and even more to ponder. As an interior enthusiast, I had a closer look at the backdrops. Does anyone really live there? Or was the location all just staged for the shoot?
Having speakers present akin to a video call from home during the keynote was a smart move by Apple. There was something familiar about it. In this age of social distancing, seeing people this way is all we know. And yet, setting aside product launches, cracks do begin to emerge. Novelties – including the iPhone 12 in purple or the new iMac – were presented creatively, but with a certain sense of artificiality.
For example, while the AirTag was being shown by actors in a short film, various product designers and developers commented on the iPad Pro and its features. During this, we get a glimpse into their homes. At least, that's what we're supposed to believe. On closer inspection, however, I noticed that they could have been merely speaking from a movie set. To find out if anyone really lives in those rooms, let's take a closer look.
Cindy Lin – Director, Program Management, Media Products Engineering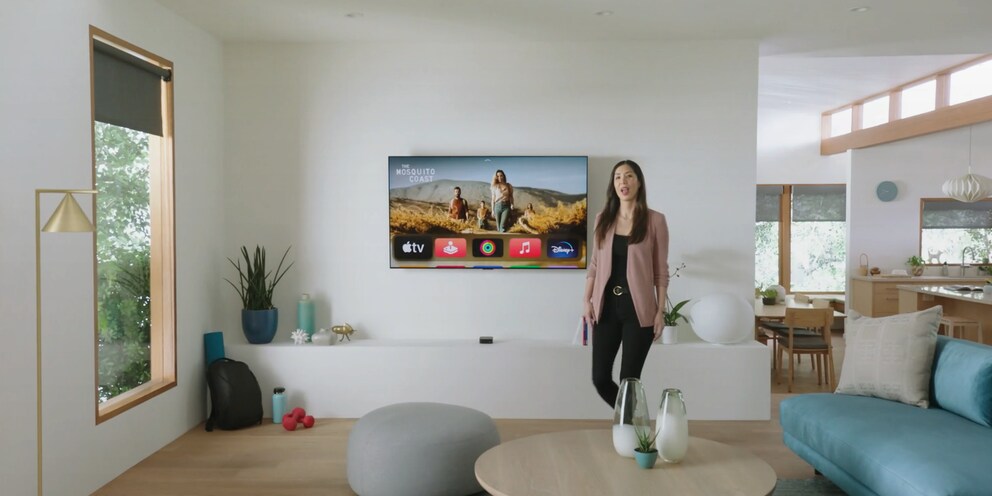 The keynote begins at the headquarters. Around 14 minutes in, the camera pans first to Cindy, who's standing in her living room. We see a «Captain Flint» lamp, created by designer Michael Anastassiades for the Italian lighting manufacturer Flos. At four figures, the purchase was definitely thought through. Which is more than I can say for other items in the room. Whether it's the vases on the table or the small cactus – everything looks cheap and arbitrary. This is also in part due to the inauthentic placement: a turquoise sofa, turquoise clock, turquoise flower pot and turquoise yoga mat? Come on! Around the time I reached the orchid, which reminded me of my dentist's office, it became evidently clear: nobody lives here. The house was probably empty after construction and subsequently furnished with a few items just before filming.
Question time
Does Cindy live here?
The competition has ended.
Michael Douse – Divinity: Original Sin 2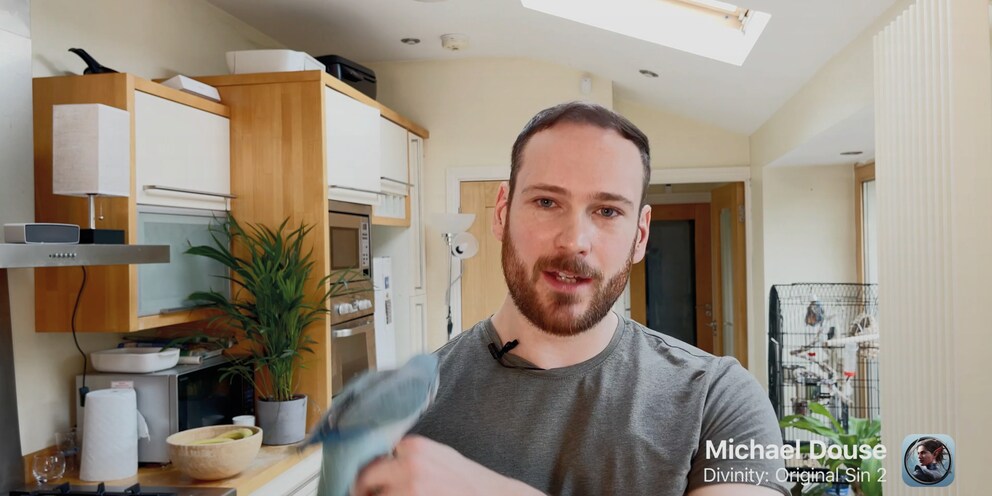 Later, at about 50 minutes, the new iPad Pro is given to several developers. Michael is one of them. He's standing in a kitchen. Unlike Cindy's, this one seems closer to «reality». Why? I don't think Apple's team would set up a Bose Bluetooth speaker over there on the left side of the extractor hood. But the plant in front of the microwave makes me wonder. Either Michael never warms up food, or someone thought the plant was a suitable decorative object for the shoot. After all, who would place one there of all places? The same goes for the confusingly placed floor lamp in the background. It's directly in front of a shelf door. Quite impractical.
Question time
Does Michael live here?
The competition has ended.
Swupnil Sahai – SwingVision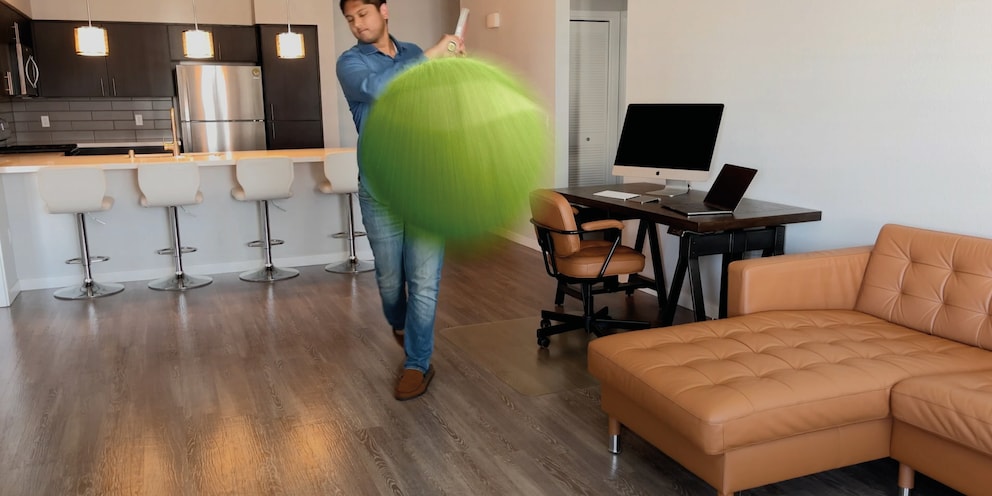 The founder of SwingVision, a mobile AI platform for amateur athletes, is also either a minimalist, had just moved in, or is just visiting. The room looks as if it's part of a model flat. There's absolutely nothing lying around in the open kitchen or anywhere else. Only the desk indicates that Swupnil has set up his workplace here. Whether this was just for the shoot remains open.
Question time
Does Swupnil live here?
The competition has ended.
David William Hearn – Staff Pad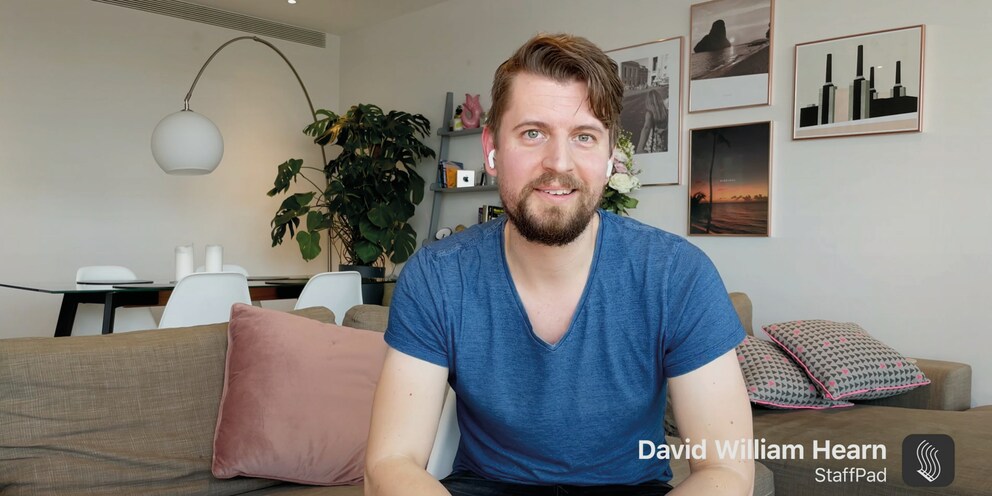 Here's someone else who can't seem to get past a design icon. The white chairs in David's dining room are reminiscent of the famous and correspondingly expensive Eames Shell Chair, now distributed by Vitra. David is the first speaker in Apple's keynote to have personal pictures hanging on the wall. Maybe. The left image, in greyscale, shows a woman. But as she can only be seen from behind in the popular hold-my-hand pose, it could be anyone. Not least because the other three framed pictures also seem random. Two of them have a similar inscription. This indicates that these are stock photos, images from databases on the Internet. The only objects that make me think David lives here are the lit pillar candles on the dining table and the water jug on the shelf. The wonderfully named Gluckigluck. An ignorant stylist would've probably chosen a fish-shaped pitcher such as this one from Serax because it looks nice. Connoisseurs, however, would opt for the 1870s original; invented and so wonderfully named by the British company Thomas Forester & Sons, as it gurgles when being poured.
Question time
Does David live here?
The competition has ended.
Sahar Fakouhi – ARki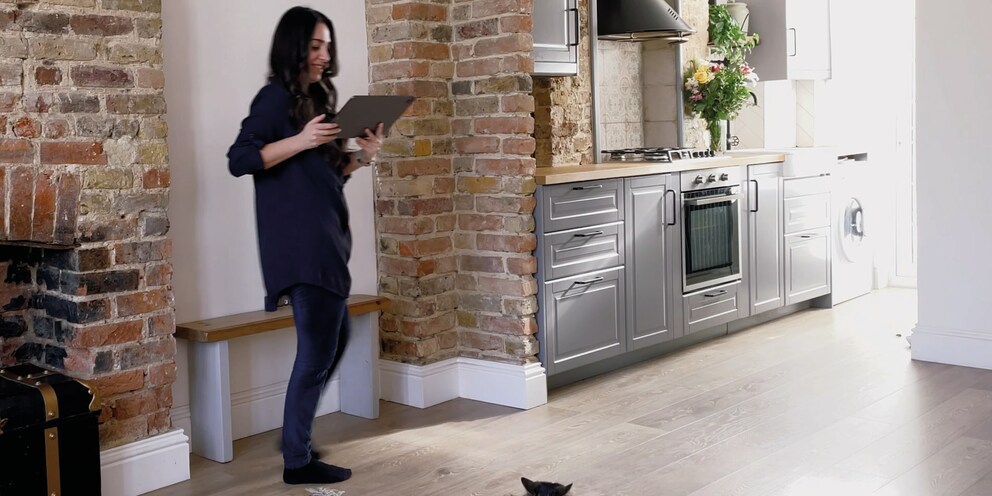 Sahar seems to have mastered the art of placing objects better: her fresh bouquet of flowers isn't in front of the microwave, but next to a wall, as it should be. Still, there's something weird going on in this room. On the left side of the image, you can see a fireplace. Anyone who has one would probably want to use it. Here, however, it's used as storage for a suitcase, which looks pretty but out of place. It almost definitely belongs to Sahar. I doubt whether she actually owns the house, however.
Question time
Does Sahar live here?
The competition has ended.
Sebastian Buys – Line Break Studio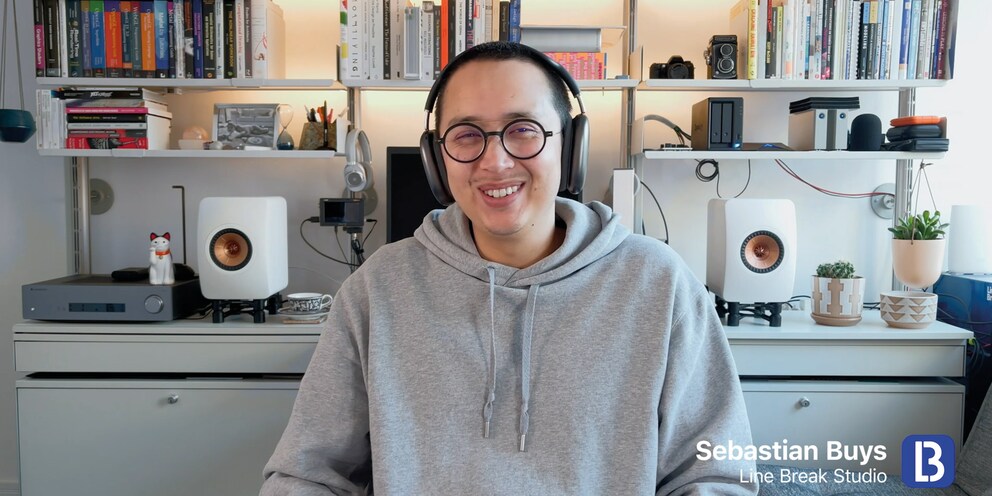 Last but not least: developer Sebastian is the only speaker I one hundred per cent see as truly living where the Apple keynote claims. Firstly, his decorative objects are positioned more harmoniously. Additionally, cables from the sound system and the like are visible here. Just like in any «real flat». In addition, they're all lovingly rolled up. From the hanging empty flower pot to the waving cat, this living room looks authentic. Or am I missing something?
Question time
Does Sebastien live here?
The competition has ended.
Spot the mistake – Let me know what else makes you sceptical in the comments, and have fun with our picture puzzle!
---



«There are only two ways to live your life. One is as though nothing is a miracle. The other is as though everything is a miracle. I believe in the latter.»
– Albert Einstein
---
---
These articles might also interest you
Skeleton Loader

Skeleton Loader

Skeleton Loader

Skeleton Loader

Skeleton Loader

Skeleton Loader