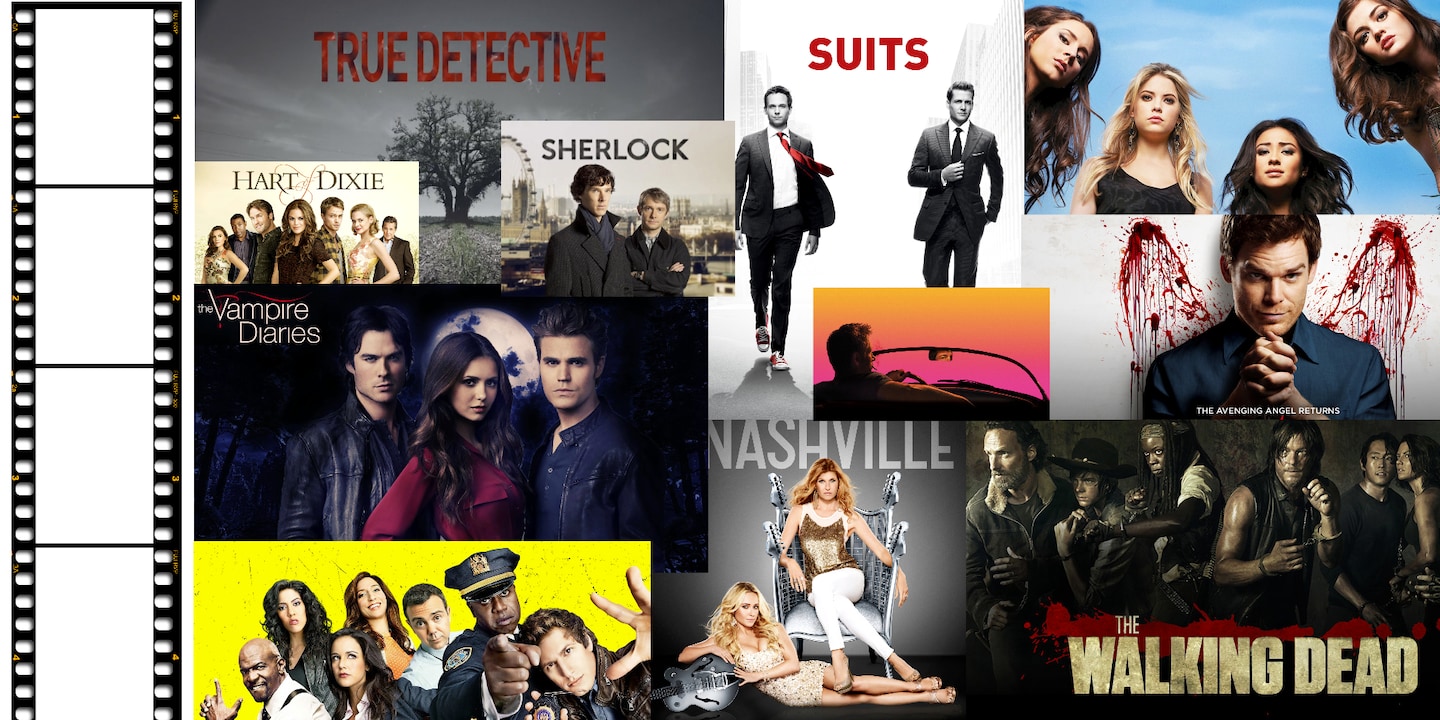 An ode to Netflix or confessions of a TV show addict
Netflix, I love you! Not sure how I feel about my addiction to shows, though. On the one hand, they're an antidote for truly terrible television, rainy weekends and days you just can't peel yourself off the couch. On the other hand, it's just so hard to make time for your life with so many shows out there… See for yourself!
For the girls
Pretty Little Liars For 5 full seasons I asked myself if I might be too old for this. It didn't stop me from watching though. And now that season 6 is out, everyone's five years older and guess what? All of a sudden I'm not feeling that old anymore! [Season 4 on Netflix]
The Vampire Diaries OK, I'll admit I'm definitely too old for this one. But the classic story of the evil (sexy) vampire and the innocent girl just doesn't lose its charm. In my defence, the show also features witches, is set in the present day and the girls aren't exactly what you'd call innocent. [Season 5 on Netflix]
Nashville Country music, the music industry in Nashville, cat fights and heartbreak. It's hard to explain but I got through both seasons in just one weekend – no word of a lie. I'm so going to book that flight to Nashville! And the music's actually quite good. Must be my soft spot for the Southern States. [Season 2 on Netflix]
For couples
The Big Bang Theory I love Sheldon & Amy. 'Nuff said! [Season 8 on Netflix]
Modern Family I love them all but absolutely adore Gloria! [Season 4 on Netflix]
Brooklyn Nine-Nine Jake Peralta, Santiago and the earnest Captain Raymond of New York's 99th precinct. Guaranteed laughs. Kept me perfectly entertained for two rainy days in Sardinia. I already miss Rosa and the "twins"… Season 3 is already out in the US and Netflix has 2 seasons on offer. [Season 1 on Netflix]
Family Guy Peter's laughs – this speaks for itself. Baby Stewie is the epitome of a cynic, their pet dog Brian walks on two legs and can talk. That says it all really: find out if it's your thing or not. And no, Peter isn't like Homer Simpson – or is he? [Season10 on Netflix]
Suits Harvard Law School grads in a fancy New York law firm. This series is grade A entertainment that will have you glued to your seat. #Litt Up! Amazing performances by Gabriel Macht and Meghan Markle. And they're easy on the eye, too. Spoiler alert – Troian from PLL stars in season 4! [Season 3 on Netflix]
The Walking Dead At first, I thought this show was rubbish. I mean come on! There are zombies everywhere and the only way of stopping them is to mash their brains to a pulp?! But gradually I did get hooked. The characters have grown on me and the story turns out to be kind of cool all the same. Who survives and who doesn't. [Season 5 on Netflix]
Demanding
Sherlock This is British humour at its best. Just watch it! You'll either love it or hate it. There are just 3 episodes per season but they each go on for just under an hour so it's almost like watching a full movie. The BBC has pulled out all the stops. [Season 3 on Netflix]
Fargo Brilliant! It's disturbing, intense and grabs you by the throat. Both seasons had me glued to my seat and the unusual story and brutality of the images are uncomfortably impressive. Not for the faint-hearted. All you Private Practice fans out there will be interested to know that Kate Walsh plays a wonderfully exaggerated role in season 1! [Season 2 on Netflix]
Cult series – Shows you need to binge-watch right now!
Californication Just watch the video; it says it all. It's got David Duchovny but it's a far cry from the X Files. [All 7 seasons on Netflix]
Dexter When you grow fond of the serial killer, it's already too late. I particularly enjoyed Florida as the film location – it helps me escape the bad weather. It must be my soft spot for the Southern States again… Although I must say I wasn't sure about the ending. Did you feel the same way? [All 9 seasons on Netflix]
Breaking Bad A meth lab close to the Mexican border and a story that definitely isn't prettified. The cool thing about it is that you keep thinking this kind of thing must actually happen in real life. Reason enough to add it to your Netflix list. [All 5 seasons on Netflix]
How I Met Your Mother Whaaat? You've never seen HIMYM?! This is an absolute classic. If you're one of the lucky ones who haven't seen the ending, don't watch it. Just don't. I beg you DON'T! [All 5 seasons on Netflix]
My essentials for undisturbed hours in front of the box
A large smart TV with a Netflix App.
When my boyfriend's watching football: A laptop and noise-cancelling headphones.
Watching TV via my laptop, mobile or tablet
To be continued...
That's only if you liked my article of course. I look forward to getting a heart of approval if you did. I'm also very curious to find out what your favourite TV shows are – maybe I've missed out on the best series ever? Do you share my soft spot for the Southern States or is there another pattern that your fav shows follow? Let me know!
---

I've had a fascination for content marketing ever since uni. My aim is to generate great content – any requests are welcome. Photography is what I'm passionate about and so is shopping. So I've definitely found my place in the online business at digitec!
---
These articles might also interest you
Skeleton Loader

Skeleton Loader

Skeleton Loader

Skeleton Loader

Skeleton Loader

Skeleton Loader