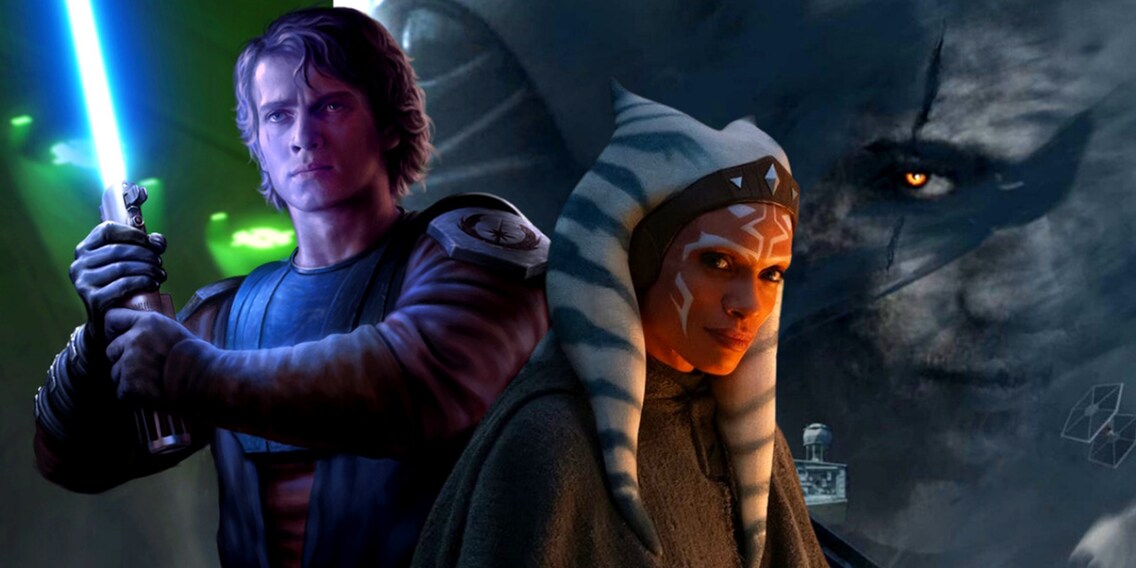 This article was translated automatically.
"Ahsoka": Will Hayden Christensen play Darth Vader there, too?
For "Star Wars" fans, the next big happening is just around the corner with "Obi-Wan Kenobi". But actor Hayden Christensen may have let the cat out of the bag: Will he also play Darth Vader in the upcoming "Ahsoka" series?
Two more sleeps before "Obi-Wan Kenobi" starts on Disney+. The hype machine is running at full speed. Advertising drums are being beaten. Clips and trailers flood the social media. Stars are giving interviews. And in just one of them, Anakin Skywalker actor Hayden Christensen might have gotten lost.
The scene of crime: the interview with the radio station Capital FM. Minute 1:55.
The interviewer cleverly threads the faux pas. First he cajoles Christensen: "Hayden, I've waited so long to see Anakin again. And now I'm going to see him twice! After all, you're going to be in the 'Ahsoka' series on Disney+."
Hayden Christensen, visibly caught off guard: "..."
The interviewer, without batting an eye, "Between the two of us, what's the biggest difference between 'Obi-Wan Kenobi' and 'Ahsoka'?"
Hayden Christensen, only slowly gaining composure: "I don't know... I can't talk about the 'Ahsoka' series... I... I... I... I don't know anything about the series."
That's not a confirmation. But the worst denial I've ever heard.
"Ahsoka" - What we know about it so far.
A lot is already known about the upcoming "Ahsoka" series. It will launch sometime in 2023 on Disney+. Ahsoka creator Dave Filoni will both write and direct it. And "Mandalorian" producer Jon Favreau will also be involved. So will Ahsoka actress Rosario Dawson.
In terms of content, we know that Ahsoka has been searching for Jedi Padawan Ezra Bridger since the end of "Star Wars: Rebels." He disappeared without a trace in the unknown regions of the galaxy - together with Grand Admiral Thrawn. In the live-action series, the two are played by Mena Massoud and Lars Mikkelsen. Also starring: Natasha Liu Bordizzo as Mandalorian Sabine Wren.
If it's true that Hayden Christensen is also starring in "Ahsoka," then that's "big news" for fans of "Star Wars." After all, Ahsoka was Anakin's only Padawan and protégé. At least until they faced each other again in "Rebels." Anakin, now Vader, consumed by hatred, even tried to kill Ahsoka. Ahsoka escaped with her life - thanks to Ezra - but she never got over the loss of an old friend.
In "Star Wars: Episode 6," Anakin finds his way back to the light side of the Force thanks to his self-sacrifice. But an emotional conclusion to his deep relationship with Ahsoka has yet to be found. That could change soon. Maybe.
---



I'm an outdoorsy guy and enjoy sports that push me to the limit – now that's what I call comfort zone! But I'm also about curling up in an armchair with books about ugly intrigue and sinister kingkillers. Being an avid cinema-goer, I've been known to rave about film scores for hours on end. I've always wanted to say: «I am Groot.» 
---
---
These articles might also interest you
Skeleton Loader

Skeleton Loader

Skeleton Loader

Skeleton Loader

Skeleton Loader

Skeleton Loader