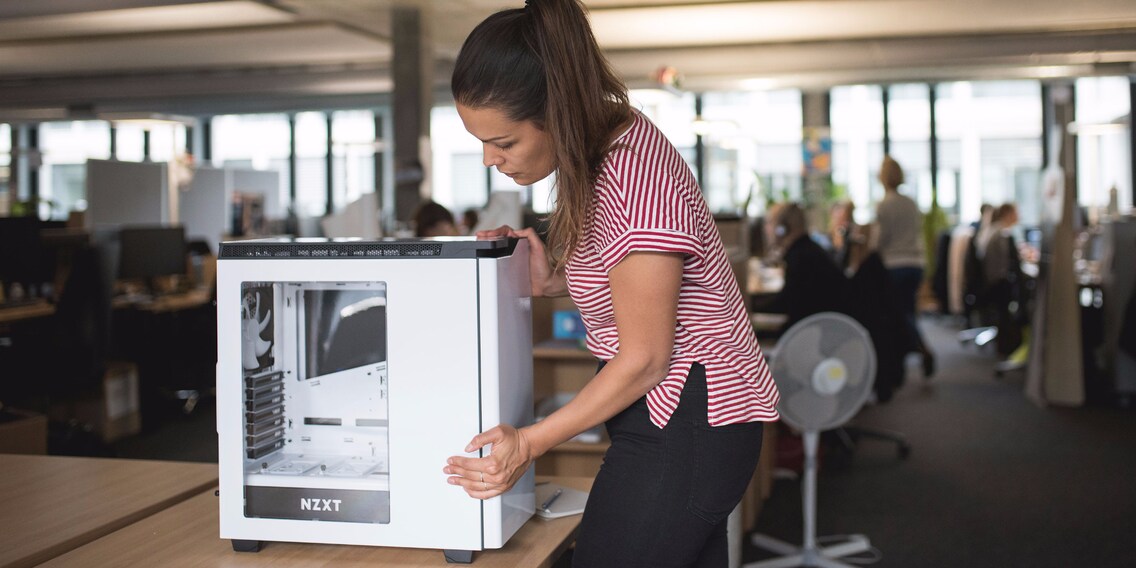 After inspecting it, I decided to add the case with the charming name «NZXT H440 V2 Window» to my ranking.
A «pretty» PC case – looking for a needle in a haystack

My typical work mostly involves interior design and lifestyle – nothing technological. Cables, laptops and PC monitors don't go with my furnishing concept, so I usually hide them in a cupboard once I've finished using them. What on earth made me write an article about PC cases? The answer is short and simple: I was forced to.
«Léonie, you have an eye for pretty things, don't you?», my dear colleague Dominik said to me one day. «You must be one of those people who can tell if a piece of furniture is stylish.»
«Ehm, yes … but that's a question of taste», I answered.
«Wouldn't it be fun if you judged PC cases by their looks?»
«I'm a laptop user.»
«Even better!»
I must mention that at the time of this conversation, I'd only had one cup of coffee and didn't have enough energy to fight Dominik off.
«That's going to be awesome», he went on to say.
That's how it all started. A PC case is one of the things I've never been and never will be tempted to buy. They're bulky, impractical and rarely appealing. A laptop is all I need. My first search for "PC case" in our shop produced 992 results…ninehoundredandninetytwo! What on earth have I gotten myself into?
I need a cup of coffee.
The ranking
PC cases as such can't «do» anything, so all I'm judging is what they look like – from my very own perspective, which is the perspective of someone who'd rather place her Bialetti coffee maker on a gas cooker than pressing the button on a modern capsule machine. Just because The Bialetti needs less space and is a design classic. You get the point: This PC case ranking is going to be highly scientific and professional. The models were chosen randomly, with the exception of one (see 4th place).
6th place: the fake toy
When I first saw this case, I thought it was a marble run. I don't know anything about PC cases, but at a proud price of 1200.–, you'd think it might have more functionality than just being a case. It doesn't. And you shouldn't put marbles in it either.
5th place: the bacteria paradise
This model reminds me of the incubator we used to have at school to breed E. coli bacteria. Only thinking about it disgusts me. This PC case is not suitable for a lab; it could be confused with an incubator too easily.
4th place: the award winner
Following Dominik's wish, the TRISTELLAR with revolutionary shape, which won the «IF Design Award», was one of the models I judged. I liked the matte coating, but the rough surface attracts dust and fluff. I prefer a more subtle look, so this isn't for me. However, it could look good as a single decorative element in a cold, almost sterile room. But let's be honest, is that what your home looks like?
3rd place: the tolerable on
Sure, it's not pretty and it could do with a better name, but its minimalistic design and sleek stand make the «NZXT H440 V2 Window» look light and airy compared to other models. No matter if a Scandinavian or modern look rules your home, this simple case could blend into any interior.
2nd place: the army case
It's a bit too bulky in my opinion, but this case has potential. I really like the honeycomb shape around the cooling and the red button. This military-style case could definitely look good in an industrial-style flat.
1st place: the gentle giant
It has an elegant shape, it's subtle and it comes with a stand – I've found my personal favourite. This case has a round shape and doesn't look as boxy and bulky as other models. It has to be the most «feminine» of all PC cases. Imagine it came in more colours, sage, taupe or grey-blue, for example. That would make this case perfect.
Conclusion
I must admit, I was a little bit disappointed when I started looking for PC cases. The ones I found looked very "manly": They were either black or anthracite and the only ones that were slightly colourful had a formula 1 racing car design. How come? Of course, I'm not exactly their target group and I'm not saying there should be pink cases, but please, someone, come up with an elegantly designed case for those PC users who care about looks, too.
This might also interest you (in German)
---



When I'm not busy putting together home décor themes or planning marketing activities for Galaxus, I enjoy decorating my home with things I love and starting DIY projects I finish all too rarely. The inspiration I get comes from blogs, magazines and travels. My favourite home living styles: Nautical, Scandinavian and Nordic. 
---
---
These articles might also interest you
Skeleton Loader

Skeleton Loader

Skeleton Loader

Skeleton Loader

Skeleton Loader

Skeleton Loader