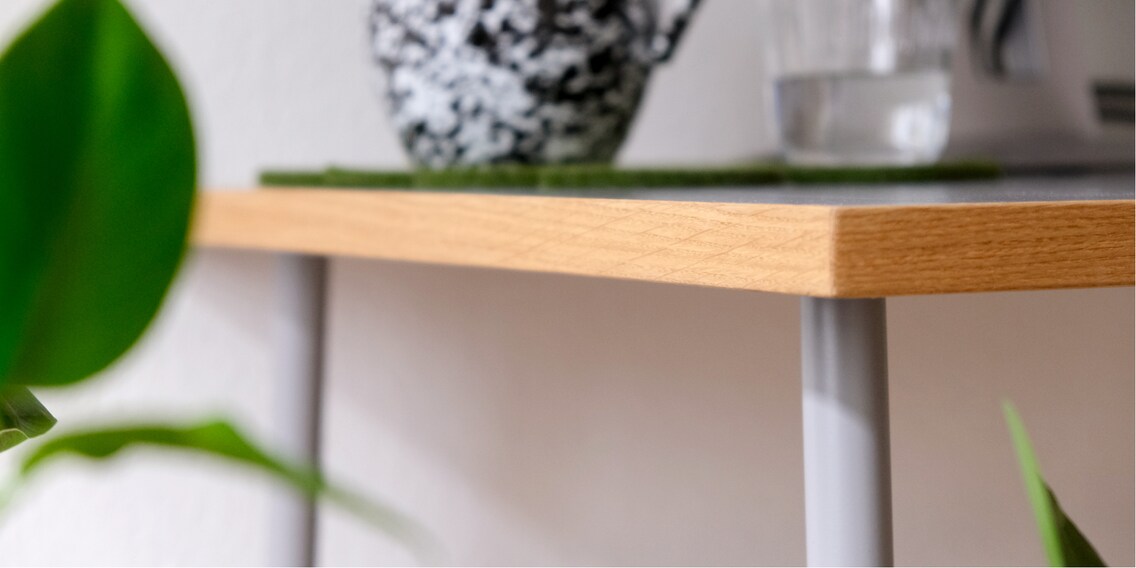 A desk for life?

Sometimes I fall in love with superficialities. It so happened with Normann Copenhagen's desk called «Journal». Nevertheless, something crucial is missing.
Doesn't this sound like something from a dating app profile? «The little details of Journal help to create a pleasant environment in which good ideas can flow freely.» Sounds nicer and more creative than many other descriptions I've seen on Tinder. I'd swipe right. Just to see who's behind this sentence. That's kind of what happened when I saw the desk «Journal» by Danish brand Normann Copenhagen. The sentence above is from its product description.
I bought it a few months ago because its «profile» intrigued me. Of course, the pictures did most of the convincing. We're all a bit superficial, aren't we? I quite liked the text, too, so my mind was made up. Journal and I, we were a match. Are we still? Yes, but I'm not sure for how much longer.
First date
I've been living on my own in a four-room flat for several years. That's a lot of space for a single person, I know. When friends came to visit, they would often say, «Well, you could turn the fourth room into an office,» and I nodded every time. I also nodded when they asked if I'd like a guy to move in with me at some point. Then came the pandemic and the home office era. The decision was easy: a guy won't move in for now, but a desk will.
The designer of Journal is Danish product designer Simon Legald, who regularly contributes products to the Normann Copenhagen brand. I already own two pieces of furniture that he designed: the serving trolley Block and the barstool Form. From the very start, I had my eye on the grey version of the desk. I like its understated appearance. At the same time, it's definitely no plain Jane. Its details make it special.
For example, the small drawer where I keep my most important things. It's positioned to the right, so I still have enough legroom. The same goes for the crossbar. I'm 174 centimetres tall and the crossbar doesn't get in the way of my legs. If it did or if I ever wanted to use Journal as a dining table, I could remove the crossbar. What I like most about Journal is that it features a hole and silicone cover in the tabletop, allowing me to neatly bundle all cables. Also, as it offers adjustable legs, it easily compensates for the unevenness of my floor. It's these little things that complement each other – just like in a good relationship.
The laminated tabletop has a nice feel when I'm working. It's easily cleaned by wiping it with a damp cloth. Journal is also available in petrol, white or black, but I'm glad I decided to go with grey. I probably would have seen coffee stains better on a white surface and grease stains better on a black one.
Journal isn't height-adjustable, but I knew that in advance. Assuming your new partner will adapt to your own needs over time is never right. I own an alternative that allows me to work standing up, so I admit I cheat on Journal every now and then.
And even if Journal were height-adjustable, I would still only stare at the same wall behind the screen. The mobile table attachment «Upstaa» gives me a change of scenery and lets me choose the base as well as the viewing direction.
Not plain but small
At first, I was happily in love with my new grey desk. Now I'm beginning to see its flaws. It's compact. A bit too compact, in my opinion. The tabletop is wide enough for two screens and an office lamp, but I'd like to be able to push my screen further back.
Journal didn't lie about its dimension in the dating profile. I'm the problem. At 65 centimetres, the desk is deeper than secretary desks, but shorter than common desks found in open-plan offices. It has popular dimensions. In times when many are working from home, very few people have space for a desk or a full office, so desks with small dimensions are sought after.
A match?
«Ten centimetres more and it would be a perfect match,» I think to myself today. That's something my friends would say after a first date. But when it comes to the second date, the other's personality usually distracts from the dimensions. It was this way with Journal, too. Only that I'm the one who's trying to hide Journal's flaws. To give myself more distance and my arms more space, I move the screen about ten centimetres to the back, over the edge of the tabletop.
Journal won't be my partner for life. In the long run, I don't want the short pretty boy after all, but a tall, strong meeting table. My office lover, whom I'll never allow to move in with me. I'm looking forward to seeing it again when I can return to the open-plan office. When this happens, I might resell Journal on our dating platform for secondhand products. Sorry, Journal. It's not you, it's me. I need more space and preferred my spare room when it wasn't just an office, but anything I wanted it to be.
---



«There are only two ways to live your life. One is as though nothing is a miracle. The other is as though everything is a miracle. I believe in the latter.»
– Albert Einstein
---
---
---
These articles might also interest you
Skeleton Loader

Skeleton Loader

Skeleton Loader

Skeleton Loader

Skeleton Loader

Skeleton Loader