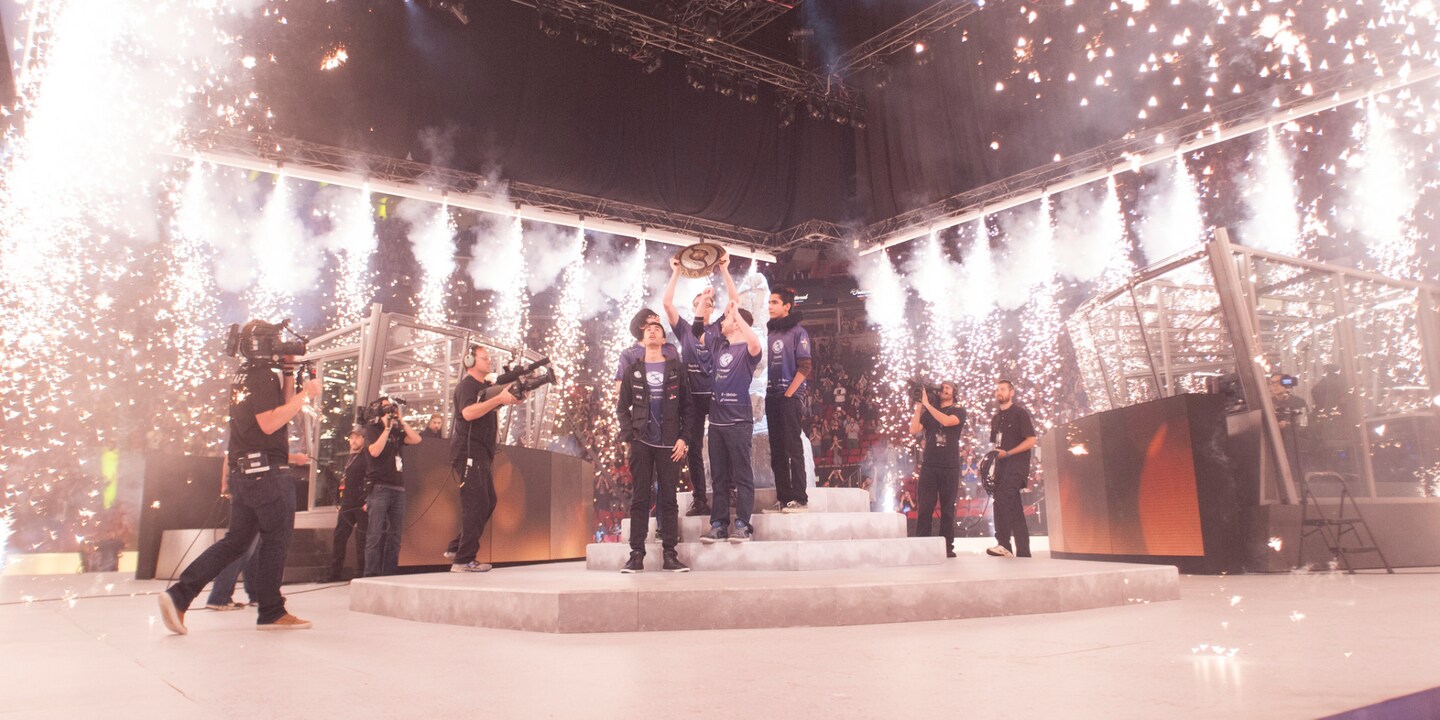 20 million in prize money for a gaming tournament? Muuuum, I wanna be a pro gamer!

The International 2016 is probably the most important gaming tournament in the world. Find out why you can win insane amounts of cash with "Dota 2", what the most innovative spectator mode is and what your chances of taking part are if you're Swiss.
Forget the Olympics! Seattle is where the action is going down this week. The city is hosting the world's arguably most important gaming tournament for the sixth time. At International 2016, the best "Dota 2" teams from all corners of the earth compete against each other. The prize money is a whopping 20 million US dollars. It's the biggest cash prize ever to have been up for grabs at an eSports tournament. The winning team has the chance to win over 8 million dollars – and the amount may still increase. If you want to find out about the reason behind this impressive sum and everything else about International 2016, then keep reading.
What is "Dota 2"?
"Dota 2" is a so-called MOBA (Multiplayer Online Battle Arena) in which two teams, made up of five heroes each, battle against each other on a symmetrical map. Both sides have access to a steady flow of computer-controlled warriors (creeps) that evenly distribute themselves along three lanes. The aim of the game is to destroy the opposing team's headquarters or "ancient" as it's called in the game. Killing creeps and, much more importantly, killing an enemy player, is rewarded with experience points that unlock new skills. There are over 100 different heroes to choose from. and they all differ greatly in their fighting style. In other words, tactics and strategy are extremely important when playing "Dota 2".
The game was originally released as a free-to-play fan extension for Blizzard's strategic hit "Warcraft II". The former's name is an abbreviation of Defence of the Ancients. In 2013, Valve released "Dota 2" – the official standalone successor that was continually further developed.
What is The International?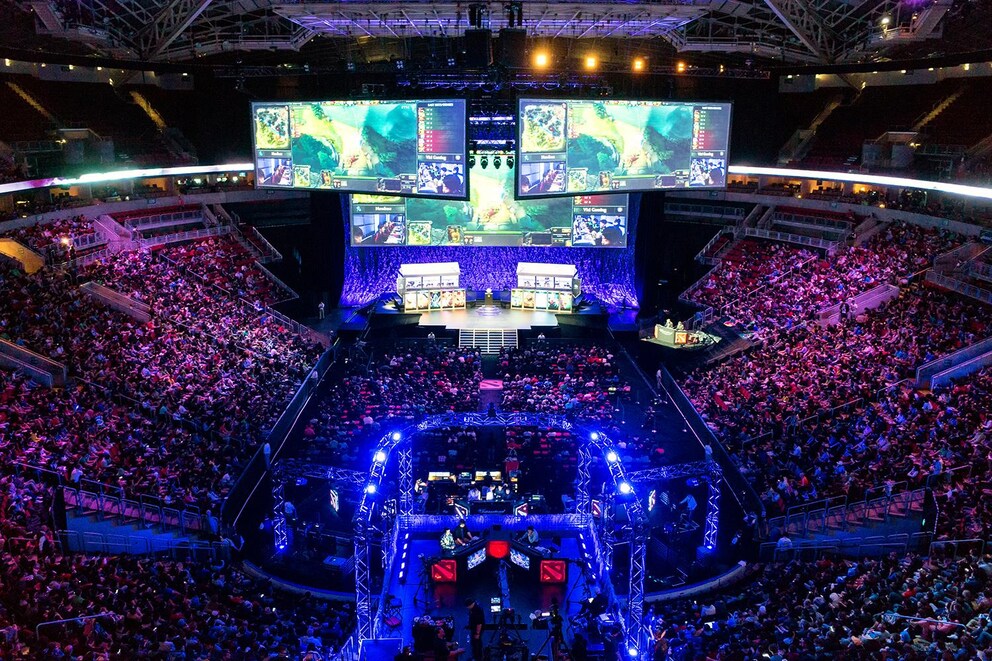 Although there are several international "Dota 2" tournaments, The International is deemed the most important. It's held by Valve and first took place at Gamescom in Cologne in 2011. For some years now, the KeyArena in Seattle in the US state of Washington has been the scene of the tournament.
Who's taking part?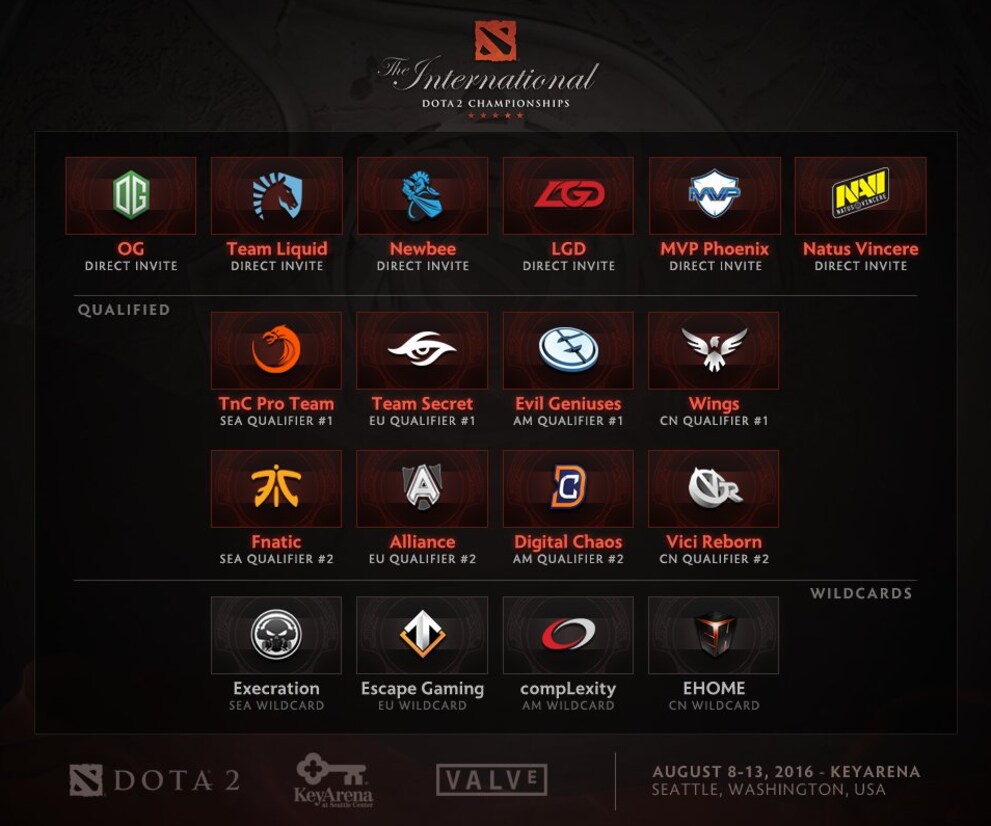 18 teams from all over the world are fighting for victory. Unlike at more traditional sports competitions, the teams needn't necessarily have the same nationality. They do however generally compete under a certain country's flag. This year, there are four Chinese teams, one Swedish, one Ukrainian and one European team. The qualification process is also different to that of the football world championship, for example. Valve personally invites six teams. A further eight teams need to qualify in regional tournaments (two each from China, Europe, America and Southeast Asia). The four runners-up from these tournaments have the chance of getting a wildcard with which they are allowed to compete at The International.
Why is so much money up for grabs?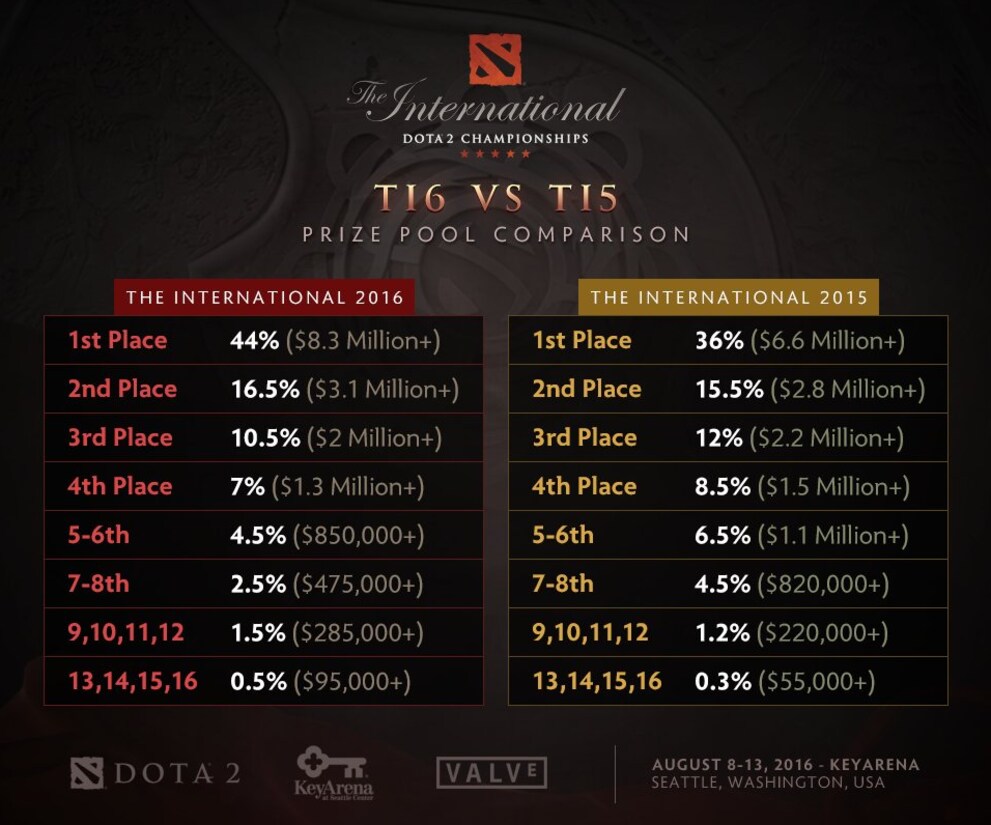 Although "League of Legends" has one of the largest gaming communities, The International is the leader when it comes to prize money. Valve itself only chips in a mere 1.6 million. The lion's share is contributed by the players. Months ahead of the tournament, Valve publishes its compendium; a digital book containing exclusive quests, items and challenges that can be bought for real money. 25 per cent of the profit goes to the pot for The International – the rest goes into Valve's pocket.
Who are the stars?
Team OG is one of the favourites.
Evil Geniuses, the winners of last year's tournament, are once again among the favourites. With the exception of one player (Aui_000), the team's set-up is identical. It would be the first time that a team wins two tournaments. The no longer very insider tip is OG. Formed just a year ago, this international team has already won several tournaments and is thought to have good chances.
Who's watching?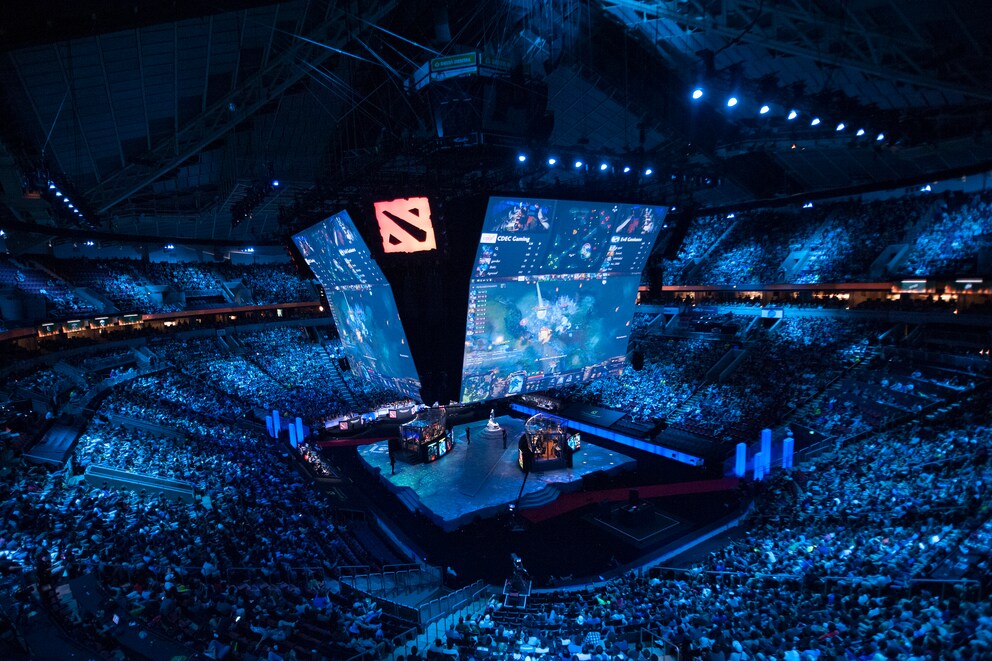 Over 17.000 fans will be watching the spectacle live in the arena. Last year at peak times, over 4.5 million people worldwide watched the event at the same time.
How and where can I watch?
Valve has been trying hard to make "Dota 2" as mass-market as possible and they've been pretty successful in doing so. The International is shown on Steam, YouTube, Twitch and even on the US TV station ESPN. But the most impressive way to watch the tournament is through virtual reality goggles. They enable you to immerse into the game, change perspectives and chat with other viewers. The tournament is taking place from 8 to 13 August.
Being a spectator is already quite boring when the Olympics are on. How can I take part?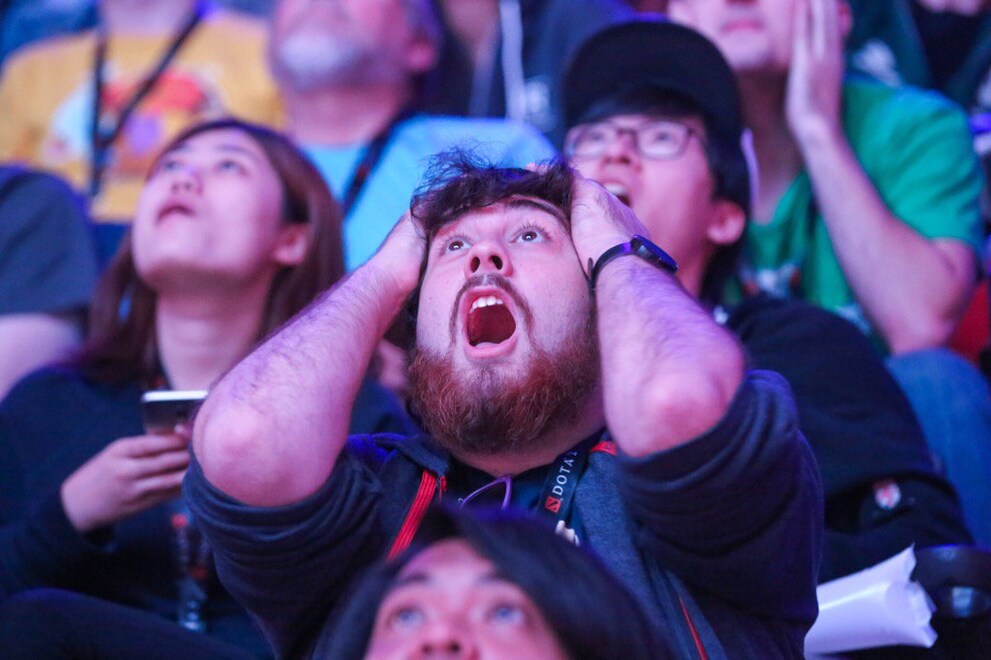 As with most sports, you simply have to be extremely good. You can then hope to be discovered by a team that will take you on board. In Switzerland, mYinsanity is the largest and most successful eSports organisation with teams in "Starcraft 2", "Heroes of the Storm" and of course "Dota 2". However, there are only very few Swiss people in the top teams. None are taking part in The International.
Image source: All images from Valve
---

Being the game and gadget geek that I am, working at digitec and Galaxus makes me feel like a kid in a candy shop – but it does take its toll on my wallet. I enjoy tinkering with my PC in Tim Taylor fashion and talking about games on my podcast http://www.onemorelevel.ch. To satisfy my need for speed, I get on my full suspension mountain bike and set out to find some nice trails. My thirst for culture is quenched by deep conversations over a couple of cold ones at the mostly frustrating games of FC Winterthur.
---
These articles might also interest you
Skeleton Loader

Skeleton Loader

Skeleton Loader

Skeleton Loader

Skeleton Loader

Skeleton Loader