Visiting Joule Performance: «Now let's take it apart»

digitec has started assembling its own PCs. Camera woman Stephanie Tresch and I were there when they put the first PC together, which meant we could look over the Joule Performance team's shoulders and get a glimpse behind the scenes. We saw things that would shock any IT enthusiast.
My camera-wielding colleague Stephanie Tresch and I got off the train somewhere in the canton of Zug. We found ourselves in the middle of an industrial park and headed off in the direction of a warehouse. When we got there, the team from Littlebit and their sister project Joule Performance were waiting for us. While Littlebit builds solid PCs, distributes them and services them, Joule Performance goes one step further. Experts overclock machines and they use parts that have already been tested for performance to deliver a maximum performing device.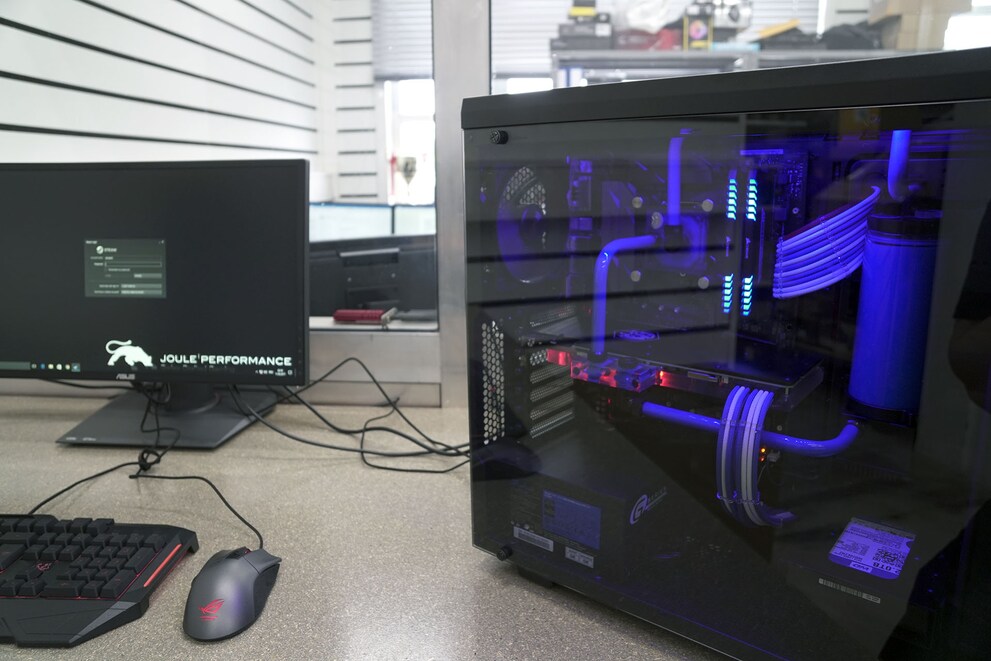 The first Zenon ZX to be finished and sitting on the workbench at Joule Performance
The sale launch date for the Zenon ZX, the digitec PC powered by Joule Performance, was fast approaching. As the first series had to be ready for delivery, we were invited to see how Hiva Pouri's team built one of the machines. That was certainly an opportunity we didn't want to miss. Obviously, it was good advertising for them, but Stephanie and I are both inquisitive people. And how often do you get the opportunity to watch an overclocking world champion and his team doing things most of us would be too scared of?
Our little expedition was a few weeks ago and the Zenon ZX is now available to buy. The first batch of the first series has already arrived in our warehouse.
CPU unlike any CPU
«If you want to overclock a system in a stable way, you have to select your device carefully,» explained Hiva Pouri, who holds a long list of overclocking world records. He is the overclocker at Joule Performance. It's not a case of just taking the fastest i7 processor. Not every i7 is suitable for overclocking.
Hiva Pouri explained what makes a good CPU and what constitutes a good CPU for overclocking
«One of the first steps is CPU binning,» Hiva told us. That means that every processor is individually tested. In other words, i7 != i7. Hiva explained it's important to remember that just because a CPU isn't suitable for overclocking, it isn't set for the scrapheap. Here is one analogy: Just because a dog can't be used for dog racing doesn't mean it couldn't be a good police dog. As a result, the binned CPUs are used for other Littlebit projects.
The same applies to other parts of a PC. High-end specs are tested and separated out. «I don't want to leave anything to chance when it comes to building the computer,» said Hiva. He doesn't want to have to deal with any support work. Not because he's lazy, but because «when I do my job well and deliver a stable system, it isn't just the customer who is happy. I can also be really proud of our work.»
One thing became clear during that afternoon in the workshop. When it comes down to it, Hiva Pouri and his team refuse to settle or adopt the attitude of «OK, that'll do» while working. They are meticulous, because for them, it's a matter of being passionate and professional about what they do. There is also an element of personal pride.
I realise these words are bandied around a lot in marketing, but it's obvious that the people behind Joule Performance really do put their heart into their work. We hadn't heard so much shop talk in a single afternoon...
While Stephanie filmed with systems engineer Maximilian Morisano, Hiva kept showing me devices he had built and overclocked. There was everything from smartphones to PCs that run well above spec. Intermittently, he argued with Maximilian about how the Zenon ZX should be assembled.
Technically speaking, the specs had already been set but they still had different ideas about implementation. For instance, could they have done something better? What if they just tested something quickly, just one more time, just to see…?
Bending tubes and filling them with liquid
Before assembling each of the components, they came out with a sentence we heard so often that afternoon that it ended up in the title. «Now let's take it apart.» It seemed like there wasn't a single part in the PC they used straight out of the box. They paid special attention to the CPU. «The CPU has an inbuilt weakness that does the performance a disservice,» explained Maximilian. In concrete terms, he was referring to the more cost-effective thermal paste Intel uses.
That meant one thing and one thing only: The CPU had to be cracked open.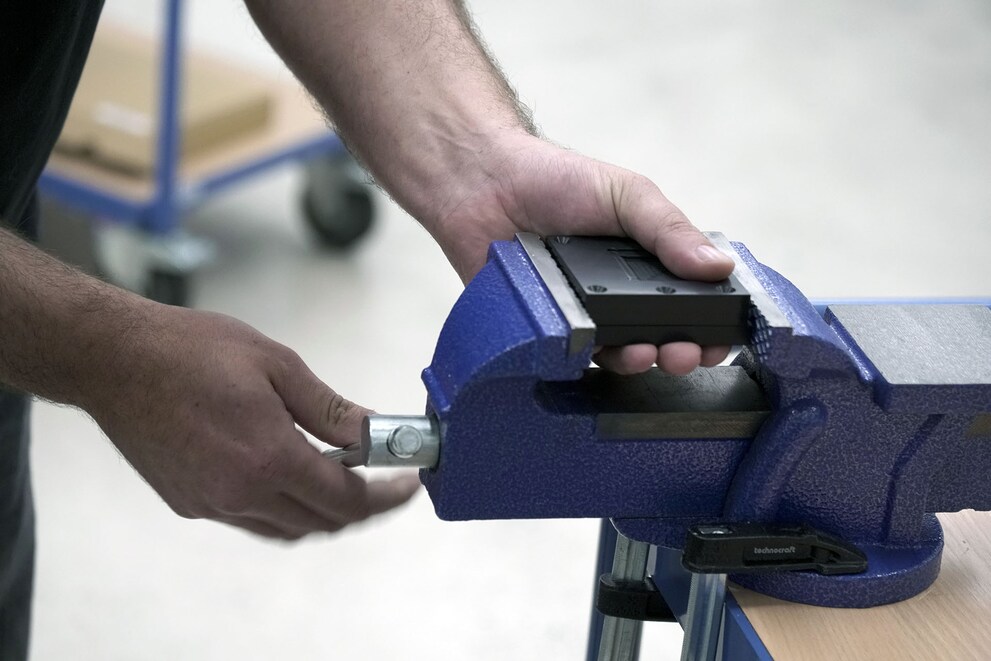 The i7 processor clamped in the crushing plate
The brand-new high-end processor was clamped in a crushing plate and then a bench vice. A loud snap echoed around the room. It would send chills down the spine of any PC hobbyist. You have to be very skillful when cracking open a CPU, as processors are delicate, tricky things.
«Nonsense. That's just talk. Theoretically, you could stand on the processor and nothing bad would happen,» Hiva said. But of course, just because you can doesn't mean you should.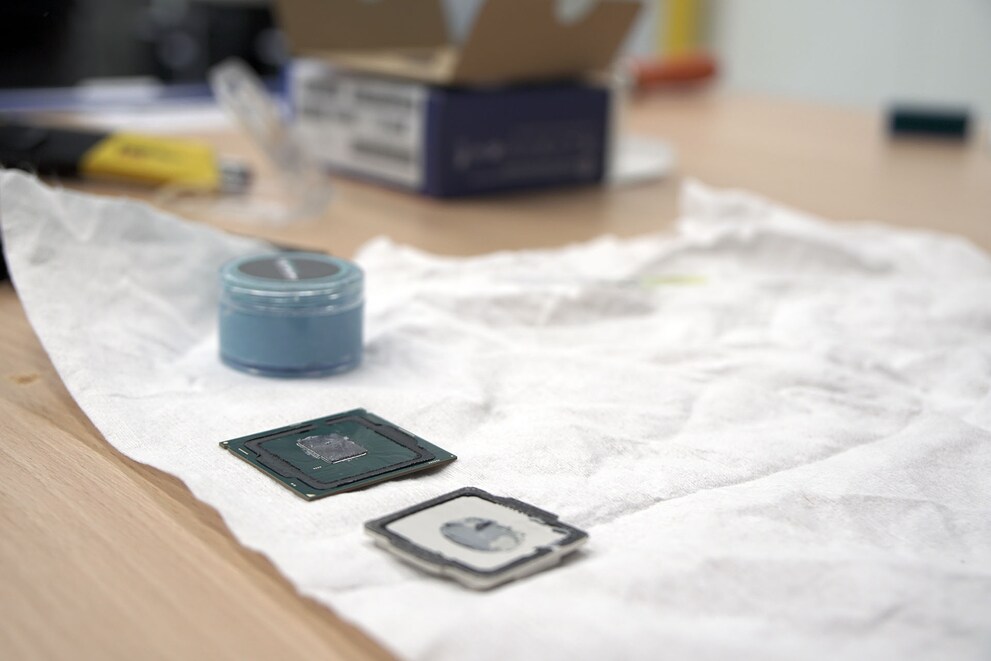 They changed the thermal paste between the CPU and the cooler
The thermal paste was replaced by hand. The new, bright blue paste was carefully applied and the processor was then put back together. After that, assembling could begin.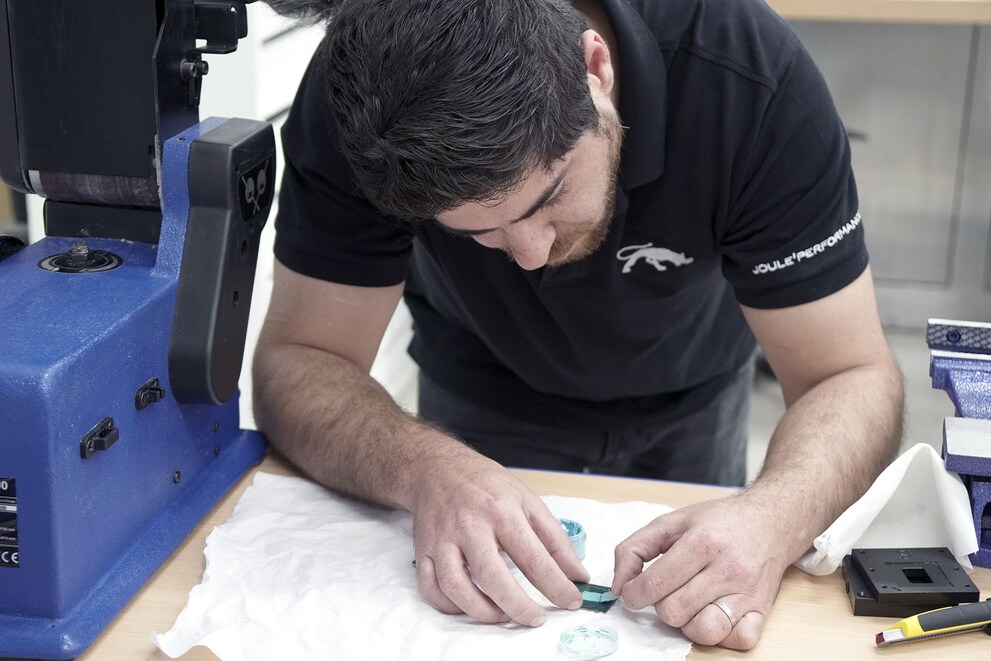 There was no automatic option. Hiva Pouri had to replace the thermal paste by hand.
It was a similar story with the graphics card. Its cooler had to be completely dismantled. The mighty Asus GTX 1080 Ti FE looked like a shadow of its former self until the water cooling system was fitted. To do that, Maximilian bent the tube that the blue liquid would flow through. Hot air was blown on plastic, the tube was bent into shape and voilà, it fit.
Safety measures for beginners and pros alike
The Zenon ZX build was nearing an end, but it was still missing coolant. Maximilian got some kitchen roll and covered all the parts under the tank. Liquid and electronics don't go well together.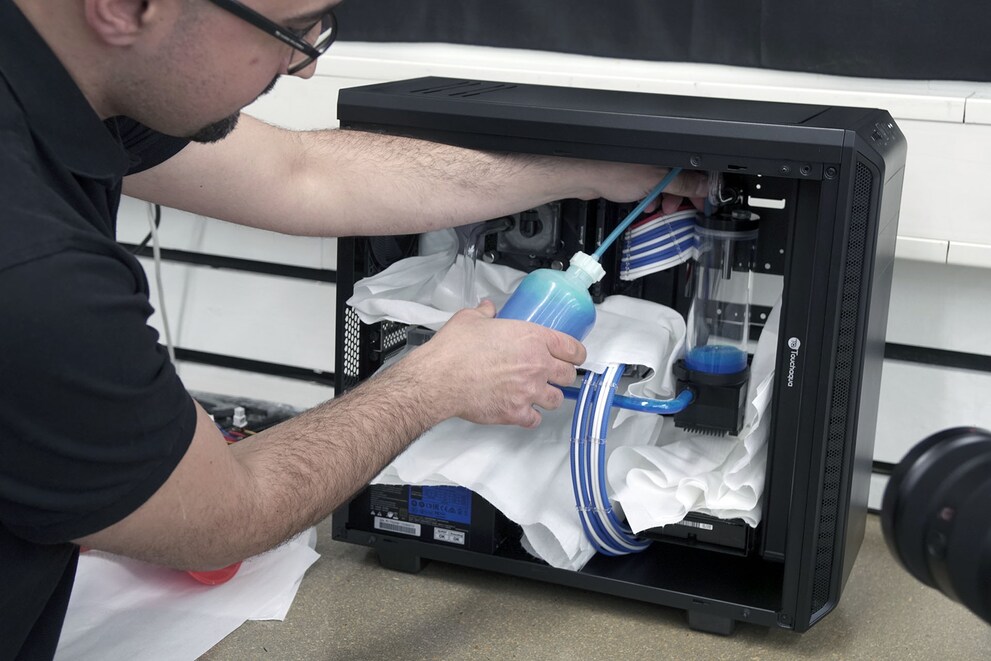 Maximilian Morisano didn't rely on skillful workmanship alone; he called in reinforcements in the form of kitchen roll.
«I can't be careful enough here,» said Maximilian. He knew he had a steady hand, but so many things could go wrong. He carefully filled up the tank and then it happened. Maximilian slipped. Because he had been straining to get the perfect camera shot, a few drops ended up falling onto the kitchen roll. Faster than you could say Zenon ZX, the wet paper was already whipped away and Maximilian was smiling. «That's exactly why I always use that.»
At the end, the Zenon ZX was there in all its glory. Cable management? Flawless. Hardware? Top of the range. Design? It's enough to make your mouth water. But the computer wasn't finished quite yet. There was still software to be dealt with.
Through BIOS in the blink of an eye
Have you ever seen anyone touch typing in the BIOS? I hadn't until Hiva adjusted the settings so fast my eyes couldn't keep up. Stephanie looked at me quizzically, but all I could do was shrug my shoulders. A minute later, Hiva turned to us and announced it was «time for load testing», while Windows 10 was starting up behind him.
Every Zenon ZX undergoes a loading test. The reason being that overclocking walks a fine line between peak performance and system failure. That's the line Hiva is always aiming for, or rather, the line he has found. He spent a lot of time tinkering around with the settings, intentionally overloading components to find out where the edge of the line was. He had to know where to stop before the system became unstable and the components fused.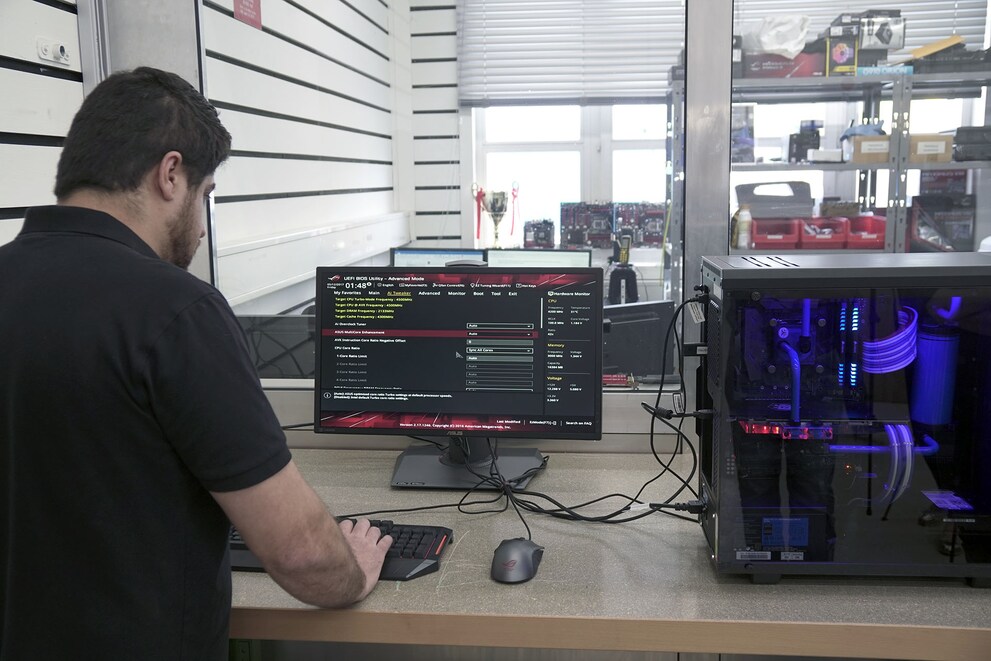 Hiva Pouri's fingers move so fast when he's using BIOS that it looks like he's touch typing
But the tests still weren't over yet. The settings that Hiva used were a baseline. He could assume the computer would withstand it and not accept any performance losses. «I wouldn't feel comfortable dispatching computers without doing load testing,» explained Hiva, while he was running benchmarks. He proudly pushed two windows together and said «take a look at this».
The processor was safely overclocked at 4.7 GHz, and the temperature was just five degrees over the estimated room temperature. Hiva saw that we were impressed and he grinned. That Zenon ZX was definitely ready for packing up.
It goes without saying that the overclocker could have coaxed much more out of the processor. There could have been over 5 GHz in it, but at that point he couldn't have guaranteed system stability. Besides, there are advantages in shying away from maximum overclocking. The Zenon ZX uses less voltage and doesn't get overly hot, even at maximum performance.
Available now
The Digitec Zenon ZX is in our warehouse just waiting for your order. Buy today and you'll be playing around with it tomorrow. If you're an early bird, you can even snag a discount, as the first 20 items are selling at a special rate.
Let me tell you how we rounded off our day at Joule Performance. Hiva told us the Zenon ZX was being unplugged and prepared for delivery, and he asked me to follow him into the office. This was where «the really cool things» were kept.
There was a bottle of unopened liquid nitrogen. Overclockers never know when something like this could come in handy. On the table itself was a DeepCool TriStellar case. «That's a little beauty,» said Hiva with all the pride you'd expect from a tinkerer whose project had even exceeded their own expectations. «It's stable at a performance rate of 200%».
He won't sell that machine even though the offer is hard to resist. Why? Because it belongs to him. Maybe it's his inspiration. An idea treasure trove for future experiments and for other PCs. Or maybe it's all an anticlimax and he just uses it to answer e-mails or read the news.
You may find the following interesting (in German)
---

Journalist. Author. Hacker. A storyteller searching for boundaries, secrets and taboos – putting the world to paper. Not because I can but because I can't not.
---
These articles might also interest you
Skeleton Loader

Skeleton Loader

Skeleton Loader

Skeleton Loader

Skeleton Loader

Skeleton Loader