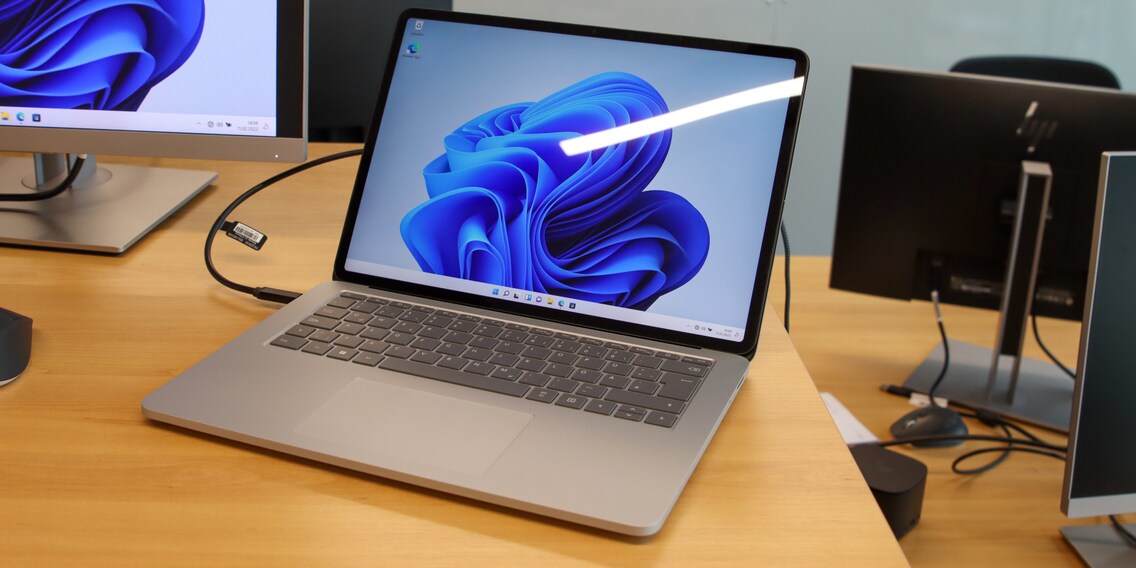 This article was translated automatically.
Surface Laptop Studio in test: This is how a notebook touchscreen makes sense

Jan Johannsen
Hamburg, on 18.03.2022
The Surface Laptop Studio from Microsoft has a movable display, a lot of power under the hood and is a sensible combination of touchscreen and business notebook.
My work notebook has a touchscreen. In the three years since I've had it, I've rarely used it. My employer could have saved the investment. If its screen were as movable as Microsoft's Surface Laptop Studio, things would certainly look different.
The key data
The Surface Laptop Studio is equipped with an Nvidia Geforce RTX 3050 Ti in every configuration. With this dedicated graphics chip, it has more power than notebooks with a graphics chip integrated on the system-on-a-chip (SoC). My review unit also features an Intel Core i7-11370H, 16 gigabytes of RAM, and a 512 gigabyte SSD. Microsoft also offers cheaper configurations with an Intel Core i5-11300H or more expensive ones with 32 gigabytes of working memory and one or two terabyte SSDs.
CH keyboard
DE keyboard
You can find more versions of the Surface Laptop Studio here.
The movable touchscreen
The screen is the main reason to get the Surface Laptop Studio. It is a 14.4-inch IPS touchscreen, which is more movable than a conventional notebook. This makes it more convenient to operate the computer with your fingers, or to use an input pen.
You can bring the touchscreen closer to you. Then it covers the keyboard, but still leaves the touchpad accessible. To work with an input pen, you can lay it flat, keeping it at a slight angle. A 180-degree turn is also possible if you want to show something to a person sitting across from you. If a notebook with a touchscreen is to make sense, it's like this.
With an aspect ratio of 3:2, the screen comes to a resolution of 2400×1600 pixels. The refresh rate reaches a maximum of 120 hertz. Less would have been enough for me, but I'll gladly take that. Color-wise, I like the display as well.
However, mobility is not everything in a screen. As a touchscreen for operation, it is super and reacts immediately and reliably. However, the display is not anti-reflective. Its actually good brightness of 500 nits does not help either. The reflections from windows and lamps bother me a lot when working. And the Surface Laptop Studio is a work device and not a toy for leisure.
However, the Surface Laptop Studio is only suitable as a tablet on the desk. With 1811 grams, it is too heavy to hold in the hand for longer. That is a shame, because its magnesium and aluminum casing not only looks chic, but also feels good.
Performance
If you want to compare the performance of the review unit with other systems, I ran Geekbench 5 and Cinebench R23 on the Surface Laptop Studio. While Cinebench measures the processor's performance based on a 10-minute render test, testing with Geekbench is faster. In return, Geekbench runs on any end device, which even allows a comparison with smartphones. Besides that, Geekbench can also assess the graphics performance.
Geekbench 5
| | |
| --- | --- |
| Single-Core | 1509 Punkte |
| Multi-Core | 6016 Punkte |
| OpenCL (GPU) | 60005 Punkte |
| Vulkan (GPU) | 46856 Punkte |
| CUDA (GPU) | 61242 Punkte |
Cinebench R23
| | |
| --- | --- |
| Single-Core | 1482 Punkte |
| Multi-Core | 5767 Punkte |
Overall, the benchmark results confirm a good performance for the Surface Laptop Studio. In terms of the processor, the results are on par with other notebooks with an 11th generation Core i7. Compared with the Surface Pro 8, LG Gram or Acer Aspire Vero, however, there are clear differences in the graphics performance. The Geforce RTX 3050 Ti performs up to four times better than the Iris Xe GPU of the other devices in Geekbench.
While the hardware is doing its work, I can feel the waste heat coming out through the side vents. I don't hear the ventilation, though. I like that.
Battery
Microsoft specifies a battery life of 18 hours for the Surface Laptop Studio with Core i7 - with "typical device usage". The model with Core i5 is even said to last 19 hours. I put it to the test - but under bad conditions for the runtime. No power-saving mode, display on full brightness and then see how long the notebook can stream YouTube. The Surface shut down after 7:28 hours.
This puts the Surface Laptop Studio in the midfield. For comparison: The Acer Aspire Vero lasted 5:52 hours, the LG Gram 17 9:12 hours. In relation to the battery size, Microsoft's notebook even scores better than the two mentioned. A battery capacity of 58 watt hours results in a runtime of 7.7 minutes per watt hour. The Acer and LG only manage 7.3 and 6.9 minutes.
Touchpad and keyboard
The backlit keys have a short key drop - nothing unusual for notebooks. The pressure point at the end falls into the soft category. I like clearer feedback there. However, that doesn't stop me from letting my fingers fly over the keyboard and typing quickly on it.
The touchpad recognizes my fingers reliably and reacts quickly to movements and touches. I am not satisfied when it comes to clicking on something. It is primarily a touchpad for tapping and not for pressing. The stroke when pressing is minimal - I only feel a decent haptic feedback. As long as you want to make one or more left clicks, it's not a problem. They already work on the entire touchpad by tapping. However, if you want to open a menu with a right click, it only works by pressing in the lower right area.
Ports
If you use a lot of external peripherals with cables, the Surface Laptop Studio is not the ideal device. The notebook only has two USB-C ports, a Surface Connect port for the included power adapter, and a 3.5 mm audio port. If you have not yet completely converted your accessories to USB-C, you will not be able to avoid an adapter or a docking station with the Laptop Studio. The laptop is well equipped for wireless connections with Bluetooth 5.1 and Wi-Fi 6.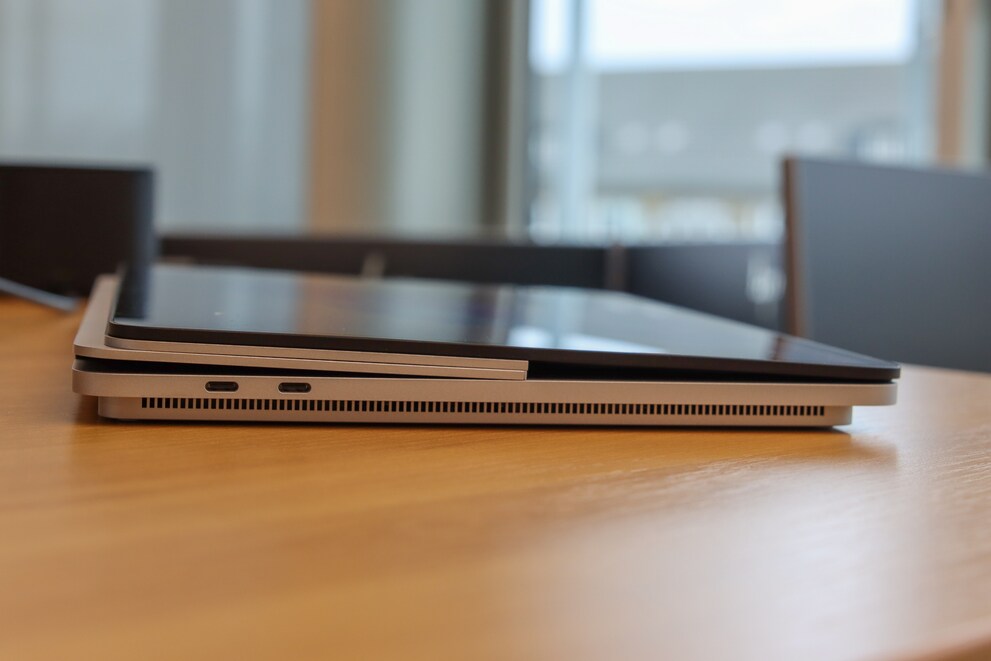 Conclusion: The best touchscreen in a notebook
The Surface Laptop Studio is perfect for you if you need a notebook with a touchscreen and use it a lot. Otherwise, the high price is not worth it. You can get the performance without a touchscreen cheaper in other devices. However, mostly in the form of clunky gaming notebooks.
Besides the movable touchscreen and the power, the Surface Laptop Studio convinces with a decent battery life as well as a fan that stays quiet even under heavy load. Without an additional docking station, the few ports could prove to be a problem. I would also like to see a better clicking touchpad and a keyboard with clear pressure points.
---



When I was but a young student, I'd sit in my friend's living room with all my classmates and play on his SuperNES. Since then I've had the opportunity to test out all the newest technology for you. I've done reviews at Curved, Computer Bild and Netzwelt, and have now arrived at Galaxus.de. 
---
---
These articles might also interest you
Skeleton Loader

Skeleton Loader

Skeleton Loader

Skeleton Loader

Skeleton Loader

Skeleton Loader