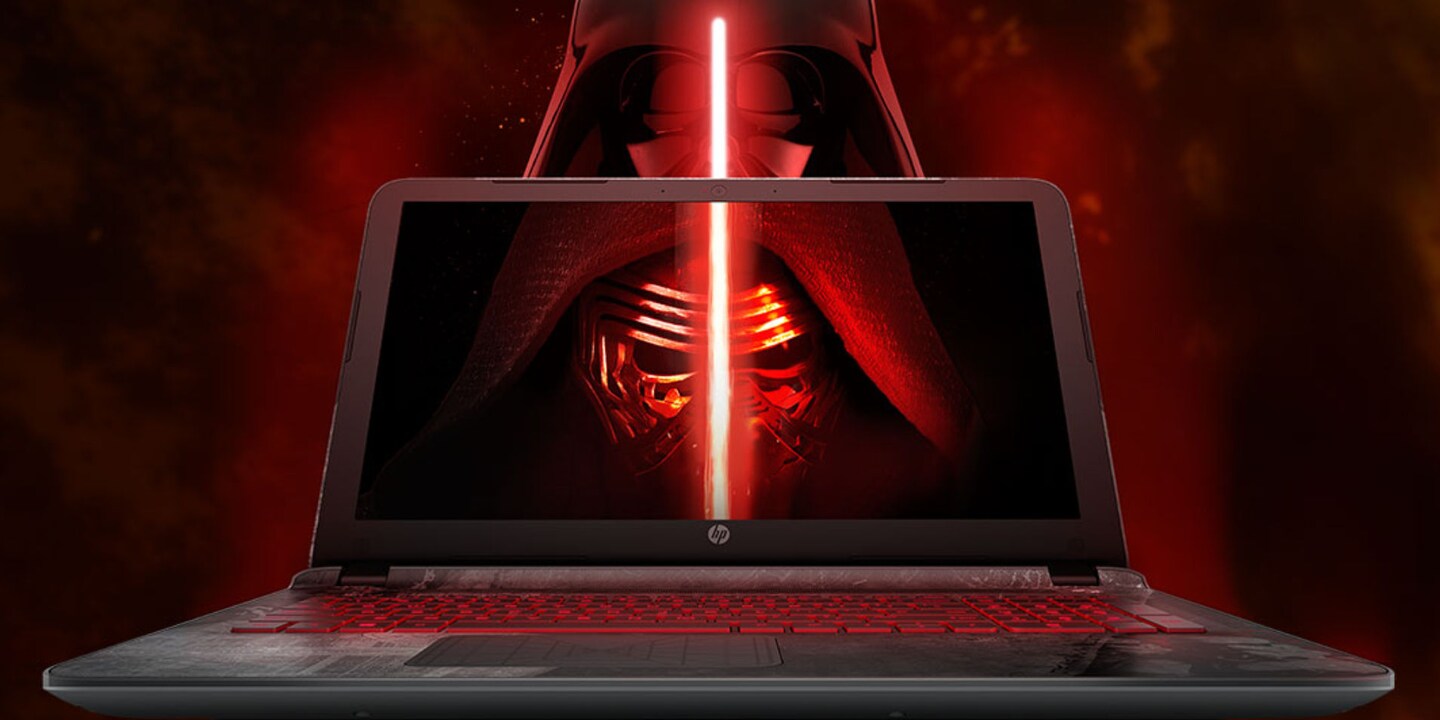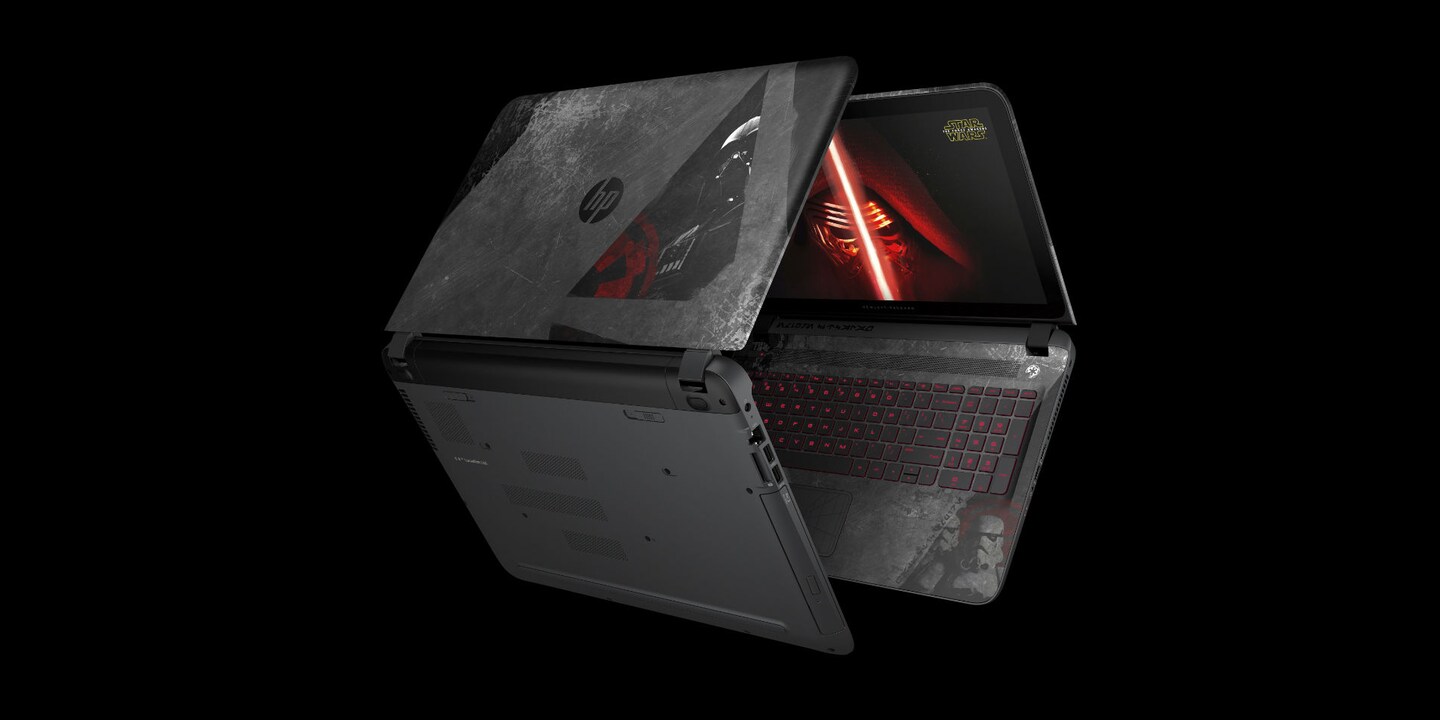 STAR WARS Special Edition Notebook by HP – You don't know the power of the dark side.

Fully armed and operational, there's no other laptop like it in the galaxy. With a Galactic Empire-inspired design, commanding Intel Core processor and extensive collection of rare Star Wars content, you won't be able to resist the power of the dark side
Dark side inspired
Strike fear throughout the galaxy with ominous dark side graphics. The Galactic Empire lives on in the battle-worn design of this unique special edition laptop.
Access to the Empire
Completely immerse yourself in the iconic Star Wars universe. This laptop comes preloaded with rare wallpapers, screen savers, concept art, and original trilogy storyboards from the Star Wars archives.
Over 1,100 images
Enjoy almost 40 years of Star Wars history with "concept art" created by Lucasfilm artists before the films were made, a collection of storyboards which were actually used to guide filming, and behind-the-scenes photos, set designs, costumes, models, and more.
Aurebesh font
Type like you're a citizen of Coruscant. Aurebesh, the Galactic Base Standard language, comes loaded in the font library of the Star Wars Special Edition Notebook.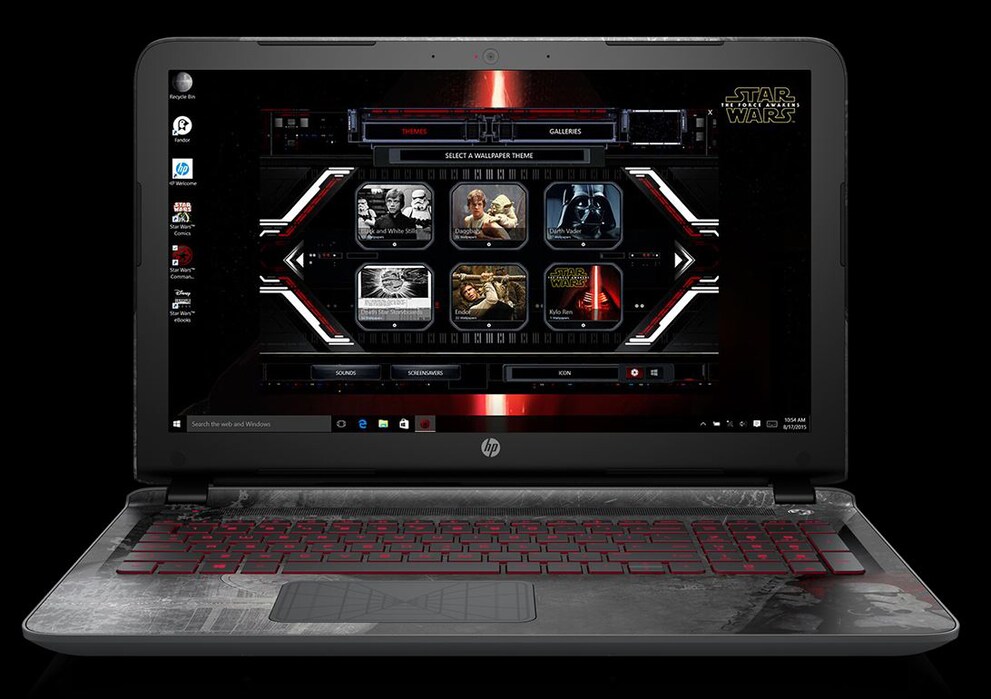 Sound schemes and wallpapers
Replace standard notifications with iconic Star Wars sounds including R2-D2 and lightsabers. Choose among Star Wars themed wallpaper collections including black and white stills, ships, Tatooine, and more.
Bonus features
The first Marvel Star Wars comic in the series, e-book excerpts from the Star Wars Universe and Star Wars movie trailers all come pre-loaded on the Star Wars Special Edition Notebook.
Witness its power
With a Full HD Display1, Intel® Core™ processor2, red backlit keyboard, and Audio by B&O PLAY, you'll revel in its galaxy-spanning power. Be prepared to surrender all of your senses.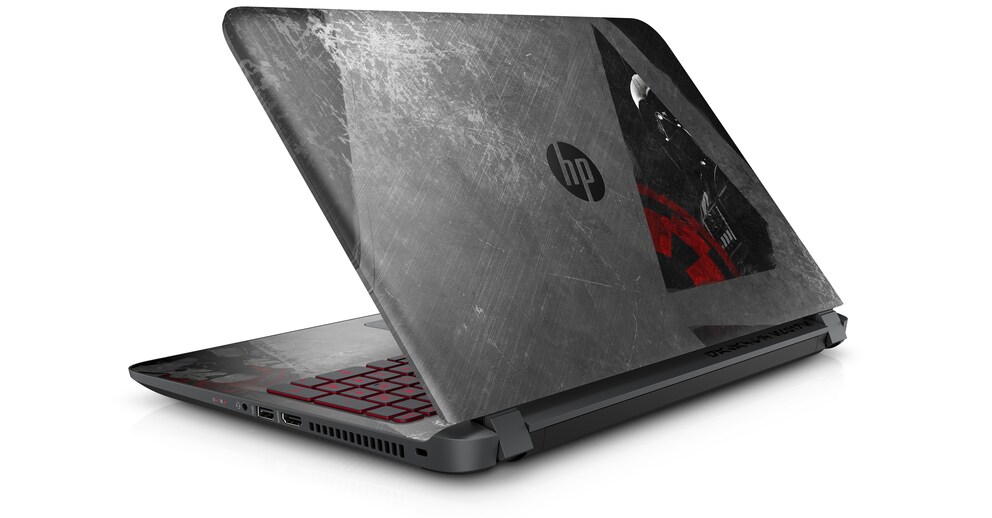 Reliable processing power
Handle all your everyday tasks easily. With Intel® Processors, get the reliable performance you expect and quality you can count on.
Full HD display
A dazzling view with extra wide viewing angle can only be found on the 38.1cm (15") Full HD display.
Red backlit keyboard
Unleash your inner Sith with glowing red backlit keys. Keep going even in dimly lit rooms with an illuminated keyboard.
Audio by B&O PLAY
Watching movies will never be the same. Don't just listen. Let HP with Audio by B&O PLAY move you.
---

New information technologies are developing at an incredible speed. I find this field fascinating. I really enjoy getting to know and reporting on these technologies for our customers. If for once I am not busy with the latest notebooks or other gadgets, I ride my bike up mountains, snowboard down again or go on adventurous trips to faraway countries.
---
These articles might also interest you
Skeleton Loader

Skeleton Loader

Skeleton Loader

Skeleton Loader

Skeleton Loader

Skeleton Loader