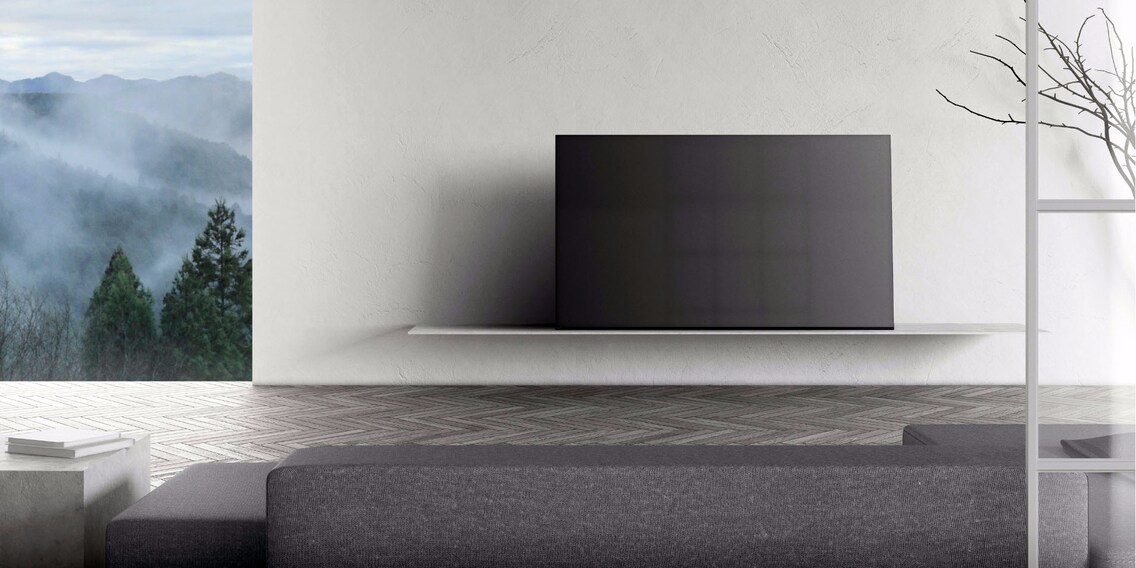 Sony Bravia A1 – putting Sony's first OLED TV to the test

I don't usually fall for a TV this quickly. But Sony's first OLED TV won me over with its elegant design, immaculate image quality and the possibly most advanced processor on the market. Let me talk you through my experience with the Sony Bravia A1
I must admit, we weren't off to a good start: Sony's OLED TV is large and heavy and I'd be lying if I told you Senior Editor Dominik Bärlocher and I had fun dragging this 29.8 kilo monitor out of its box and installing it in a tiny meeting room in our office. Not an ideal testing environment, but we had to make do with it.
Sony's first OLED TV ever
It's rather ironic that, while TV manufacturers are competing for the prize of the best OLED TV, all OLED panels are actually made in one and the same factory. The difference in the final product is in the way the panel is processed, the design of the TV, its sound, individual equipment and the operating system. What's a good panel worth if the processor can't prepare a high-quality image? Would you pay a lot of money for a high-quality device if it didn't look good? Why get one at all if it's not easy to use?
What I'm trying to get at is: It's all about the overall package.
Let's start the test
Sony's new flagship has the name «Bravia A1» and it's available in 77″, 65″ or 55″. My first impression was that it looks beautiful. This TV clearly has a high-quality design, features a metal back panel with fabric covering and looks good from all sides.
Impressive design
The reason why this TV looks so beautiful is its «One Slate» design. It has no stand and no speakers, but is leaning against a rear support slate. I'll get to the speakers later. From the front, all you can see as a pitch-black display. The frame around the OLED panel is only a few millimetres thick. With these aesthetics, Sony has managed to do what many other manufacturers fail to: concentrate on what really matters, the stunning picture.
So there's no speaker in the panel? And where did they put all the electronics? Sony has a solution for this, too: The processing power is in the rear support slate.
New technology delivers surprisingly good sound
What's also integrated into the rear support slate is a subwoofer. I'm not kidding; the Bravia A1 is equipped with built-in bass.
«Acoustic Surface» delivers great sound quality
If you're wondering if the sound also comes from the rear support slate, I'm glad to say it doesn't. Sony has opted for a technology called «Acoustic Surface». This technology isn't new; in fact, prototypes have been around for over ten years, but haven't performed well in the past. Sony has refined the technology just in time or its new OLED. Today, Acoustic Surface technology employs four small, round exciters that are placed right behind the panel. The exciters vibrate the TV screen to create sound. This is what an exciter looks like. The video below will also give you more details on this technology.
Of course I couldn't wait to hear the sound, so the first thing I did was put in the new «Kong: Skull Island» movie. My opinion? I was positively surprised; I wasn't expecting a TV without external playback device to deliver as good and clear sound. The sound in the action scenes of the movie was dynamic and well-balanced with enough bass.
This is Sony's promotional video that describes «Acoustic Surface».
TV sound versus soundbar
I must admit, the Sonos Playbar produces better sound than Sony's new TV . The problem with the TV sound is that, although it's well-balanced and dynamic, it's not very loud and the bass, although there, is just not as intense as from a good soundbar. Nevertheless, this is the best sound I've ever heard from within a TV. It's just as good as what you'd get with a regular soundbar.
Vibrations, yes. Movement, no.
What impressed me is that the sound seemed to come directly from the actors' mouths instead of from anywhere on the screen. The A1 features an advanced chip that directs the sound to the according exciter behind the panel. This clever technique creates great spaciousness. All in all, I was pleasantly surprised by the sound quality of this device.
By the way: Although the panel vibrates, the frame doesn't move at all. If you touch the panel, you can feel the vibration, but you don't need to worry about anything moving.
What about the picture quality?
Let me summarise what we've learned so far: The A1 looks amazing and sounds amazing. All that's left to call it a great overall package is the most important aspect: the picture quality.
The processor is the clue
According to Sony, the excellent image quality is closely related to the "X1 Extreme" processor, which is mainly responsible for image processing and features "X-Reality Pro 4K". What sounds like a meaningless marketing term actually stands for excellent image processing that upscales full HD content in a clean way, suppresses noise and cleans the image of artefacts.
Contrast, colours and perfect black
According to the manufacturer, the focus when the chip was developed was intelligent resharpening of objects; freeing surfaces from unpopular banding. By coincidence, I had the movie Passengers with me, so I put this to the test.
The spaceship floating through the dark vacuum of space looks pretty cool, but it also gave me the chance to take a closer look at the deep black that's so typical for OLED TVs. I focused on whether the small light spots, which represent far away stars, stand out from the black or if they look like they have a halo. My verdict: The image is flawless. No aura, no banding, no noise.
Yes, I'm a fan.
Not only dark colours, but also light colours have well-balanced contrasts. In «Kong: Skull Island», the scene would switch from bright beach to dark jungle within seconds, but the colours remained great. Sony claims their OLED reaches light intensities of 700 Nits – a very good value, especially for an OLED. With this TV, you'll enjoy great picture quality, even in a bright environment.
In fast panning shots, for example when the giant ape slings trees at helicopters, the picture remains focused at all times and is never shaky. Motion blur? Not in the slightest. Compared to other OLEDs I've seen and tested, the motion display of the A1 is exceptionally good. What might interest gamers is that tests (not mine) have shown an input lag of about 42 ms for full HD content; only 30 ms for 4K content.
What about equipment, SmartTV and such?
Before my test report comes to an end, I'd like to say a few words about this TV's equipment and operating system.
Equipment
As I mentioned before, the electronics and the subwoofer are integrated into the rear support slate. This is also where the ports are found: 4x HDMI, 3x USB, 1x LAN Port, 1x AUX and 1x Digital Audio Out.
The rear support folds in. This makes it possible to mount the A1 to your wall, but leaves a gap between the screen and the wall. A no gap wall mount would have been nice, but then again, this TV looks so beautiful from all sides, why would anyone want to mount it to a wall?
Android operating system and regular remote control
The Sony A1 runs with Android OS. In my opinion, the operating system loaded quickly and the structure of the menu is intuitive and clear. Apps such as Netflix or Youtube ran stable. With Google PlayStore, the number of available apps on this TV is probably larger than with any other manufacturer. The remote control that was included made it rather easy to operate the TV. All in all, no complaints from my side.
By the way, the infrared remote control looks rather vintage: no touch display, direction sensor or other useless gimmicks. Instead, it has – wait for it – buttons!
My verdict
I think I've fallen in love. Or let's say, I have a crush on this TV. It's so beautifully designed, simple yet elegant, while focusing on what really matters: great picture quality. The fact that it's leaning against a stand, rather than sitting on top of it, makes it look elegant, is innovative and sets it apart from regular TVs.
«Acoustic Surface» delivers high-quality sound that will make many soundbars go green with envy. The sound coming from the panel and the subwoofer prove a winning combination. It's a sophisticated technology, although no substitute for a 5.1 surround system.
Sony's Bravia A1 combines extremely high contrasts with an excellent viewing angle and impressive brightness of 700 Nits, which is more than enough even for brighter rooms. The advanced «X1 Extreme» processor eliminates image noise and provides excellent contrasts and upscaling. I saw no sign of banding even with tiny dots of light in a sea of black. Very impressive!
When it comes to equipment and operating system, the Sony A1 features Android OS and Google PlayStore connectivity, giving you access to a huge range of apps.
To put it simple: In the high-end range of TVs, Sony's Bravia A1 is the one to beat.
---
---



I'm an outdoorsy guy and enjoy sports that push me to the limit – now that's what I call comfort zone! But I'm also about curling up in an armchair with books about ugly intrigue and sinister kingkillers. Being an avid cinema-goer, I've been known to rave about film scores for hours on end. I've always wanted to say: «I am Groot.» 
---