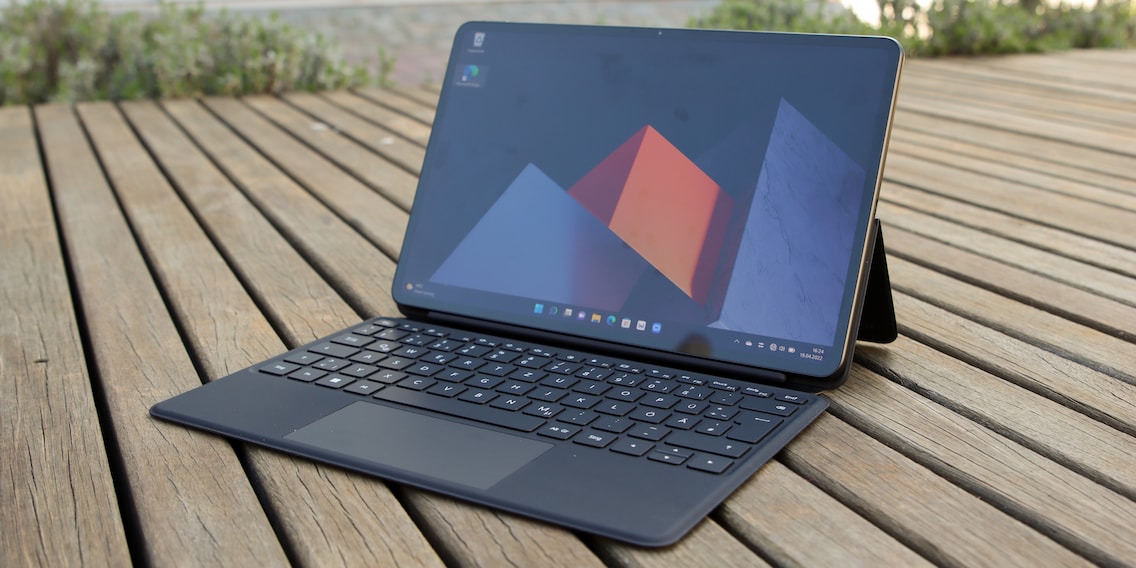 Reviewing the MateBook E: Huawei's Surface

Jan Johannsen
Hamburg, on 20.04.2022
Translation:
Patrik Stainbrook
Huawei is trying to take on the Microsoft Surface. The Matebook E makes a good impression as a Windows tablet, but the accessories aren't up to par.
Until now, all MateBooks have been laptops. MateBook E is changing this. It's a tablet with Windows 11. But don't worry, a keyboard cover turns it into a viable notebook replacement.
Key data
Display: 12.6-inch OLED, 2560 × 1600 pixels
CPU: Intel Core i5-1130G7
Integrated graphics unit: Intel Iris Xe Graphics
RAM: 16 GB
Data storage: 128 GB
Connectors: Thunderbolt 4 (USB-C), 3.5 mm
Operating system: Windows 11 Home
Weight: 712 grams (with cover: 1152 grams)
Display
The 12.6-inch OLED MateBook E display is clear as day, with a maximum of 600 nits in direct sunshine. However, the screen is reflective. Pay attention to the angle at which you sit in the sun. Otherwise you'll be blinded. Other light sources can also be annoying. The 2560 × 1600 resolution ensures a razor-sharp image. Its display covers the P3 colour space and convinces with strong, natural-looking colours.
The frame is the same size on all sides – a pleasing symmetry. With a screen-to-body ratio of 90 per cent, the frame is also narrow. But not too narrow. You can easily hold the tablet without unintentionally tapping the touchscreen.
Handling
The MateBook E belongs to the group of larger tablets. Given that it runs Windows and is also intended as a notebook replacement, this makes sense. Especially since the MateBook E is still flexible. It can be held easily in one hand. At least for a few minutes – then its 712 grams gradually become too heavy.
The back is slightly rough and thus nice to grip. However, its matt colour doesn't completely prevent fingerprints from showing up. The power button on the left side is also its fingerprint sensor. Ideally, this should ensure quick unlocking when the device is turned on. However, not in one go. The MateBook E needs a second after the power button is pressed for the fingerprint sensor to be ready. You'll need to place down your finger a second time. Leaving it there also works, but I am used to better from smartphones with such a button.
Keyboard cover
The «Huawei Smart Magnetic Keyboard» was included with my MateBook E test device. It's a case for the tablet, with an integrated keyboard and touchpad. This allows the tablet to be set up and used like a notebook.
This sounds sensible, but isn't convincing in practice. The magnetic connection between Smart Magnetic Keyboard and MateBook is strong enough to hold the case to the tablet, but not the tablet to the case if it tips away, slips, or I just touch the case when opening it. If I use the MateBook like a laptop, I'm scared it'll fall off if I move it the wrong way.
The upper half of the Smart Magnetic Keyboard's back can be folded down and serves as an infinitely adjustable stand. The seamless setup angle adjustment is commendable, but the overall motion sequence seems more cumbersome than on a Surface. I need both hands to move the stand, and the case still comes off the tablet easily. Microsoft's Surface Convertibles score points in comparison with the fact that the stand is already part of the case. Thus it can be set up without a keyboard.
At the MWC 2022 European unveiling of the MateBook E, Huawei still showed off a Glide Keyboard. Visually, this alternative to the Smart Magnetic Keyboard looks more futuristic. However, it isn't yet available and thus I can't assess whether it's a better keyboard case.
Keyboard and touchpad
The keyboard, or rather the case it is in, is sturdy enough to handle some serious typing. It has a short key drop and clear pressure points. Very pleasant. The touchpad is small, but big enough to move the mouse pointer over the entire screen. In addition, it's beautifully clicky. You won't only feel every click with a clear pressure point, but also hear your input.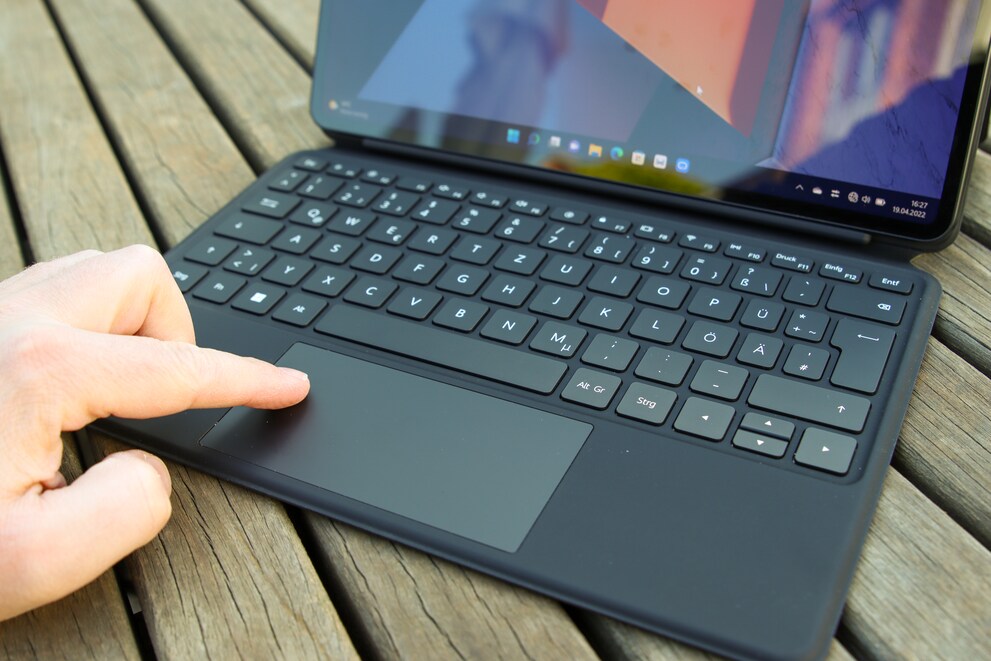 Performance
Huawei provided me with a test device featuring the best possible configuration for a MateBook E: Intel Core i5-1130G7, Iris Xe GPU and 16 gigabytes of working memory. The other variant has a Core i3-1110G4, an Intel UHD GPU and eight gigabytes of working memory.
To measure performance, I tested the device with the Geekbench 5 and Cinebench R23 benchmarks:
MateBook E (Core i5-1130G7)
Surface 8 Pro (Core i7-1185G7)
Geekbench 5 (CPU)
Single core: 1089 points
Multi-core: 2661 points
Single core: 1562 points
Multi-core: 5920 points
Geekbench 5 (GPU)
OpenCL: 13124 points
Vulkan: 13731 points
-
-
Cinebench R23
Single core: 748 points
Multi-core: 1833 points
Single core: 1508 points
Multi-core: 4818 points
My results place the MateBook E among mid-range notebooks. It's well equipped for everyday use and typical office tasks. But it's too weak to handle extensive Photoshop work, complex calculations and demanding games.
Colleague Martin Jud has tested the Surface Pro 8 and its better processor (Core i7-1185G7). Surely a main reason why benchmark results are unsurprisingly better. However, Microsoft's tablet is also available in cheaper variants with a Core i5, which should achieve similar rates as the MateBook E.
Battery
The MateBook E has a lithium polymer battery with a capacity of 42 Wh. Battery test shows that it's is rather small: I set the display brightness to maximum and turned on a ten-hour YouTube video. After 5:08 hours, the screen goes dark. No more juice. Rather a short runtime – even if you can extend it with reduced screen brightness. Converting the runtime per watt-hour, I got 7.33 minutes. The MateBook E is within the better average range in this respect – still, the battery doesn't have a huge capacity.
Ports and more
The MateBook E isn't meant to be used with many accessories without an adapter or docking station – at least if there's cables. It only has a 3.5 mm port for headphones and a Thunderbolt 4 port (USB-C). At least it complies with the latest standard and manages a data rate of up to 32 gigabits per second. In other words, you only get one socket, but you can also use it to power an 8K monitor. Accessories can also be connected wirelessly via Bluetooth 5.1, and Wi-Fi 6 enables wireless Internet access.
Huawei installed four speakers in the MateBook E – and they make a positive impact. The tablet has a clear and distinct stereo sound stays strong when you hold it in your hand.
In the other direction, four microphones ensure that you can be understood well during video chats – even if only with mono sound. The 8-megapixel camera above the display keeps up with any notebook webcam, but doesn't come close to the quality of most smartphone front cameras.
There's also a 13-megapixel camera on the back. Since a tablet isn't meant for photos, here's a use: it's well suited for scanning documents.
Verdict: good tablet, but no notebook replacement
The MateBook E is a good tablet, but weak accessories prevent it from being a useful notebook replacement. Its casing invites typing, but its stand disappoints. As a complete package, it cannot compete with Microsoft's Surface. Apart from that, the tablet scores points with a chic display and good sound. The performance is sufficient for private use, and the battery provides usable runtime.
ReviewComputing

Microsoft Surface Pro 8 im Test: Mehr Display, mehr Power
---



When I was but a young student, I'd sit in my friend's living room with all my classmates and play on his SuperNES. Since then I've had the opportunity to test out all the newest technology for you. I've done reviews at Curved, Computer Bild and Netzwelt, and have now arrived at Galaxus.de. 
---
---
These articles might also interest you
Skeleton Loader

Skeleton Loader

Skeleton Loader

Skeleton Loader

Skeleton Loader

Skeleton Loader