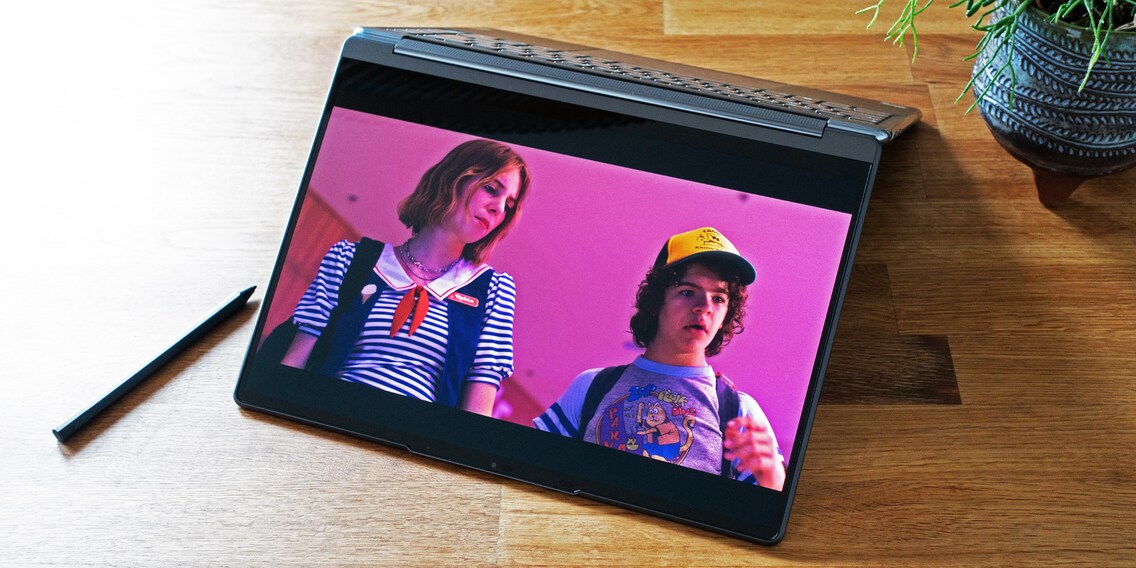 This article was translated automatically.
Lenovo Yoga 9i in test: Mobile work beast and cinema in one
The Lenovo Yoga 9i is a flexible work beast with a 14-inch OLED touch display. It can be flipped 360 degrees and you can write or draw on it with a pen. After work, you can watch movies in best HDR quality thanks to Dolby Vision. The 9i was almost completely convincing in the test.
Lenovo's Yoga line hasn't particularly appealed to me in the past. Quite the opposite of the Thinkpads, which I have loved for their design alone since the 90s - back then under IBM. The new Yoga 9i changes that, as it has amazed me several times over the past few weeks. On the one hand, because of its excellent OLED display, which should even be suitable for graphic designers and co. thanks to its color-true display - and offers the HDR standard Dolby Vision for movie fans. On the other hand, because of the raw power that the installed 12th Gen Intel Core i7-1260P displays.
The specs of the test device:
Prozessor (SoC):
Intel Core i7-1260P – 12 Cores (4 Performance-Cores @ 2,1-4,7 GHz + 8 Efficient-Cores @ 1,5-3,4 GHz), 16 Threads, 18 MB Smart Cache
Integrierte
Grafikeinheit:
Intel Iris Xe Graphics – bis 1,4 GHz, 96 Execution Units
Arbeitsspeicher:
16 GB LPDDR5-5200 (verlötet)
Datenspeicher:
1 TB SSD – M.2 2280 PCIe 4.0 x4 NVMe
Display:
14" OLED Multi-Touch Display, 2880 × 1800 Pixel, glänzend, 90 Hz, 400 Nits, Dolby Vision, HDR 500, 100 % DCI-P3, unterstützt Stifteingabe (Pen in Lieferumfang), 360° umklappbar (Tablet-Modus)
Anschlüsse:
2 × Thunderbolt 4 (USB-C), 1 × USB-C 3.2 Gen 2, 1 × USB-A 3.2 Gen 2, 3,5-mm-Klinkenanschluss (Kopfhörer-Mikrofon-Combo-Jack)
Audio:
Dolby Atmos optimierte Stereolautsprecher mit zwei 3 Watt Woofers und zwei 2 Watt Tweeters, zwei Array-Mikrofone
Kameras:
2-Megapixel-Frontkamera (1080p-Video) und Infrarot-Kamera (Windows-Hello-Gesichtserkennung), Kameraschieber zur Linsenabdeckung
WLAN, Bluetooth:
Wi-Fi 6E, Bluetooth 5.2
Betriebssystem:
Windows 11 Pro
Akkukapazität:
75 Wh
Netzteil:
100 Watt (USB-C)
Dimensionen:
31,8 × 23 × 1,53 cm, 1,4 kg
The test device is Storm Grey in color and has a CNC-milled aluminum case. The notebook is also available in Oatmeal, which actually means oatmeal, but stands for silver here. I took another look at Lenovo's data sheet - they really call it that.
Design and ports
If you buy a Yoga 9i, you also get a case, which not only holds the device, but also the included pen.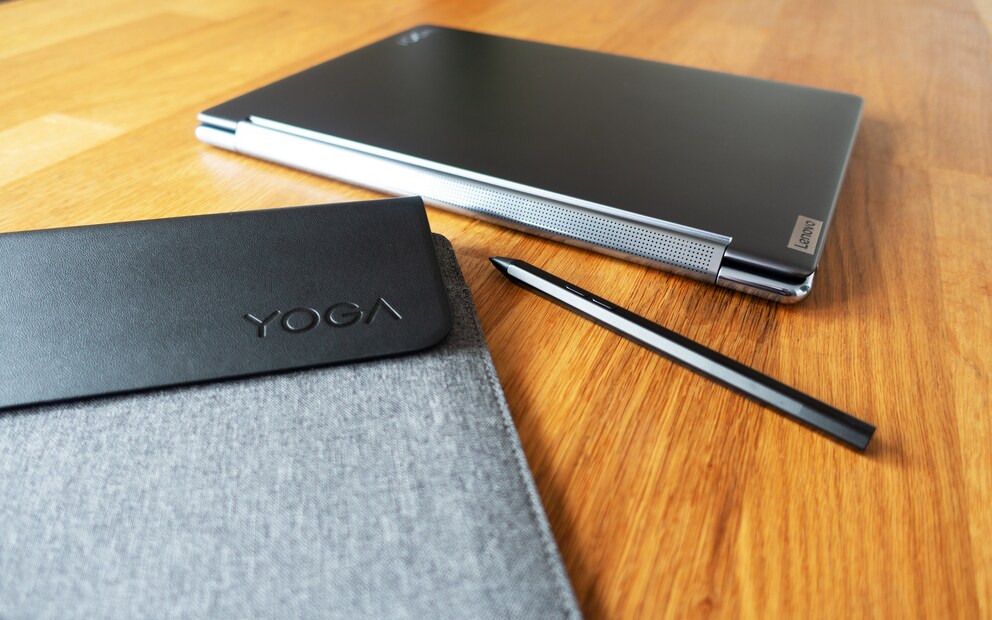 The pen is a practical accessory that sometimes earns interested glances at a meeting. Just like the device itself, which looks classy thanks to aluminum, its low thickness of 1.5 centimeters and rounded edges. That's exactly how it feels as well. It is also noticeable that its surface is relatively slip-proof.
The hinge goes so easily - but not too easily - that I can open the notebook lid without having to hold the base. Once opened, the Yoga starts up immediately. Even if you shut it down beforehand. This eliminates the need to press the power button, which is located on the right side.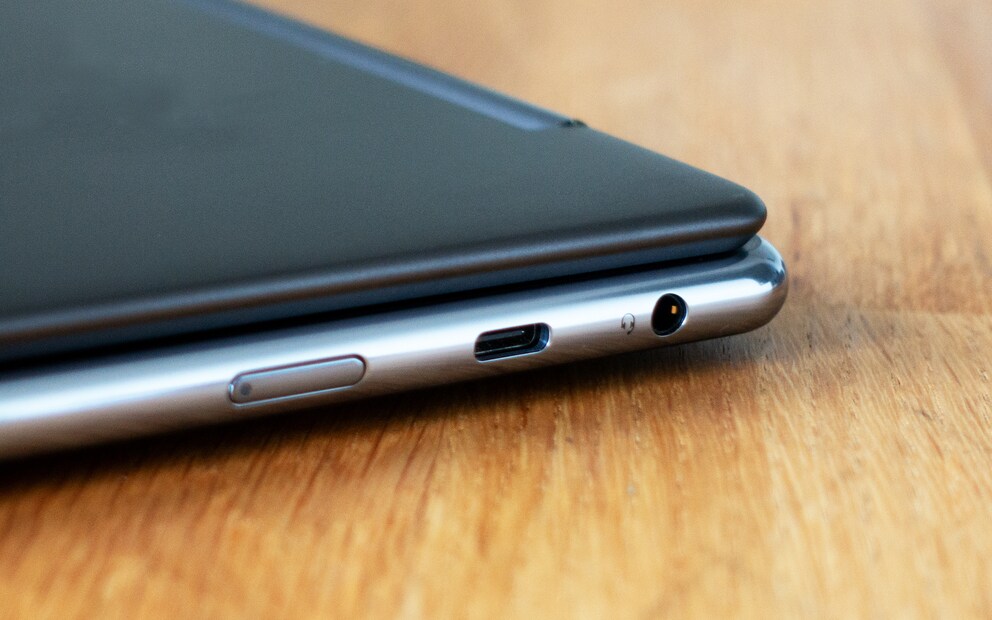 In addition to the start button, a 3.5 mm jack and USB-C (3.2 Gen 2) are also found on the right. In addition, there are two Thunderbolt 4 ports (USB-C compatible) and one USB-A port (3.2 Gen 2) on the left.
On both sides, there are two speakers for low tones at the very front, which are complemented by two more - integrated in the foldable display hinge. So that you can not only hear, but also be heard, two array microphones are on board.
In addition, there is a 2-megapixel webcam with Full HD video resolution, an infrared camera for face unlocking plus a fingerprint sensor. So that you feel undisturbed, a slider is integrated at the webcam, which covers the lens when needed.
Hidden between the base and hinge are the ventilation inlets and outlets. The laptop's underside offers anti-slip pads and six screws - which is welcome in times of often glued hardware. The notebook lid is adorned with a milled "YOGA" and "Lenovo" in portrait format. Thus, the laptop reminds of a book when closed.
Bewitchingly beautiful OLED display with touch and pen support
With only seven millimeters to the lateral edges - it's one centimeter at the top - the display looks chic. What makes it even better is the fact that it has OLED. This not only enables true color reproduction, but also ingenious picture depth thanks to better light gradations thanks to Dolby Vision and HDR 500.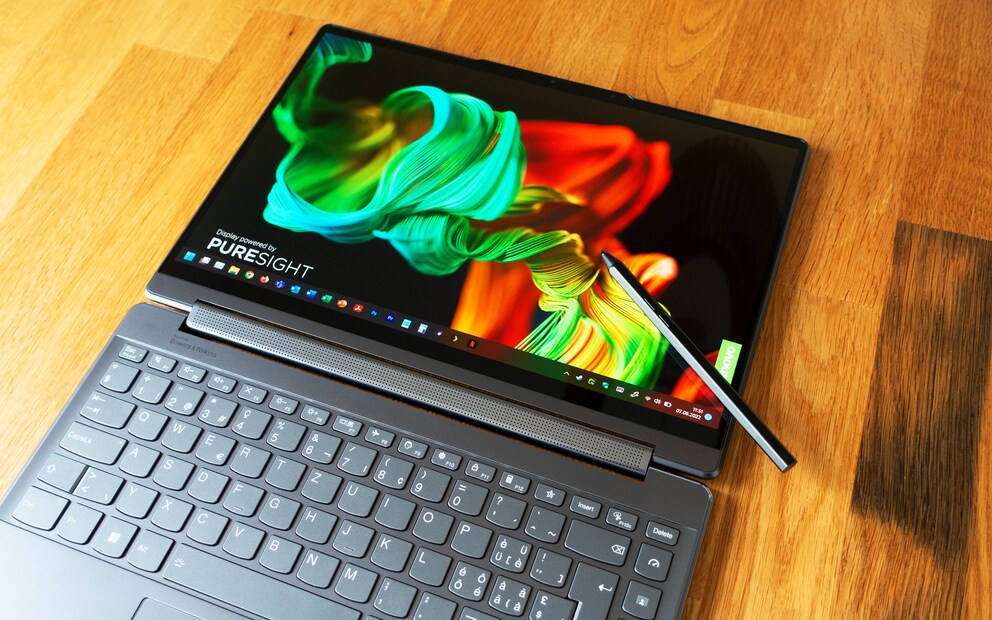 It is 14 inches, has multi-touch and pen support, 2880 × 1800 pixels (243 ppi, 16:10 format) and is glossy. The refresh rate is 90 hertz. Further, it is supposed to be bright up to 400 nits and cover the DCI-P3 color space 100 percent. I'll measure both of these below.
Also included is a metal pen, which fits well in the hand thanks to six edges like a pencil. You can flip the display up to 360 degrees before scribbling away on it. This makes the display feel similar to paper when drawing and writing. Compared to Microsoft's Surface Pen, it feels a bit rougher with Lenovo's pen - which I like better.
OLED movie enjoyment
I watched movies with Dolby Vision in a darkened room with the Yoga 9i during my Ticino vacation, which was pure enjoyment. I am thrilled, even though it does not have UHD resolution. Instead of 3840 × 2160 pixels, it has 2880 × 1800 - that is WQHD+ or 2.8K instead of 4K. That still looks razor-sharp for a 14-inch screen. The top feature of the OLED panel is how it displays light gradations. It offers a dark black and thus contrasts that no other technology can achieve. The colors look rich and natural.
However, compared to my LG mini-LED TV, the OLED panel only scores in low ambient light. My TV displays black almost as nicely as the OLED - colors and light gradations are rendered about equally well, in my opinion. In daylight, however, the lower peak brightness of the notebook display - about 400 nits in SDR and briefly about 500 nits in HDR - prevents movie enjoyment from taking on similar forms. The TV offers more than twice the brightness. If I sit outside with the notebook, the fact that the glossy display is very reflective is also annoying.
Brightness, uniformity and color reproduction: Is the screen really as good as it looks?
I want to know exactly how good the display is. So I measure it with an x-rite i1Display Pro Plus. I measure how bright its peak luminance is, how evenly it is illuminated, and how accurately it displays colors.
The average luminance at the brightest level is 389 nits. That's close to the manufacturer's stated 400 nits and is perfectly adequate for working in daylight. I consider anything above 300 nits to be good for that. However, the display could be brighter - especially for watching movies.
The uniformity of the illumination is excellent. The biggest difference in the measured nine areas is only six nits, which is not visible to the naked eye.
When I measure the faithful reproduction of the most important color spaces, the display amazes me again. It achieves such good values as I have never measured in a notebook display: The DCI-P3 color space, which is important for digital film production, is displayed 100% correctly. The sRGB color space, which is commonly used for working and surfing, is also 100 percent. And the Adobe RGB color space, which is important for creating print templates, is 97 percent. Graphic artists should also have fun with it, in addition to video producers.
Keyboard and trackpad
The aluminum of the base is slightly milled in the keyboard area. This puts the keys at the same height as the touchpad - when used upside down, i.e. in tablet mode, this prevents them from being pressed through the edge of the table. The space of the base is well utilized by the keyboard, which extends up to 1.2 centimeters to the edge. This, along with the lack of a number pad, results in the keys being positioned comfortably: The regular keys are 1.1 centimeters wide and have a distance of three millimeters to each other.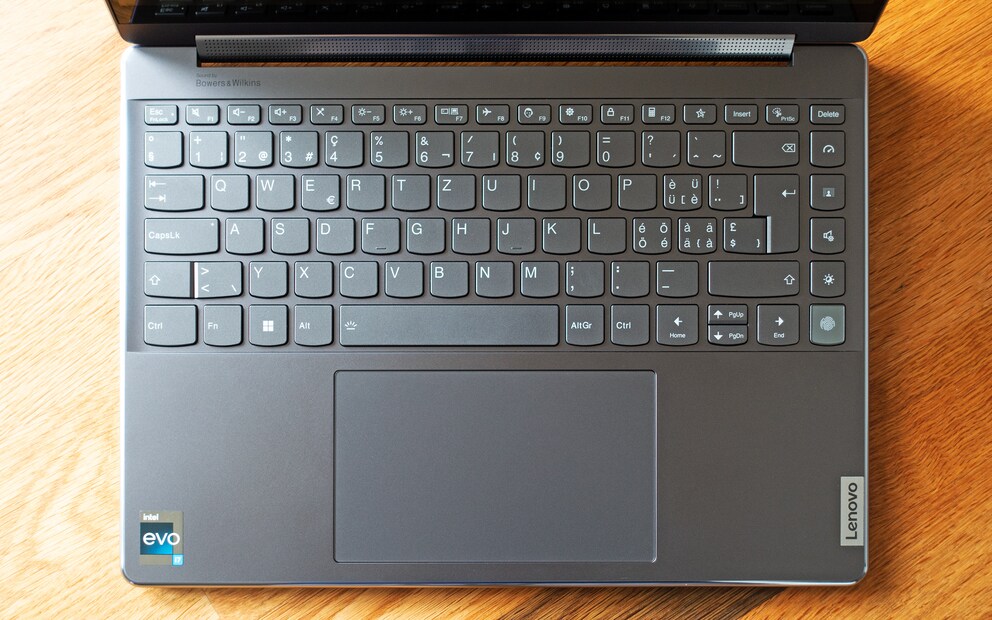 A special feature of the Yoga 9i's key layout is the additional row of function keys on the far right. It features a fingerprint sensor at the bottom, which unlocks the notebook reliably like the infrared camera. There's also a dark mode button, a button to toggle three speaker sound modes (video, music, and gaming), a button to blur your video chat background, and one to toggle the current power mode (best energy savings, balanced, best performance).
And then there's this extra star key between F12 and Insert. It opens a "Smart Key" bar and provides the ability to open the Lenovo Vantage software, request online support, or make adjustments. All things that I do not need on a dedicated key. And it's hard to believe: F9 has another support key as a secondary function, which also opens Lenovo Vantage. You can make updates and so on there.
Why are these keys there? How many users need these keys and how often? It's not like I can't find the software in the Start menu as well.
After all, I can assign a secondary function to the star key. So, on my test device, double pressing it now opens Adobe Photoshop.
If I want to write in a dark room, Lenovo does not let me down. The keys have a backlight. One that even automatically detects when it gets dark and activates itself. I manually switch between off and two brightness levels. When typing, the keyboard does a good job. Right at the beginning of the key travel, I feel a haptic feedback. The keys are thus tactile, but not clicky - they remain relatively quiet and thus do not disturb colleagues. I estimate the key travel to be 1.3 millimeters. I type very quickly on it after a short familiarization and like that it also bounces a bit.
There are only good things to say about the touchpad. It is nice and big - 13.5 × 8 centimeters - and lets me control the cursor precisely and quickly. Clicking with a tap works well and without delay, as does scrolling with two fingers. The clicks of the keys integrated in the lower area sound relatively discreet.
Loudspeakers: They are also good for mobile cinema
The speakers offer a good sound for mobile conditions. The mids and trebles are relatively balanced and clear. And surprisingly, basses also sound quite good, which is rather rare for notebooks. The Dolby Atmos optimized sound comes from Bowers & Wilkins and ensures that not only movies benefit from it, but also video calls with deep male voices. Furthermore, the sound clearly sounds broader in terms of stereo effect than I would have expected due to the distance of the speakers. Of course, you should sit frontally in front of the device, otherwise the magic fades quickly.
A word about the processor and graphics unit
The notebook is equipped with a Core i7-1260P, which was introduced by Intel in January 2022. A mobile high-end 12th Gen processor based on the Alder-Lake architecture, which is created in a 10 nm manufacturing process. It offers four performance and eight efficiency cores. The P-cores clock with 2.1 to 4.7 GHz, the E-cores with 1.5 to 3.4 GHz. Hyperthreading is only supported by the P-cores, which is why a total of 16 threads are available. Furthermore, it has 1.1 MB L1, 21 MB L2 and 18 MB L3 cache. The power consumption (TDP) is 28 watts.
Intel's Iris Xe Graphics G7 with 96 execution units, which has a maximum dynamic frequency of 1.4 GHz, is also installed on the chip.
Battery performance and CPU behavior in the stress test
The Yoga 9i has a 75 Wh battery. During the following continuous video streaming test, the device benefits from the fact that the processor also has less power-hungry efficiency cores. This also benefits office work when I am not editing umpteen pictures in Photoshop or rendering a video. However, this does not help it in the following stress test, since I measure how long it lasts at full performance.
Video continuous streaming
So far, I've done the video continuous streaming test in reviews with a brightness of about 150 nits and with SDR material for the sake of comparability. But now that more and more HDR-capable displays are making their way into laptops, I am switching to around 400 nits and Dolby Vision material. That means the highest brightness level on the Yoga, which should even provide short-lived peaks of up to 500 nits with HDR material. I stream "Stranger Things" on Netflix and then see how long it takes until the battery is at two percent and the notebook shuts itself down.
After ten hours and one minute - as well as countless creepy kills - the Yoga runs out of juice. Since I lack a basis for comparison, I can only make a subjective statement about this. I am satisfied and feel that this is a lot.
Stress test: CPU performance, battery life, heat and volume under maximum performance
During the stress test, I use AIDA64 to load the hardware. However, I noticed during a first quick test that the processor's graphics used almost a quarter of the cooling power at one hundred percent load. A few seconds after the test start, the CPU throttles to 77 percent in each case. Means that those who designed the cooling probably only designed it for the CPU.
Since I want to know how long the CPU can deliver its full performance, I do not load the graphics as much in the stress test. How long the battery lasts is secondary. I stress: CPU, FPU, cache and RAM.
The processor behaves as follows during the test: First, it allows 17 minutes of full power. After that, the CPU gradually starts to throttle more. However, this always happens in such a way that the clock rate jumps up to one hundred percent every few seconds and then throttles down again. Thus, the load fluctuates between 98 and 100 percent from minute 18 - between 81 and 100 from 20, between 74 and 100 from 23 and between 73 and 100 percent from minute 39. After that, it stays like this until the notebook shuts itself down after 87 minutes.
In the following, I illustrate the behavior during the stress test. However, it should be noted that the described fluctuations are not visible. Instead, you see the average value of the fluctuating load - the applied power.
CPU load and battery state during the stress test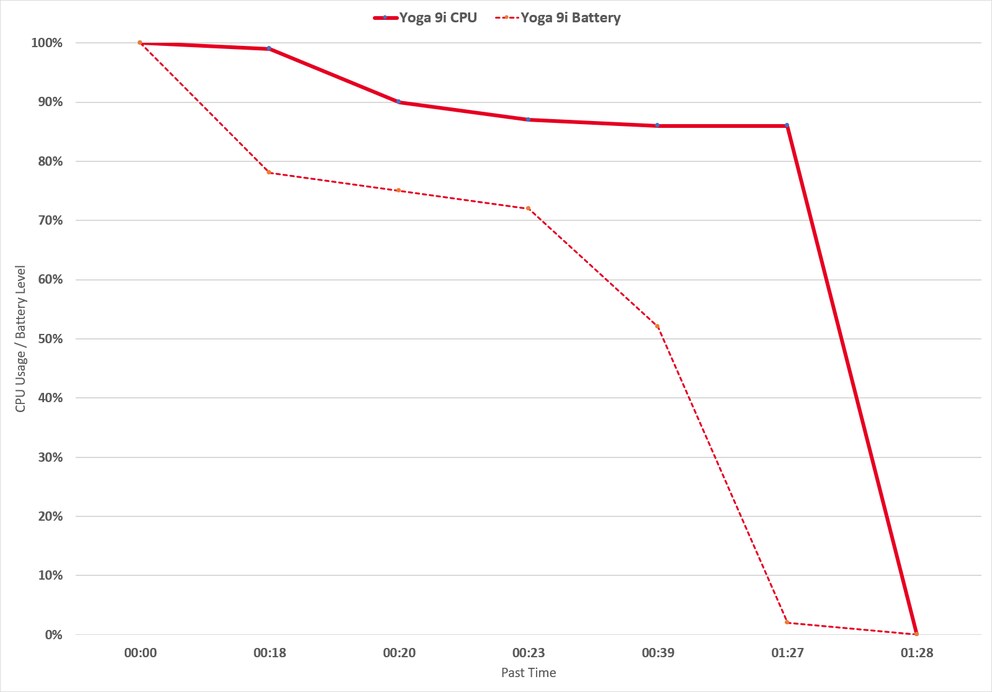 Temperatures at full load
The individual cores of the processor rise up to 100 °C during the test. According to Intel, the CPU can get this hot. The temperature of the cores fluctuates analogously to the clock between 83 and 100 °C.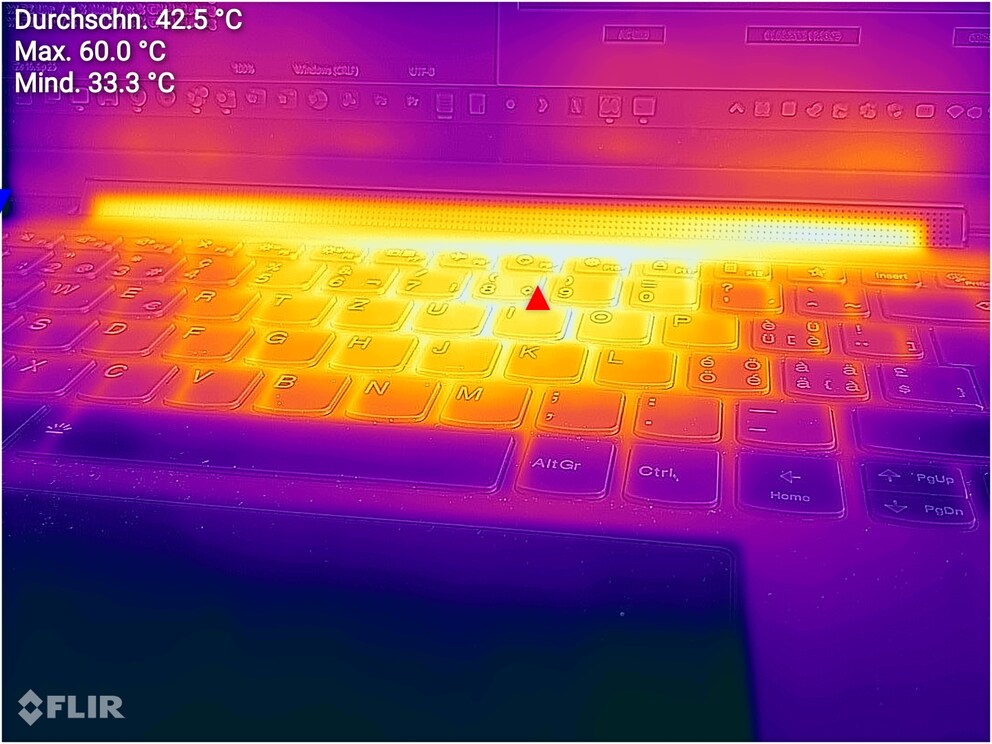 If I take a thermal image, the case should be up to 60 °C during testing according to the FLIR cam of my Cat S62 Pro. Right next to the 8-key, the part is the hottest.
Volume at full load
The Yoga's fan is mostly inaudible. And it also hisses quietly during full load. I measured 36.3 decibels from a sitting position and 39.1 decibels at a distance of 30 centimeters with a sound level meter from Testo.
Battery life during office work
If I use the notebook as a mobile office without extensive video calls, I recharge it after about one and a half working days. So, around twelve hours are possible depending on work and light conditions, which I consider good.
Performance: What the CPU and GPU can do
Finally, it's time for the System-on-a-Chip to get down to business. Now the CPU and GPU have to show what they can do. I use the benchmarks Cinebench R23 and Geekbench 5 to test the processor. The integrated graphics show their skills in the gaming benchmark 3DMark Night Raid. I determine how well typical office tasks are done with PCMark 10.
Processor performance: Cinebench R23 and Geekbench 5
Maxon's CPU benchmark Cinebench tests how well the processor performs when rendering 3D models. In the latest version, R23, the result is no longer determined on the basis of a single run, but on the basis of the work done within ten minutes. This is good because poor cooling concepts perform a bit more realistically.
The second processor benchmark I run is Geekbench 5. The CPU is tested in single-core and multi-core mode using simulated, real-life scenarios. Testing only takes a short time and can therefore lead to relatively good results even on poorly cooled devices. The benchmark runs on Windows, MacOS, Linux, Android and iOS. This also allows cross-comparisons between different processor architectures, which should be taken with a grain of salt. With x86-based processors, only one thread and thus not the entire (performance) core is utilized in single-core mode. ARM systems, on the other hand, use an entire core and thus have an advantage. This is another point that should be considered when comparing results in the Geekbench browser.
| | |
| --- | --- |
| Benchmark | Erreichte Punktzahl |
| Cinebench R23 – CPU Multi Core | 10 094 Punkte |
| Cinebench R23 – CPU Single Core | 1651 Punkte |
| Geekbench 5 – CPU Multi Core | 10 326 Punkte |
| Geekbench 5 – CPU Single Core | 1742 Punkte |
Never before has an "office notebook" that I have tested achieved a score of over 10,000 points in both multi-core tests. For comparison, I previously felt the performance of a Surface Laptop 4 with AMD Ryzen 7 4980U was already strong by mobile standards. However, it only achieves 8028 points in Cinebench R23 and 7241 points in Geekbench 5 with its 16 threads (but only 8 instead of 12 cores).
The single-core performance of the Yoga is equally impressive and so far unique in my tests. Intel's twelfth generation can be seen together with the laptop's cooling.
Graphics benchmark: 3DMark Night Raid
3DMark Night Raid is designed to test the graphics performance of devices with an integrated GPU. It is more or less a performance meter for PC gaming on the lowest level.
My test device achieves a Night Raid score of 18,457, with a graphics score of 22,089 and a CPU score of 9555. If I compare this again with the AMD processor of the Surface Laptop 4, it achieves a Night Raid Score of 14 248 with its integrated AMD Radeon RX Vega 8, which is about 23 percent less than with Yoga 9i.
Office benchmark 3DMark PCMark 10
Thanks to PCMark 10 from 3DMark, PCs and notebooks can be tested for the various tasks at a workplace. So, how fast programs are opened, how well video telephony works and much more.
The Yoga scores 5640 points in this discipline. That is about 13 percent more than Microsoft's AMD notebook.
Conclusion: Practically perfect workhorse
I can find almost no fault with the Lenovo Yoga 9i. Practically everything fits and is great: the elegant aluminum design, the foldable touch display with true colors as well as Dolby Vision, the extremely strong and up-to-date processor, a lot of RAM and storage, the latest wireless technologies as well as ports, the large battery, the included pen, and and and ...
It is a real pleasure to work and watch movies with this device. The only downer for me are some dedicated keys, which Lenovo could have omitted for all I care. Furthermore, I would like to see a variant that is anti-reflective. However, I am complaining on a high level with these points.
The price-performance ratio is good in my opinion. Although you have to spend more money than with other potential work devices, you also get a lot. If you like Netflix as well as work, you will definitely be happy with the Yoga 9i.
---



I find my muse in everything. When I don't, I draw inspiration from daydreaming. After all, if you dream, you don't sleep through life.
---
---
---
These articles might also interest you
Skeleton Loader

Skeleton Loader

Skeleton Loader

Skeleton Loader

Skeleton Loader

Skeleton Loader